The Ford Mustang has seen a lot of iterations over the years—some more notable than others. But each generation of Mustang has included at least a few truly unforgettable models. We've done the work to separate the wheat from the chaff below so you can explore the best Ford Mustangs all in one place. Behold: the best Mustangs of each generation.
First Generation 1965–73
1964 ½ Ford Mustang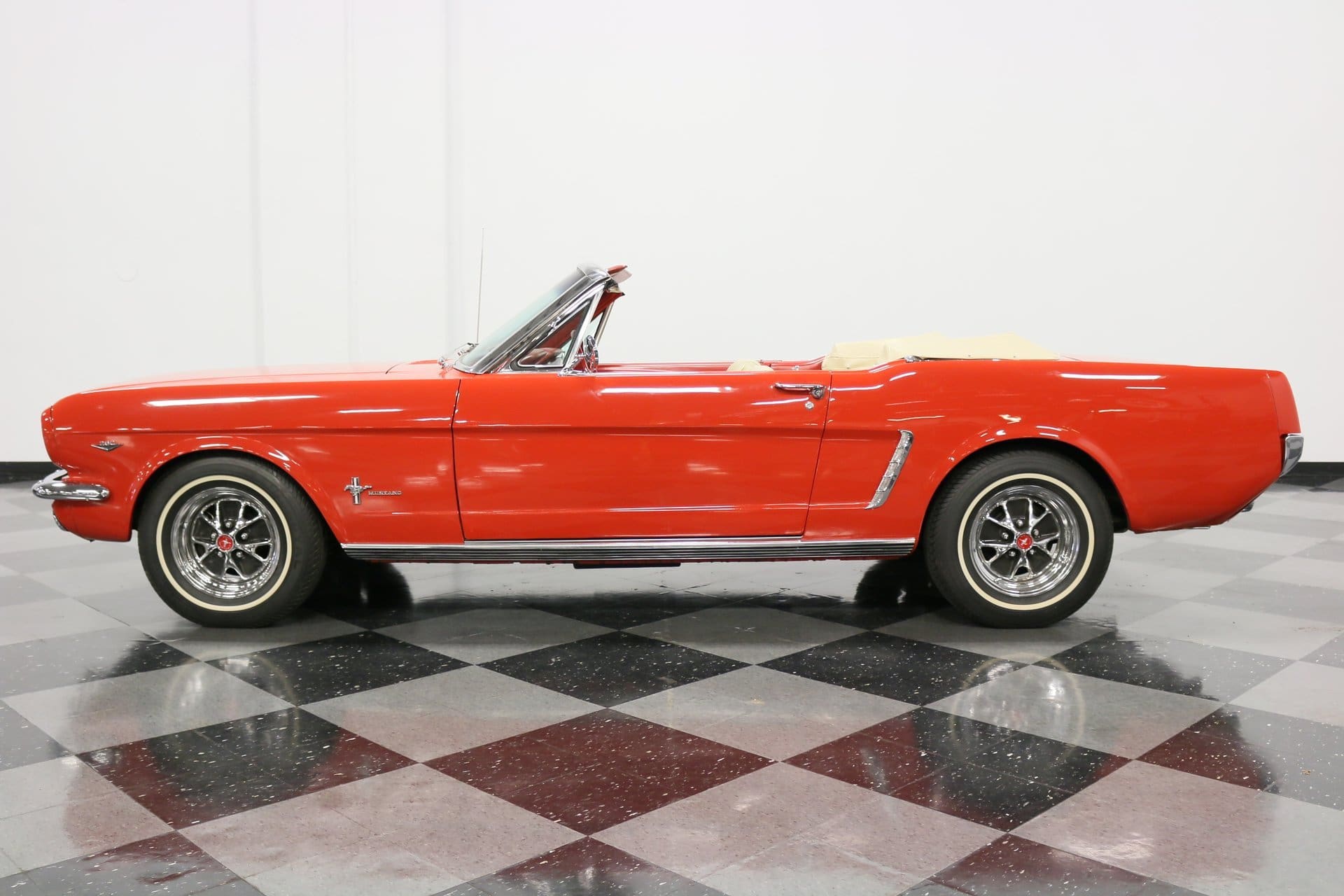 For the avid Mustang collector, few pony cars are as deserving of a spot within the garage as the 1964 ½ Mustang. While not the quickest or most agile of all Mustangs, cars of this vintage served as the jumping-off point for something truly legendary. Without this initial year of production, there would be no Mustang as we know it today.
For all intents and purposes, the Mustang was an immediate hit, with approximately 400,000 units having been sold by the end of year-one production. Consumers from every walk of life jumped at the opportunity to own a sporty Mustang all their own.
1965 Shelby GT350
The 1965 Shelby GT350 was the car that put the Mustang on the map in terms of performance acuity. Starting with a standard 2+2 Fastback Mustang, legendary automotive designer and racer Carroll Shelby crafted a legendary sports car that is still highly revered today. Though such efforts were undertaken in a bid to homologate the GT350 for use in SCCA BP-Class racing, the GT350's bigger impact came in terms of continued popularity and overall impact.
The Shelby GT350 underwent numerous modifications, aimed at enhancing both its appearance and performance. Powering the 1965 Shelby GT350 was a 289CI V8, modified to include a custom-built high-rise intake manifold.
Generation Two 1974–78
1978 Mustang II King Cobra
In general, the second-generation Mustang receives far less appreciation than any other era of Mustang production. This stems from the fact that the Mustang II was largely underpowered by today's standards and carried a much less flamboyant appearance than cars of older vintage. Nonetheless, the 1978 King Cobra served as the proverbial diamond in the rough, showcasing heightened eye-appeal and performance.
The 1978 Mustang II King Cobra was offered with an optional 4.9L Windsor V8, which produced 139 horsepower. Though this is quite anemic by today's standards, this output was much improved over the second-generation base-model Mustang's 88-HP rating.
1976 Mustang II Cobra II
The 1976 Mustang II Cobra II was more than sporty in appearance, but still rather a significant sales success story for the Ford Motor Company. Boosted in popularity by a cameo as Farah Fawcett's ride of choice in the show Charlie's Angels, the Cobra II quickly outsold initial projections. This specialty Mustang looked quite unique, though its performance was limited to general constraints of the era.
The 1976 Cobra II could be optioned to include a custom cosmetic kit, complete with rocker panel and hood striping—much like the Shelby-derived Mustangs of the foregone era. The Cobra II also came equipped with a non-functional hood scoop and fender-afixed snake decals.
Generation Three 1979–93
1984 SVO
Following a prolonged downturn in overall performance, Ford placed the Mustang back on track with the release of the 1984 SVO. This specialty Mustang was the first to be produced under the oversight of Ford's new SVO (Special Vehicle Operation) branch. This division of the Ford Motor Company later boasted the SVT (Special Vehicle Team) moniker that most are more widely acquainted with.
The 1984 SVO Mustang was unlike anything offered before it, showcasing a 2.3L turbocharged 4-cylinder powerplant beneath its hood. All told, this engine produced a total output of 175 horsepower, which was rather impressive by the standards of the day. The 1984 SVO was also engineered to exhibit increased aerodynamic properties.
1993 SVT Cobra R
The 1993 model year served as the official Genesis for SVT (Special Vehicles Team) production. Of these initial offerings, none were as potent as the SVT Cobra R. This premium pony car was anything but shy on performance, coming equipped with an upgraded 5.0L V8 that was capable of pushing the Cobra R from 0-60 MPH in only 5.7 seconds. This race-ready Mustang also shed a number of otherwise standard power accessories in a bid to shed additional weight.
Today, the 1993 SVT Cobra R is highly sought after by collectors, often bringing a hefty sum at auction. This stems from the fact that only 107 Cobra R Mustangs were produced during the 2013 model year. Ironically, each of these rare Mustangs were painted in Vibrant Red Clearcoat.
Generation Four 1994–2004
2000 SVT Cobra R
Ford rang in the new millennium in the way that only they could, by offering a special-production Mustang for the ages. The 2000 SVT Cobra R featured a fire-breathing 5.4L V8, which produced 385 horsepower and 385 lb-ft of torque. Without exception, the 2000 SVT Cobra R was intended to conquer all competition and stake the Mustang's spot atop the performance scene once more.
However, the Cobra R was also far from being a one-trick pony. In fact, Ford equipped the Cobra R with a number of additional upgraded components, including a Bilstein suspension kit, hydro-mechanical differential, and Brembo brakes.
2003 SVT Cobra
Building upon the success of the 2000 Cobra R listed above, Ford unleashed the 2003 SVT Cobra to a drove of eager consumers. The 2003 SVT Cobra was motivated by a specialty supercharged 4.6L V8 paired to a Tremec T-56 six-speed transmission. All totalled, the 2003 SVT churned out 390 horsepower and 390 lb-ft of torque, laying down 0–60 MPH times of only 4.5 seconds.
Ironically, SVT Cobra production would be terminated just a year later, putting a halt to further development. However, the 2003 SVT Cobra ensured that the Special Vehicle Team's contributions to the Mustang as a whole would not soon be forgotten.
Generation Five 2005–2014
2012 Mustang Boss 302 Laguna Seca Edition
Ford's 2012 Boss 302 Laguna Seca Edition broke barriers and served as the performance car of choice for many heavy-footed motorists of the era. Equipped with an unforgettable 5.0L V8, the Laguna Seca dished out 444 horsepower and 380 lb-ft of torque, proving itself formidable against competition at any level.
By all accounts, the Boss 302 Laguna Seca handled every bit as well as it performed in a straight-line pull. This was due in part to Ford's implementation of a custom suspension kit and a heavy-duty rear stabilizer when designing the Laguna Seca.
2013 Shelby Mustang GT500
The 2013 Mustang GT500 is still remembered today as one of the most powerful Mustangs to have ever rolled off of Ford's assembly line. The Mustang GT500 was motivated by an unforgettable 5.8L supercharged V8—capable of producing 662 horsepower with little effort. Combine this with 631 lb-ft of torque and an estimated top speed in excess of 185 MPH, and you have the makings of a supercar for the ages.
In total, the GT500 was the benefactor of numerous performance-related modifications, including the addition of upgraded fuel injectors, twin fuel pumps, and a single-piece carbon-fiber driveshaft driveshaft. Also standard was a beefier clutch and three-row intercooler.
Generation Six 2015-Present
2016 Shelby GT350
The 2016 Shelby GT350 is likely the most well-rounded Mustang to date, perfectly blending epic straight-line performance and effortless handling. Beneath the Shelby GT350's hood was a 5.2L 32-valve V8 capable of producing 562 horsepower and 428 lb-ft of torque. This proved powerful enough for the GT350 to post 0–60 MPH times of only 4.1 seconds.
Perhaps best of all, the 2016 Shelby GT350's revised suspension ensured that the car could power through curves with the same ferocity it exhibited when laying down ¼ mile pulls. Not only was the 2016 Shelby GT350 powerful beyond compare, but it was a joy to drive as well.
2020 Shelby GT500
In the world of automotive performance, there is no such thing as too much speed. However, if ever a domestic sports car pushed such boundaries, it would be the 2020 Shelby GT500. This powerful pony car packed quite the punch, on behalf of a 5.2L supercharged, Cross Plane Crank V8. The GT500 produced 760 horsepower and 625 lb-ft of torque, posting top speeds in excess of 180 MPH.
Also of note, was the 2020 Shelby GT500's use of an independent rear suspension. This, in turn, should make the GT500 one of the most responsive handling Mustangs to date. Additionally, the 2012 GT500 featured a number of styling modifications, including the addition of a pronounced rear-wing, redesigned side skirts, and oversized vents.