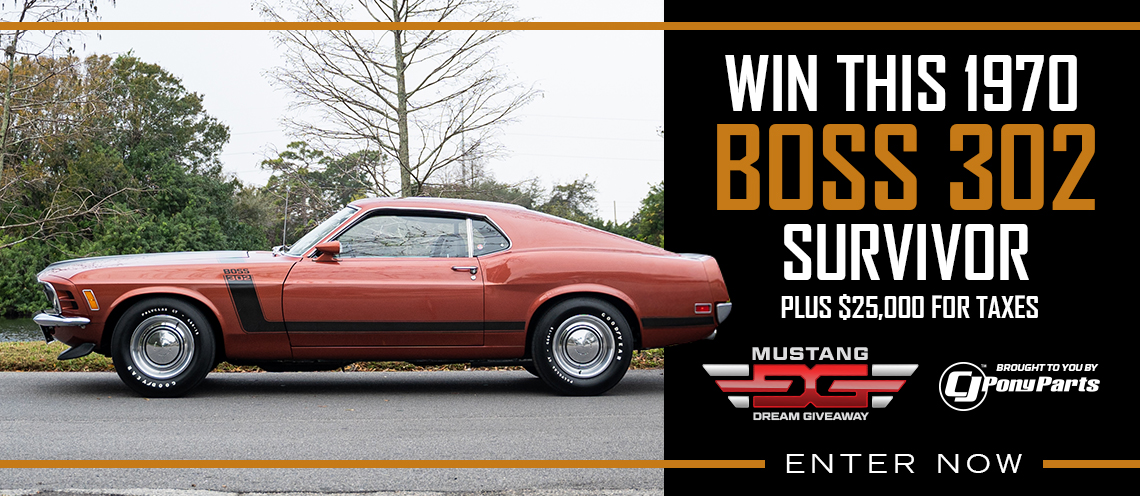 2013 Ford Mustang Shelby GT500
Big Updates for Our Favorite Pony Car
The 2013 Shelby GT500's 5.8-liter V8 aluminum-block engine produced 662 horsepower and 631 lb/ft. of torque. Nearly every part of the powertrain was optimized for producing the additional horsepower, including a new supercharger, new cross-drilled blocks and heads, an all-forced engine rotating assembly, updated camshaft profiles, upgraded head gaskets, a new carbon fiber driveshaft and upgraded clutch, transmission and axles.
The Background
The 2013 Shelby GT500 came at a time when the horsepower wars continue to go crazy. The Chevy ZL1 Camaro had 580 horsepower so SVT engineers set a goal to get the GT500 to at least 650-horsepower. This would have made the new GT500 the most powerful Mustang to ever grace the streets. Shelby and Ford SVT engineers went to work and came out with astonishing 662 horsepower and a car capable of a top speed exceeding 200 mph. For context, that is more than 100 horsepower more than the prior year Shelby GT500.
I want to digress for a bit and give you my take on something. I like reading the Motor Trend comparisons of different cars. However, one trend in their magazine is very obvious. First of all the magazine wants to be trendy. They always seem to tweak their "shoot outs" or comparisons with subjective comments and biases rather than stick to the facts. For example in one comparison even though the six cylinder Mustang excelled in all categories, they chose a foreign car, because they felt like doing one more lap in in it. It was a pleasure to drive was the statement presented. If you started to read the match article in October of 2012 between the Chevrolet Camaro ZL1 and the Ford Shelby GT500 the second paragraph tells what criteria they are going to base their test results on farther more, they even state that it will be non- objective "subjective outcome" criteria that determines the outcome.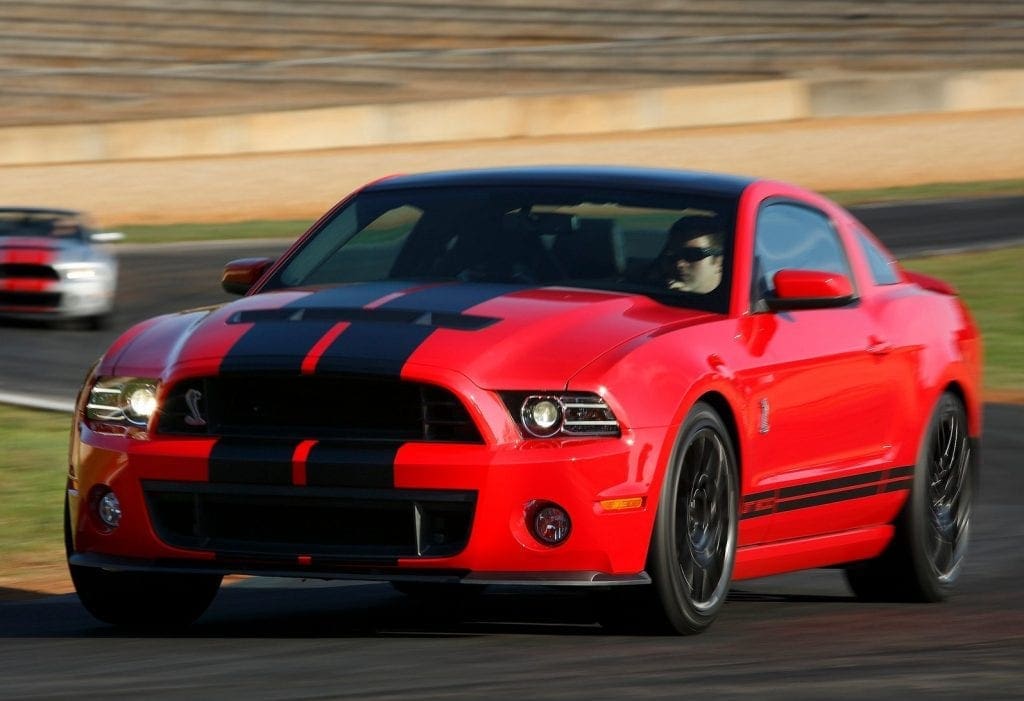 What I want to know is, which is the fastest car in the quarter mile, and has the fastest top end, sounds the coolest and which one can I afford. This is how it has been since God gave us the wheel and fire to move it. Perhaps those at MT believe the we all have a track we can go race around on weekends, but I'll bet most of us don't! What I have is a public highway late at night or even during the day if challenged by anything (besides a highway patrol car). I also have a local 1/8 mile speed track that I can use on weekends if a grudge needs to be settled. So lets stick to facts and leave out some of the comfort issues as well. Back in the 60's if you drove a Cobra, your shoes could melt to the floor if placed on the floor over the exhaust. Cars rattled, suspensions were dismal and road noise didn't matter because you could not hear over the "Cherry Bomb" exhaust.
If a friend had a Camaro or Cuda and you had a Mustang, you squared off and in about 1320 feet you knew who had the quickest car. In another few minutes, the fastest car was given the honors. So, based on Motor Trends magazine, we can flatly determine that the Ford Shelby GT 500 is the quickest car since it has quarter mile track time of 11.6 seconds at 125.7 miles per hour. It had a faster passing time, better braking, better lateral acceleration faster 2.2 mile lap times. In fact the Camaro beat the ford only in the Motor Trend figure eight. But the Motor trend writer had to pick a reason for the Chevy to win. Perhaps next time he will pick the pink car because his wife or girlfriend likes pink. The whole thing reeks of a bribe or fear that GM will pull advertising from the magazine if they don't pick their car. It is hard to find MT credible when they do their testing. Hey guys, stick to the facts, build a matrix where you weight quarter mile speed, braking, top miles per hour, etc., then stick to it. Leave out your personal opinions out of it because nobody really cares that your wife likes pink or whether your ass fits one seat better than another!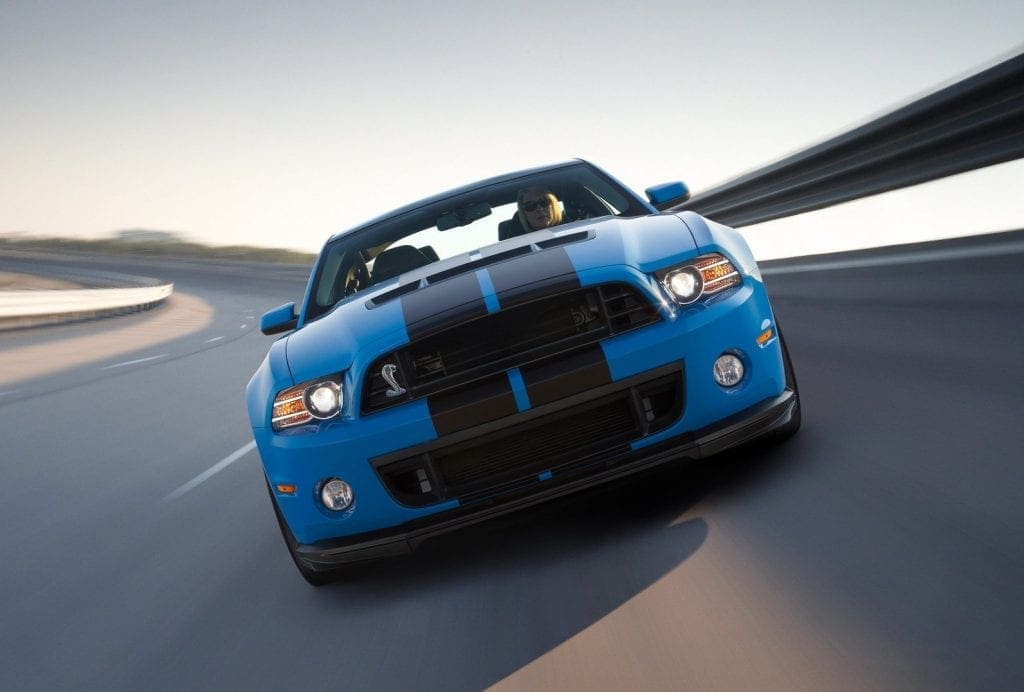 In my other criteria, I have to go with the Shelby as well. It is a less expensive car than the Camaro. So, I can get a faster car for less money. But if I get a Camaro, I can "happily drift" in the car as they say. When describing the Shelby, they despairingly state that the Shelby (Mustang was the name they actually used) laid down the faster lap "solely by virtue of its 82 hp 75 lb-ft advantage". Duh! The jackasses. Don't they know, that is why Ford put it there to start with. With the Camaro's higher price tag and larger cubic inch engine it should have an advantage. But for the extra money, you get a underpowered throwback engine from the 60's with some upgrades in a heavy car. But the MT driver seems to like how it drives so he gives the fastest car title to the slowest car.
Engine and Drivetrain
The biggest news for the 2013 Shelby Mustang GT500 is a substantial increase in power, coming from changes in two areas. First, Ford's engineers have bored out the all aluminum 5.4 liter engine, which made it's debut in 2011 to a full 5.8 liter V8. The second source of more power for the 2013 GT500 Mustang is the addition of a new, more efficient Eaton TVS supercharger. The combination of this technology and other incremental improvements and refinements results in the 5.8 liter engine cranking out 662 horsepower and 631 lb/ft of torque through the beefy, externally cooled Tremec TR6060 transmission.
Let's dive into the Trinity power plant. To create the Trinity supercharged V8, engineers used the aluminum engine from the 2011-2012 GT500 as a starting point; its self an evolution of the engine that powered the Ford GT. The cylinder bore was enlarged from 90.2 millimeters to 93.5 millimeters while the 105.8 millimeter stroke remained the same. With this change engine capacity grew from 5.4-litres to 5.8-litres. The engine, like it's predecessor, made use of Ford's strong and thin, Plasma Transferred Wire Arc cylinder wall coating to prolong longevity. The patented Plasma Transferred Wire Arc process lined the cylinder bores and installed billet main-bearing caps. The compression was raised from 8.4:1 to 9.0:1 to help extract every last bit of horsepower. To cope with the stresses of the higher horsepower, the engine had a larger oil pump hidden inside the aluminum sump along with piston oil jets. The block was modified with additional coolant passages to help remove excess heat. The cylinders received the benefit of oil jets, which both lubricate and cool the pistons and rotating assembly, further improving their life under high power conditions.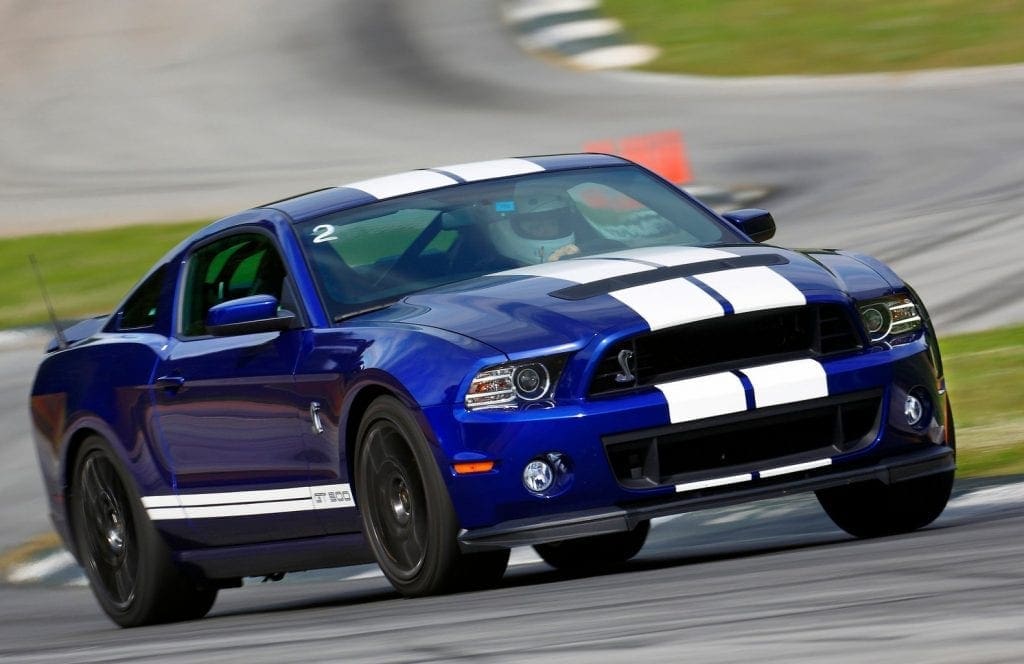 Bolted atop the block was a pair of aluminum cylinder heads with improved coolant flow, Ford GT cams, 37.0 millimeter intake valves and 32.0 millimeter exhaust valves. To keep the heads sealed to the block new 5-layer MLS head gaskets were used that could stand up to the increased abuse that the higher compression ratio and supercharger boost. A gorgeous pair of a valve covers painted in "Ford Blue" with a crinkle finish was bolted to the heads.
Topping off the Trinity V-8 was higher capacity Twin Vortices Series 2300 supercharger that displaced a whopping 2.3-litres and could pump out a maximum boost of 14 pounds per square inch. In fact the supercharger is so large that it takes over 100 horsepower to operate. With higher boost comes more heat and to counter this engineers added cooling capacity with a huge radiator, a larger fan, a higher-flow intercooler pump, and a three row intercooler replaced the two-row unit from the previous car. All the changes cumulated into an engine that could handily out gun the previous GT500 by 112-horsepower making the Trinity most powerful production V-8 in the world.
Transmission & Chassis
Clearly the increase in power necessitated some big changes to help get the power down. First up was a larger diameter dual-disc clutch that that could tame 631 foot-pounds of torque without shitting itself.
The Tremec 6060 6-speed transmission also got a host of upgrades including a new quick action super short throw shifter and an internal oil pump. Gearing in the transmission was revised with taller ratios, with sixth gear having an ultra high 0.50 overdrive. It may seem odd that such high gearing was used, but the primary reason was for fuel economy; with tall gearing the GT500's engine is only turning 1,500 rpm in sixth gear at 80 mph. This keeps the GT500 out of gas guzzler tax territory in the United States. Another reason for the choice of ratios was for top speed, the gearing giving the '13 GT500 the ability to hit over 200 mph. Thirdly, the tall gearing also made the 2013 Shelby GT500 more manageable on the street, making it a little less of a handful.
The 2013 Shelby Mustang GT500 also got a new helical gear "Torsen" (torque sensing) differential with larger bearings, which adjusts torque distribution between the left and right side rear axles ensuring the most available power gets to the ground, even under grueling conditions. This differential uses crossed axis helical cut gears to provide higher torque bias ratios than other types. To ensure performance and long life, Ford added a temperature activated electric pump to cycle cool fluids through the 3.31:1 ratio rear end.
The other changes was Ford throwing out the two-piece steel drive shaft and replacing it with a one-piece carbon-fiber unit. This new carbon-fiber drive shaft was lighter and stronger didn't resonate as much at high speeds. Another side benefit was the reduction in frictional losses because the centre support bearing was eliminated.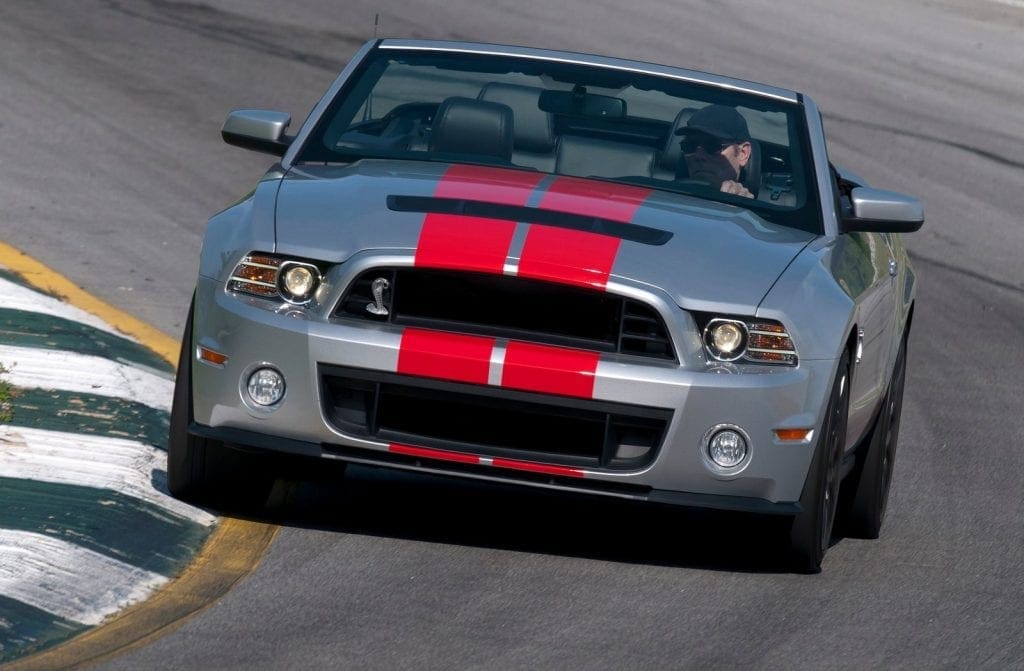 Brakes & Suspension
With an already superb handling performance, you'd wonder what they could do, to improve it, save for the addition of an independent rear suspension. Even though it looks like no IRS is in the cards, the underpinnings still received some massaging and improvements, including an electronically adjustable Bilstein suspension damping system.
The front suspension got larger front stabilizer bar, re-valved shocks and retuned springs for the standard suspension. Once again the four mode stability control system, traction control and anti-lock brakes were all standard GT500 issue.
The stock Brembo brakes were beefed up as well, now with Brembo 14-inch vented front rotors with larger 6-piston Brembo calipers and new brake pads. At the rear the brakes were also made larger and benefitted with a set of improved brake pads as well.
Launch Control
With all that power, having a launch control is important to maximizing performance. Old-timers may disagree but any help getting all that horsepower to the ground is a no brainer in my book. The RPM-adjustable electronic launch-control really worked well. It was accessed through the Track Apps function located on the central instrument cluster screen.
It is simple to use too, just set the 2 stage rev limiter for the right off-the-line RPM, mash the pedal to the floor and when the light turns green, drop the clutch. The electronics take care of the rest, adjusting the redline back to it's new 7,000 rpm limit, ready for the next shift.
To keep wheel spin under control for maximum acceleration the launch control works in conjunction with the traction control system to modulate wheel spin. If the system sensed that there isn't enough grip, during rain or on loose surfaces for example the system will automatically disengage and the traction control is fully restored to its normal function. Very cool indeed.
Exterior & Interior
Little changes were made to the exterior of the 2013 Shelby GT500 with changes in styling and exterior design being more for function than as a result of any particular stylish change in direction. Not a bad thing in our eyes since the 2012 Shelby GT500 looked great and had the right balance in terms overall design direction and it was one of the best looking Mustangs in decades anyway.
The only real changes to the design being changes in the front fascia and grille areas, designed primarily to increase air flow to the radiator and a new three bank, air-to-liquid intercooler. The large grille-less opening between the headlights and huge air intake cut out of the front bumper definitely maximize airflow to that 5.8 liter V8. The entire front of the car is design to maximize downforce. The area where the fog lights go on a 2013 Mustang GT instead have a Shelby Snake logo on one side and are covered by slats which disguise the snake's remote oil cooler air ducting on the other side. This is serious function over form stuff.
From a styling and visibility perspective, the 2013 Shelby Mustang GT500, like the rest of the range looks more modern thanks to the new LED trimmed front headlight bezels and rear LED rope lights surrounding the twin sequential tail lights. At the rear there was a very cool quad exhaust system too that pokes out beneath the rear bumper. As always the alloy wheels changed a little too in terms of design, but they still come with the very Goodyear Eagle F1 Supercar G:2 tires.
Few changes were made to the interior and the interior is essentially the same as the 2012 GT500, but includes the very cool features seen in the 2013 Boss 302, such as your very own accelerometer, drag strip training Christmas tree as part of the Track Apps package.
The 2013 Shelby Mustang GT500 also gets Ford's latest SYNC system which is finally nice to use. Carried over to the new 2013 Shelby Mustang GT500, from the 2013 Boss 302, are the supportive and necessary Recaro bucket seats, with the must-have Shelby Cobra Snake logo.
SVT Performance Package
For those who wanted the ultimate GT500 experience there was a pair of higher performance packages.
The SVT Performance Package included a Torsen limited-slip rear differential along with the standard 3.31:1 axle ratio; a firmer set of rear springs; a set of Bilstein electronically adjustable dampers; 19×9.5-inch front/20×9.5-inch rear tarnish-painted forged-aluminum multi-spoke wheels with P265/40R19 ultra performance tires on the front and P285/35R20 ultra performance tires on the rear; a unique shift knob and unique instrument cluster.
There was also the SVT Track Pack that could be added when the SVT Performance Package was ordered and it included an external engine oil cooler; a transmission cooler pump; a differential cooler and brake cooler ducks to keep the massive brake from overheating during track duties.
Specs & Performance Stats
Engine
Type: 90-degree, DOHC 32-Valve supercharged aluminum V-8
Displacement: 5.8L / 351 CID
Horsepower: 662 hp @ 6500 rpm
Torque: 631 lbs.-ft. @ 4000 rpm
Bore x Stroke: 3.68 in. x 4.17 in.
Compression:  9.0:1
Suspension
Front: Independent MacPherson strut with reverse-L lower control arm, Standard: twin-tube dampers, 33.2 x 5.0-mm tubular stabilizer bar. Optional: Bilstein adjustable monotube dampers, 33.2 x 5.0-mm tubular stabilizer bar
Rear: 3-link solid axle with coil springs, panhard rod, Standard: twin-tube dampers, 23mm  soid stabilizer bar. Optional: Bilstein adjustable monotube dampers, 23-mm solid stabilizer bar
Brakes
Front: 15.0 in. vented Brembo disc, six-piston aluminum caliper
Rear: 13.8 in. vented disc, single-piston caliper
ABS: Four channel, four-sensor ABS system with EBD, linked to all-speed traction control
Wheels/Tires
Wheels: 10-spoke forged aluminum; Front – 19 x 9.5 in., Rear – 20 x 9.5 in.
Tires: Coupe – Goodyear Eagle© F1 SuperCar G:2 P265/40ZR-19 Front; P285/35ZR-20 Rear
Performance
Try 0 – 60 mph in just 3.5 seconds and a quarter mile time of 11.6 seconds at 125 mph on for size and a top speed is 202 mph. We are talking supercar territory numbers here folks. And not only is it fast, it also capable of producing 1.00 g's on a skip pad with its copious about of grip. Without a doubt the 2013 GT500 was made to not only impress but frighten anyone who came across this beast.
0-60 mph: 3.5 seconds (Motor Trend)
60-0 mph braking: 101 feet (Motor Trend)
1/4-mile @ MPH: 11.6 seconds @ 125.7 mph (Motor Trend)
Production
Total Produced: 4,885
Total Coupe Produced: 4,077
 – Black: 1,464
– Deep Impact Blue: 530
– White: 461
– Sterling Grey: 448
– Candy Red: 380
– Race Red: 346
– Grabber Blue: 283
– Ingot Silver: 165
Total Convertible Produced: 808
 – Black: 286
– Deep Impact Blue: 135
– Candy Red: 87
– Race Red: 87
– White: 67
– Sterling Grey: 64
– Grabber Blue: 49
– Ingot Silver: 33
VIN
Pictures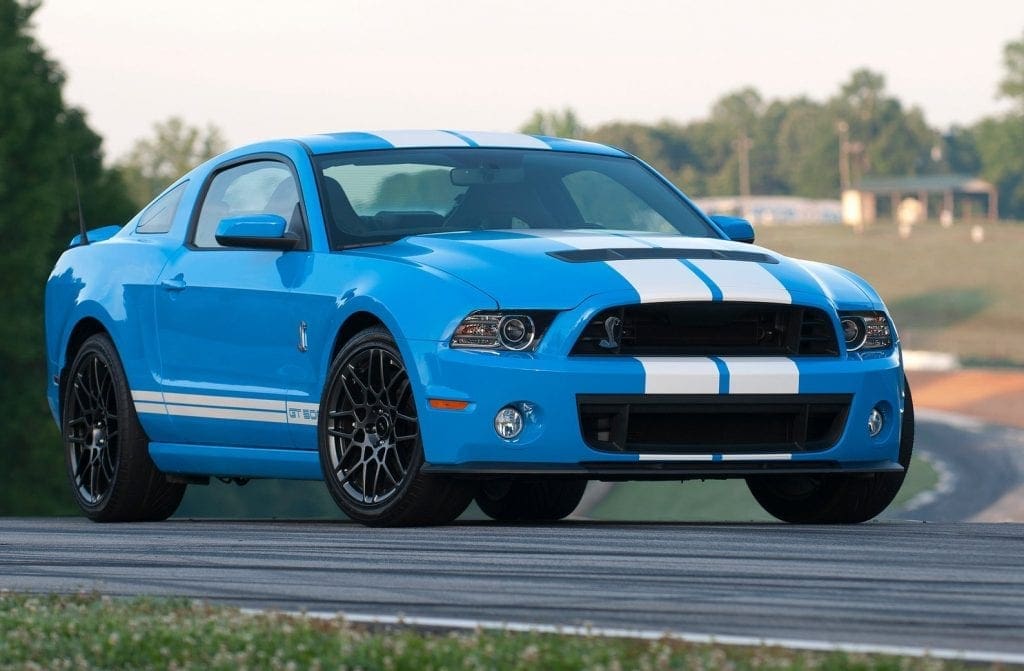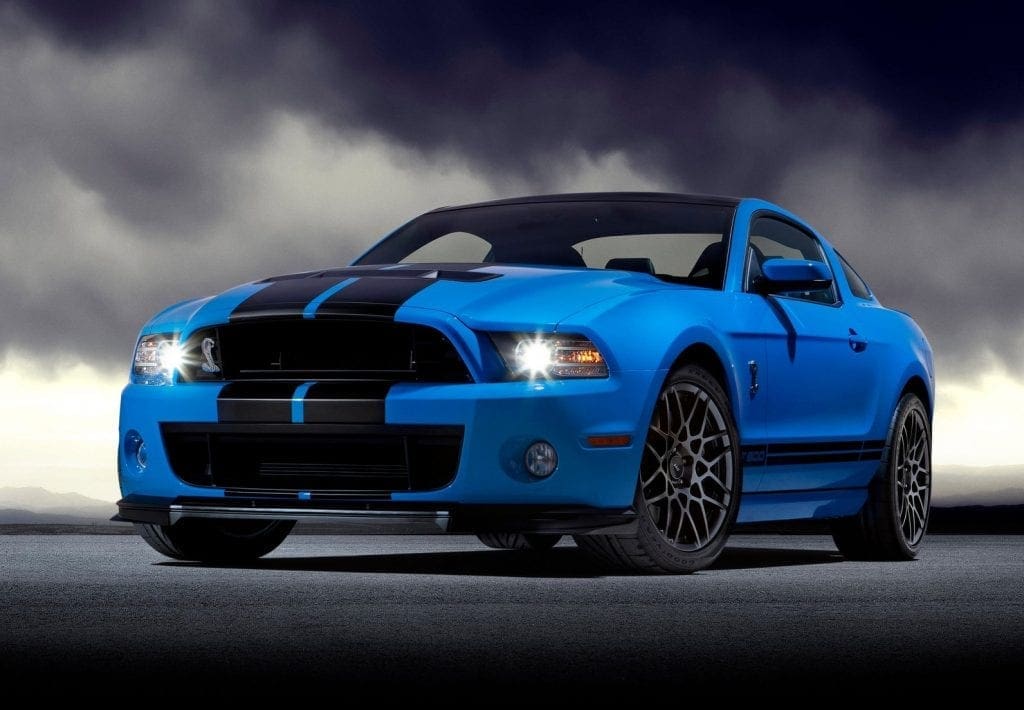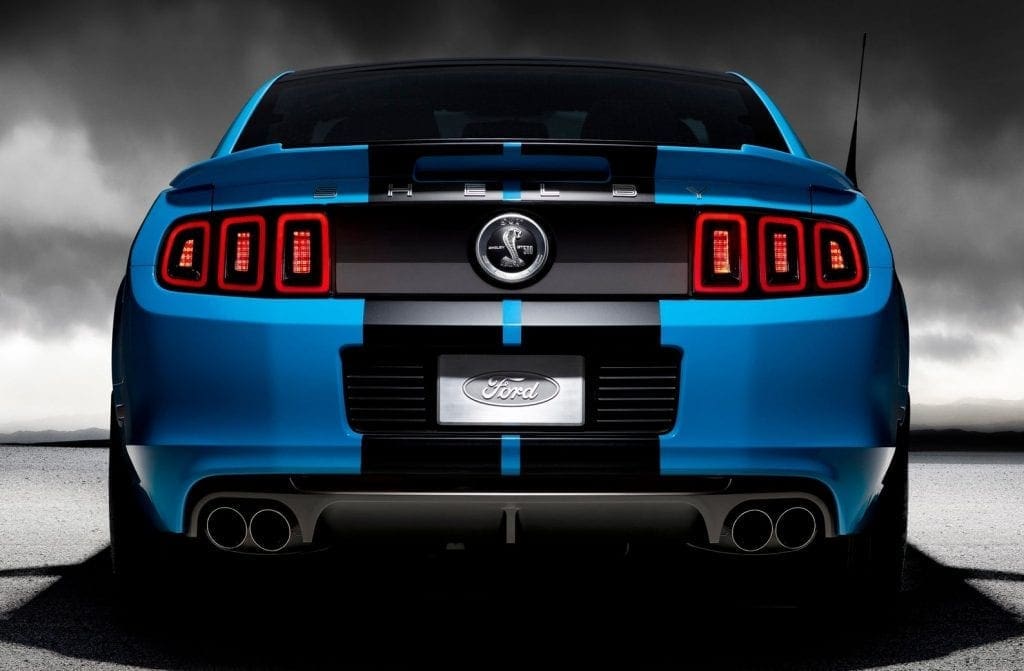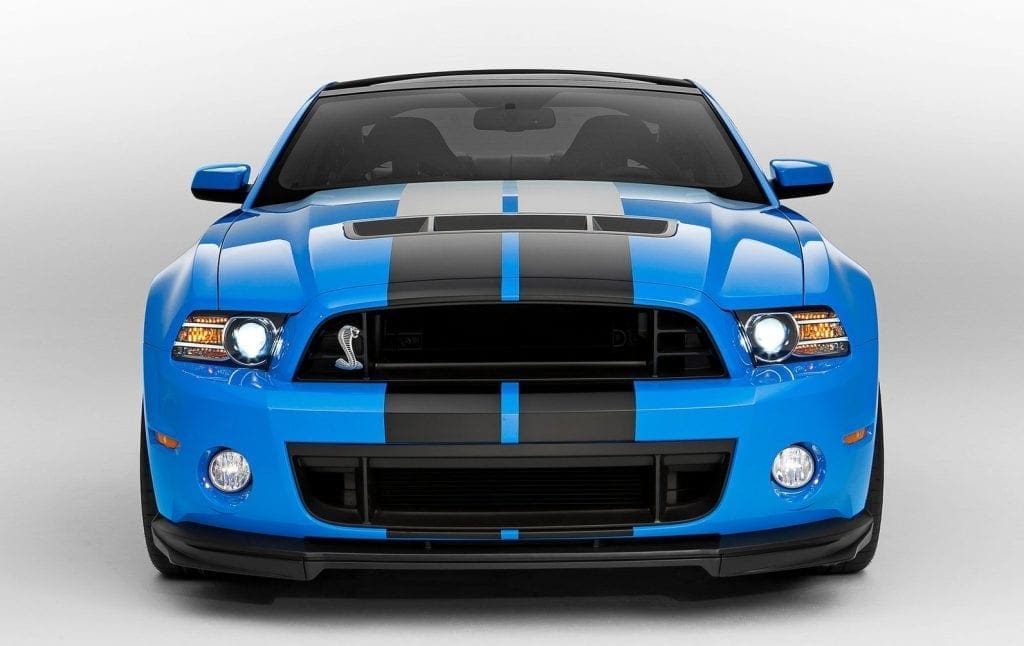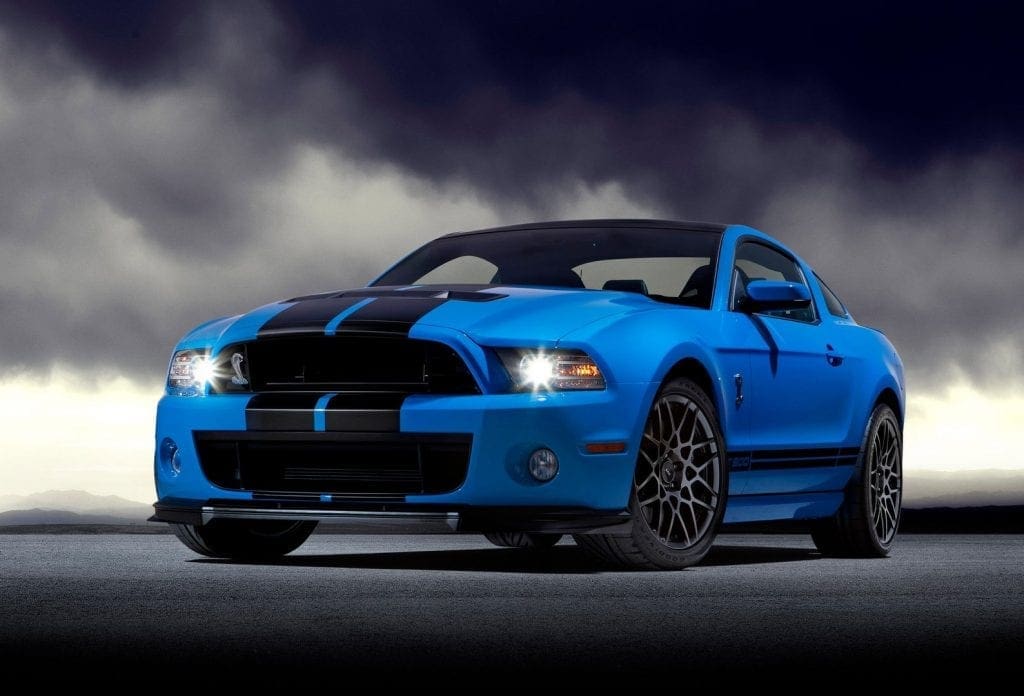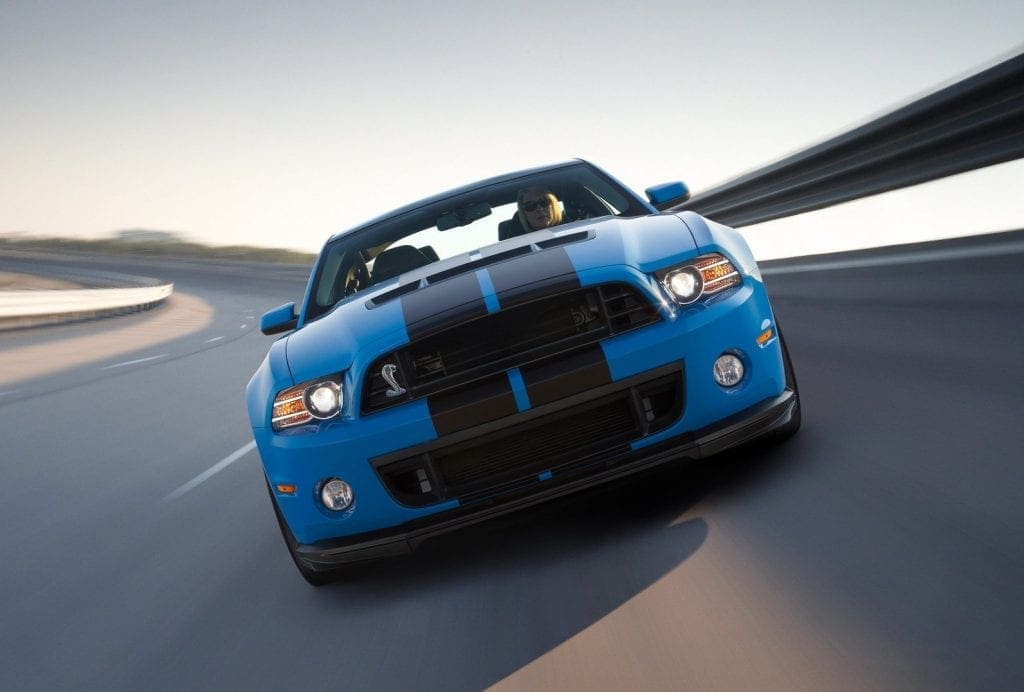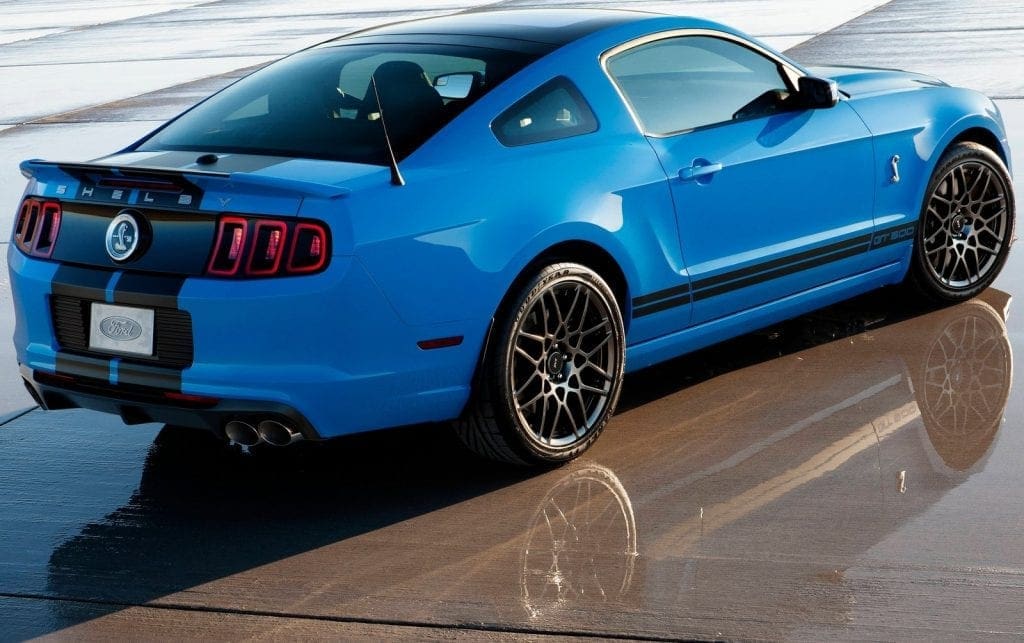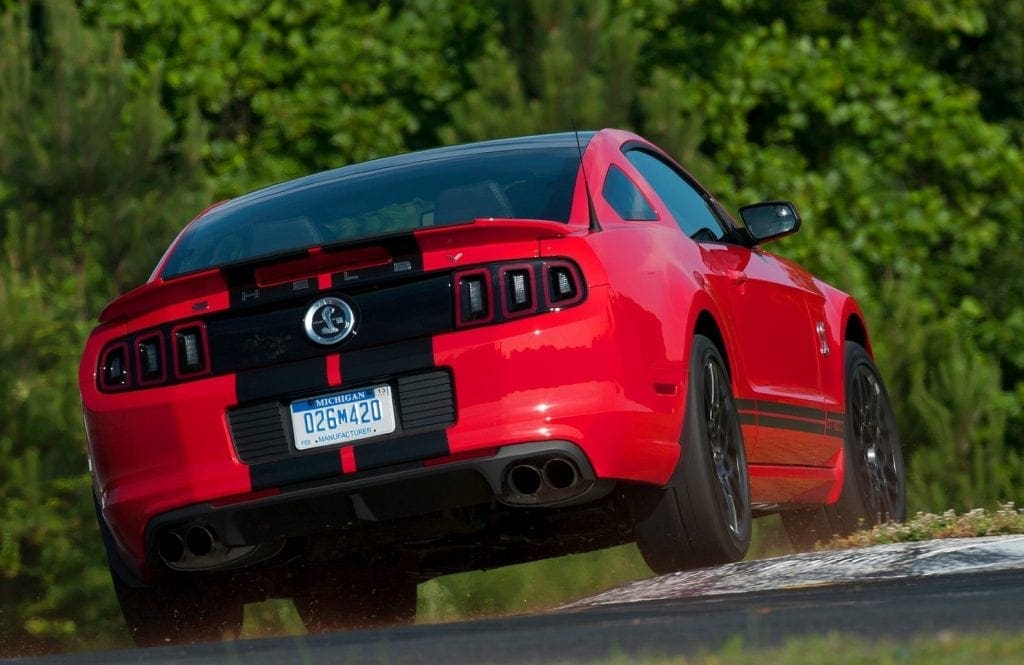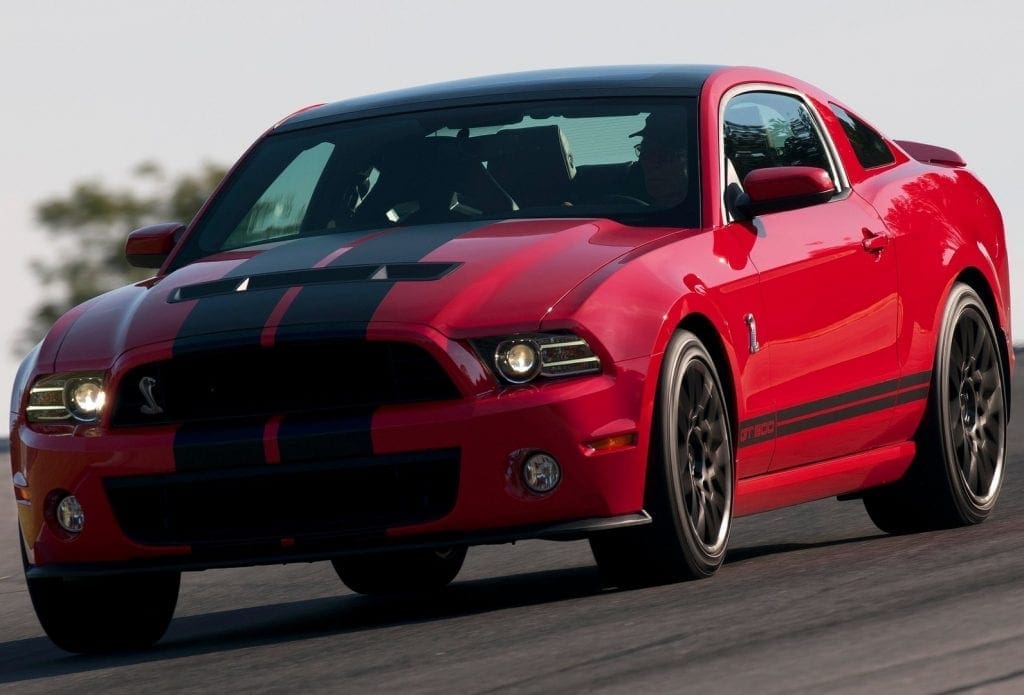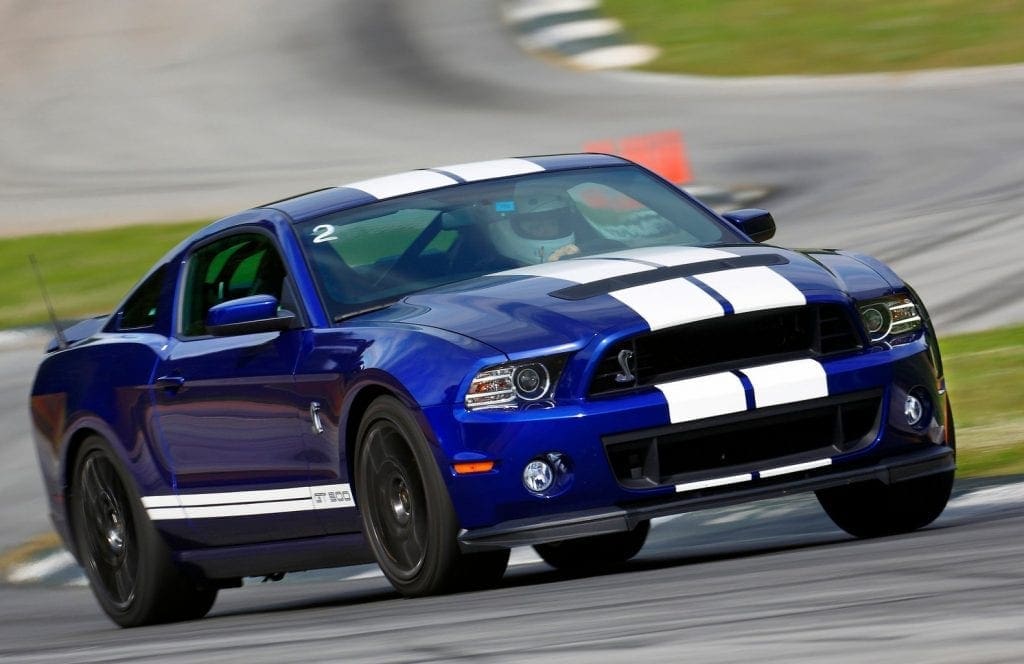 Press Releases
Coupe Press Release
LOS ANGELES, Nov. 15, 2011 – The ultimate Ford Mustang – Shelby GT500 – raises the bar high on performance with the introduction of the new 2013 model that goes on sale next year delivering 650 horsepower and a top speed of more than 200 mph.
"SVT keeps the Shelby GT500 on the cutting edge of technology and takes muscle car performance to new heights," said Jost Capito, director of Global Performance Vehicles and Motorsport Business Development. "We encapsulated every aspect of performance in this car – whether it's 0-60, top speed, racetrack or quarter-mile times. Beyond that, the daily driver also will find this car perfectly fits his or her needs."
The 5.8-liter V8 aluminum-block engine produces 650 horsepower and 600 lb.-ft. of torque, making it the most powerful production V8 in the world. The 3,850-pound car also stays exempt from the gas-guzzler tax.
Nearly every part of the powertrain has been optimized for producing the additional horsepower, including a new supercharger, new cross-drilled block and heads, updated camshaft profiles, a new carbon fiber driveshaft and upgraded clutch, transmission and axle.
A larger, more-efficient supercharger flowing more air through the engine is key to helping produce the massive 650 horsepower. The new TVS series 2300 creates 2.3 liters of displacement and is a unique design to the 5.8-liter engine.
The entire cooling system has been significantly updated on the new 5.8-liter engine. It now includes a larger cooling fan, fan shroud with high-speed pressure-relief doors, a more efficient charge air cooler, a higher-flow intercooler pump and an intercooler heat exchanger with volume increased 36 percent.
Revised gearing
Nearly every gear on the 2013 Ford Shelby GT500 was revised to manage the torque and use more of the power in a way that makes it more driver-friendly. Engineers considered more than 35 gearing combinations, finally deciding on one that delivers less torque all the way through the wheels to the ground and still enables the car to achieve fuel economy targets.
A key piece of the driveline, the six-speed manual transmission, offers upgraded gears, bearings and housing so it can properly manage the torque. The final drive ratio is now 3.31:1 for optimized overall vehicle gearing to complement the massive torque. Every gear besides fourth was optimized for competing performance metrics. The clutch has increased torque and rpm capacity and uses a dual-disc design.
"It might just seem like we're putting a bigger engine into the car. But it's been a balanced approach through and through," said Jamal Hameedi, SVT chief engineer. "We've completely redone the car to be even more sophisticated in terms of handling and control than the prior model."
Other keys for improved traction management include:
Torsen limited-slip differential:When customers order the optional Performance Package, they will get a Torsen limited-slip differential that helps the rear suspension deliver maximum torque and traction better and longer under track conditions
Launch control: A new launch control system lets drivers set the desired launch rpm depending on tire temperature, street surface or other conditions. Unique to SVT's launch control is that it is integrated with both the engine control and traction control
Brembo braking system: A new Brembo brake system offers drivers enhanced stopping power to help keep their car under control, both on the road and the track. New six-piston calipers in front along with larger front and rear rotors help improve brake fade. New brake pads that are more aggressive also help the car achieve high deceleration and further robustness for more driver confidence
Aero Advancements
Significant aerodynamic work was done on the new Shelby GT500 to ensure the car has proper downforce for optimum performance at all speeds. Engineers were able to determine how to harness the air that was moving around and through the car to improve the cooling system, maximize downforce and minimize drag.
The front fascia and splitters were modified to handle the extreme loads at 200 mph, resulting in a car that tracks more securely and feels more planted to the road at higher speeds. It offers 33 percent more effective aero loading at 160 mph compared to the 2011 model.
Superior ride
The new Shelby GT500's driving dynamics have been improved, now working in concert with all the new content on the car.
Handling, all AdvanceTrac settings and steering assist levels within selectable steering have been tuned to account for the updated content. The previously available unique traction control system and electronic stability control settings help drivers achieve maximum performance on both the street and the track.
Both systems can be completely disabled in controlled track situations where maximum driver skill is utilized, or fully engaged for maximum safety during normal driving or in less-than-ideal traction conditions. Intermediate sport mode allows drivers to push their cars hard at the track without completely disabling the safety systems, permitting more aggressive driving before the traction control and electronic stability control intervene.
"We took a completely different approach with this car so drivers can choose their settings instead of a computer making the selection," Hameedi said. "Nearly every system the driver interacts with can be tailored to his or her situation including the Bilstein electronic adjustable suspension, launch control, AdvanceTrac and steering assist levels."
The 2013 Shelby GT500 offers two new sets of forged-aluminum wheels including a unique wheel for cars with the optional packages. The 19-inch front and 20-inch rear wheels are coupled with Goodyear Eagle® F1 SuperCar G: 2 tires on all vehicle configurations.
Taking it one step further
Sometimes Ford Shelby GT500 customers want to enjoy their car on surface streets. Other times they just want to let loose on the track. Two new optional packages on the 2013 model give them the choice.
Available as part of the optional Performance Package, SVT-designed Bilstein electronic adjustable dampers are accessed on the dash with a simple push of a button. Normal mode gives customers a more comfortable ride over road irregularities. Sport mode is all about performance, delivering improved response time on the track and less body roll while cornering and pitch under braking. The Torsen limited-slip differential also comes with the Performance Package.
"The adjustable shocks let us develop our car on the track without any compromise," said Kerry Baldori, Ford SVT Global Performance Vehicles chief engineer. "Before, we had to tune the car with street implications in mind. Now we can go as extreme as we want on the track setting and still offer the customer a comfortable ride on the road."
Enthusiasts can upgrade their Performance Package with an additional Track Package for all-out performance. The option comes with an external engine oil cooler, rear differential cooler and transmission cooler for further durability. The coolers play an essential role in preventing crucial components from overheating under high-speed conditions.
The 2013 Ford Shelby GT500 will be built at AutoAlliance International Plant in Flat Rock, Mich.
Convertible Press Release
CHICAGO, Feb. 8, 2012 – The official launch of SVT came during the 1992 Chicago Auto Show with the unveiling of the 1993 SVT Mustang Cobra and SVT F-150 Lightning. Now Ford returns to Chicago to celebrate its past and look to the future with the 2013 Shelby GT500 convertible.
In honor of SVT's anniversary, a commemorative lighted sill plate will be used in the 2013 Shelby GT500 to celebrate the many years of performance vehicles. The 1993 SVT Mustang Cobra offered a 235-horsepower 5.0-liter V8 engine, which demonstrates just how far the products have come in 20 years. The 2013 Shelby GT500 with its 650-horsepower V8 marks the latest offering from one of the oldest and most successful automotive performance groups in the world.
"The Shelby GT500 convertible is every bit the performer that the coupe is," said Kerry Baldori, SVT Global Performance Vehicles chief engineer. "All of the significant changes we made in the program were instrumental in delivering a convertible that could really shine on the track but can still be driven on a daily basis."
The 2013 Shelby GT500 convertible with the optional Performance Package is faster around a track than the outgoing model. The new convertible shaved nearly 3.5 seconds off its lap time at Sebring International Raceway compared to the 2011 and 2012 models.
Keys to the improved lap times are the power boost from the new 5.8-liter supercharged V8 producing 650 horsepower, as well as the SVT-designed Bilstein electronic adjustable dampers available on the Performance Package and the all-new chassis tuning.
Accessed on the dash with a simple push of a button, normal mode gives customers a more comfortable ride over road irregularities. Sport mode is all about performance, delivering improved response time on the track and less body roll while cornering with reduced pitch under braking. The upgraded dampers allowed SVT engineers to tune the convertible more aggressively for the track, while still being able to maintain desirable on-road manners.
A new Brembo brake system also is a key enabler in boosting the performance of the convertible. The new brakes offer drivers enhanced stopping power to help keep their car under control, while new six-piston calipers in front along with larger front and rear rotors further improve braking performance. More aggressive brake pads also help the car achieve high deceleration and further robustness for more driver confidence.
20 Years Of Innovation
Each of the more than 210,000 SVT vehicles produced since 1993 has been designed and developed with the four SVT attributes in mind: Performance, Substance, Exclusivity and Value. These hallmarks still guide the brand's vehicle development today.
"In the past 20 years, SVT has engineered world-class mid-engine supercars, front-wheel-drive performance cars, rear-wheel-drive muscle cars and high-performance on-road and off-road pickup trucks," said Jamal Hameedi, SVT chief engineer. "There is no other performance house in t