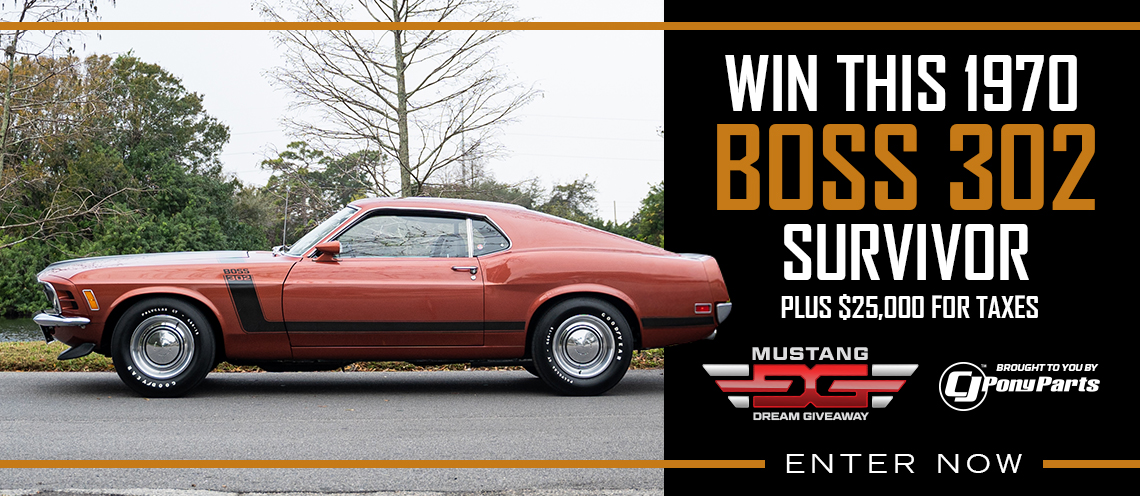 2013 Ford Mustang
2013 Ford Mustang Overview
The 2013 Ford Mustang got more refinement and a mild refresh in terms of design. The newly enhanced muscular styling is welcome as is the chassis development that continues to make the entire Mustang range better. Good news for 2013 included the return of the Boss 302 and Laguna Seca models, but the big news was the upgrades to the Shelby GT500. The Trinity V8 is a 5.8-liter V8 aluminum-blocked engined that produced 662 horsepower and 631 lbs/ft of torque. Wow.
| | |
| --- | --- |
| Model: | 2013 Ford Mustang |
| Generation: | 5th Generation Mustang |
| Type: | 2 Door |
| Body Styles: | Coupe, Convertible |
| Engines: | 3.7L DOHC EFI V6, 5.0L DOHC V8, 5.0L Hi-Po DOHC V8 (Boss), 5.8L 4V V8 Supercharged (GT500) |
| Original Price: | $22,200 (Base Coupe), $27,200 (Basic Convertible) |
| Units Produced: | N/A |
Additional 2013 Mustang Research: 2013 Research Center / Colors Details / Production Numbers / Prices & Options / Sales Brochures / Owner Manuals / Maintenance / Pictures / Videos / VIN Decoder / Special Editions
Background & Details
Design & Styling
The entire 2013 Mustang range got a styling update. Overall, the Mustangs had a more muscular looking front end design, a more angular and substantial styling change which made the range look more like performance cars.
Most notable changes on the front end were the newly styled nose and more prominent front grille. The headlight assembly now had HID headlamps and LED accent lighting as standard which really modernized the look of the range. The V6 and GT Mustangs had slightly more aggressive and powerful hood re-designs too. Mustang GT's now had a pair of intake louvers, which Ford calls heat extractors in that new hood. The GT also came equipped with LED fog lamps up front.
Lower rocker panel moldings were now painted the same colour as the rest of the car for better integration into the rest of the bodywork. At the rear all Mustangs received new LED tail lamp assemblies with sequential brake lights and signals plus a glossy black filler panel located between the taillights.
Interior
Changes to the interior of the 2013 Ford Mustang are relatively minor overall. The leather-wrapped steering wheel with speed and audio controls is standard on all models.
On the Mustang V6 cars you could check the option box and get a pair of the same Recaro bucket seats that were previously only available on the Boss 302 and Shelby GT500 cars. These Recaro seats were available in cloth or leather and were heavily bolstered to really hold you in place when "spirited driving" was happening.
Another cool feature that complemented any one of the premium models and performance packages and was standard on V6 Premium and GT Premium models was a 4.2-inch LCD screen located in between the tachometer and speedometer with Track Apps functions. Track Apps enabled the driver to measure acceleration times, braking performance and g-forces. Engine functions could also be displayed on the LCD screen.
Capping off interior changes was a new Shaker Pro Audio System with 550 watts and 9 speakers including 3, yes 3 subwoofers, which was optional on GT Premium.
Engine & Transmission
Ford's Mustang V6 powered cars were unchanged in terms of engine improvements. The V6 engine was a good unit that had more than enough power at 305 horsepower for an entry level car. The Ford Coyote V8 got a small power bump, and was now up to 420 horsepower thanks to better breathing and better cooling thanks to the design changes mentioned earlier.
The automatic got a new feature with SelectShift for the 6-speed automatic. The feature allowed drivers to manually change gears of the automatic transmission by moving the lever to Sport mode and hitting + or – signs. This gave owners of automatic transmission Mustangs a little more control. On the manual cars, hill-assist functionality was now available and was a great creature comfort for drivers.
Once again the sensational Brembo Brake Package returned unchanged along with the 3.55:1 and 3.73: gear ratios, both with limited-slip. More exciting though was the new and exciting GT Track Package which included all the contents of the Brembo Brake Package plus engine oil cooler, the BOSS 302 radiator and a 3.73:1 gear ratio with a Torsen helical limited-slip rear differential. Combined with the Recaro Sport seats and the Track Package, the Mustang became one of the best sports cars available for 2013.
Special Edition Models & Variants
The Mustang Club of America Edition returned with new bodyside tape stripes, but was otherwise unchanged. The 2013 Mustang GT received a lot of improvements and refinements and was a great all around package for performance-minded buyers. The California Special got a new front fascia that looked awesome. The Boss 302 was also back for 2013 and increasing horsepower wasn't the priority. The team took track and on the road learnings and optimized and improved the already epic package for 2013. Chassis tuning and suspension refinements, coupled with some cool and useable new electronics made the our favorite road racer even more potent. The top dog in terms of special models was the Shelby GT500 with its now 662hp supercharged V8.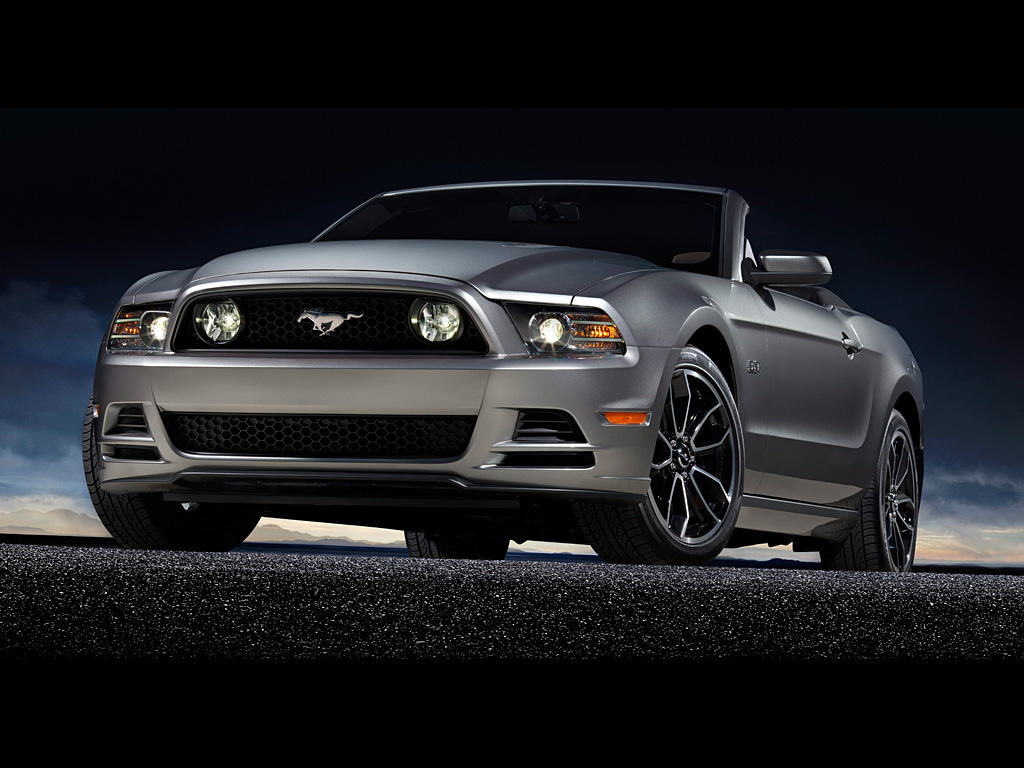 GT
The new 2013 Mustang GT, which Ford made available in spring 2012, brings a crisper silhouette and a number of overall refinements. Following many of the styling cues of the famous 1970 Boss 302, the new 2013 Mustang GT receives new, more aggressive front and rear styling. The front grille and fascia have been made to look stronger and more aggressive without appearing boxy, including a new front splitter. The hood of the new 2013 Mustang GT has received heat extractors that are not only functional, but look good.
Learn more about the 2013 Ford Mustang GT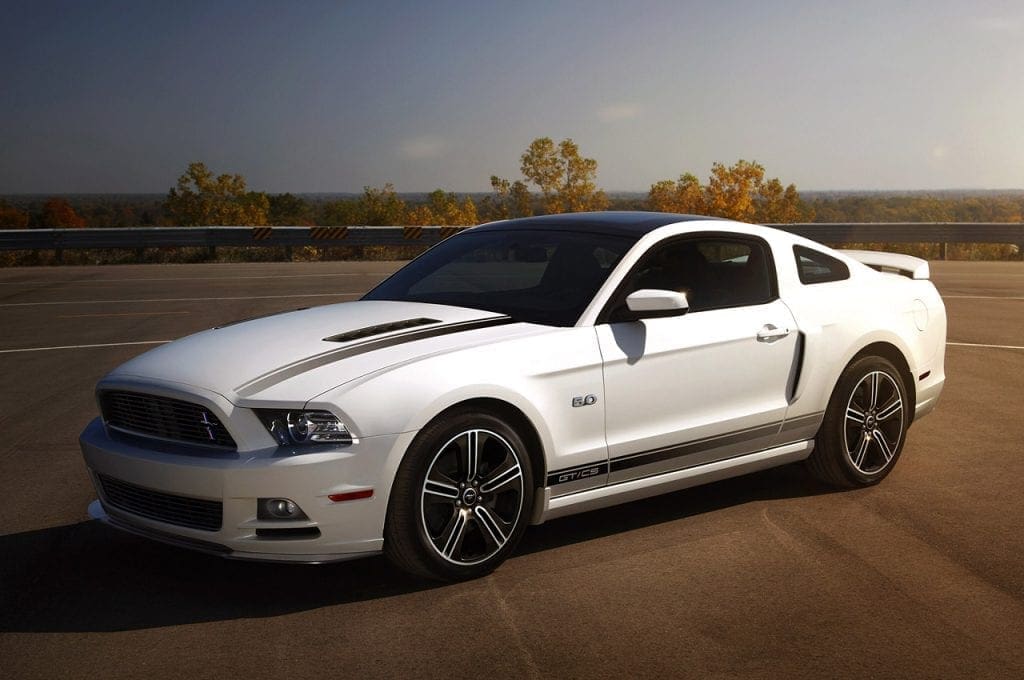 California Special
The 402A Spec level is the California Special Package was back again for 2013. The California Special returned virtually unchanged, looking better than ever with the styling changes for 2013. It included a unique chrome billet grille with body color surround and Tri-Bar Pony Badge (w/o Fog lamps), unique side stripes, unique lower fascia with fog lamps, unique 19″x8.5″ Machined Painted Wheels
Learn more about the 2013 Ford Mustang GT California Special
Shelby GT500
The 2013 Shelby GT500's 5.8-liter V8 aluminum-block engine produced 662 horsepower and 631 lbs/ft of torque, making it the highest-horsepower engine ever produced in North America to date. Nearly every part of the powertrain was optimized for producing the additional horsepower, including a new supercharger, new cross-drilled blocks and heads, an all-forced engine rotating assembly, updated camshaft profiles, upgraded head gaskets, a new carbon fiber driveshaft and upgraded clutch, transmission and axles.
Learn more about the 2013 Ford Mustang Shelby GT500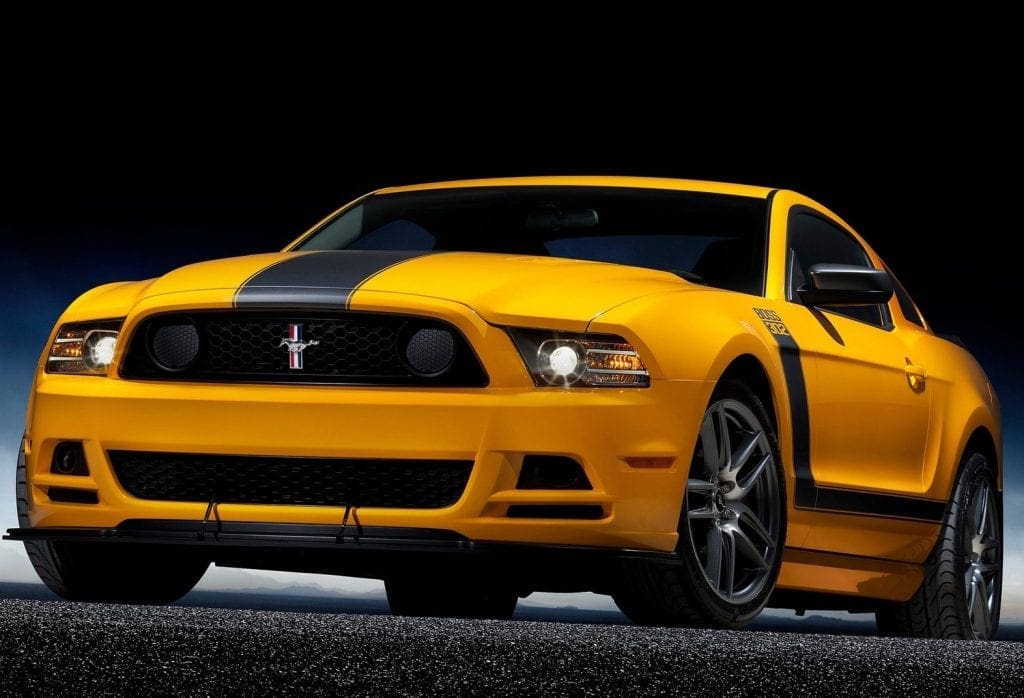 Boss 302
For 2013 the Boss 302 came racing back sporting the styling changes that benefitted all Mustangs across the line. Mechanically the car remained unchanged as there was little reason for engineers to fiddle with the Boss's near perfect package. Any changes to the Boss 302 for 2013 revolved around the esthetics of the car. Along with the front and rear end styling refinements found on Mustang GT's the standard Boss 302 wore new low-gloss black reflective hood and hockey stick side graphics that were inspired by the 1970 Boss 302.
Learn more about the 2013 Ford Mustang Boss 302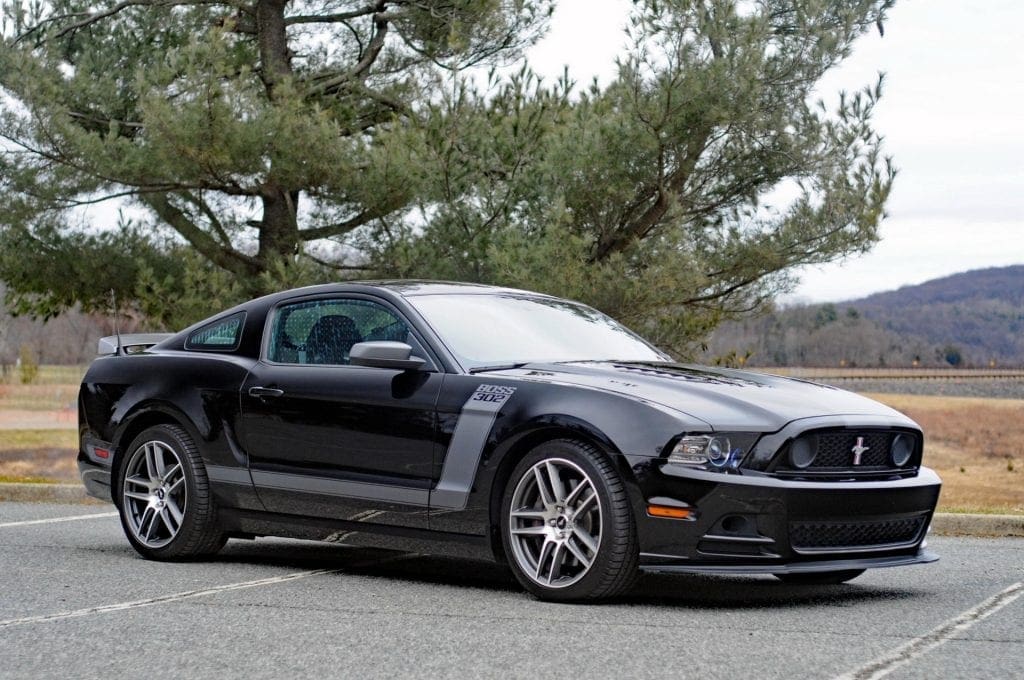 Boss Laguna Seca 302
A new hockey stick graphic featuring reflective stripes was added to the new Boss, calling back the 1970 Boss 302. The Boss Laguna Seca 302 had new Sterling Gray accents and was available in vintage School Bus Yellow and Black paint offerings, complemented by that hockey stick stripes and gray interior rear cross-brace. Thankfully under the hood things stayed untouched from the 2013 model year car.
Learn more about the 2013 Ford Mustang Boss Laguna Seca 302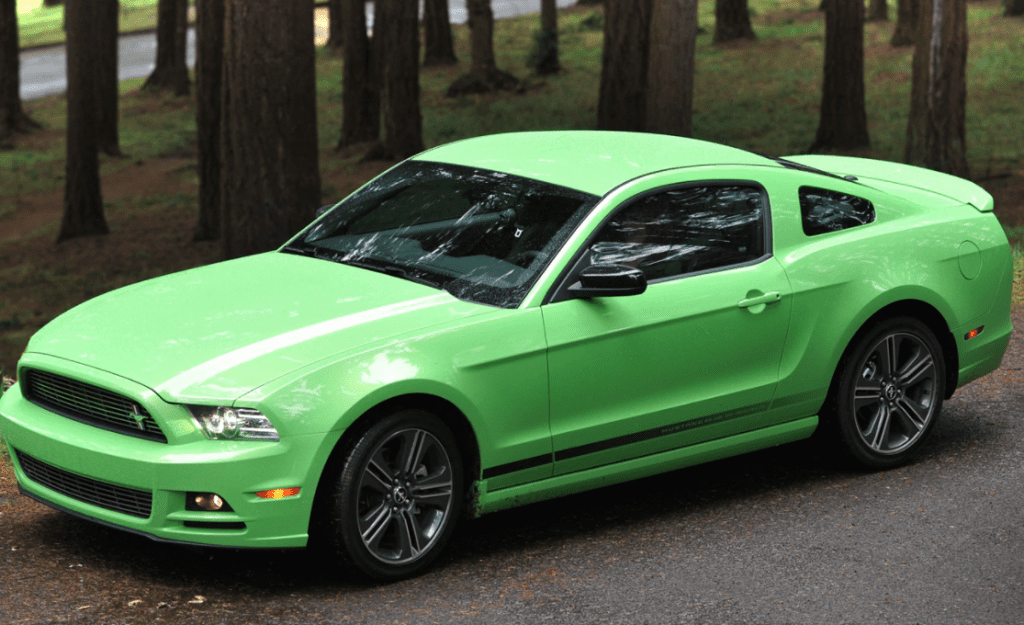 Mustang Club of America Edition
For someone seeking something really special the Mustang Club of America Edition was back again for the 2013 model year as option code 203A. It was made available in both coupe and convertible body styles for the 2013 model year. It continued to be a collectible Mustang that was very sought after.
Learn more about the 2013 Ford Mustang Club of America Edition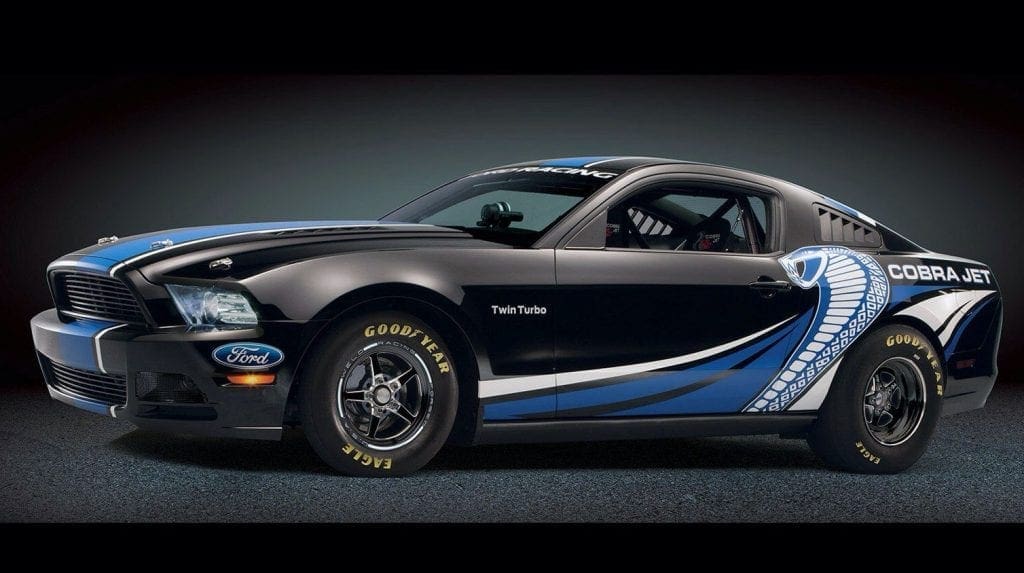 Cobra Jet
The Cobra Jet returns in 2013. Once again it has the latest in drag racing technology delivering speed and consistency for NHRA Stock and Super Stock racing. With over three seasons of testing, racing, and customer feedback the Cobra Jet is better than ever with exciting new features, more performance and priced to be the best value in the market.
Learn more about the 2013 Ford Mustang Cobra Jet
Aftermarket Mustang Models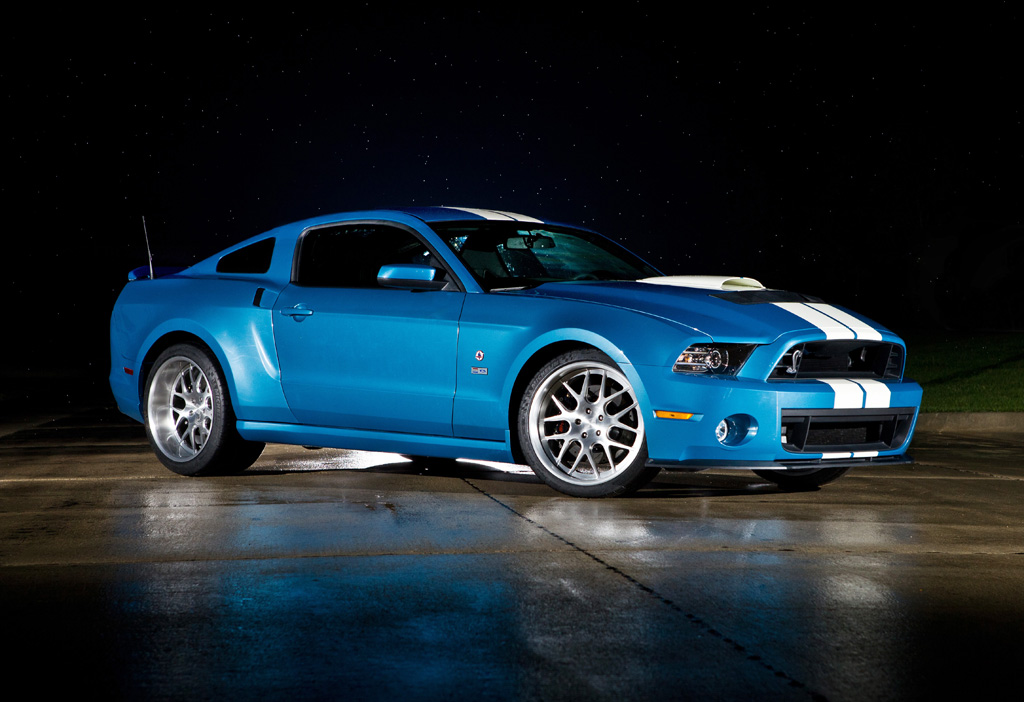 Shelby GT500 Cobra
Friends of Carroll Shelby, including Ford Motor Company, Shelby American, Ford Racing and many others have built a unique 2013 Shelby GT500 Cobra as a tribute to the late Carroll Shelby. Ford is also announcing a renamed road at its Product Development Center in Dearborn, Mich., as a tribute to Shelby as well. Cobra has been the consistent performance label as Shelby worked with Ford for most of the last 60 years, and Shelby was instrumental in the creation of Ford performance vehicles including Cobras, the GT40 and Mustangs since the mid-1960s.
Learn more about the 2013 Ford Mustang Shelby GT500 Cobra
Specifications, Options & Detailed Stats
Production Numbers
2013 is the only year where we could not find production data for the Mustang. Sorry folks. We will keep looking.
Options and Pricing
The V-6 Performance Package and V-6 Pony Package returned unchanged. Pony projection light side mirrors were now included in the Comfort Package. These cool mirrors would cast an image of the Mustang running Pony on the ground when the unlock button is activated.
Also new for both the V-6 and GT was the Reverse Sensing and Security Package that included a new reverse sensing system that would alert the driver when they were approaching an object while reversing with an audible pattern of beeps that would increase in frequency as the vehicle came closer to the object and would become one steady tone when the driver was about to hit the object. Also part of the package was an Active Anti-Theft System and wheel locks. Most of the V-6 Mustang's other options and features pretty much carried over from 2012.
Like the V-6 Mustang, most of the GT's options and packages returned for 2013 with little being changed.
The Brembo Brake Package (55D) and V6 Performance Package (67B) could have an Automatic Transmission. The GT Track Package (55R) included Brembo Brake Package content plus the TORSEN® helical differential with 3.73:1 axle ratio a Boss 302 radiator and an engine oil cooler. Reverse Sensing System & Security Pkg (43S) Included Reverse Sensing System, Active Anti-Theft System and a Wheel Locking Kit.
The Comfort Group (53B) added Heated Mirrors with Pony Projection Lights. A Shaker™ Pro Audio System (918) is now available for order with Electronics Package (58N).
For more detailed options and pricing please check out our 2013 pricing and options research.
| Grouping | Description | Retail Price |
| --- | --- | --- |
| Base Car | 2 Door Hardtop | 22,200.00 |
| Base Car | 2 Door Premium Hardtop | 26,200.00 |
| Base Car | 2 Door Convertible | 27,200.00 |
| Base Car | 2 Door Premium Convertible | 31,200.00 |
| Base Car | 2 Door GT Hardtop | 30,750.00 |
| Base Car | 2 Door GT Premium Hardtop | 34,750.00 |
| Base Car | 2 Door GT Convertible | 35,750.00 |
| Base Car | 2 Door GT Premium Convertible | 39,750.00 |
| Base Car | 2 Door Boss 302 Coupe | 42,200.00 |
| Base Car | 2 Door Shelby GT500 Coupe | 54,200.00 |
| Base Car | 2 Door Shelby GT500 Convertible | 59,200.00 |
Exterior & Interior Colors
A total of 10 colors were available for the 2013 Mustang model year. New colors included a Boss exclusive School Bus Yellow (B1), Gotta Have it Green (HD), a Deep Impact Blue (J4). Colors no longer available included Competition Orange, Lava Red Metallic, or Kona Blue Metallic. For detailed colors, color palettes, codes and interior colors please check out our in depth 2013 colors information post.
Engine Specs
The Base Mustang continued to be powered by the solid 3.7 liter V6 which was good for 305 hp and 280 lb/ft of torque. The V8 Mustang GT got 420 hp and 390 lb/ft of torque from the awesome 5.0L Coyote DOHC V8. The 5.0 liter engine in the 2012 Boss was carried over for the 2013 Boss, still with its screaming 444 hp and 380 lb/ft of torque.
The biggest news for the 2013 range was the Shelby Mustang GT500's Trinity engine which saw a substantial increase in power, coming from changes in two areas. First, it was bored out to 5.8 liters V8. The second source of more power for the 2013 GT500 Mustang is the addition of a new, more efficient Eaton TVS supercharger. The result was a staggering 662 hp and 631 lb/ft of torque.
For more information on engines for 2013, you can find the information here.
| Engine Name & Year | Fuel | Compression | Power (hp @ RPM) | Torque (lb/ft @ RPM) |
| --- | --- | --- | --- | --- |
| 2013 - 351 Trinity V8 (5.8 L) (GT-500) | 4V Supercharged | 9.0:1 | 650 hp @ 6250 RPM | 600 lb/ft @ 4000 RPM |
| 2013 - 302 Coyote V8 (5.0 L) (Boss) | Hi-Po DOHC | 11.0:1 | 444 hp @ 7500 RPM | 380 lb/ft @ 4500 RPM |
| 2013 - 302 Coyote V8 (5.0 L) (GT) | DOHC | 11.0:1 | 420 hp @ 6500 RPM | 390 lb/ft @ 4250 RPM |
| 2013 - 227 Duratec V6 Engine (3.7L) | DOHC | 10.5:1 | 305 hp @ 6500 RPM | 280 lb/ft @ 4250 RPM |
Dimensions & Weight
There were no major changes to the dimension and weight of the main models despite the cosmetic changes across the board.
| Description | Measure |
| --- | --- |
| Exterior Wheelbase | 107.1 inches |
| Exterior Length | 188.1 inches |
| Exterior Height | 55.6 / 56.1 inches |
| Width excluding mirrors | 73.9 inches |
| Width including mirrors | 80.1 inches |
| Interior front Head room | 38.5 / 38.8 inches |
| Interior front Shoulder room | 55.3 inches |
| Interior front Hip room | 53.4 inches |
| Interior front Leg room | 42.4 inches |
| Interior rear Head room | 34.7/36.5 inches |
| Interior rear Shoulder room | 51.6 / 45.0 inches |
| Interior rear Hip room | 46.8 / 45.2 inches |
| Interior rear Leg room | 29.8 inches |
| Passenger volume cubic feet | 83.3 / 81.0 cubic feet |
| Luggage capacity cubic feet | 13.4 / 9.6 cubic feet |
| Total interior volume cubic feet | 96.7 / 90.6 cubic feet |
| Fuel capacity - gallons | 16 gallons |
Performance
Below we have included 0-60 mph times, 0-100 mph times as well as quarter mile times and top speed where available for the 2013 Mustang model range. The base GT was still bang for your buck performance king, while the Boss 302 escalated performance not just in a straight line but in real world driving like no other Mustang before it. However, when it comes to performance for 2013 it is hard to ignore the mighty 662 hp Shelby GT500 with its 3.5 seconds sprint from 0-60 mph and its 200+ mph top speed capability. Monumental. Below we have 0-6mph, top speed and quarter mile times for the 2013 Mustang range where they are available.
| Variant | 0-60 mph (sec) | 0-100 mph (sec) | Quarter Mile | Top Speed |
| --- | --- | --- | --- | --- |
| 2013 Ford Mustang V6 | 5.1 seconds | | 13.7 seconds | 130 mph |
| 2013 Ford Mustang GT | 4.6 seconds | | 13.2 seconds | 146 mph |
| 2013 Mustang Club of America Special | 5.1 seconds | | 13.7 seconds | 130 mph |
| 2013 Ford Mustang Shelby GT500 | 3.5 seconds | | 11.6 seconds @ 125.7 mph | 202 mph |
| 2012 Ford Mustang Boss 302 | 4.1 seconds | | 12.5 seconds | 155 mph |
| 2013 Ford Mustang Boss 302 Laguna Sec | 4.1 seconds | | 12.5 seconds | 155 mph |
VIN Information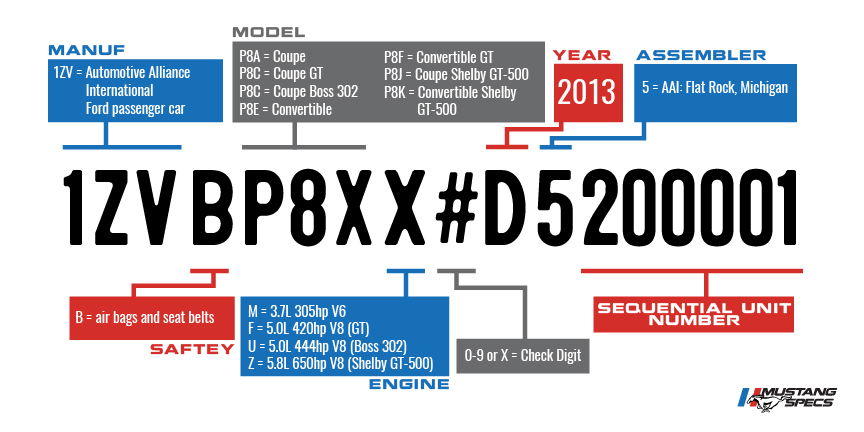 This link will take you to a page which contains the VIN tag information for all years of Mustangs. Previously this information appeared on each Mustang's year page, but consolidating it has significantly reduced page loading times. To decode the build sheet, check out our 2013 VIN & Data Plate Decoder sheet.
Videos & Picture Galleries
We managed to find some great video reviews of the 2013 Mustang so definitely check those out. We also have a picture 2013 Ford Mustang Picture Gallery and photos of real Mustangs in each color that was available.