The 7th Generation Ford Mustang
(2024–Present)
After 60 years of production, the Mustang has achieved a level of performance superiority far beyond that which most could have ever imagined. Today's Mustangs are often more potent than those of years past, though Mustangs of a classic vintage often steal the show. This can be easily observed when previewing the 7th-generation Mustang, in each of its remarkable forms.
See Also:
Though the 7th-generation Mustang has not yet arrived, fans of Ford's famed pony car were granted a glimpse into the future, during this past fall's Detroit Auto Show. Slated to debut during the 2024 model year, Ford's 7th-generation Mustang is a sight to behold, and will surely be a thrill to drive.
Ford Appears to Be Staying the Course
As many automakers, including Ford, pledge to abandon all internal combustion engine production in the near future, many consumers have been forced to question whether or not the 6th-generation Mustang would be the last to feature a gas-burning powerplant. Luckily, it appears that the Mustang has been spared from being completely repurposed as an EV, if only for a few more years.
Commenting on this matter, Ford CEO Jim Farley stated, "Investing in another generation of Mustang is a big statement at a time when many of our competitors are exiting the business of internal combustion vehicles. Ford, however, is turbocharging its ICE growth plan, adding connected technology, opinionated derivatives, and hybrid options to our most profitable and popular cars—all in the Ford Blue family—on top of investing $50 billion in electric vehicles through 2026."
Serving as the motivators behind 7th-generation production, are a couple of distinct powerplants. The first of which is a 2.3L turbocharged 4-cylinder EcoBoost. The latter, and most potent of these engines is a revised version of Ford's famed 5.0L Coyote V8.
As of yet, little in the way of performance specifications have been released for either engine, though Ford has not been shy toward claiming that this version of the V8 Coyote will be the fastest to date.
It also appears that consumers will be provided with options when selecting their transmission of choice for their new Mustang. Both a 10-speed automatic and a 6-speed rev-matching manual will be offered.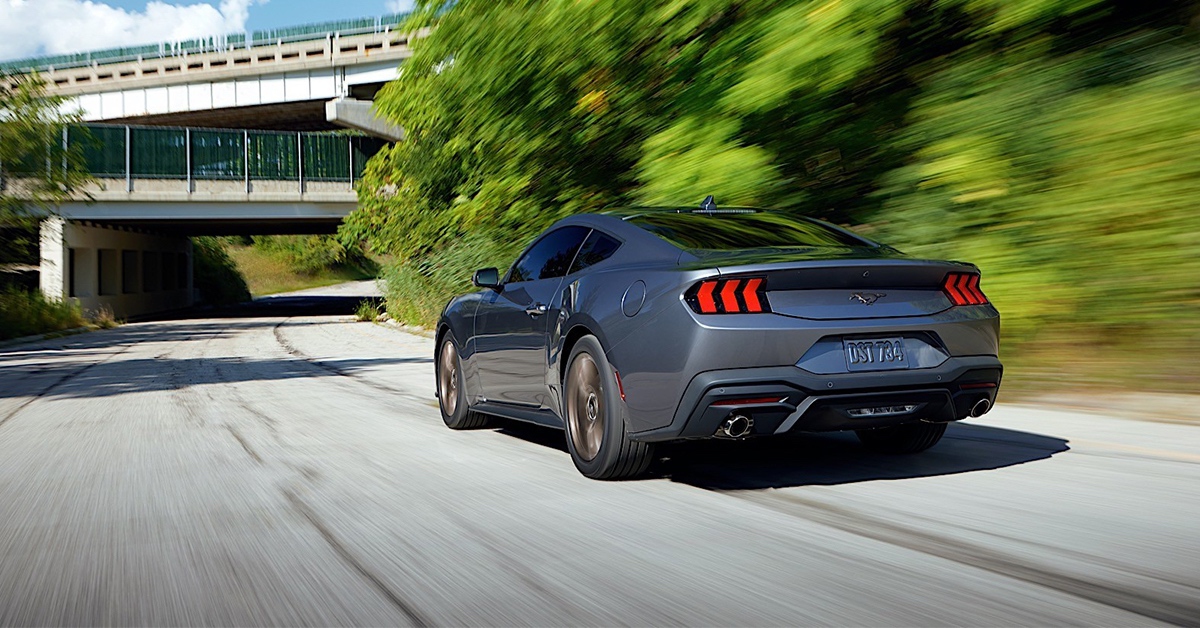 A New Mustang with Cutting Edge Technology
In terms of mechanical form and function, there are still more details to come regarding the 7th-generation Mustang. However, what we do know is that the 2024 Mustang will feature adjustable drive modes (six in total) that will vary a number of the vehicle's performance settings, to provide the best possible service under the circumstances at hand.
Additionally noted is the fact that the 7th-generation Mustang will be able to be optioned to include a specialized Performance Pack. The selection of this package will see the Mustang equipped with a Torsen limited-slip differential, and a MagneRide active suspension system.
Also worth mentioning is the addition of Ford's all-new Drift Brake, which Ford describes in the following manner:
"A segment-first electronic drift brake takes new technology to the racetrack, unlocking the rear-wheel-drive drifting capability of Mustang with the visual appeal and functionality of a traditional, mechanical handbrake," the company says. It's part of the Performance Package and "engineered for novice drivers to learn and improve their drift skills while also providing expert drivers with a competition-ready system."
Vastly Improved, Inside & Out
While it would be difficult to say that the 7th-generation Mustang's design departs significantly from that found in prior production efforts, there are some differences worth mentioning. Primarily, the 7th-generation Mustang now appears somewhat more muscular in design, featuring slightly bulged fenders, and a redefined roof line. New exterior color options include Vapor Blue and Yellow Splash.
Ford has also implied that a certain amount of retro appeal exists in the 7th-gen Mustang's overall physique. Most notably, Ford states that the Mustang's upper grille was heavily influenced by the design of earlier pony cars of the 1960s.
Moving inside, the 7th-generation Mustang's cockpit is nothing short of amazing to behold. Ford claims that this general design and layout were borrowed from the cockpits of popular fighter jets. Included within the cabin is a singular digital display, which combines the Mustang's traditional instrument cluster, with the car's typical infotainment head. This display is placed along the dash-line, in a single curved bezel.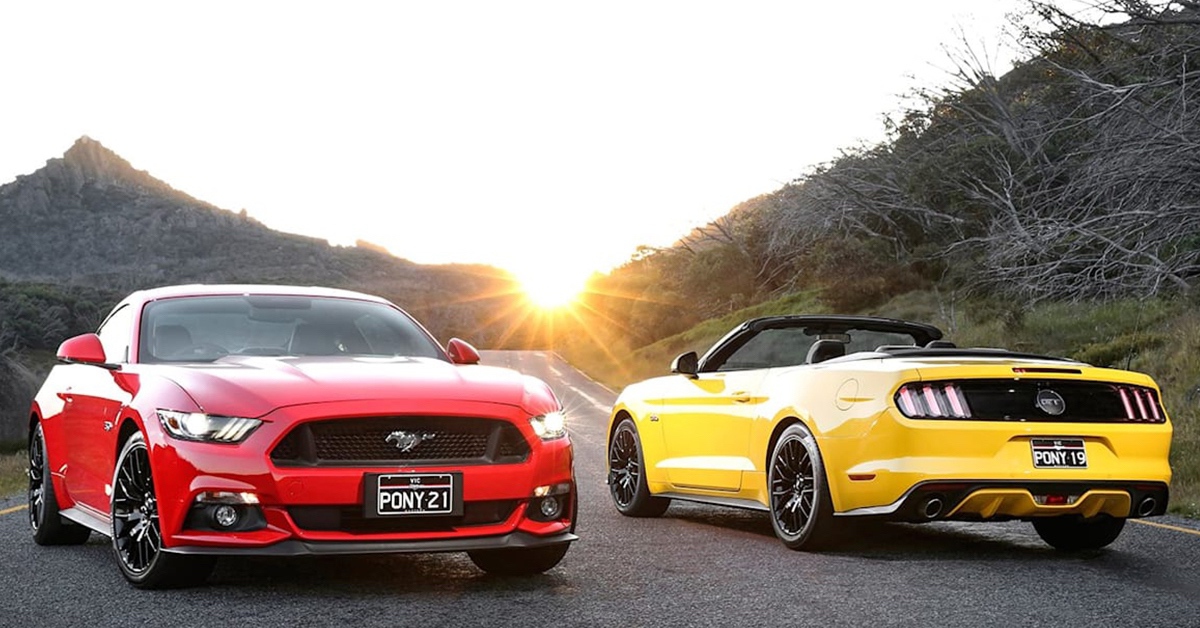 Performance Personified
Ford also hinted at the upcoming release of a new high-performance Mustang derivative, known as the "Dark Horse". This variant of the 7th-generation Mustang will feature a 500 horsepower 5.0L Coyote V8, paired with a manual gearbox. As word continues to circulate detailing more of the specifics which pertain to the Dark Horse, it is relatively evident that this model will feature a host of additional race-specific equipment.
In combination with this news, Ford also detailed early plans for a return to the 24 Hours of Le Mans endurance race. This is a mission that has remained front and center during the entirety of the 7th-generation Mustang's design and development. This is a fact that was echoed by Ford's Executive Chairman, Bill Ford.
"When this car was being conceived, the first question I asked the team is, 'Will it race at Le Mans?'" he told reporters. "'And if the answer is no, go back and give me another answer."