2000 Ford Mustang SVT Cobra R
The fastest factory Mustang Ever
Although Ford may have cancelled plans for the "regular production" Cobra, SVT rolled out its third iteration of the Cobra R for 2000 series in spite of this. The Cobra R had a production run of 300 units, and effectively taking the place of the standard Cobra for that model year.
It got a 5.4L DOHC engine (6500 rpm redline) that was rated at 385 hp (287 kW) and 385 lbf·ft (522 N·m) of torque, although independent dyno tests have shown that it produced rear-wheel output that nearly matched both of those numbers, suggesting the engine may have been underrated. The iron block was based on the 5.4l block Ford uses in its trucks. The cylinder heads were later used in the Ford GT (slightly modified). Some sources claim that the Australian Ford Falcon GT's engine is very similar to the one of the 00 R. As before, this model was designed to be a race-ready high-performance vehicle in a perfectly street legal package; as such, it lacked many of the comforts the base production line Cobra enjoyed.
This model had no radio/audio equipment, no air conditioning, no cruise control and no rear seat. Each of the 300 produced featured a charcoal interior with cloth clad Recaro buckets and sporting a Performance Red exterior.
The 2000 Cobra R had several distinguishing visual and performance features that allow one to easily identify it as something more than a normal 1999 or 2001 Cobra. The "power dome" hood for instance, is taller than the normal Cobra hood, and has gills that can be cut out to reduce engine compartment temperatures. The rear spoiler is tall and wide, providing much needed down force at track speeds.
The 2000 Cobra R is equipped with Eibach springs that lower the car 1.5 inches in front and 1.0 inch out back. This model also uses Bilstein shocks and struts, Brembo 4-piston front calipers acting on 13 inch rotors cooled by large ducts, along with a race-style fuel cell that is clearly visible protruding under the V6-style rear bumper. The front bumper is adorned with a low riding, removable splitter. The wheels are also uniquely styled silver five spoke 18-inch (460 mm) x 9.5-inch (240 mm) alloys wrapped in aggressive BF Goodrich G-Force KD tires.
The hand built SVT engine employs special DOHC cylinder heads, a "Trumpet-style" intake manifold, aggressive camshafts, short tube headers, and connected to Cobra catalysts, a Bassani X-pipe, and a unique Borla dual side exiting exhaust system, which had to be installed due to the large fuel cell. This model also features 3.55 gears, a Gerodisc hydro-mechanical differential with speed and torque sensitivity, and a Tremec T-56 6-speed transmission that is closely geared for drag racing or road course usage. Despite these close ratios, the 2000 Cobra R also enjoyed a 175.3 mph (282 km/h) top speed. The car was developed with the extensive help of Jack Roush, who did lots of work on the fine tuning, and suggesting parts.
A lot of well known producers of aftermarket parts for the Mustang were involved in this project. Recaro. Brembo. McLeod. Eibach. BF Goodrich. Tremec. Borla. Dana. Federal Mogul. K&N, to name a few.
The 2000 Cobra R was without a doubt the meanest, fastest and most focused car of the Cobra R cars so far. In fact the 2000 Cobra R was the fastest and best handling Mustang ever and an absolute monster of a performance car (in a great way). With the 2000 Cobra R, SVT pooled all of their internal and aftermarket resources to produce a barely street legal racer with performance equal a Corvette Z06. This R was designed to be the high performance benchmark for the competition.
At over $55,000 it was priced well within Corvette territory and this flabbergasted even the staunchest Mustang enthusiast. Even at its lofty price every single one of the 300 2000 Cobra R's produced were sold out almost overnight making it the most successful of the three cars in the Cobra R series.
Cobra R Features
In a list overview, here are the parts that differ from the standard Cobra.
Exterior
Only available as coupe
Only available in Performance Red
V6 style rear bumper (no exhaust cutouts)
large Fuel Safe fuel cell, visible from behind and the side
Borla side exhaust (since the standard would not fit due to the fuel cell)
Large unique wing on the rear decklid
18″ five spoke wheels
Splitter for the front bumper
Blacked out headlights (standard on all 2001+ Mustangs)
Omitted fog lights (ducts to the front brakes instead)
Special hood with large dome to clear the huge intake
Omitted antenna (covered with a black plastic part)
Interior
Only available in Charcoal
Backseat delete
No A/C
No radio
No cruise control
Fabric upholstered Recaro seats (manually adjustable)
Drivetrain
5.4L DOHC engine
Tremec T56 6-speed gearbox
3.55 gears
Hydro-mechanical lock differential
13″ Brembo vented brake disks with 4 piston calipers up front
Vented brake disks in the rear
Special Eibach shocks and springs, lowering car by 1″/1.5″
Specifications & Performance
Built at: Detroit, Michigan, USA
Engine: 90-degree, DOHC 32-Valve V8
Displacement: 5.4L / 330 CID
Bore: 3.55 in
Stroke: 4.17 in
Power: 385 hp @ 6,250 rpm
Torque: 385 lbs.-ft. @ 4,250 rpm
Compression: 9.6:1
Front tires: P255/45ZR-17
Rear tires: P255/45ZR-17
Front brakes: 13 in. vented Brembo discs , Brembo 4-piston aluminum caliper, Galpher pads, Cooling ducts from front fascia to Multimatic carbon fiber heat shields
Rear brakes: 11.65 in. vented disc, single-piston caliper, Akebono pads
ABS: Four channel, four-sensor ABS system
Front suspension: Modified MacPherson strut system gas-charged Bilstein monotones dampeners and separate 800 lb./in. spring on lower arm, 28mm tubular stabilizer bar
Rear suspension: Dual A-arm independent with high durometer bushings, steel upper control arm, aluminum lower control arm, fixed toe-control tie rod, aluminum spindle, gas-charged Bilstein twin-tube shock absorbers, Eibach coil springs, 26mm tubular stabilizer bar
Wheels: 18 x 9.5 in. 5-spoke cast aluminum
Tires: BF Goodrich g-ForceKD 265/40ZR-18, Custom construction and compound for Cobra R
1/4-mile @ MPH: 13.2 seconds
Top speed: ~225.3 kph / 140 mph
0 – 60 mph: 4.6 seconds
Price: $55,000
Total Produced: 300
VIN Decoder
The VIN is stamped on the plate which is riveted to the driver's side of the dash, visible through windshield; the certification label is attached to the rear face of the driver's door. For full details see our 2000 Ford Mustang SVT Cobra VIN Decoder page.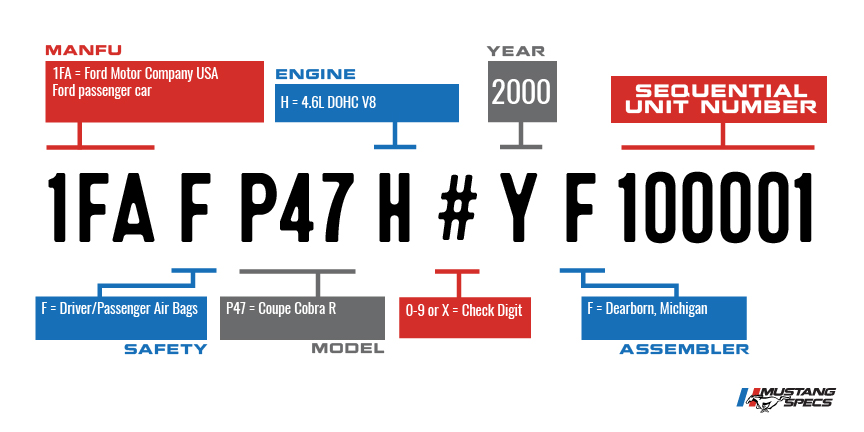 Cobra R Pictures