1965 Shelby GT350
Blue rocker panel stripes outlined the '65 GT350, which were mainly dealer installed, but could have been installed by the factory. Only some of the GT350's carried a GT350 emblem on the left side of the tailight panel, but all had the stock Mustang gas cap and relocated grille emblem pushed to the far left of the grille. However, all other Mustang emblems were removed from the GT350. The hood of the Shelby was made of fiberglass, some being produced with steel frames and fiberglass skin, and featured a functional hood scoop.
No rear seats were available of the '65 Shelby. Instead, they were replaced with a fiberglass shelf which also housed the spare tire. The earliest editions of the '65 Shelby were produced with a 16 inch diameter steering wheel with slotted spokes, and later cars came with 15 inch steering wheels with either slotted spokes or three holes in each spoke.
Ford's stock High Performance engine was used which usually put out 271 horses, but with Shelby modifications the engine was boosted to 306 hp. These modifications included an aluminum high-rise intake manifold with a 715 cfm Holley four-barrel carburetor and steel Tri-Y headers leading to a dual exhaust system featuring glasspack mufflers exiting in front of the rear wheels. However, there is an exception for cars built after July 6, 1965 for delivery to California, Florida or New Jersey which got a rear-exiting exhaust system. Finishing off the package were Cobra valve covers and a larger capacity aluminum Cobra oil pan.
The transmission carried in the '65 Shelby was an aluminum case Borg Warner T-10. 3.89 gears could be found in the 9 inch rear end (although others were available,) and all featured a Detroit Locker differential. Traction bars and travel-limiting cables provided much rear axle control, along with the standard drive shaft safety loop.
Standard equipment also included manual brakes and manual quick ratio steering. Silver painted rims with chrome lug nuts were the stock wheels, revolving inside Goodyear 7.75×15 Blue Dot tires. Optional were the Cragar mags.
The race version ("R"), in addition to all the street version features, received an engine oil cooler, a larger capacity radiator, front and rear brake cooling assemblies, a 34 gallon gas tank, 3½ inch quick fill gas cap, electric fuel pump, large diameter exhaust pipes with no mufflers, five magnesium 15×7 wheels, revised wheel openings, Interior Safety Group (shoulder harness, roll bar, fire extinguisher, flame resistant interior, plastic rear window, aluminum framed sliding plastic side windows), complete instrumentation (tachometer, speedometer, oil pressure and temperature, water temperature and fuel pressure), final track test and adjustments, and a fiberglass front lower apron. More modifications were made to the engine, cranking the horsepower to 370.
1965 Shelby's with serial numbers 004-034 do not have a "S" designation on the VIN plate. All others are either "S" or "R."
1965 Shelby Mustang Videos
We found a great video documentary about the '65 Shelby which we have embedded below. In finding that we also were able to locate some other cool videos which we added in subsequent posts. See more 1965 Shelby Mustang Videos here.
1965 Shelby Mustang Pictures
See full 1965 Shelby Mustang Photo Gallery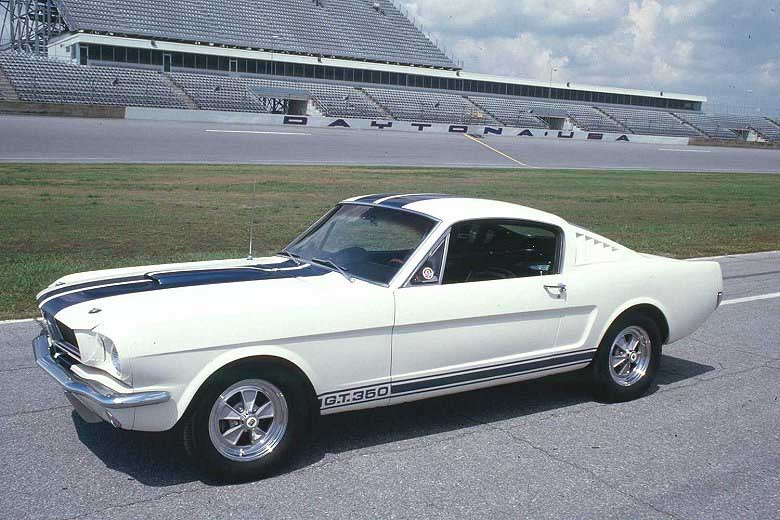 1965 Shelby Mustang Specs
Production Numbers
Street prototype: 1
Street production models: 516
Competition prototypes: 2
Competition models (R): 36
Drag cars: 9
Total: 561
Retail Prices
Race: $5,995
Street: $4,547
Available Exterior Colors
All 1965 Shelby Mustang were painted Wimbledon White, code M. All 1965 Shelby Mustang interiors were black.
Vehicle Identification Numbers – Shelby
SFM – Shelby Ford Mustang
5 – Last digit of model year (1965)
S – (S-Street, R-Race)
01 – Consecutive unit number
Example: SFM5S001
VIN Location
Located on pop-riveted plate on driver's side inner fender panel over Ford VIN; also stamped on passenger side inner fender panel halfway between the firewall and radiator.
Vehicle Identification Numbers – Ford
Engine Codes
289 cid 4V V-8 271 hp high performance – K
5 – Last digit of model year (1965)
R – Assembly plant (R-San Jose)
09 – Body code for (for fastback)
K – Engine Code
000001 – Consecutive unit number
Example: 5R09K000001
VIN Location
Located underneath Shelby VIN plate; on driver's and passenger's side inner fender panels at outside edge near shock tower; it can only be viewed if fender is removed; on original engine block, beneath front exhaust port on passenger side.