1966 Ford Mustang – The Ultimate Guide
1966 Ford Mustang Overview
The '66 Mustang were very slightly restyled. Most noticeably, a floating horse was added to the front grille. Other changed for the '66 included a redesigned gas cap, bright hood lip molding on all models, standard rocker panel moldings (except on the 2+2), standard back-up lights, redesigned side chrome spires (which were deleted on the GTs and those with accent pinstripes) along with revised style steel wheels. Now a chrome trim was used on the wheel.
| | |
| --- | --- |
| Model: | 1966 Ford Mustang |
| Generation: | 1st Generation Mustang |
| Type: | 2 Door |
| Body Styles: | Coupe, Convertible, Fastback |
| Engines: | 200ci six-cylinder, 289ci 2bbl engine, 289ci 4bbl, 289ci HiPo engine |
| Original Price: | $2,416 (Basic Coupe), $2,652 (Convertible), $2+2 Fastback ($2,606) |
| Units Produced: | 607,578 |
Different upholstery patterns and colors were available in the interior of the 1966 Mustang along with a five-dial instrument cluster. Padded sun visors were standard on every Mustang.
Standard engine for the Mustang continued to be the 200ci six-cylinder with the three-speed manual transmission. The Cruise-O-Matic automatic transmission now became available with the "K" code, of which only 5,469 "K" code Mustangs were produced.
Additional 1966 Mustang Research: '66 Research Center / Colors Details / Production Numbers / Prices & Options / Sales Brochures / Owner Manuals / Maintenance / Pictures / Videos / VIN Decoder / Special Editions
Background & Details
The 1966 Mustang body was almost identical to the 1965 Mustang. Because of the extremely high demand for the cars, Ford could barely keep up with demand by running full speed in three assembly plants. Therefore, few changes were made between the early '65s and the late 1966 Mustangs. Most body panels are identical. There are some parts that look identical between the early 65's and the late 65's, but they are somewhat different. The front headlight buckets and hood are different.
Other differences are in electrical and running gear parts. However, between the late '65 Mustangs and the '66 Stangs, most all parts are interchangeable. The grille on the 1966 consisted of a series of horizontal chrome bars and in the center was a running horse in a corral. The horizontal and vertical bars were removed. On the side of the car, back where the faux air scoops were, they changed the "C" scoops to a three finger side marking. The gas cap was changed in 1966 and a $76 vinyl roof was offered. Between 9 & 10 percent of the Mustangs were equipped with a vinyl roof. The padded sun visors became standard in 1966.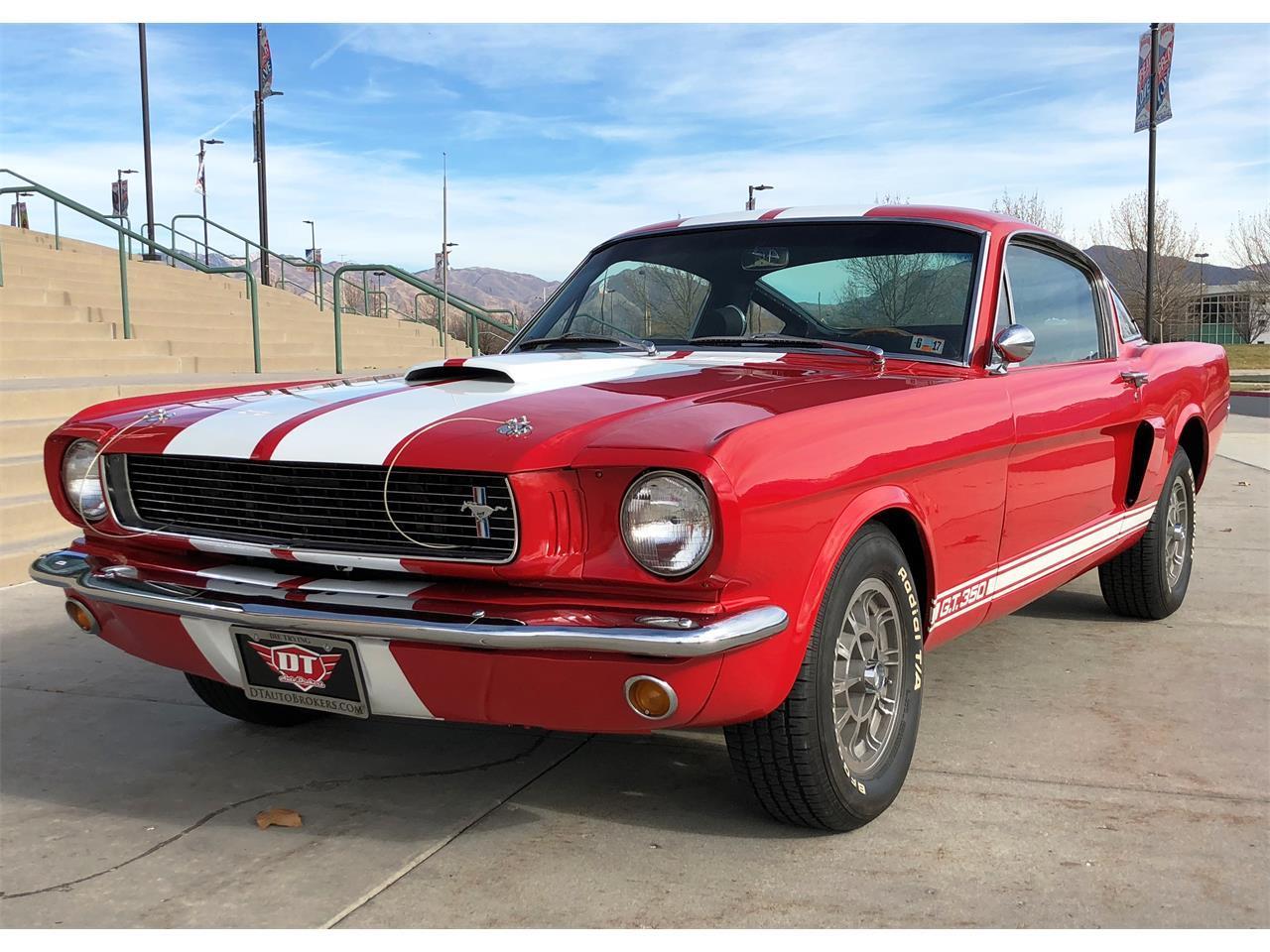 Engines
The standard engines in 1966 Mustangs were the 200 CU, in-line six cylinders. They had a 9.2:1 compression ratio, hydraulic lifters, and 120 horsepower at 4400 rpm. Carburetion was an Autolite single barrel carburetor number C60F 9510-AD. If you ordered the sprint package, a chrome air cleaner topped off the carburetor.
The optional V-8s in 1966 were the 289ci 2bbl engine rated at 164 hp engines and then the 289ci 4bbl 210 hp engine. and the 289 HiPo engine rated at 271 horsepower.
The 289 2bbl engine produced 200 horsepower with the use a an Autolite 2100 2bbl carburetor. Valve sizes in all the 289 engines were identical.
The 289 4bbl engine produced 225 horsepower through the use of higher compression heads and a 4 barrel carburetor.
The 289 HiPo engine had solid lifters, a different low resistance exhaust manifold, and higher compression. If you bought the HiPo engine, you had to get the 4-speed transmission.
The default transmission was the 3 speed. However for a few measly dollars more one could buy either an automatic transmission or a 4-speed manual tranny. Most cars in 1966 were ordered or equipped with the Cruise-O-Matic transmission. The second most ordered transmission was the standard 3-speed. 4-speed transmissions were the rarest transmissions ordered in 1966.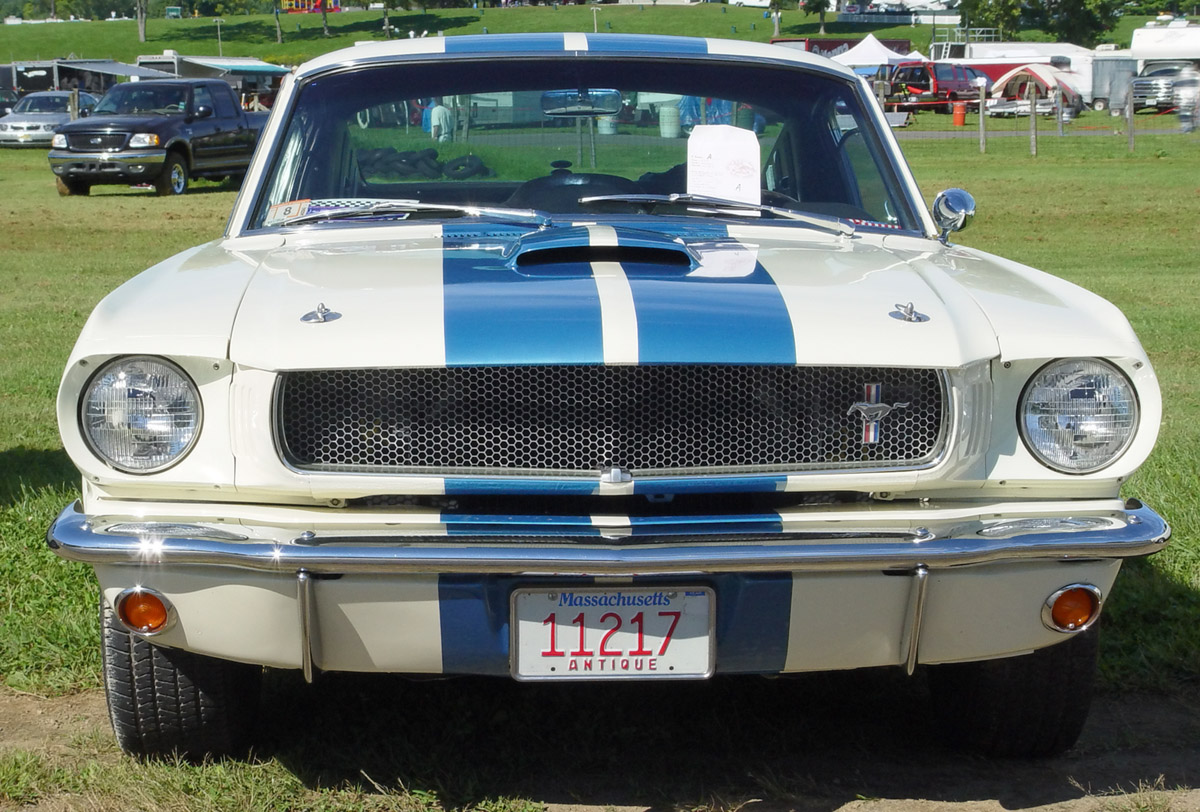 Interior
Interiors for 1966 consisted of the standard or plain Jane interiors, which by standards of the day were still fancy and the deluxe interior decor group became known as the Pony Interior. The pony interior as in 1965, had embossed ponies running across the back of the seats, and a 5 cluster instrument panel which was standard in 1966. The fastbacks had 2 seats in the front and a fold down seat in the back. Fastbacks were also were available with the deluxe interior option. However, fastbacks only received the running horses on the front seats, the back seats were plain. The below dash ($311.00) air conditioner was a seldom ordered option. Wood grain steering wheels were priced out of the market as well. Consoles were a often ordered item and automatic transmissions priced at about $176 were ordered on about 63%of all 1966 Mustangs.
Mustang seats have a woven pattern whereas the 1965 seats were smooth. The 1966 fastback has a new and different style of seat latch for the folding rear seat option. The inside door panels have a horizontal line pattern opposed to the vertical pattern found on the '65 models. Door handles and window cranks remain unchanged
The interior decor group was consisted of: A five dial instrument cluster with full instrumentation, brightly trimmed pedals, walnut looking deluxe steering wheel, vinyl covered quarter trim panels, bright trim cap on hardtop quarter trim panel, courtesy lights in doors, galloping pony embossed seat covers, molded door panels with pistol grip door handles, wood grain glove compartment door, wood grain appliqués on instrument panel, kick panels with half carpeting and stainless trim. Most "Decor group" packages were ordered with a center console however it was not part of the package and did cost extra.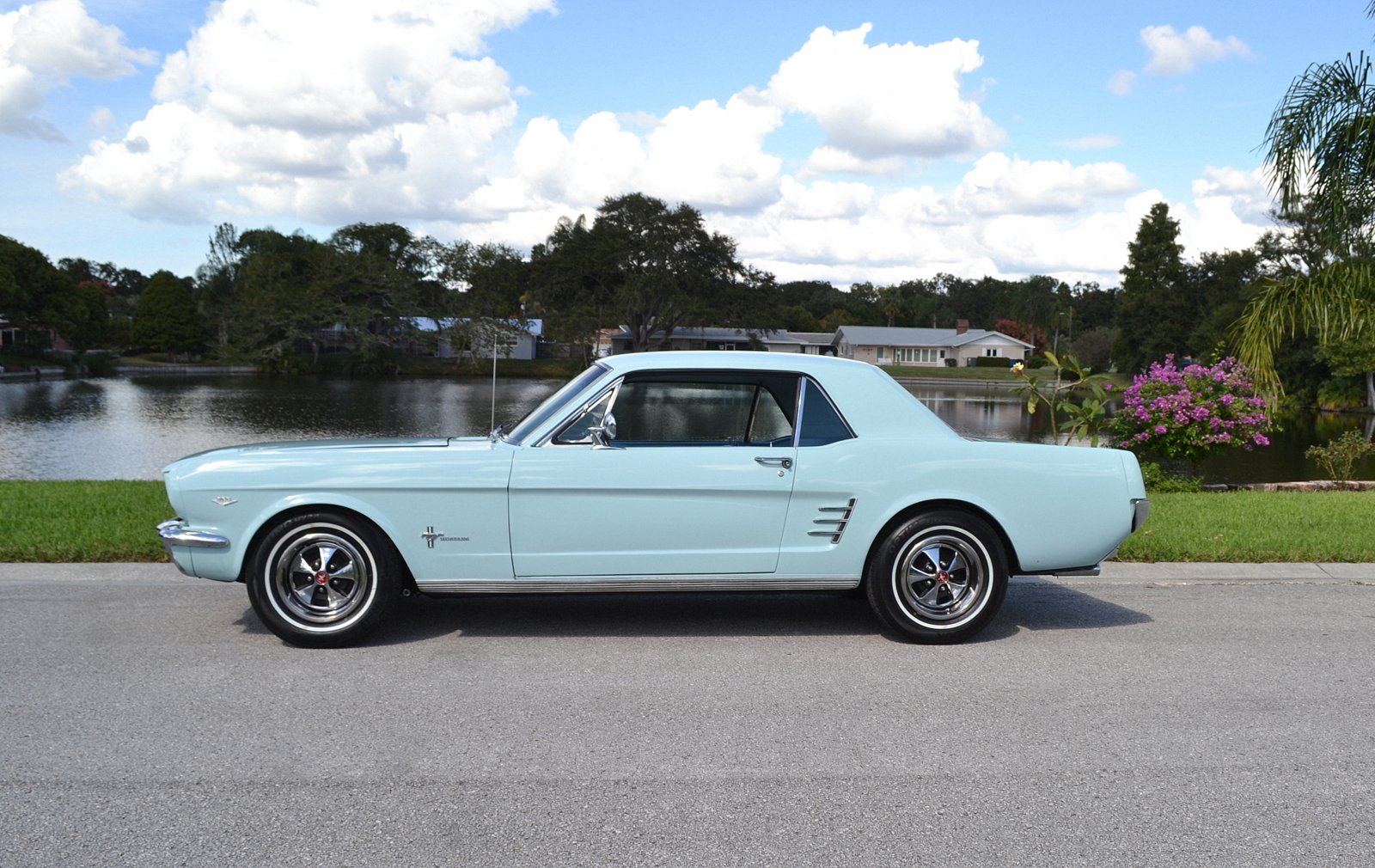 Packages & Options
The GT option was again offered in 1966 it consisted of; manual front disc brakes, grille mounted fog lights, with grill bar, GT gas cap, F70x14 tires, GT rocker paint stripes, GT side emblems, special exhaust trumpets protruding through the rear valance, Special handling components, Standard 5 gauge instrument cluster. An additional option was the Rally-Pac. There were two styles made, one for the 5 dial instrument cluster and one for the 4 dial instrument cluster. These original Rally-Packs are few and far between. Finding an original one today is a rare find indeed.
A special handling package was available for the 200 and 225 hp Mustangs. Since it was included with the GT group, all 271 hp engines already had this installed by default. The special handling package consisted of; Increased rate front and rear springs, Heavy duty shock absorbers, 22 to 1 steering ratio and larger diameter front stabilizer bar. HiPo cars received a 9 inch differential with gear ratios of either 3.89 or 4.11 to one. Hi performance vehicles received 15.5 inch wheels and 5.90×15 tires.
All early Mustang six cylinder engines had a 4 lug 4.5×13 inch wheel and 13×6.5 tires. Optional tires were 7.00×13 white wall tires. V8 cars could order an optional 14x 14.5 rim and 6.50×14 tires. All 8 cylinder engines used 5 lug pattern on their rims. Starting in 1965, V8 cars standard rims were the 4.5×14 and use 6.95×14 tires, 15×5 wheels were an option and used 5.90×15 tires. The 15 inch option was dropped and late hi performance cars used 14 inch rims and dual red line sidewall tires.
Special Models & Variants
Several special edition Mustangs and packages were sold in 1966. We have summarized each of the special editions below but for more details definitely dive into the specific posts for each one.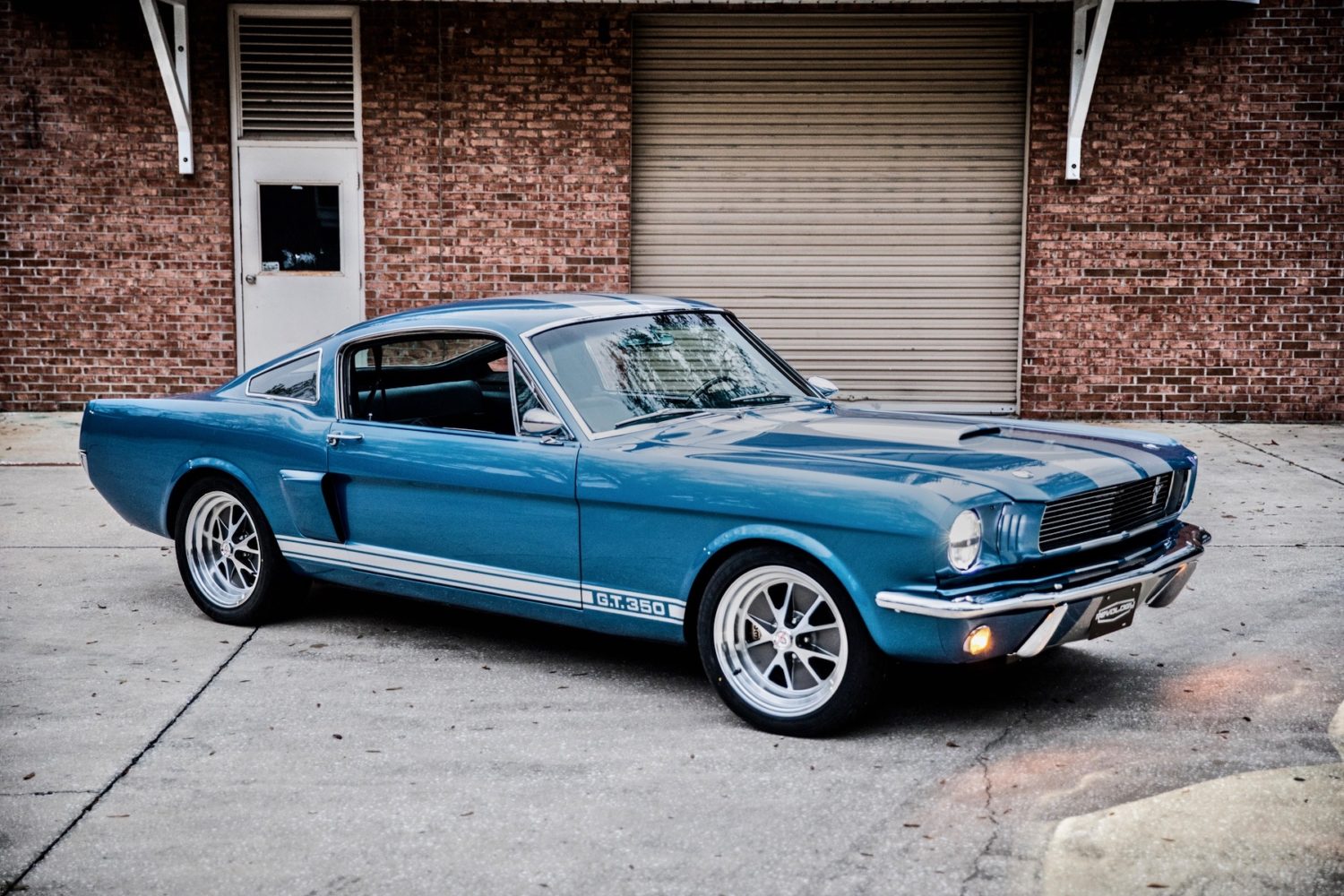 Shelby GT350
Functional rear quarter panel scoops were added to the '66 Shelby, and the stock Mustang air extractor louvers were now replaced with windows. Blue rocker panels outlined all white GT350's, as other colors all came with white rocker panel stripes. The GT350H Shelbys came with gold stripes, except for early white Hertz cars which were produced with blue stripes. Only some of the '66 Shelbys came with completely steel hoods instead of the previous year's fiberglass/steel support hoods. The stock Mustang gas cap from '65 was also replaced with a GT350 cap.
One thousand GT350's were sold to Hertz and given the title GT350H. Most of these cars were painted black with gold stripes. Few received the 4-speed manual transmission, although the vast majority contained the automatic transmission. The GT350H came standard with chrome magnum 500 wheels. In April of '66, the Paxton supercharger was listed as an option.
Learn more about the 1966 Shelby GT350
The GT Package
1966 Mustang GTs were very different from the regular cars. They also had many factory modifications that are hard to duplicate after production. Because different plants produced Mustangs in different ways, not all rules are firm and fast. but there are some of these rules that must be met!
The very basic rule is that every GT must be either a "K" code car or an "A" code car built after mid February 1965, no exceptions. The GT must have a dual exhaust system with exhaust trumpeters that exit through a special rear valance with 2 exhaust openings. Because of these exhaust openings, the rear bumper guards were omitted. The bracket bolt holes were sealed with small rubber plugs. To accommodate the dual exhaust, special exhaust hangar reinforcements were used on the rear hangars behind the rear seats.
Learn more about the The GT Package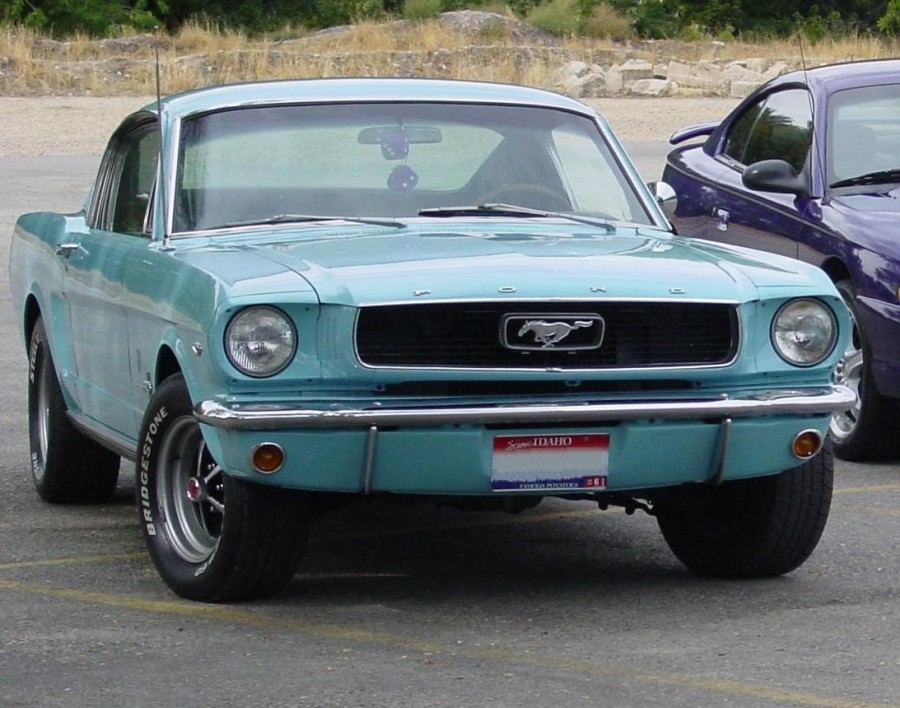 High Country Special (HCS)
In 1966, Ford started a special run of cars to be delivered to only the Denver DSO. The only things special about these cars is their colors and a special brass shield that was attached to the front fenders above the word Mustang. Only three colors were available on the HCS Columbine Blue (kind of a dark robin's egg blue color), Aspen Gold or Timberline Green. However, these were special colors and not available on any other Mustang. There were only 333 cars made, of that number 274 were coupes,20 were fastbacks, and 39 were convertibles.
The cars were pretty much like all other Mustangs produced in 1966, they were all body styles, and any engine /transmission options that were available. If you are looking for one of these, they were built only in San Jose Plant, have a date code of 15G , and have a six digit DSO code that started with 51 02nn. They were shipped by train to Denver where they were re-shipped to dealers in Colorado, Nebraska and Wyoming. So they are not just found in Colorado but in any state that worked out of the Denver DSO.
Read more about the High Country Special (HCS)
Million Mustang Sale
The Million Mustang Sale was a promotion that ran in 1966. The event was celebrated with major ad and sales campaigns across the country. It ran during the early part of the 1966 model year and applied to all body styles and engine options. Essentially you got a bunch of optional upgrades at a special price as part of this promotion. Most notably, any Mustang in this special got a cool personalized dash plate.
Learn more about the Million Mustang Sale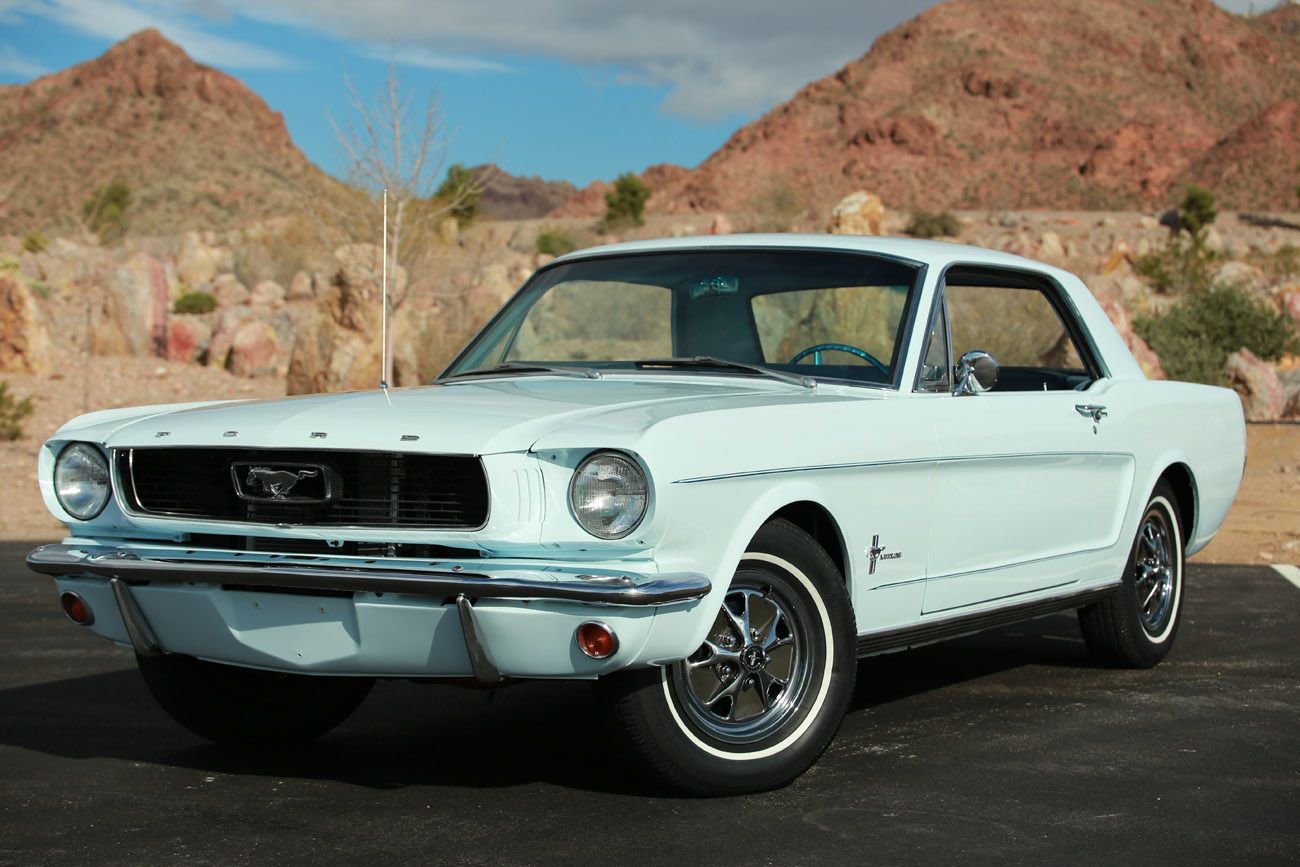 Mustang Sprint 200 Limited Edition
Like we mentioned above, the Sprint 200 Limited Edition was part of the Millionth Mustang Success Sale initiative. Known as the The Sprint 200, the package was offered mid 1966 and was a sporty package specifically designed for the base 200 cubic inch 6 cylinder engine. Lots of inventory on hand and a focus on sales growth were key drivers of the creation of this package.
Learn more about the Million Mustang Sale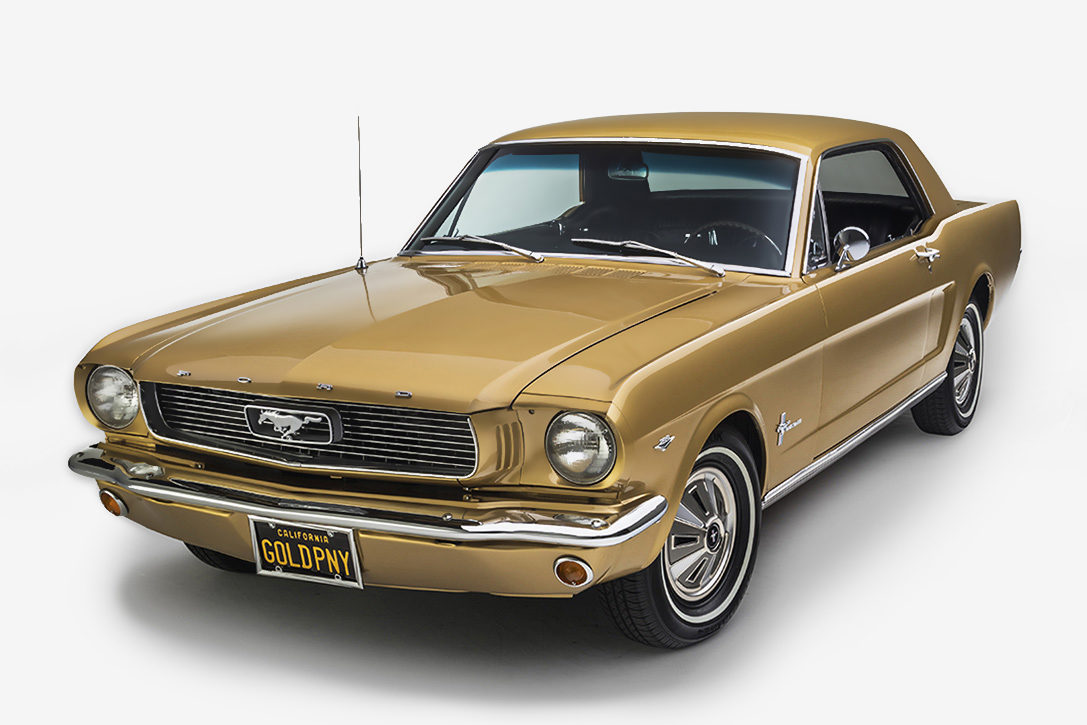 Mustang Anniversary Gold Edition
The Anniversary Gold Edition was a limited edition, special-order Mustang. Although never confirmed, it is believed that only 50 units were ever made (and only five exist today). This is one of the rarest Mustangs around. It was part of the Million Mustang Sale event. The Anniversary Gold Mustangs were all hardtops and came with the C-code 289 cubic inch 2-barrel V8 engine and automatic transmission. The interior was also upgraded and it came with cool looking steel-styled wheels and a unique Anniversary Edition Gold paint job.
Learn more about the Mustang Anniversary Gold Edition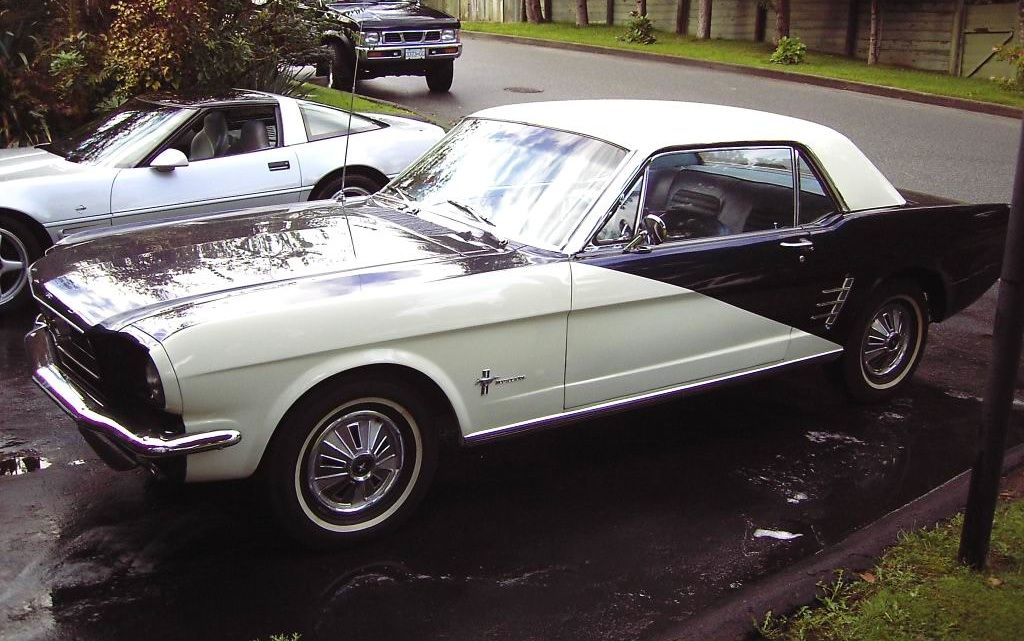 Mustang Players Special Edition
The Player's Special Edition Mustang was a special collaboration between Ford and the John Player and Sons tobacco company. Given away exclusively on the Canadian market starting in 1965, the Player's Special Edition Mustang featured a unique two-tone paint in blue and white to match the Player's cigarette package. Aside from the unique paint job, there's little to distinguish the Player's Special Mustang from others cars of the same generation and year.
Learn more about the Million Mustang Sale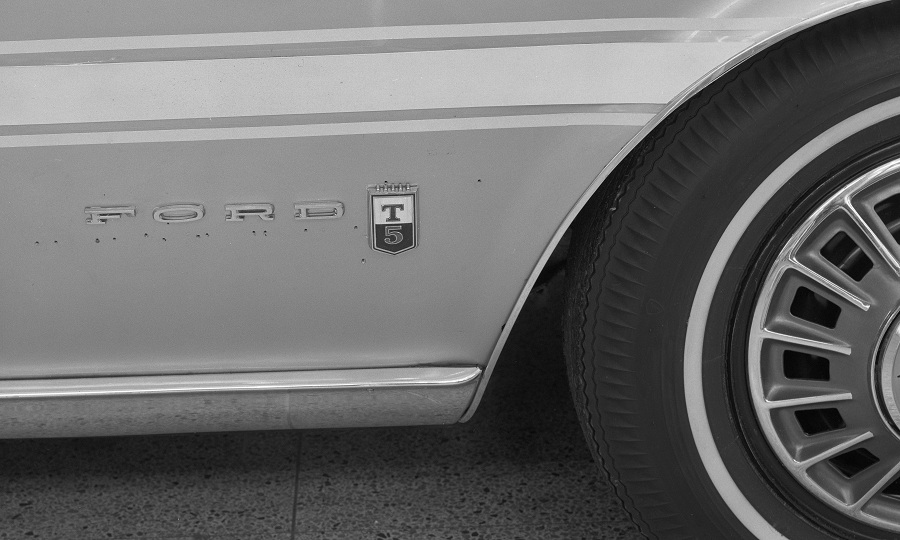 The T-5 Ford
Mustangs exported to Germany were named the T-5 Mustang. All Mustang emblems and logos were removed since "Mustang" was used by another manufacturer. The T-5 emblem could be found on both fenders. The Mustang name was already registered in Germany by Krupp (truck manufacturer) but there was a strong appetite for Mustangs especially from the US Servicemen stationed there. Rather than simply buying the name from Krupp for a reported $10,000 they chose instead to change the name of all Mustangs exported to Germany to Ford T5s.  T5 has no specific meaning but it was the original project name for the Mustang in the early 1960s.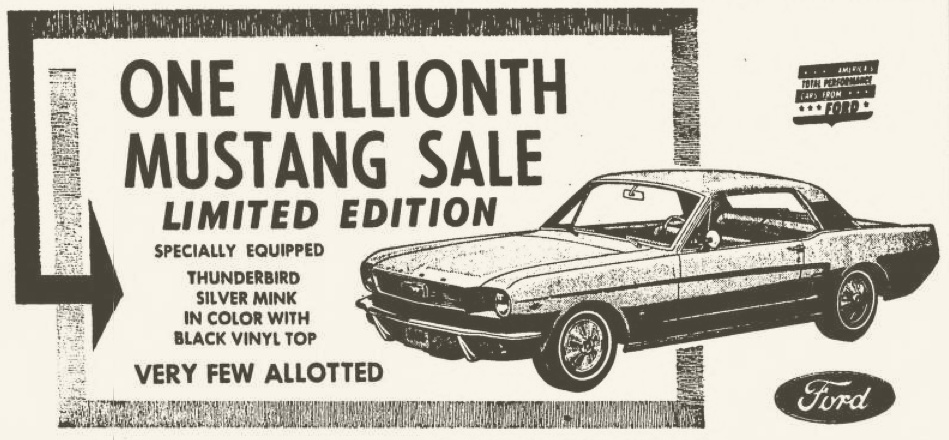 Other Territorial Mustang Specials
Sales of some special edition Mustang models were limited to a specific geographical region. Among the Territorial Specials was the High Country Special (see above) that was sold only in Colorado, Wyoming and parts of Nebraska. The award for the best Mustang Special name goes to the Silver Mink Limited Edition Anniversary that was sold only in the tri-state area of Ohio, Pennsylvania, and West Virginia. Available only on a Sprint Mustang with the six-cylinder engine, the package consisted of Thunderbird Silver Mink special paint and a black vinyl roof.
 Specifications, Options & Detailed Stats
Options and Pricing
Different upholstery patterns and colors were available in the interior of the 1966 Mustang along with a five-dial instrument cluster. Padded sun visors were standard on every Mustang. Standard engine for the Mustang continued to be the 200ci six-cylinder with the three-speed manual transmission. The Cruise-O-Matic automatic transmission now became available with the "K" code, of which only 5,469 "K" code Mustangs were produced. For more detailed options and pricing, please check out our 1966 pricing and options research.
| Grouping | Description | Retail Price |
| --- | --- | --- |
| Base Car | Basic Hardtop | 2,320 |
| Base Car | Basic Convertible | 2,557 |
| Base Car | 2+2 Fastback | 2,533 |
Exterior & Interior Colors
A total of 23 exterior colors were offered for the 1966 Mustang model year. As noted above, the High Country Specials were only available in HCS Columbine Blue, Aspen Gold or Timberline Green (and these colors were not available on other Mustangs. For detailed colors, color palettes, codes and interior colors please check out our in depth 1966 colors information post.
Dimensions & Weight
| Description | Specs |
| --- | --- |
| Wheel Base (inches) | 108 |
| Track Front (inches) | 56 |
| Track Rear (inches) | 56 |
| Width (inches) | 68.2 |
| Height (inches) | 51 |
| Length (inches) | 181.6 |
| Curb Weight (lbs) | 2860 |
| Curb Weight (kg) | 1297 |
| % Front / % Rear | 53/47 |
| Misc. | 289 |
Engine Specs
The two engines in a total of four configurations were available. Specs were as following. For more information on engines for 1966, you can find the information here.
| Engine Name & Year | Fuel | Compression | Power (hp @ RPM) | Torque (lb/ft @ RPM) |
| --- | --- | --- | --- | --- |
| 1966 – 200 Thriftpower Six | 1 Barrel Carburetor | 9.2:1 | 120 hp @ 4400 RPM | 190 lb/ft @ 2400 RPM |
| 1966 – 289 Windsor V8 (4.7 L) | 2 Barrel Carburetor | 9.3:1 | 200 hp @ 4400 RPM | 282 lb/ft @ 2400 RPM |
| 1966 – 289 Windsor V8 (4.7 L) | 4 Barrel Carburetor | 10.0:1 | 225 hp @ 4800 RPM | 305 lb/ft @ 3200 RPM |
| 1966 – 289 Windsor V8 (4.7 L) | 4 Barrel Carburetor | 10.5:1 | 271 hp @ 6000 RPM | 312 lb/ft @ 3400 RPM |
Performance
Frankly, getting accurate performance data for the 1966 Mustang is nearly impossible. We were able to get some data below, but I would treat this as "best guess" rather than bible.
| Engine Name & Year | 0-60 mph (seconds) | Top Speed (mph) |
| --- | --- | --- |
| 1966 – 289 Windsor V8 (4.7 L) Hi-Po V-8 | 8.3 seconds | 14.3 seconds @ 92 mph |
| 1966 – 289 Windsor V8 (4.7 L) Auto | 9.0 seconds | 16.5 seconds @ 80 mph |
VIN Information
This link will take you to a page which contains the VIN tag information for all years of Mustangs. Previously this information appeared on each Mustang's year page, but consolidating it has significantly reduced page loading times. To decode the build sheet, check out our 1966 VIN & Data Plate Decoder sheet.
Videos & Galleries
We managed to find some great video reviews of the 1966 Mustang so definitely check those out. We also have a picture 1966 Ford Mustang Picture Gallery and photos of real Mustangs in each color that was available.