1966 Shelby GT350
Functional rear quarter panel scoops were added to the '66 Shelby, and the stock Mustang air extractor louvers were now replaced with windows. Blue rocker panels outlined all white GT350's, as other colors all came with white rocker panel stripes. The GT350H Shelbys came with gold stripes, except for early white Hertz cars which were produced with blue stripes. Only some of the '66 Shelbys came with completely steel hoods instead of the previous year's fiberglass/steel support hoods. The stock Mustang gas cap from '65 was also replaced with a GT350 cap.
Since the standard Mustang five-dial gauge panel was used in '66. the center dash pod used in '65 was replaced with a 9000 rpm Cobra tachometer. Fold-down rear seats were now placed in all Shelby's with the exception of only 82 cars. The standard Mustang optional Deluxe steering wheel was standard in the Shelby, with a GT350 logo in the center.
252 of the first 1966 Shelbys has the lowered "A" arms due to the actually being left over and updated from 1965. A rear exiting exhaust system now replaced the side pipes found on the '65. Those cars produced with the three-speed automatic transmission came with a Ford 600 cfm carburetor, replacing the Holley 715.
Now added to the options list were the Koni shocks, the Detroit Locker differential, as well as the wood-rimmed steering wheel. More wheels were now available, the leftover cars having either the silver-painted steel wheels or the Crager mags, which both were also available on later produced cars. Standard wheels on the later cars were silver-painted 14 inch Magnum 500s, but the Hertz cars came with the chrome versions. More wheel options on later cars were also the 14 inch Shelby aluminum ten-spoke wheels and plain 14 inch silver-painted wheels. Most early cars came with hollow-letter Cobra valve covers while the later cars had solid letters and a black crinkle finish.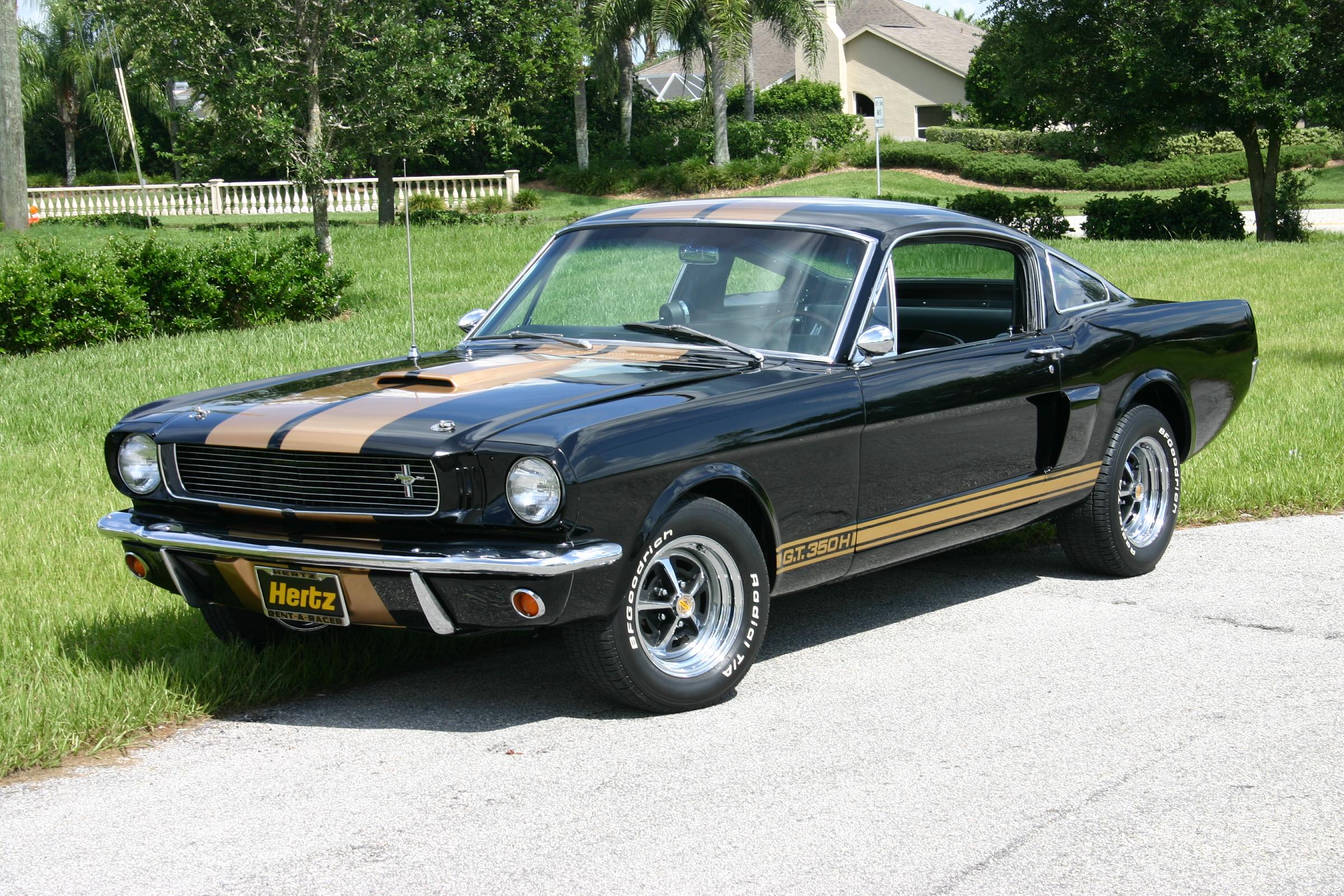 One thousand GT350's were sold to Hertz and given the title GT350H. Most of these cars were painted black with gold stripes. Few received the 4-speed manual transmission, although the vast majority contained the automatic transmission. The GT350H came standard with chrome magnum 500 wheels. In April of '66, the Paxton supercharger was listed as an option.
Only six convertibles were produced, but none were made available to the public. All came with automatic transmissions as well as air conditioning. The side scoops, however, were not functional since they would interfere with the convertible top mechanism.
1966 Shelby GT350 Videos
We found a great video documentary about the '66 Shelby which we have embedded below. In finding that we also were able to locate some other cool videos which we added in subsequent posts. See more 1966 Shelby Mustang Videos here.
1966 Shelby GT350 Pictures
See full 1966 Shelby Mustang Photo Gallery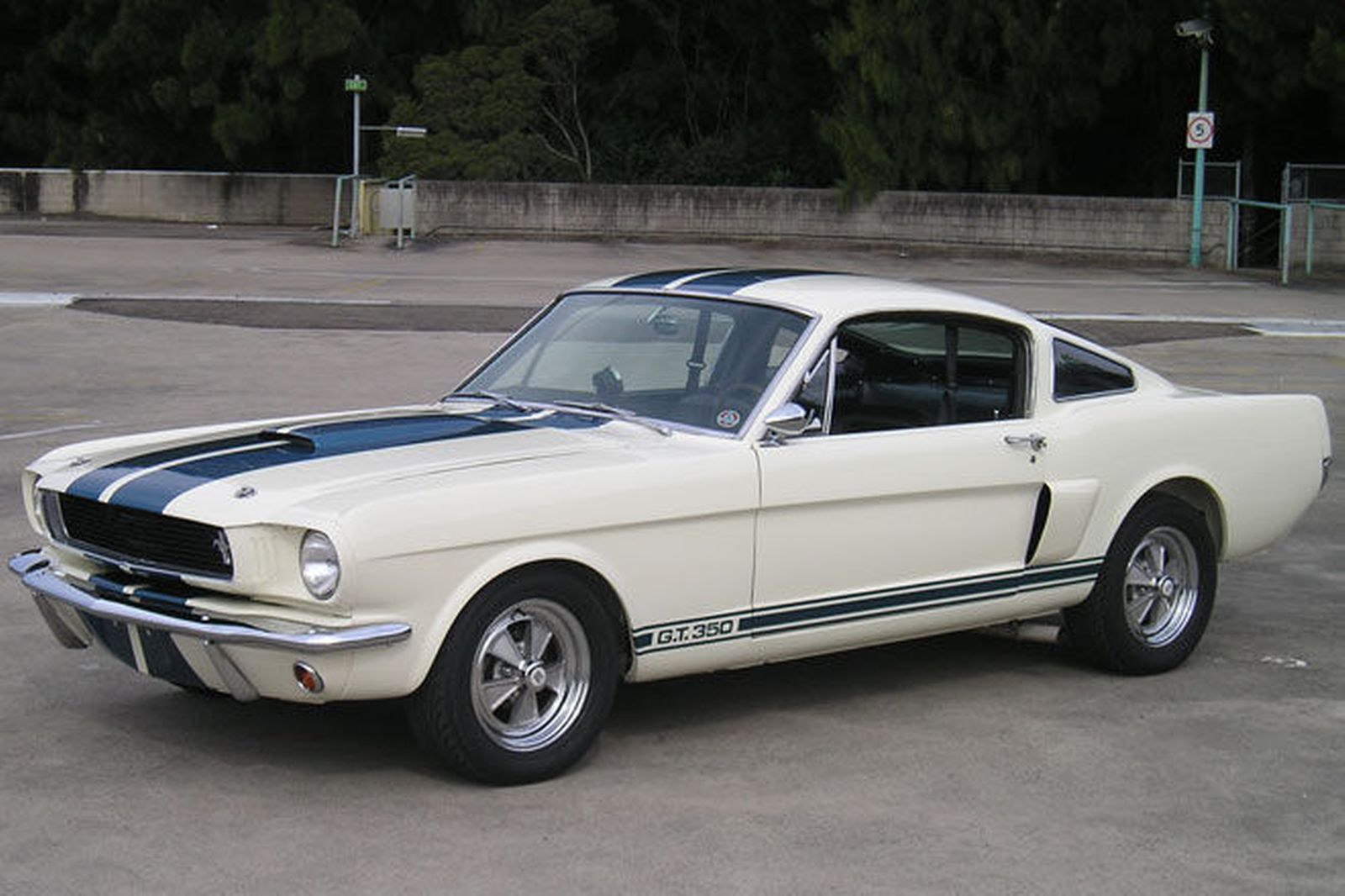 1966 Shelby GT350 Specs
Production Numbers
GT350: 1,368
GT350 Hertz: 1,001
GT350 Drag cars: 4
GT350 Convertibles: 4
Total: 2,378
Retail Prices
Shelby GT350: $4,428
Fold-down rear seat: $50.00
AM radio: $57.50
Alloy wheels: $268.00
Stripe: $62.50
Detroit No-Spin rear axle unit: $141.00
Cobra Supercharger (Paxton): $670.00
Available Exterior Colors
Wimbledon White Candy Apple Red
Sapphire Blue Ivy Green
Raven Black
All 1966 Shelby interior was black.
Vehicle Identification Numbers – Shelby
SFM – Shelby Ford Mustang
6 – Last digit of model year
S – (S-Street, R-Race)
0001 – Consecutive unit number; 0001 to 2380
Example: SFM6S0001
VIN Location
Located on pop-riveted plate on driver's side inner fender panel over Ford VIN; also stamped on passenger side inner fender panel halfway between the firewall and radiator.
Vehicle Identification Numbers – Ford
Engine Codes
289 cid 4V V-8 271 hp high performance – K
6 – Last digit of model year (1966)
R – Assembly plant (R-San Jose)
09 – Body code (09-Mustang 2dr 2+2)
K – Engine Code
000001 – Consecutive unit number
Example: 5R09K000001
VIN Location
Located underneath Shelby VIN plate; on driver's and passenger's side inner fender panels at outside edge near shock tower; it can only be viewed if fender is removed; on original engine block, beneath front exhaust port on passenger side.