1966 Ford Mustang Million Mustang Sale
Several special edition Mustangs and packages were sold in 1966. The Million Mustang Sale was a promotion that ran in 1966. The event was celebrated with major ad and sales campaigns across the country.
On March 2, 1966, the one millionth Mustang, a white convertible, drove off the assembly line and opened the door for Ford to ramp up its sales operations to a new level with a Millionth Mustang Success Sale. Special sale prices were available for any Mustang model to celebrate this milestone. In addition to the sale prices, Ford made the bait on the potential Mustang customer's hook more enticing by offering special Mustang models throughout the year.
It ran during the early part of the 1966 model year and applied to all body styles and engine options. Essentially you got a bunch of optional upgrades at a special price as part of this promotion. Most notably, any Mustang in this special got a cool personalized dash plate. The two other special models associated with this promotion were the Sprint 200 Limited Edition and Anniversary Gold Millionth Mustang hardtop which we talk about below.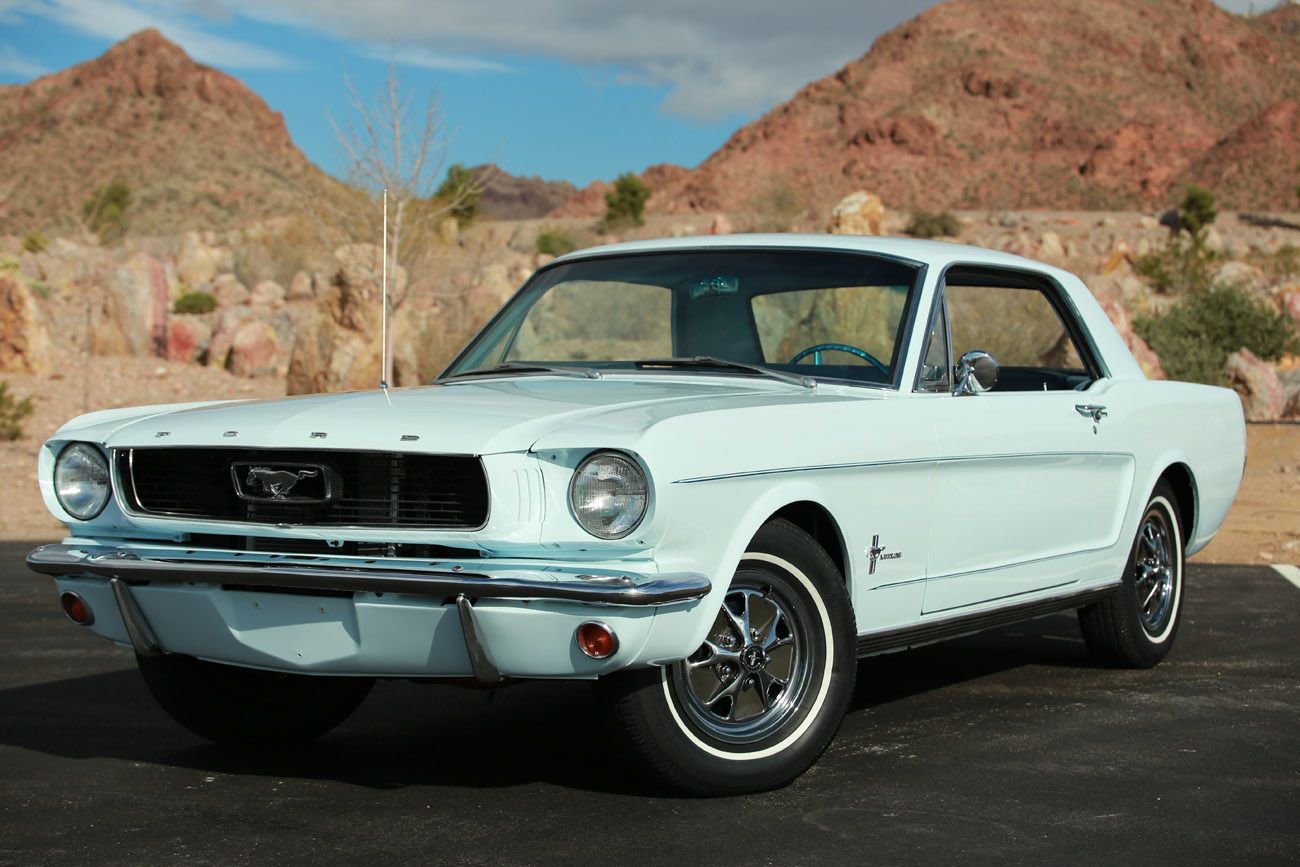 Mustang Sprint 200 Limited Edition
Like we mentioned above, the Sprint 200 Limited Edition was part of the Millionth Mustang Success Sale initiative. Known as the The Sprint 200, the package was offered mid 1966 and was a sporty package specifically designed for the base 200 cubic inch 6 cylinder engine. Lots of inventory on hand and a focus on sales growth were key drivers of the creation of this package. Sprint options included center floor console; painted side accent stripes (color matched with the car's interior); deletion of the chrome rear quarter ornaments; a set of deluxe 48 spoke, blue center wire-style wheel covers; and a "Sprint 200" decal on the engine's chrome air cleaner cover.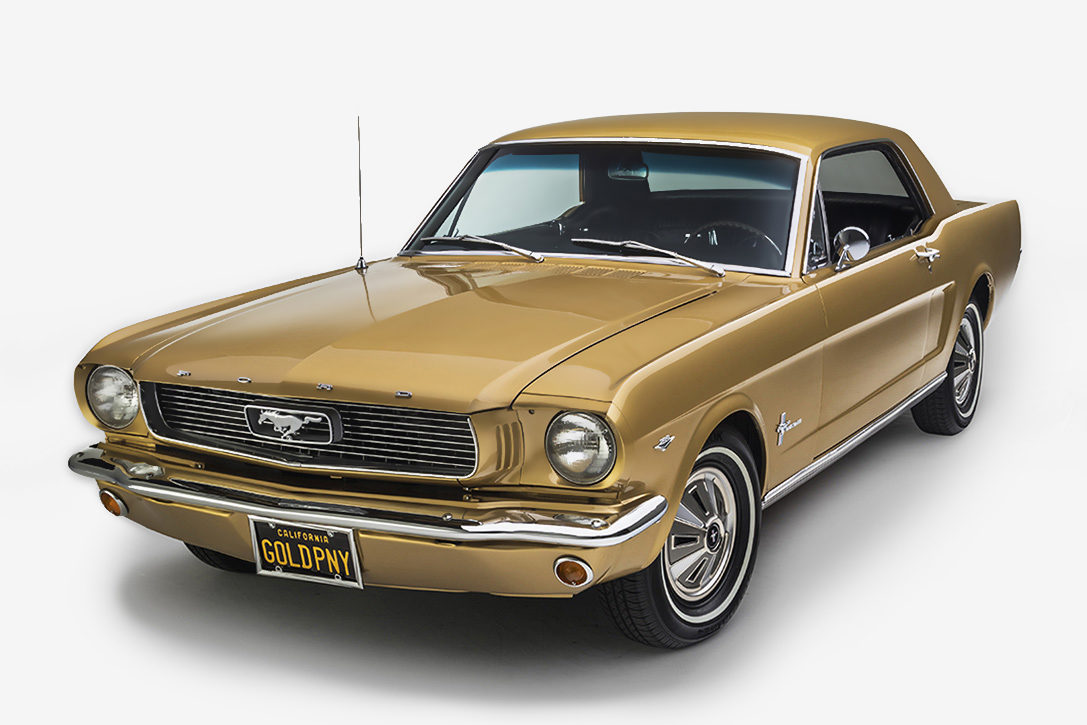 Mustang Anniversary Gold Edition
The Anniversary Gold Edition was a limited edition, special-order Mustang. Although never confirmed, it is believed that only 50 units were ever made (and only five exist today). This is one of the rarest Mustangs around. It was part of the Million Mustang Sale event.
The Anniversary Gold Mustangs were all hardtops and came with the C-code 289 cubic inch 2-barrel V8 engine and automatic transmission. The interior was also upgraded and it came with cool looking steel-styled wheels and a unique Anniversary Edition Gold paint job. Anniversary Gold Mustangs were produced by special order number 1111 on March 29, 1966. Many of these cars were given away in dealer promotions such as the "Treasure Chest" contest held by Metke Ford in Bellevue, Washington.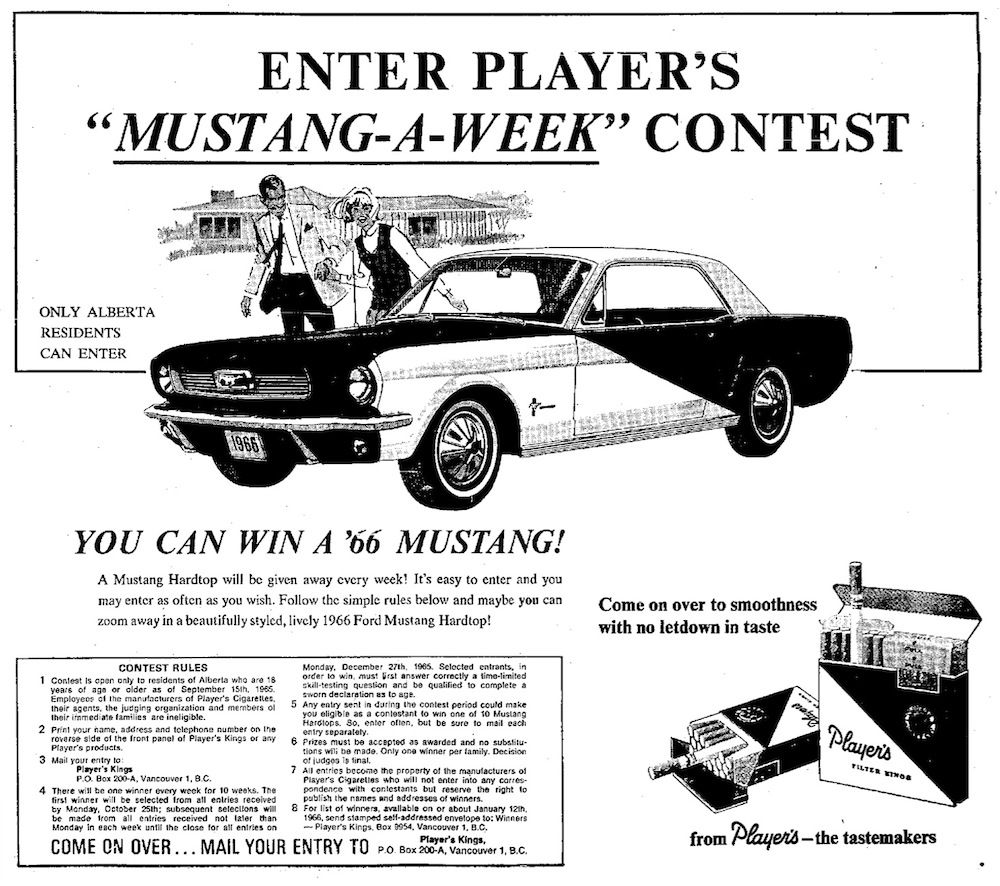 Mustang Player's Special Edition
File this one under "it could only happen in the '60s" — the Player's Special Edition Mustang was a special collaboration between Ford and the John Player and Sons tobacco company. Given away exclusively on the Canadian market starting in 1965, the Player's Special Edition Mustang featured a unique two-tone paint in blue and white to match the Player's cigarette package. The contest was an apparent success, as it ran for an additional three years in Quebec, Ontario, Manitoba and Alberta.
Players Special Edition Mustang
SPECIFICATIONS
Aside from the unique paint job, there's little to distinguish the Player's Special Mustang from others of its generation. The cars were all six cylinders, 200ci hardtops outfitted with wheel covers and an AM radio. As many as one a week were given away while the contest ran — one memorable ad shows Des Orton, Windsor sales representative for Imperial Tobacco (the parent company of Player and Sons), handing over the keys to contest winner Jack Idler of Riverside, Ontario. Production of the Player's Special Mustang varied from year to year and province to province — in Ontario in 1965, the contest ran for 15 weeks, with one car each week being given away.
BACKGROUND
While a car known for performance and sport wouldn't be associated with a cigarette company today, the '60s were different. One of the reasons why the Mustang continued to be a success after its initial launch was Ford's aggressive push into regional markets. From 1966 to 1970, a number of special editions were launched throughout the country, including the iconic California Special in 1968. Offering the exclusive Player's Special Edition to Canadian drivers may have been a way for Ford to build the Mustang's brand north of the border. That it chose to partner with a cigarette company is perhaps more indicative of the prestige both industries shared at the time.
The Player's Special Mustang is a unique footnote in the car's early history — it's unknown how many, if any, of the cars that were given away in the '60s, are still in existence today.
Ford T5 (Mustang)
Sometime in the early 1950s a German truck manufacturer, Krupp, introduced a large general purpose truck and named it the Mustang. They were issued German copyrights to the name Mustang and continued to build this truck for many years. This truck was built in several configurations including a dump truck and a fire engine. This then was the situation with the name Mustang that Ford faced when they tried to sell their successful pony car in Germany. Rather than simply buying the name from Krupp for a reported $10,000 they chose instead to change the name of all Mustangs exported to Germany to Ford T5s. T5 has no specific meaning but it was the original project name for the Mustang in the early 1960s.
In the early models, 65 and 66, several modifications were incorporated to change the car from a Mustang to a T5. The 65s received modified hub caps with a plain black centre; both model years had the word Mustang removed from the horn ring, rear gas cap and a few other minor changes. Other than the branding, the mechanical changes to T5, as well as to Mustangs for other countries, were mostly limited to replacing the exterior lighting to meet European regulations, as well as some suspension tuning changes and installation of the shock tower brace from the Shelby GT350 to better suit continental roads. The Mustang Pony Interior package included a wood steering wheel. In most cases Ford T5s with Pony Interiors received the standard steering wheel with the word Mustang deleted. Ford did design new emblems for the front fender to designate the cars as T5s.
These emblems (C5ZZ-6325622A) are about ¾ inches high and 4 inches long. They were also fitted with the export brace later used in the GT-350s. The changes in later years was less, often only replacing the Mustang emblems with a newly designed T5 emblem (C7ZZ-16098C) that was similar to the early GT emblems with T5 centred vertically. These emblems were used on all T5s until December 1979. Some but not all 67 models and all 68 models received a special dash bezel above the glove box with the T5 designation on it. In 1971 a new dash emblem (D1ZZ-6504460-A) was used in the centre of the dash above the radio and heater controls. The Ford T5 IIs also received a special dash emblem (D4ZZ-6904460-A). All Ford T5 parts have been obsolete for many years and are not available from Ford. In most cases these changes were done with predictability and consistency. However, due to production oversights and perhaps lack of attention by selling dealers, variations have been noted. Mustangs or T5s were one of the most popular American cars with German nationals, although the exact numbers are not known, many were sold directly to Germans and remained in Germany. The Krupp copyrights to the name Mustang expired in December 1979 and all Mustangs exported to Germany after that date were called Mustangs.
1965 Ford Mustang T5 Prototype1965 Ford Mustang T5 Prototype
Positive identification of early T5s is sometimes difficult. Ford did not use any special codes or designations on these cars but all were built with DSO codes in the 90s. It is important to remember that all T5s have DSO codes in the 90s, but not all cars with DSO codes in the 90s are T5s. The export codes were not used to designate shipment to a specific location. For model year 1965 T5s were built in Dearborn (assembly plant code F) or Metuchen (assembly plant code T). The 1966 T5s were all built in Metuchen. All early T5s built in Dearborn have a DSO code starting with 91. All early T5s built in Metuchen have a DSO code starting with 95. Generally, the only positive way to identify an early T5 is by the horn ring, emblems or the built sheet if available. Starting in 1967 the DSO codes change depending on when the car was assembled. The exact meaning of export DSO codes is not fully understood and many calls to Ford Export have not clarified the numbering system. It is important to remember that DSO codes do not signify a specific country location to which the car was shipped.
In many export markets including Germany, Mustang and T5 were available through select Ford dealers as well as a secondary channel, the United States military's P-X system where personnel who were stationed overseas could buy a wide variety of personal items including cars.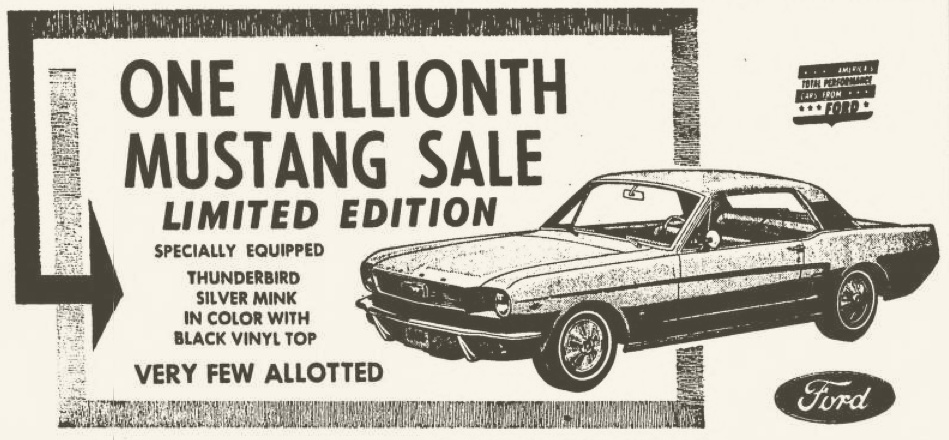 Other Territorial Mustang Specials
Sales of some special edition Mustang models were limited to a specific geographical region. Among the Territorial Specials was the High Country Special (see above) that was sold only in Colorado, Wyoming and parts of Nebraska. The award for the best Mustang Special name goes to the Silver Mink Limited Edition Anniversary that was sold only in the tri-state area of Ohio, Pennsylvania, and West Virginia. Available only on a Sprint Mustang with the six-cylinder engine, the package consisted of Thunderbird Silver Mink special paint and a black vinyl roof.