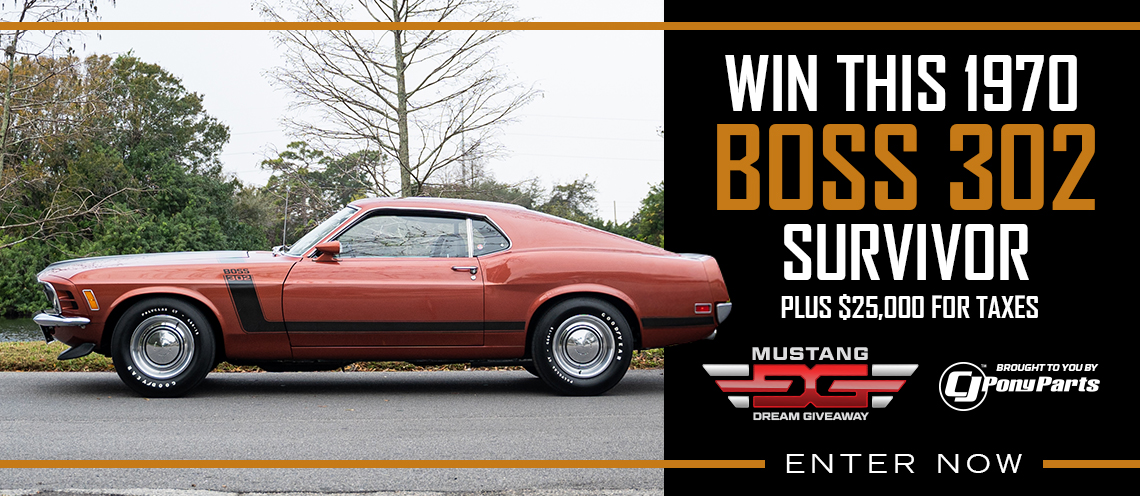 The Ford Mustang now carries with it, a legacy of greatness that spans more than 50 years, displaying a perfect mesh of elegance and performance that many have grown to love. Throughout its tenure, the Mustang has grown immensely in popularity, as critics and consumers alike have marveled at the sports car's unique level of appeal, which seemingly grows with every successive year.
Along the way, several particular Mustang models and variants have stood out above the rest, for a number of noteworthy reasons. From outright performance merit to historical significance, each of the following Mustangs has showcased one or more traits that have elevated them to iconic status.
1964-½ Mustang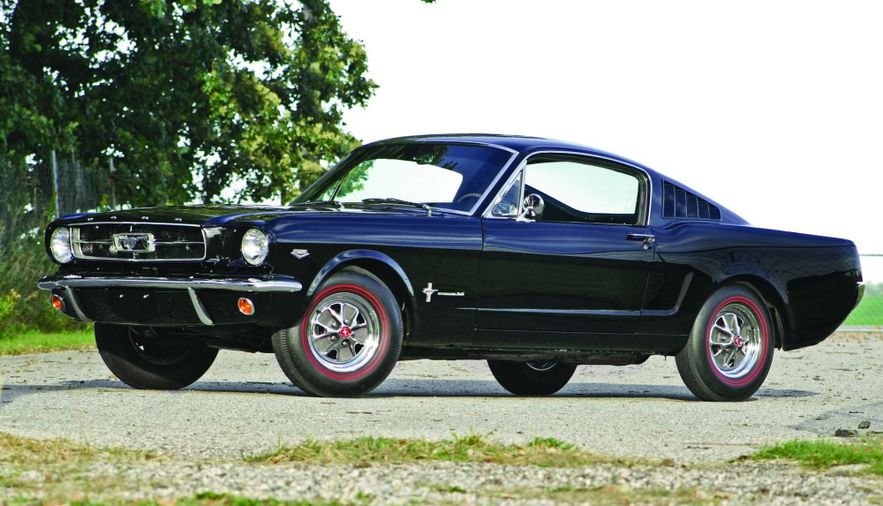 Despite being released mid-model year, the 1964-½ Mustang captivated the minds of a rather large consumer base and proved to be an instant moneymaker for the Ford Motor Company. From school teachers to avowed automotive enthusiasts, consumers from every walk of life clamored at the opportunity to get behind the wheel of Ford's latest creation.
The newly released Mustang seemed to be a hit on every front, offering significant cosmetic appeal and enough horsepower with its optional 289 cubic-inch V8, to satisfy those with a lead foot. In total, more than 100,000 Mustangs were built and sold by the end of 1964.
Ironically, much of the Mustang's immediate success took many within the upper ranks of Ford by surprise. Though the newly released sports car was expected to experience moderately successful sales, few could have expected 1 million Mustangs to have been sold after only 18 months in production.
1965 Shelby GT350 Mustang
Although the Mustang had become an instant hit upon its release the year prior, many within the upper echelon of Ford raised concerns over how enduring their new sports car's appeal would be. In a bid to further enhance the Mustang's appeal, Ford entrusted famed designer Carrol Shelby with the monumental task of converting a series of specialty optioned Mustangs, into race-ready performance cars.
Shelby tweaked the Mustang's suspension for improved handling, modified its engine to provide a total of 306 HP, and massaged its appearance with the aid of specialty fiberglass work. The cumulative effect of his efforts proved successful, and the 1965 Shelby GT350 Mustang was born.
The 1965 Shelby GT350's release served as a pivotal moment in Mustang history. Ford's newest sports car became instantly synonymous with performance, thereby providing the Mustang with a distinct identity, from which its legacy is still being forged today.
1967 Shelby GT500 Mustang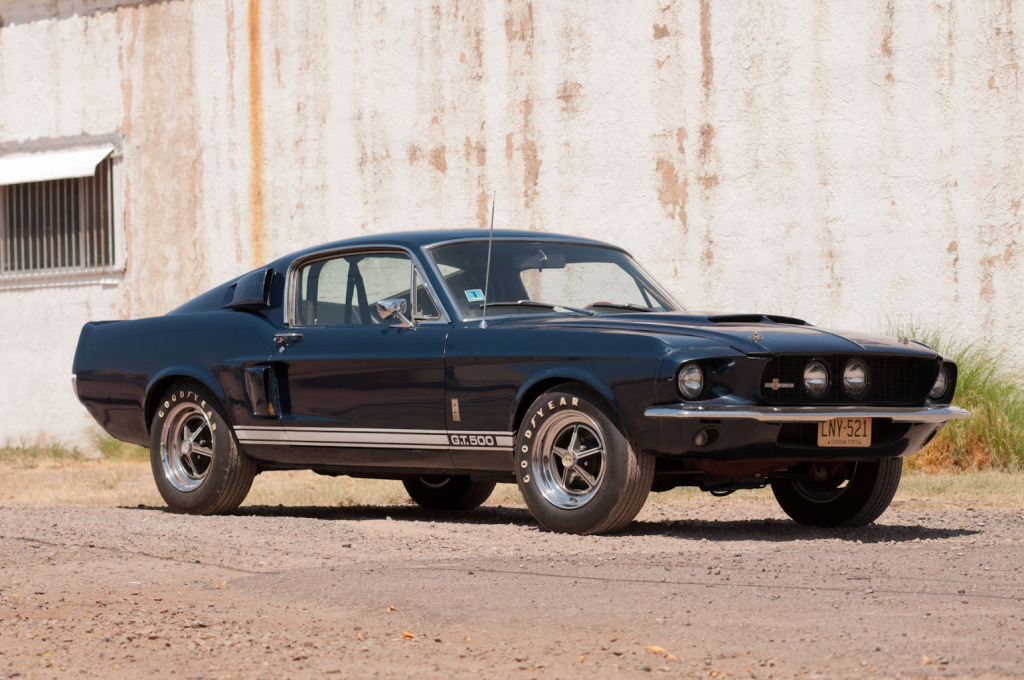 After his initial efforts in creating the Shelby GT350 proved successful, Carrol Shelby immediately began efforts to design the classic Mustang's successor. Two years later, the Shelby GT500 would roar off of the assembly line and onto American streets. Though the GT500 never captured the same degree of fanfare as the GT350 before it, there was still plenty to be excited about.
The Shelby GT500 was far more refined in its amenities than the GT350 before it, often garnering it a reputation as a performance-rich cruiser, rather than a track-ready racer. However, the GT500 was also the recipient of a much more robust powerplant. Fitted with a 428 cubic-inch V8, this Shelby derived Mustang was capable of dishing out 355 HP, which was quite remarkable for the day.
The Shelby GT500's tenure would prove to be short-lived, as it would disappear from production after the 1969 model year.
1969 Mustang Boss 302/429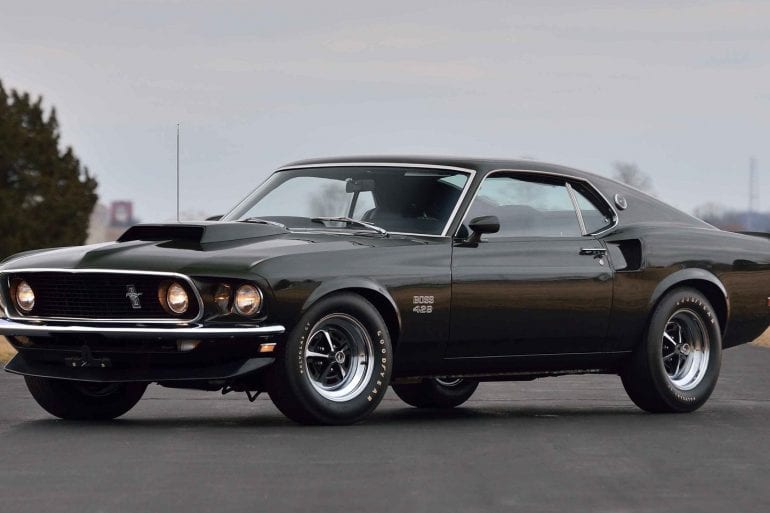 Ford would introduce both the Mustang Boss 302 and Boss 429, during the 1969 model year. While each car differed in design both mechanically and cosmetically, they shared a common mission of achieving homologation status for approval in individual forms of competition. Today, both classic Boss Mustangs are highly sought after by collectors.
The Mustang Boss 302 was initially designed to achieve two main goals. The first of which was to reach sufficient production numbers to qualify for entrance within the Trans AM series competition. The second of which was to provide a direct answer to Chevrolet's Camaro, which was receiving a substantial amount of fanfare.
The Mustang Boss 429 was designed to homologate its 7.0L engine for NASCAR use. The famed Boss 429 was capable of churning out 375 HP and 425 lb.-ft., making it one of the most fearsome performance cars of its day. While the legendary Mustang, nor its powerplant, would ever actually take part in a NASCAR sanctioned event, the car's legacy lives on.
1971 Mustang Mach 1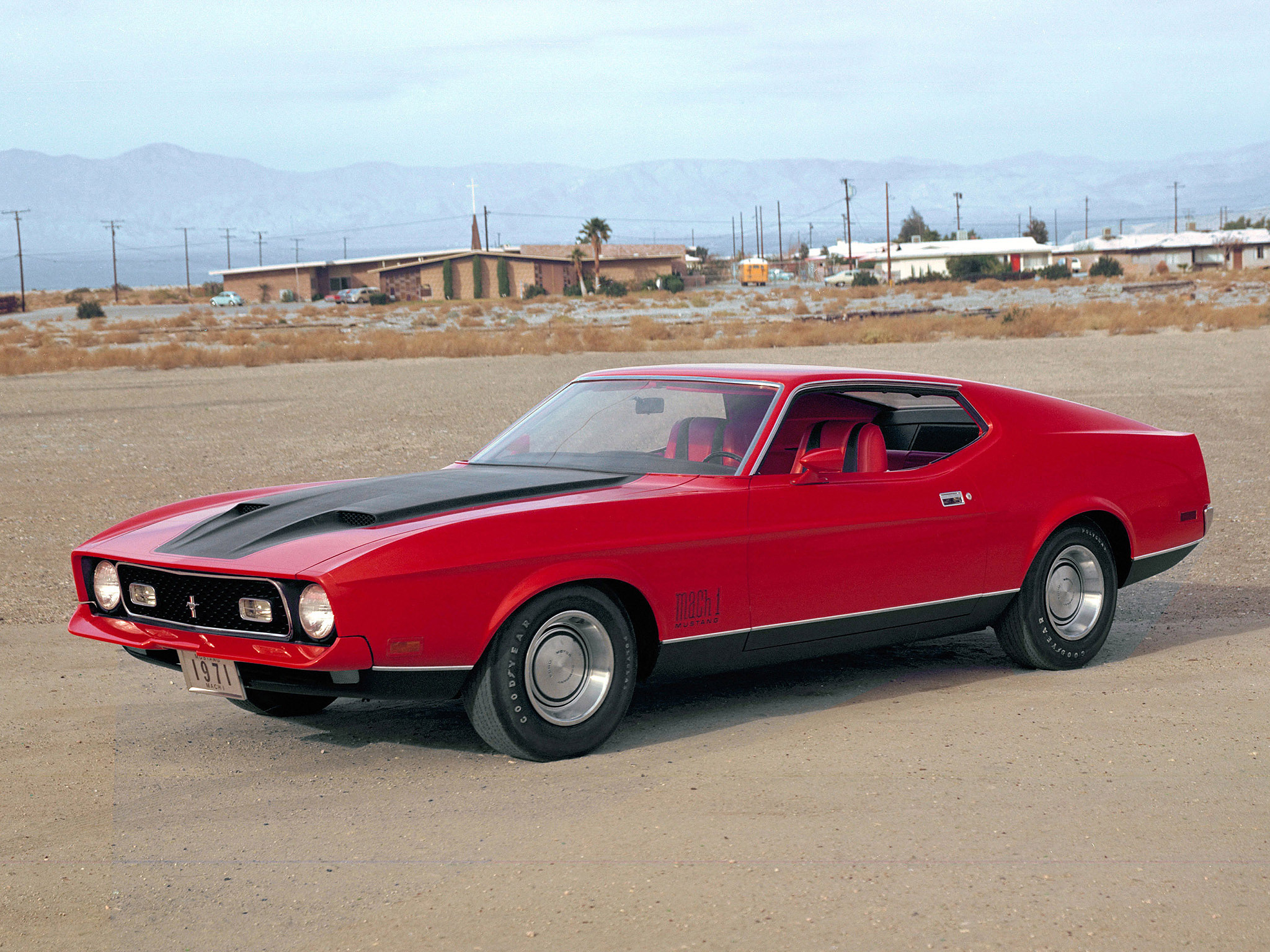 Though the 1970s are not typically reflected upon in a positive light by many Mustang enthusiasts, the 1971 Mach 1 did signal a high point during the otherwise unremarkable decade of production. During this period, Ford gave the Mustang a facelift, which included a new fastback body style and a more aggressive stance. Though many consumers were not impressed, the Mach 1 possessed enough underhood merit to maintain a significant level of appeal.
The 1971 Mustang Mach 1 was offered with a total of four different engine options, including the fearsome 429 cubic-inch Cobra Jet, which was capable of producing 370 HP and 450 ft.-lb. of torque. This served as the go-to engine for all Mustang enthusiasts who demanded unparalleled performance.
Ironically, 1971 would be the final year of the Mach 1 to feature such an extensive array of engine options, as the Cobra Jet would be discontinued at the end of that year.
1984 SVO Mustang
In 1984, Ford offered a Mustang that was undeniably unique in its mechanical format, which captivated the minds of performance buffs far and wide. The 1984 SVO featured an upgraded 2.3L turbocharged 4-cylinder engine, which produced a total of 175 horsepower. While this seems insignificant by today's standards, such performance was quite impressive in the horsepower oppressed 1980s.
The SVO also received upgraded brakes, suspension, steering, and a limited-slip differential. Additionally, the SVO's body was engineered to be more aerodynamic than stock Mustangs of the same era.
It is also worth noting that the 1984 SVO Mustang was the first vehicle built under oversight of Ford's SVO (Special Vehicle Operation) branch, which would later carry the SVT (Special Vehicle Team) designation.
2000 Mustang SVT Cobra R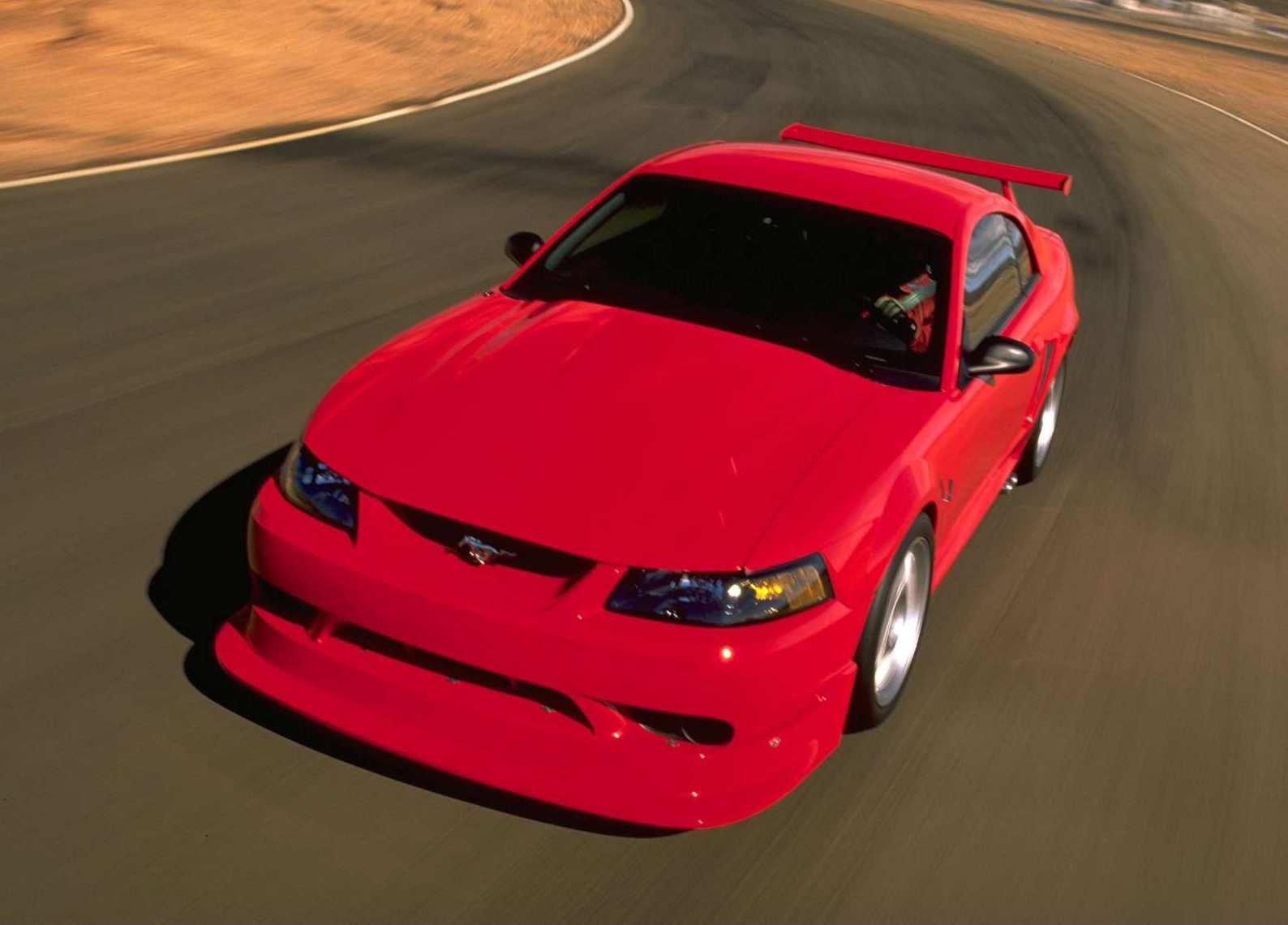 Ford entered the new millennium with monumental plans in store for the Mustang. Building upon prior high-performance iterations from the decade prior, Ford released the 2000 Mustang SVT Cobra R. From the ground up, the Cobra R was built to make the most out of every straight-away that it encountered.
In many ways, the Mustang SVT Cobra R was as much a track-ready racer as any Mustang before it. Featuring a more than capable 5.4L V8, which produced 385 HP and 385 lb.-ft. of torque, the Cobra R was meant to be put through its paces.
The SVT Cobra R also featured several additional upgrades that further enhanced its performance. This car came fitted with Brembo brakes, Bilstein suspension components, and a hydro-mechanical differential.
2012 Mustang Boss 302
In 2012, Ford seized upon the opportunity to reintroduce the famed 302 moniker from decades prior. The 2012 Mustang Boss 302 was released to awaiting critics, who were eager to judge whether or not Ford's latest creation was deserving of its iconic name. Looking back, most indicate that the 2012 Boss 302 easily hit its mark.
The 2012 Mustang Boss 302 carries a distinctive look which differs from other Mustangs of the same era. This stems from the fact that Ford spent extensive time addressing every area of the Boss 302's aerodynamic profile. This led to numerous modifications, all of which were intended to minimize the effects of wind drag.
In its Laguna Seca format, the Boss 302 received a host of additional upgrades. Some of the most notable of these revisions include the addition of a limited-slip differential, larger rear wing, stiffer suspension, and an X-brace to enhance structural rigidity.
2015 Shelby GT350/350R Mustang
The 2015 Shelby GT350 is perhaps the first Mustang within the modern era to perfectly mesh power and drivability in a manner that provides the most well-rounded of driving experiences. Anyone who has ever set behind the wheel of the 2015 GT350 will be quick to discuss its versatile degree of performance superiority.
On the performance output side of the equation, the 2015 Shelby GT350's 5.2L engine is capable of producing 526 HP and 429 lb.-ft. of torque. This powerplant employs the use of Ford's first flat-plane crankshaft, and is also the highest-revving engine in Ford's history, at 8,250 RPM.
The 2015 Shelby GT350 also features a host of upgraded steering and suspension components, which allow it to handle as if on rails. Additionally, the GT350 utilizes two-piece rotors and is equipped with the most powerful brakes ever fitted to a production Mustang.
2020 Shelby GT500 Mustang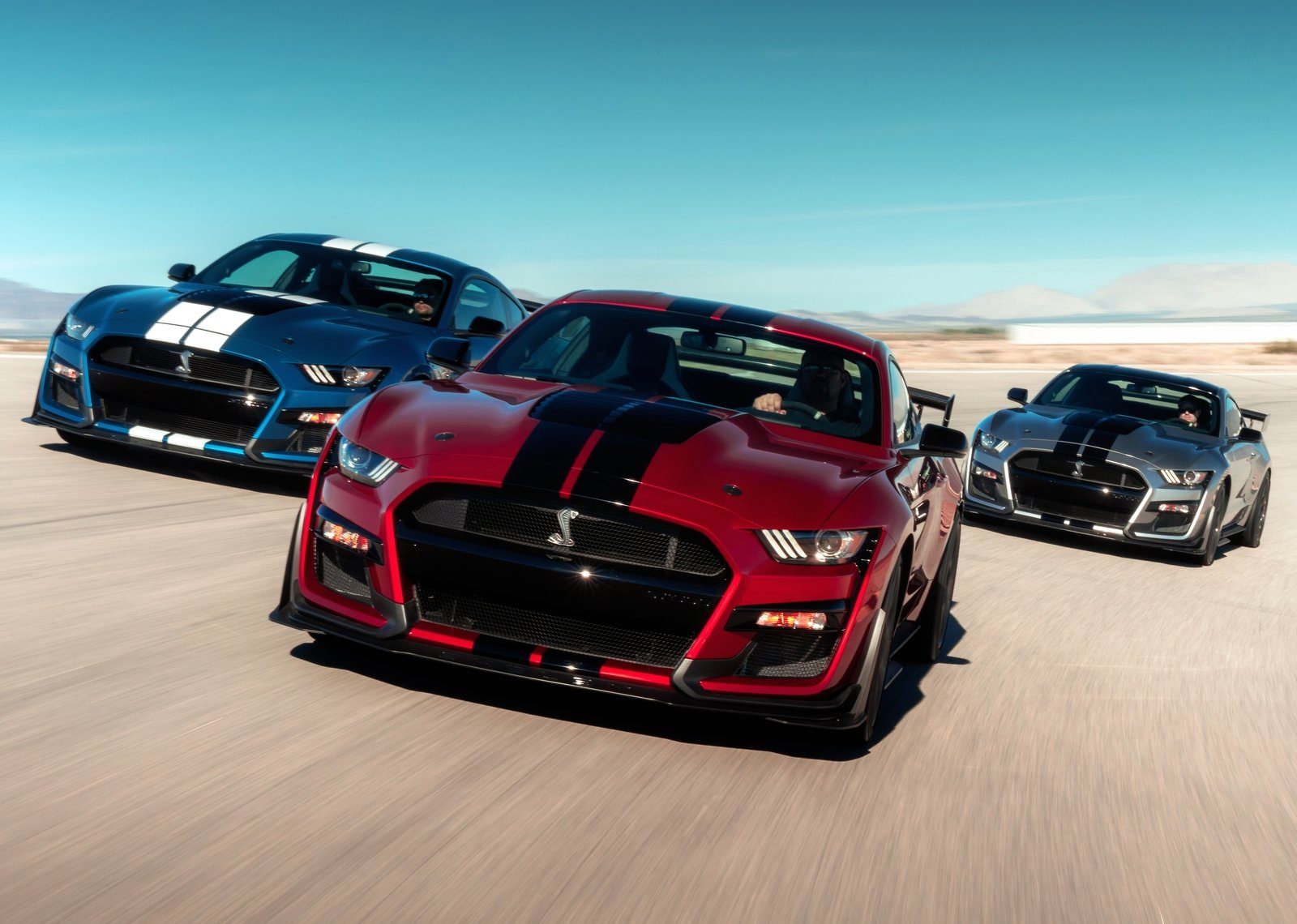 The 2020 Shelby GT500 serves as the most powerful and fastest Mustang to date. This instant classic features a beastly 5.2L Supercharged, Cross Plane Crank V8. This engine is capable of producing an incredible 760 horsepower and 625 lb.-ft. of torque. As a result, the GT500 can reach top speeds of 180 MPH.
Another notable feature of the 2020 Shelby GT500 is its use of independent rear suspension, which only first became standard on the Mustang less than ½ decade ago. This should increase steering responsiveness and promote greater control when cornering.
The 2020 Shelby GT500 also looks the part, thanks to the inclusion of oversized vents, stylish side-skirts, and a pronounced rear wing.