Up until 1967, the Shelby GT350 had stood front and center as the most performance-oriented of Mustangs. However, a number of consumers had begun questioning whether or not Carrol Shelby might have something else up his sleeve. While the GT350 was fast and relatively agile, it never embodied the degree of straight-line performance, for which many consumers were searching.
Luckily, Shelby proved to be a step ahead, as he prepared to unleash what was, and still is, one of the most fearsome Mustangs to ever roll off of the assembly line. Known as the 1967 Shelby GT500, this powerhouse performer would captivate the minds of automotive enthusiasts the world over and would go on to hold a legendary place in automotive history.
Le Mans Heritage
During the time in which the GT500 was designed, Ford was fresh off the heels of a dominating showing at Le Mans. This was a tremendous source of pride for the U.S. automotive manufacturer, especially considering that such efforts had dethroned renowned performance car manufacturer, Ferrari, in the process.
Both Ford, and Carrol Shelby, looked to capitalize upon this success when designing the new Shelby GT500. This was quite apparent when reading any service literature of the era, which often drew a correlation between the GT500 and Ford's dominance at Le Mans.
Though much of this was a little more than clever marketing, there are a few connections between the GT500 and the legendary GT40s of Le Mans. Charlie McHose, a designer for Ford who played an integral role in GT500 pre-production, has gone on record as stating that he leaned heavily upon the GT40 for inspiration when sketching out plans for the new GT500.
 A Beastly Powerplant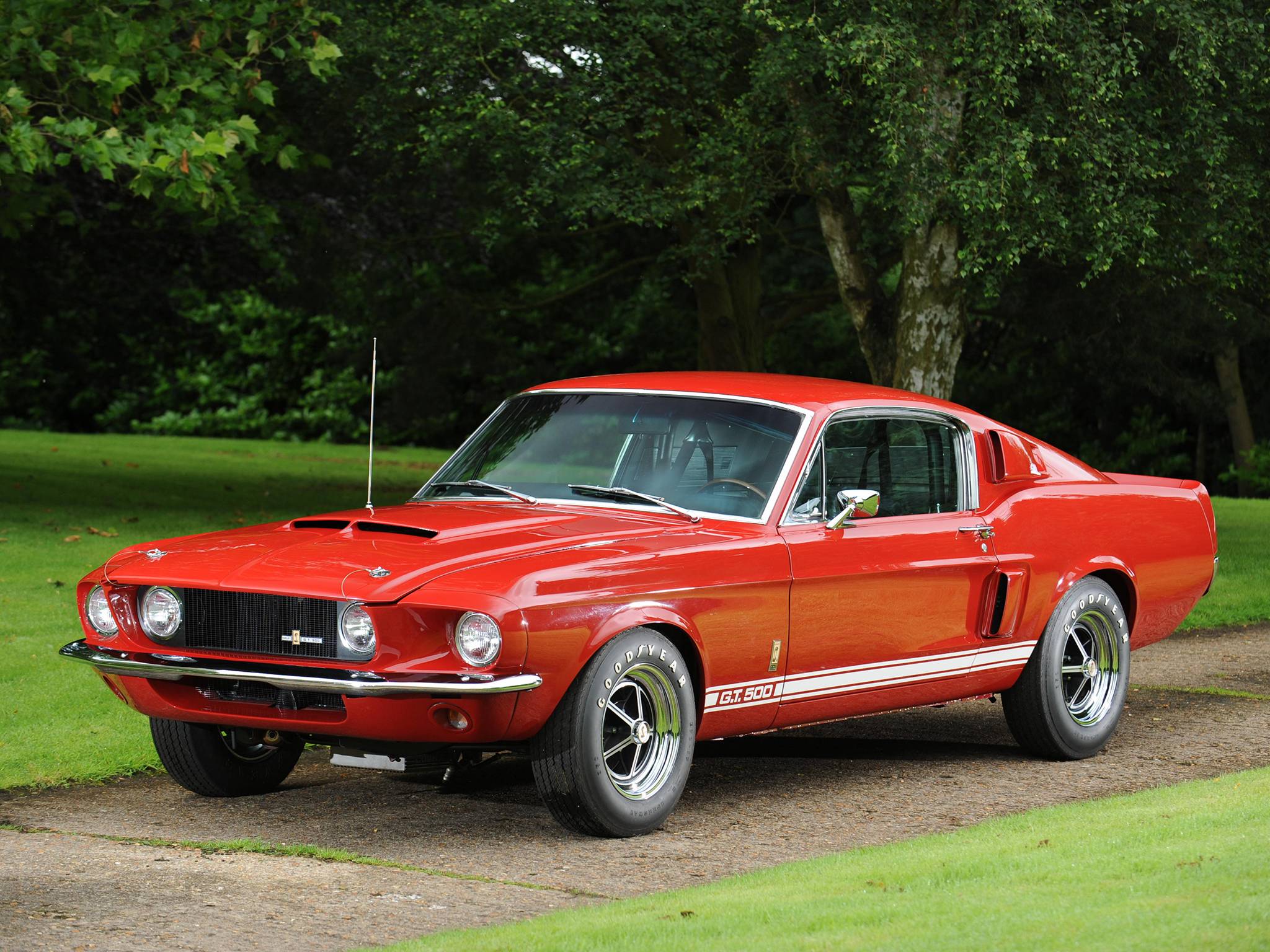 Early in the GT500's development, it was decided that the latest Shelby creation would not come standard with the 427 cubic-inch V8 of GT40 fame. Instead, the GT500 featured a 428 cubic-inch V8 "Police Interceptor" powerplant. This engine would be modified to increase output, and provide the magnitude of performance that Shelby envisioned for the GT500.
This 428 cubic-inch V8 was typically reserved for use in larger, full-size Ford vehicles. However, Shelby found it to be ideal for use in the GT500, with the addition of a few minor mechanical tweaks. Shelby fitted this engine with a medium-rise aluminum intake manifold, as well as twin Holley 600-cfm 4-barrel carburetors. In its refined form, the 427 cubic-inch V8 was conservatively rated as producing 355 bhp. However, many have surmised that the engine's true output was much higher.
Contrary to the 428 V8's status as the standard engine of the GT500, at least several 427 V8 equipped Shelby's were known to have been produced. While the number of such factory-produced, race-ready GT500's is said to be extremely low, subsequent dealer modifications of this variety are thought to be much higher.
When purchasing a GT500, consumers were able to select between the standard 4-speed, RUGS-1 manual transmission, or a 3-speed automatic alternative. Power was directed through a 3.50 Traction-Lok rear end.
The GT500 was also fitted with stiffer front springs, an upgraded anti-roll bar, and Gabriel shock absorbers. Front disc brakes also came standard on the GT500, enabling drivers to better manage the immense power which the Shelby provided.
The Image Of Performance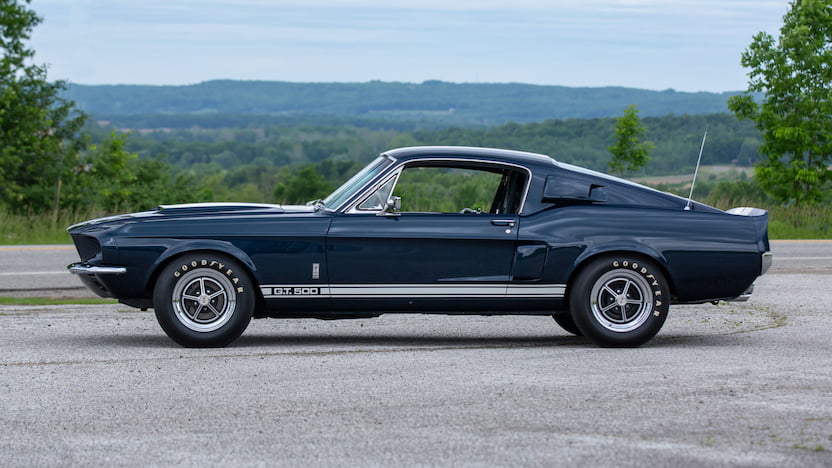 Photo Credit: Mecum Auctions
From its initial development, the GT500 was intended to stand out from any other Mustang derived vehicle on the road. As such, significant thought was placed into its exterior design. In part, Carrol Shelby intended to bring value to the GT500 for its originality, outside of that which consumers could find in the Mustang's base model.
The Shelby GT500 featured an elongated fiberglass front end, with a sizable grille, onto which high beam headlights were centrally mounted. However, these lights were found to each side of the GT500's grille in a number of instances, as dictated by state motor vehicle regulations. A fiberglass hood sported a pair of functional hood scoops, which directed airflow to the Shelby's engine.
Also of note was the Shelby line's signature rocker panel striping, which included "Cobra" badging on all GT500 models. A total of four body-side, functional air intakes further bolstered the GT500's signature look.
Moving rearward, the GT500 featured a fiberglass deck lid, complete with an easily recognizable molded spoiler. The famed Shelby's sequential taillights were borrowed from prior Cougar production and served as a way to differentiate the GT500's looks from that of the base model Mustang.
Behind The Wheel
For all its performance prowess, the Shelby GT500's interior design more aptly embodied the feel of a high-end cruiser. The vehicle utilized Ford's GT-level interior trim, which included a wood-rimmed, three-spoke steering wheel. The GT500's dash was of polished metal composition and housed an 8,000 RPM tach and a 140 MPH speedometer.
The GT500 could be ordered with black or parchment color interior and featured Cobra badging at the center of its steering wheel, as well as on the passenger side dash. Also included was a back seat, which could be folded down to provide additional cargo space.
Of additional note was the GT500's inclusion of a standard two-point, padded roll bar, much like that which was featured in the GT350. Optional air conditioning was also available to consumers, at an additional cost.
The King Of Shelbys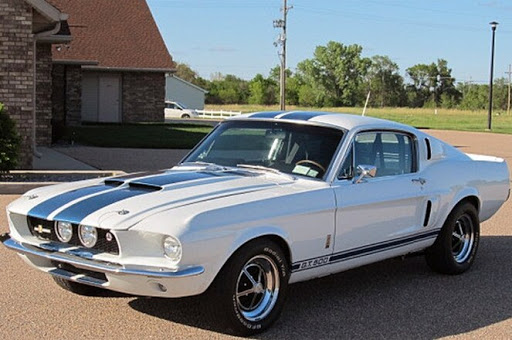 Photo Credit: mustangandfords.com
The Shelby GT500's release signaled a wave of change for subsequent high-output Mustang production. While the GT350 once stood as the premier Shelby performer, it would slowly begin taking a back seat to the more robust GT500. This would be further exemplified in the year to follow, when the GT350 would have its output significantly cut, as its 289 cubic-inch powerplant was removed as a standard offering. For all intents and purposes, the GT500 now stood head and shoulders above all other vehicles within the Shelby line.
1967 Shelby Mustang GT500 Specifications
| | |
| --- | --- |
| Engine | 428 V8 engine |
| Horsepower | 355 horsepower |
| Torque | 420 ft-lb of torque |
| 0-60 MPH | 6.5 seconds |
| Quarter Mile Time | 15.0 seconds |
| Weight | 3,370 lbs |
| Base Price | $4,195 |
| Production Numbers | 2050 |
Available Exterior Colors
The 1967 GT500 was available in Bronze Metallic, Dark Blue, Raven Black, Wimbledon White,
Dark Moss Green, Metallic Grey, Lime Gold, Brittany Blue, Candy Apple Red, and Acapulco Blue.
Available Interior Colors
The 1967 GT500's interior was available in either black or parchment.
1967 GT500 Shelby Mustang Video
We found a great video about the '67 GT500 Shelby.