After three years in its lightweight, compact form, the Mustang was redesigned to present a larger, more robust appearance for the 1967 model year. This was a fact that applied to all Shelby derived Mustangs as well. In its new form, the 1967 Shelby GT350 carried a hulking "broad in the shoulders" appearance, which looked noticeably more aggressive than cars from the prior two years of production.
However, Carroll Shelby was intent on cementing the GT lineup's race-inspired legacy and had a host of modifications on-tap that would serve to further distinguish all Shelby models, from standard, base model Mustangs of the day. During the 1967 production year, the GT350 would gain a sense of identity, for which it is still aptly known today.
Though largely overshadowed by its bigger brother, the GT500, the 1967 GT350 proved to be immensely popular and appreciated by a wealth of consumers from every walk of life.
A Look Of Performance
Of all Shelby series Mustangs, the 1967 GT350 is perhaps the most easily recognizable, as its aggressive styling exuded a look of unabated performance. The redesigned GT350 now sported extended front and rear fascias, as well as an extended fiberglass hood. The GT350 was also fitted with two 7-inch driving lights, located at each end of its grille, though some cars were actually delivered with these lights positioned close together toward the center of the GT350's grille.
The 1967 GT350's hood was secured with a set of hood pins and featured a functional hood scoop, which bolstered the car's intimidating presence. These GT350s also featured functional brake scoops, which were located just forward of the car's rear-wheel wells. Looking upward, the GT350 sported a pair of air scoops, in place of the prior year's rear-quarter windows.
To the rear of the car, the GT350 featured a fiberglass deck lid, complete with a spoiler. The car's tail lights were borrowed from the 1967 Cougar, sans the chrome trim. The GT350's rear end was rounded out with the addition of a chrome bumper and polished exhaust tips.
Exterior paint colors were also expanded for the 1967 production year. Consumers could now order the GT350 in one of 11 different colors, including Wimbledon White, Bronze Metallic, Dark Moss Green, Brittany Blue, Acapulco Blue, and Silver Frost. All 1967 GT350s also featured signature Shelby rocker panel striping, as had been the case since the GT350's inception.
A More Wholesome Interior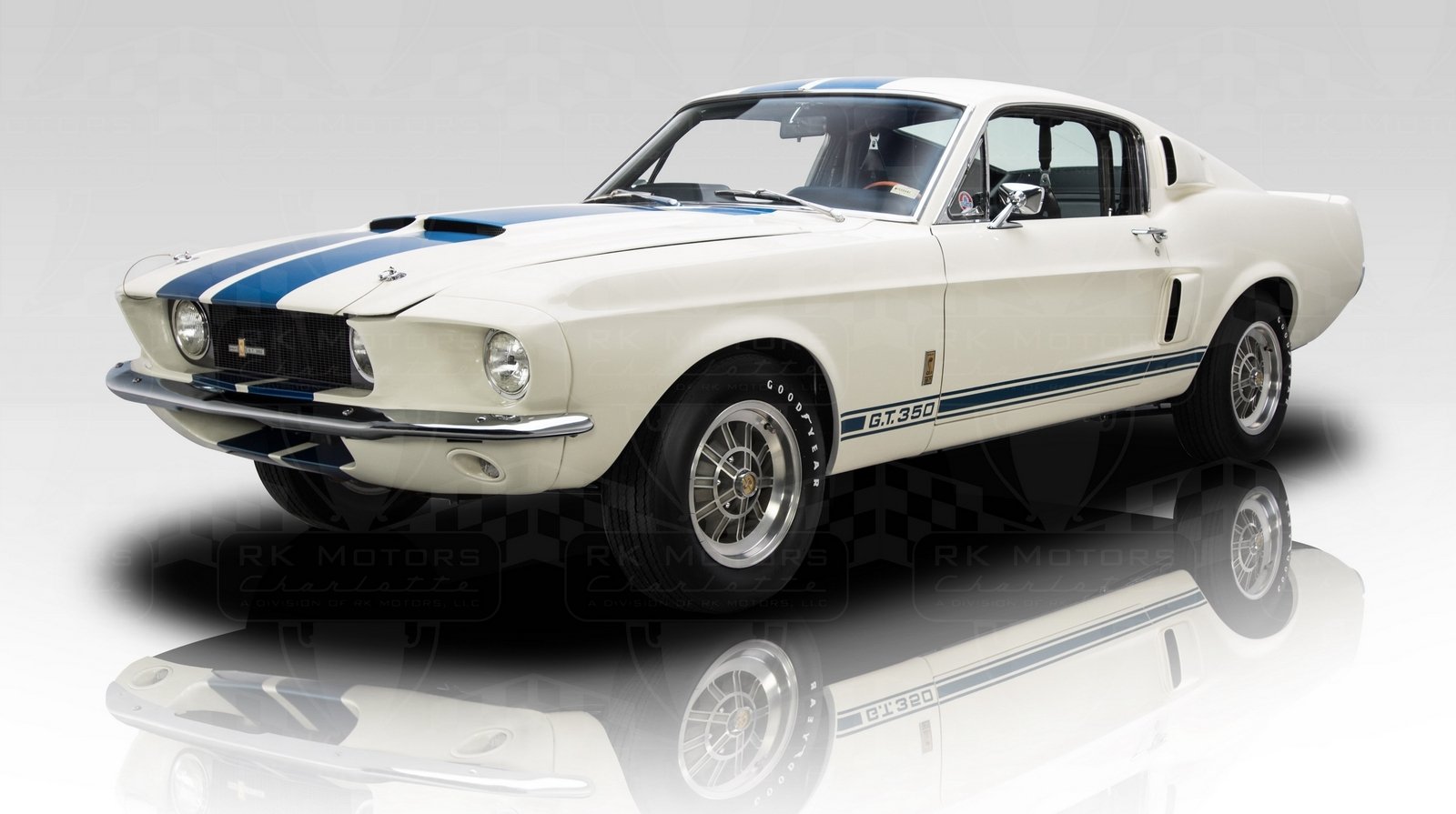 The 1967 GT350's interior also received several noteworthy upgrades. Most notably, a 2-point roll bar was included as part of the Deluxe interior package, as were a pair of inertia reel harnesses. Within early production, the GT350 featured a 4-point roll bar, though the latter 2-point variant was found to be more practical.
The GT350's dash now featured a set of eclectic looking gauges, including an 8,000 RPM tachometer and a 140 MPH speedometer, as well as an analog clock. Specialty Stewart Warner oil pressure and ammeter gauges were situated under the dash, housed within a specialty console.
The Shelby's interior was offered in black or parchment and was fitted with a pair of bucket seats. Additionally, all GT350s featured a folding backseat, which served as a holdover from the prior year's production. The car's steering wheel was of a wood-rimmed design with satin trim and included the line's signature Shelby emblem at its center.
For the first time, the GT350 was also offered with air conditioning, as well as an AM/FM radio. While these features were viewed primarily as the bare minimum of the day, their inclusion was rather notable, as prior Shelby derived vehicles were primarily void of any non-essential amenities.
Powerplant, Transmission, & Wheels/Tires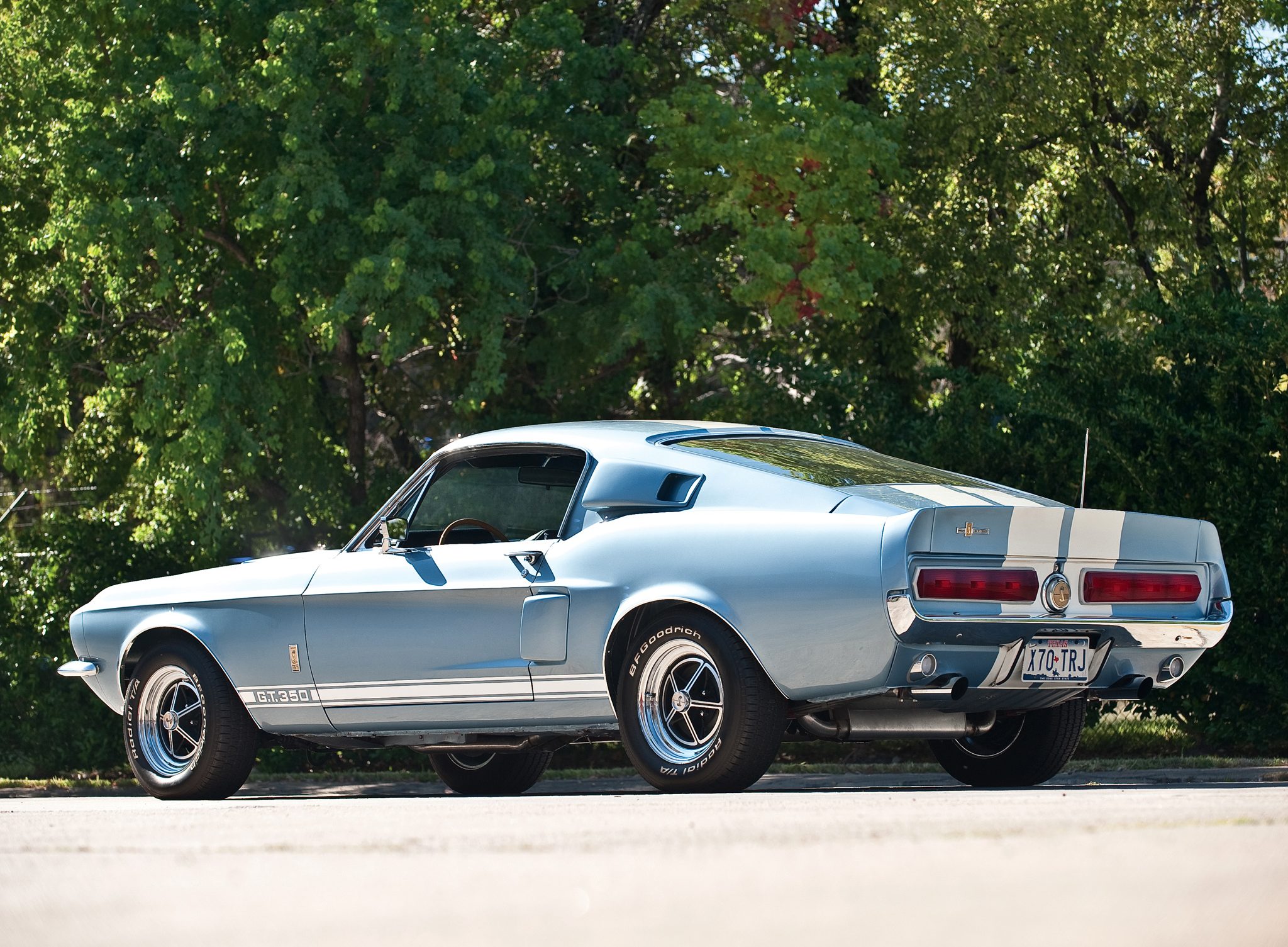 Like the previous two years of production, the Shelby GT350 was once again powered by a K-code, High Performance 289 cubic-inch V8. This powerplant was topped with an aluminum S2MS High-Rise intake manifold (later using an S7MS unit), and a Holley 715cfm 4-barrel carburetor. Alternatively, GT350s fitted with an automatic transmission utilized a Ford 595 cfm carb. Interestingly, the GT350 was available with an optional Paxton supercharger. This was an offering that was carried over from the previous year's production.
Consumers could order the GT350 with their choice of a four-speed manual transmission, or a three-speed automatic. Power was delivered through a 3.89-to-1 rear end in standard manual vehicles, or alternatively through a 3.50-to-1 rear end in GT350s optioned with an automatic transmission.
The GT350 was again spec'd as producing 306 HP and 329 lb-ft of torque during the 1967 model year. Though nowhere comparable to supercars of the modern era, the 1967 Shelby GT350 was mind-numbingly powerful for its day, posting a top speed of 140 MPH, and turning out 0-60 MPH times of approximately 7 seconds.
Fifteen-inch, cast-iron, ten-spoke rims served as Shelby's wheel of choice for the 1967 production year. These wheels were fitted with a set of Goodyear white-lettered radial tires, which were responsible for putting the GT350's power to the pavement.
A More Hospitable GT350
As the Shelby GT350s run continued, the iconic Mustang evolved to meet the demands of consumers. Though the 1967 GT350 certainly looked fearsome and was capable of showcasing an unabashed display of performance, its subsequent interior revisions increasingly catered to an ever-widening consumer base. The Shelby GT350 now offered far-reaching appeal, at a rather reasonable price point.
1967 Shelby Mustang GT350 Specifications
| | |
| --- | --- |
| Engine | 289 CID Cobra V8 engine |
| Horsepower | 306 horsepower |
| Torque | 329 lb-ft of torque |
| 0-60 MPH | 7.5 seconds |
| Quarter Mile Time | 16.0 seconds |
| Weight | 3,360 lbs. |
| Base Price | $3,395 |
| Production Numbers | 1174 |
Available Exterior Colors
The 1967 GT350 was available in Bronze Metallic, Dark Blue, Raven Black, Wimbledon White,
Dark Moss Green, Metallic Grey, Lime Gold, Brittany Blue, Candy Apple Red, and Acapulco Blue.
Available Interior Colors
The 1967 GT350 interior was available in either black or parchment.
1967 Shelby Mustang Video
We found a great video about the '67 GT350 Shelby.