Mustang enthusiasts the world over have Ford's racing ambitions of the 1960s to thank for many of the manufacturers' most fearsome Mustangs of the era. The Boss 302 and Boss 429 were no exception to this rule, as both were placed into production as a means of meeting homologation standards for entry into various classes of racing. While the Boss 302 was initially destined for SCCA production-class greatness, the Boss 429 was effectively used as a mule to homologate Ford's new 429 cubic-inch V8 for NASCAR competition.
Although the Boss 429 was produced almost solely on the premise of certifying its engine for competitive use, this legendary Mustang also exuded a significant degree of cosmetic curb appeal. Famed designer Larry Shinoda was much to thank for this, as he took it upon himself to create something truly special, from the vision that both he and Ford President, "Bunkie" Knudson, shared.
While the Boss 429 would only remain in production for two years, its legacy remains. The iconic Mustang would feature one of the largest big-block engines ever utilized by Ford in a production vehicle. This engine would later find success within NASCAR competition when placed in the Ford Torino.
A Look Of Authority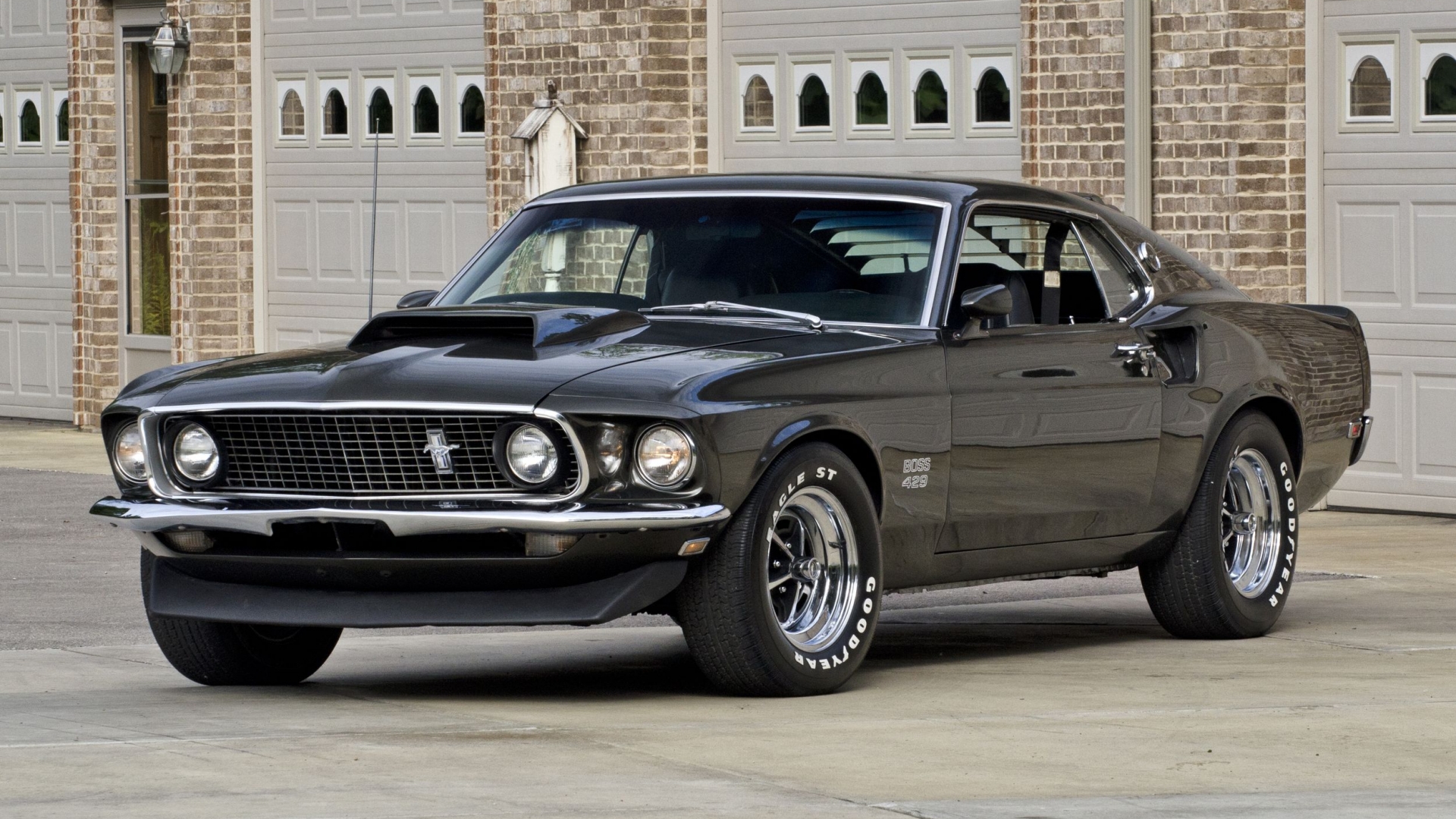 The Boss 429 carried a seriously aggressive appearance, which few could overlook. Perhaps most noticeable was the Boss 429's fully functional hood scoop, which was far more pronounced than that found on any other Mustang of the era. In fact, the Boss 429's air scoop is still the largest used on any production Mustang to date.
Also of note was the Boss 429's matte-black integrated chin spoiler. This spoiler was designed to reduce aerodynamic drag acting upon the car at a high rate of speed. An optional rear spoiler was also available for the Boss 429's deck lid.
The Boss 429's rear fenders took on a flared appearance and featured integrated air scoops that were mounted to their leading edge. Noticeably absent was the rocker panel stripping that typically accompanied prior high-output Mustangs of the era. However, an inconspicuously placed Boss 429 emblem was fitted to the car's grille.
In comparison to stock Mustangs of the period, the Boss 429 was offered in a rather limited array of colors. Consumers could order the 429 in Royal Maroon, Raven Black, Candyapple Red, Wimbledon White, Black Jade, and Blue.
A Basic, Yet Refined Interior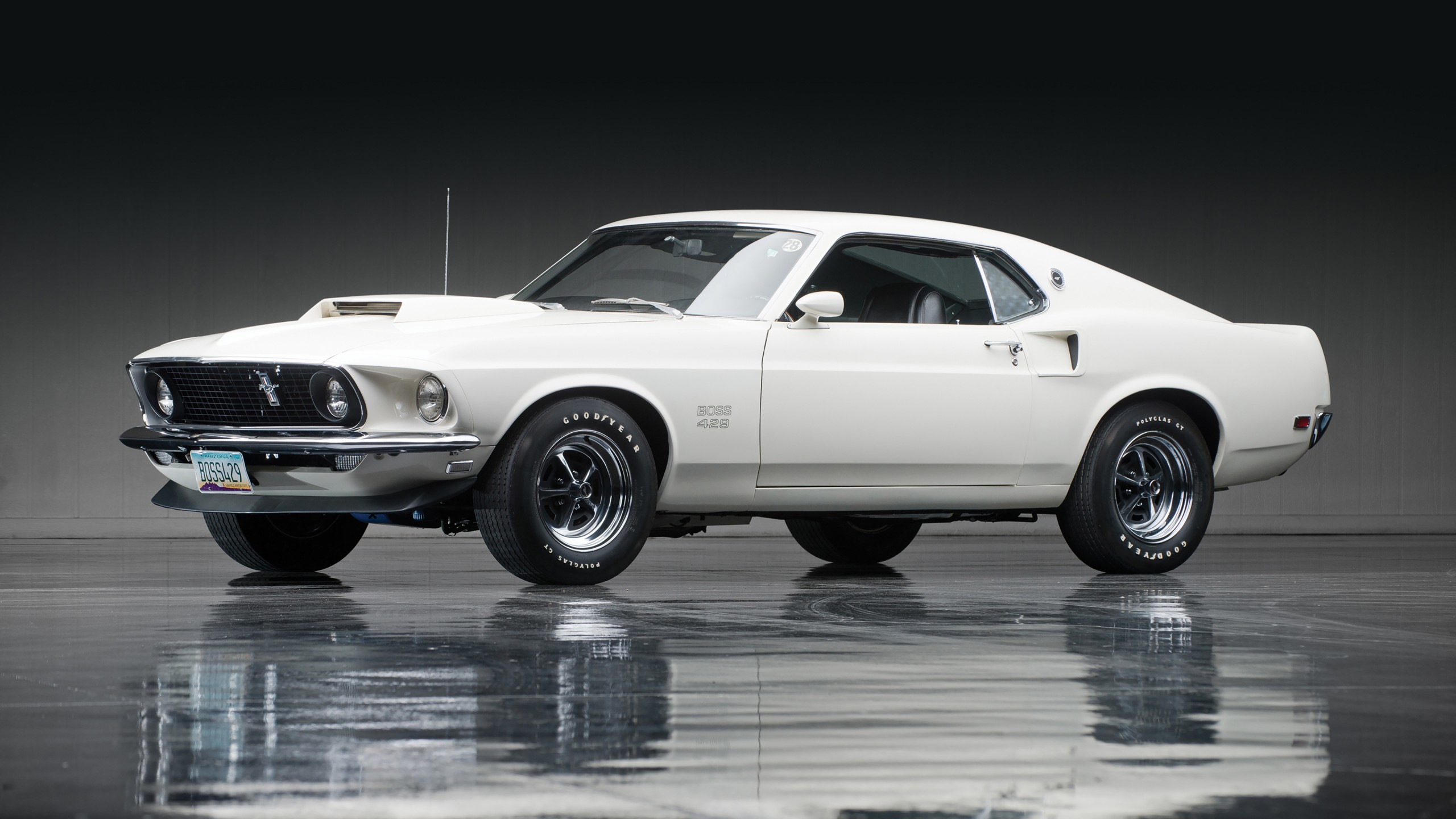 The Boss 429's interior was rather basic in comparison to that of the Shelby series Mustangs during the latter half of their run. The 429 featured Ford's standard Interior Decor Group, which included high-back bucket seats and deluxe seat belts.
One point of note concerning the Boss 429's interior relates to its visibility group, which was rather comprehensive in scope. Included was a parking brake warning light, luggage compartment light, ashtray light, glove box light, and a lighted ignition switch.
Also included within the 429's interior were manual choke and ram air vent doorknobs. One could option their 429 to include a specialty instrument cluster, which included a tachometer, in addition to the car's standard selection of gauges.
The Hemi Killer
All Boss 429s were shipped to Kar Kraft in Brighton, Michigan, where they were further prepared prior to distribution. In reality, the bulk of the iconic Mustang's performance modifications were completed in-house, by Kar Kraft. Because Ford would not ship the 429 without an engine, all Boss 429s arrived at Kar Kraft's facility with standard 428 Cobra Jet powerplants installed.
Upon arrival in Michigan, these cars were stripped of their Cobra Jet engines. Kar Kraft also redesigned the Boss 429's shock towers, moving them 1" forward from their stock position. The specialty Mustang's A-arms were also lowered by a distance of 1". All 429s were then fitted with heavy-duty shocks, robust front and rear sway bars, and high-performance power front disc brakes.
The Boss' 429 cubic-inch V8 was nothing short of fire-breathing. This big-block featured a forged steel crankshaft, 4-bolt mains, and staggered valve aluminum heads that topped semi-hemispherical combustion chambers.
This powerplant was also fitted with an aluminum high-riser intake and a 735-cfm Holley four-barrel carburetor with ram-air. Also included were a set of free-flowing header-style exhaust manifolds.
The Boss 429 carried an output rating of 375 HP, and 450 lb-ft of torque. However, it is often speculated that the 429's true output was somewhere closer to 400 HP.
Power was directed through a Ford Toploader four-speed, close ratio transmission. Unlike the Boss 302, the 429 was not offered in both wide and close transmission ratios. Also featured was a traction-lock differential with a rear gear ratio of 3.9:1.
Potential Without Direction
While the Boss 429 is immensely popular among collectors today, this was far from the case in 1969. Many Mustang purists had hoped for the 429 to be a car that reigned supreme over all other muscle cars of the day. However, Ford never intended this of the Boss 429 rather envisioning the car as a testbed for their newly designed NASCAR engine. However, this was a point that never fully resonated with the Mustang's fanbase, as only 857 Boss 429s were sold in 1969.
1969 Ford Mustang Boss 429 Specifications
| | |
| --- | --- |
| Engine | 429 V-8 |
| Horsepower | 375 horsepower |
| Torque | 450 lb-ft of torque |
| 0-60 MPH | 6.5 sec |
| Quarter Mile Time | 14 sec |
| Weight | 3580 lbs |
| Base Price  | $4,740 |
| Production Numbers | 857 |
Available Exterior Colors
The 1969 Ford Mustang Boss 429 was available in Raven Black, Wimbledon White, Royal Maroon, Black Jade, Blue, and Candyapple Red
Available Interior Colors
The only interior color available for the 1969 Ford Mustang Boss 429 was black.
1969 Ford Mustang Boss 429 Video
We found a great video of the '69 Boss 429.