2012 Ford Mustang Boss 302
The Real Boss Is Back
This is one bad Mustang. 444 horsepower and 380 ft/lb torque from a little 'ol 302 cubic inch (5.0L) having 11.0:1 compression engine with a base price of $40,995. The engine uses a chain driven double overhead cam, 4 valves per cylinder, hydraulic lash adjusters and variable intake and exhaust timing (VCT). What this means to the driver is they have about 7,500 RPMs to play withTypical of all mustangs, it has a front engine and rear drive. Rumored to be a 4 passenger car, I sincerely doubt it unless they consist of the driver, passenger and 2 beers. The Laguna Seca has a rear seat delete, but I guess if your passengers were laying down, you could get 2 small people back there.
The Boss for all its good points has one major flaw. It cannot go any faster than the GT Mustang. That sucks. The GT gets to 155 mph in 5th gear and just stops there, you waste a whole gear! The Boss get to 155mph faster than the GT, but it stops there too. One can remove the speed limiter restriction on the car, but it voids the warranty. Hum. Speed limiters suck.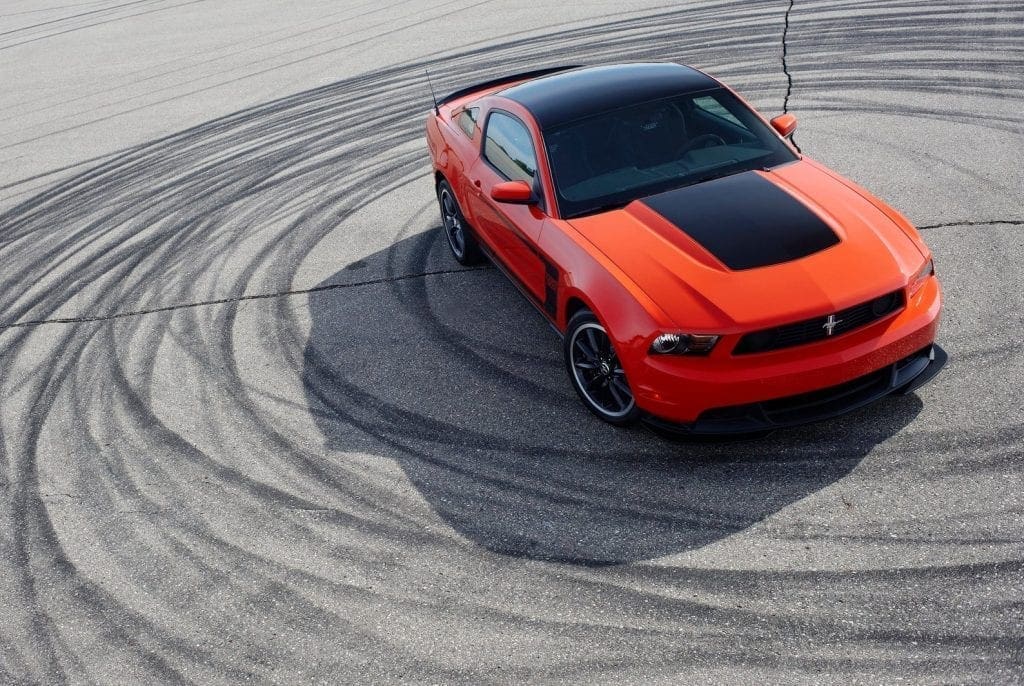 The Laguna Seca's bright colors, intimidating accent lines, bold colorful wheels and name simply scream out, "Write me a ticket". What I particularly like about the car besides everything is the rear seat delete. This aught to be an option for every Mustang sold. This was the car we looked at buying but my wife could not drive a stick very well, so I settled for a GT automatic. Don't get me wrong, the GT is a fantastic ride, but lacks the class & respect a BOSS has. Surprisingly, mileage estimates are the same as for the 5.0 420 hp GT. I bet they would be rated different if a few of my friends were driving!
As I was told when I was looking at the car, you had to pay FORD about $302 to program the red "TracKey" key. That made the car race ready and activates the launch control. When you inserted the key into the ignition, it reprogrammed the engine to eat Chevys and Dodges. What the hell if you can afford the BOSS, you can definitely afford to reprogram the key. If you use the black key, it uses the street programming mode. Another thing is that the "Glass roof" is not an option on the BOSS.
Besides deleting the rear seat, the car comes equipped with a cross car X-brace. The is a custom 3 gauge set mounted on the dash almost in the center of the car. The gauges are for oil, temperature, and one that monitors performance statistics. The seats are a set of black RECARO sport seats with BOSS "320" embroidered in gray into the shoulder area. Seats are 4 way manual seats. The interior color is nothing less than a "Charcoal Black" cloth matched with black carpet. The shifter knob resembles a black que ball which goes well with the black applique on the dash and in the rest of the car. Finally, the steering wheel is Aalcantara suede wrapped (whatever Alcantara is).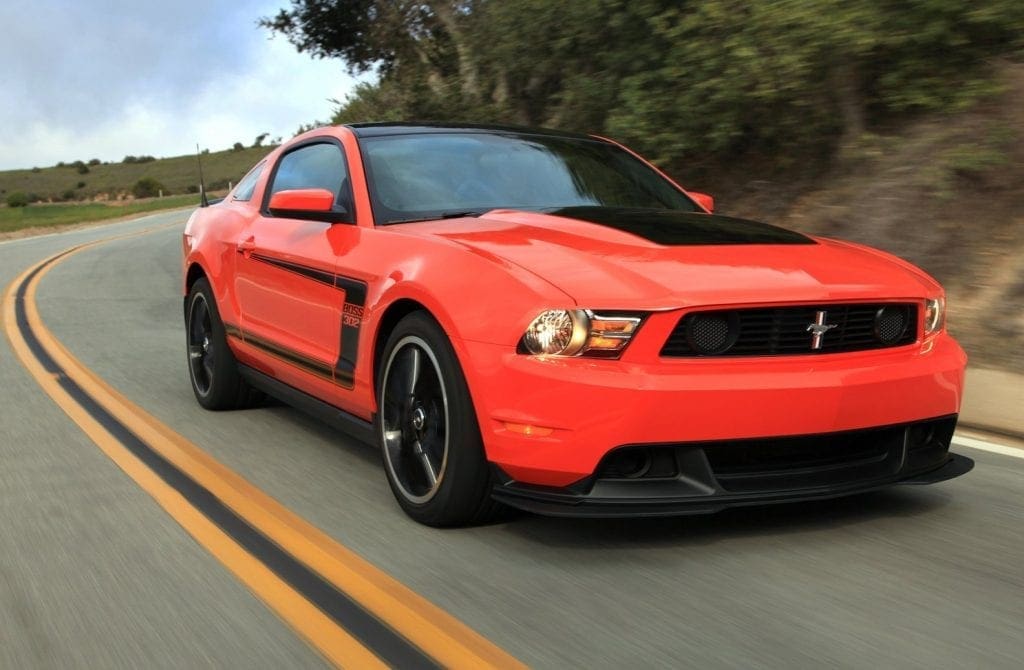 On the exterior, are 7 sporty colors and color coordinated racing stripes. You get a front air splitter that needs to be installed by the customer. It is not street legal in some states, and as Ford states it may degrade frontal crash tests and void the warranty. A black decklid stripe, a reverse "C" stripe on each side and the word BOSS boldly displayed in the front of the stripe. The roof is painted in either black or white to match the stripes and the rear deck spoiler is painted black. The front grille has the fog light openings blocked off.
Mechanically, it has a different computer program (if not an entirely different computer), a 6 speed manual transmission, a 3.73:1 limited slip differential, 5-way adjustable shocks, 25mm stabilizer bar, and quad exhaust. To stop the car you get Brembo 14 inch vented rotors 4 piston calipers paired with a 11.8 inch vented rear rotors. The intake manifold is of a unique design and has a plaque on it with its production numbers. Steering is a 15.9:1 electronic asisted rack and pinion wit 2.6 turns to lock.
According to an article in "Car and Driver,May 2011" Ford created a new intake manifold and used different cylinder heads. The heads had stronger metal and had 2.5 hours of CNC machining. The camshafts have higher lift and operated larger valves. All bearings are race spec and a baffled oil pan holds 8.5 quarts of oil.
The result is a 3666 pound car that runs 0-60 in 4.3 seconds. That is largely due to the 8.3 pounds per horsepower and a front to rear 55%-45% weight distribution.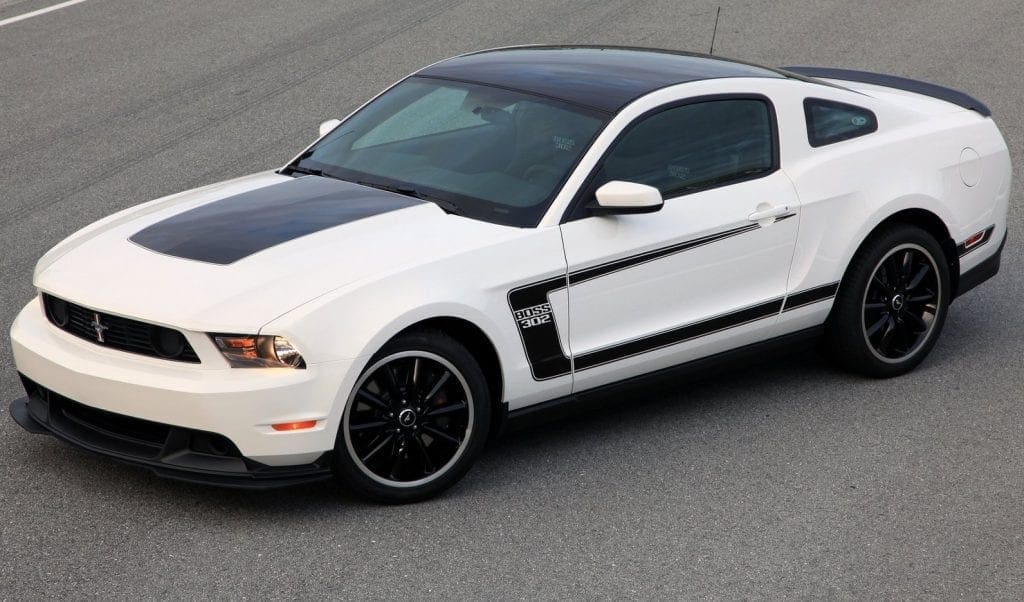 5.0L V8 Boss H.O. Equipment group 500A
To learn about the Laguna Seca option which consists of an Equipment Group 501A, please check out the Laguna Seca page:
Standard Equipment on the V8 5.0L Boss Mustang, EPA mileage rated at 17 city and 26 highway , 20 mph combined, 412 HP @6500rpm and 390 lb-ft torque at 4250 rpm.
6 speed manual transmission
4-wheel Disc ABS
All speed traction control
Coil over strut front suspension
Coil spring 3 link solid axle rear suspension
Front and rear stabilizer bars
Selectable steering mode, Sport, Standard or Comfort
4 way power manual front seats, Charcoal black cloth with a Gray embossed BOSS 302 signature
4 way manual passenger seat
Split fold seats on coupe
6 gauge instrument cluster with chrome accents and MyColor Illumination
Manual air conditioning
Ambient lighting
Leather trimmed front bucket seats
Auto dimming rear view mirror
Dark aluminum instrument panel applique and black cue ball shaped shift knob
Bright chrome speaker surrounds
Alcantra suede wrapped steering wheel
Shaker 500 audio system, AM/FM w/single CD player, MP3 input, 8 speakers and 500 watts
Sirius satellite radio with 6 months subscription
SYNC
Universal garage door opener
Vinyl door trim panel inserts
Audio input jack
Carpeted charcoal black front floor mats
Cruise control
Floor console with armrest and locking storage
Ice blue lighting
Message center
Power door locks
Power windows with one touch up and down
2 powerpoints, one on dash & one in console
Premium AM/FM stereo with single CD player
Sunvisors with multi purpose storage system & vanity mirrors
Tilt steering wheel
Easy Fuel Cap-less Fuel Filler system
2 cup holders
Driver footrest
LED Sequential rear turn signal
Variable interval windshield wipers
Rear window defroster
Complex refractor halogen headlights
LED high mounted 3rd stop lamp
19×9 front, 19×9.5 rear black painted aluminum wheels
255/40R Z rated front and 285/35R Z rated near max performance Pirelli P Zero summer only tires
Compact spare tire
Stainless steel quad exhaust with rear and side openings
Rear quarter mounted antenna
Tire pressure monitoring system (does not include spare)
SOS post crash Alert system
Passive anti theft system
Remote keyless entry system with integrated key & FOB
MyKey owner control system
Front seat side airbags
Illuminated entry system
Advancetrac stability control system
Dual stage front airbags
3.73:1 limited slip differential
5 setting adjustable shocks
25mm rear stabilizer bar
Special front and rear springs
Unique intake manifold with production plate
Brembo 14″ vented front rotors and 4 piston calipers
11.8 rear vented rotors with high performance pad compound
Black decklid stripe
Grille with blocked off fog lamp openings
Modified front facia with front chin spoiler
Painted roof in Black or White to match stripes
Unique hood stripes and reverse "C" side stripes
Black rear spoiler
Production Numbers
2012 Boss 302
Competition Orange (1,135)
Race Red (721)
Performance White (589)
Kona Blue (553)
Yellow Blaze Metallic Tri-Coat (252)
Fact Sheet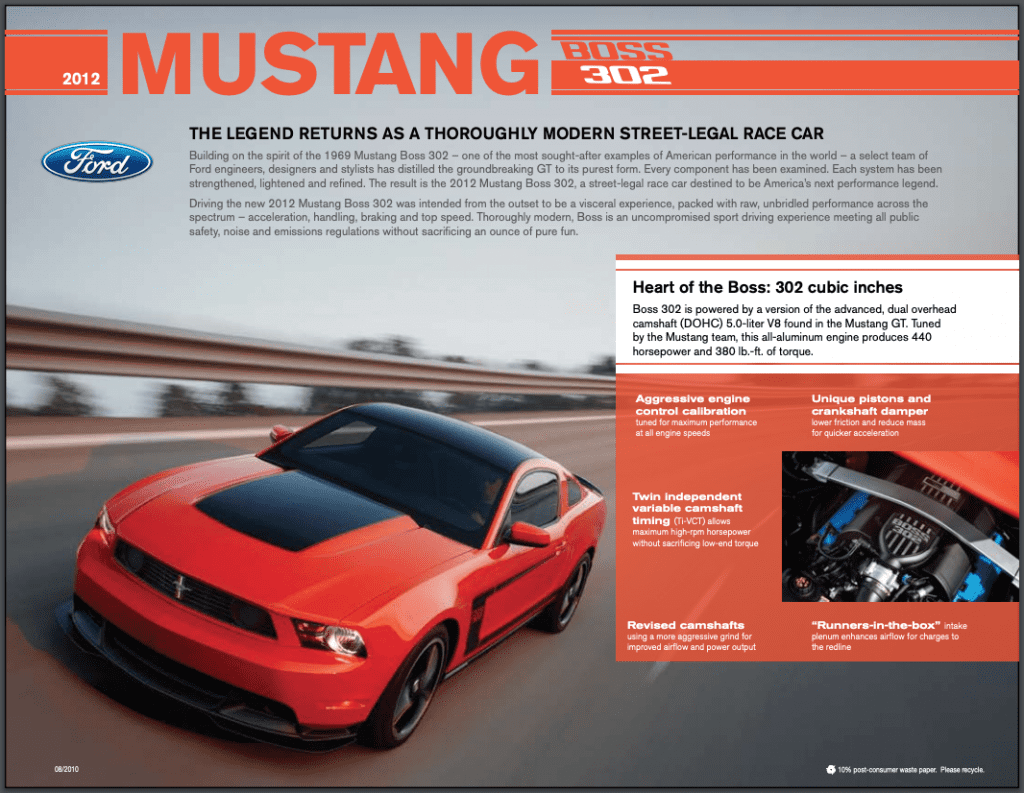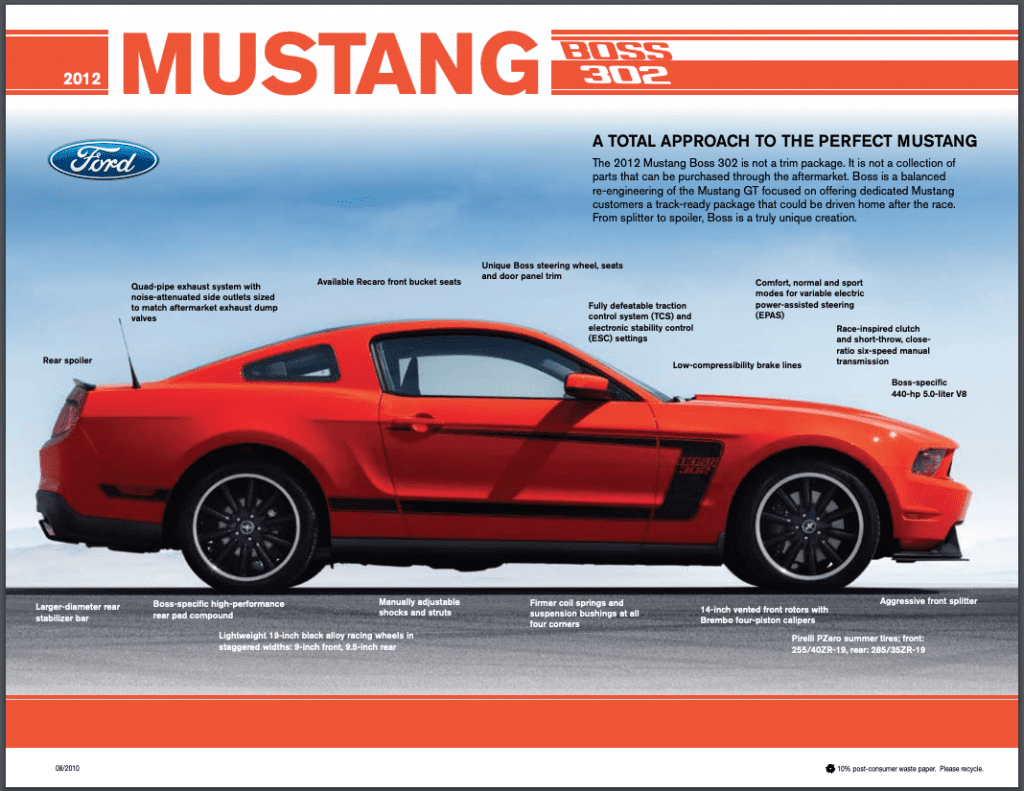 Press Release
THE BOSS IS BACK: 2012 FORD MUSTANG BOSS 302 BRINGS ROAD RACING LEGEND BACK TO THE STREETS
The Boss returns! Limited production 2012 Mustang Boss 302 set to become the quickest, best-handling straight-production Mustang ever offered by Ford, based on the world-class foundation provided by the 2011 Mustang GT
Boss upgraded in nearly every vehicle system; engine output, brakes, suspension, interior and exterior all examined to optimize weight, aerodynamics and track performance >
Full Mustang team effort results in a comprehensive re-engineering available only through the factory; new Boss is not a package that can be purchased out of a catalog or achieved through tuning or aftermarket parts
Limited-production track-oriented Boss 302 Laguna Seca model expands on Boss racing aspirations, deleting rear seat and adding race-ready suspension and aerodynamic treatments
MONTEREY, Calif., Aug. 13, 2010 – Ford gave the green light only once before: In 1968, management approved a special Mustang – a car that sacrificed nothing in its quest to be the best all-around road-going performance machine ever created by Ford Motor Company. That car became the 1969 Mustang Boss 302, and it remains one of the world's most sought-after examples of American performance.
Forty-two years later, Ford has given the green light again.
The team of Ford engineers, designers and stylists – all Mustang enthusiasts to the core – that created the groundbreaking 2011 Mustang GT has distilled a new model to its purest form, strengthening, lightening and refining each system to create a race car with a license plate. Its name: the 2012 Mustang Boss 302.
"The decision to build a modern Boss was not entered into lightly," said Derrick Kuzak, group vice president, Global Product Development. "The entire team at Ford felt the time was right and with the right ingredients, the world-class 2011 Mustang could support a successful, race-bred, worthy successor to the original Boss 302. For us that meant a production Mustang that could top one of the world's best – the 2010 BMW M3 – in lap times at Laguna Seca. We met our expectations."
To celebrate the racing heritage of the new Mustang Boss 302, Ford will also offer a limited number of Boss 302 Laguna Seca models, named for the track where Parnelli Jones won the 1970 Trans-Am season opener in a Boss 302. Aimed at racers more interested in on-track performance than creature comforts, the Boss 302 Laguna Seca has increased body stiffness, a firmer chassis set-up and an aerodynamics package carried over almost in its entirety from the Ford Racing Boss 302R.
Philosophy and powertrain
"The new Boss 302 completely redefines Mustang capability," said Mark Fields, Ford president of The Americas. "That the Mustang team was able to take the current Mustang GT – already a world-class performance car – and refine it further for peak track performance shows the commitment Ford has to this car and its legions of fans."
Driving the 2012 Mustang Boss 302 was intended from the outset to be a visceral experience, packed with raw, unbridled performance across the spectrum: Acceleration, handling, braking, and top speed are all equally matched for perfect balance on a car operating within the framework of legally defined safety, noise and emissions regulations.
"The team at Ford wanted to offer their fellow Mustang enthusiasts something really special – a beautifully balanced factory-built race car that they could drive on the street," explains Dave Pericak, Mustang chief engineer. "The Boss 302 isn't something a Mustang GT owner can buy all the parts for out of a catalog or that a tuner can get by adding a chip. This is a front-to-back re-engineered Mustang with every system designed to make a good driver great and a great driver even better."
Led by Mike Harrison, the V8 engine team approached Boss from the top down: With 412 horsepower from 5.0 liters, the 2011 GT engine was already an incredible performer. But to achieve the high-rpm horsepower that would make the engine competitive on the track, a new intake was essential. The resulting runners-in-the-box plenum/velocity stack combination the engine team developed was impressive enough that it got the green light after one short drive.
Helping the intake build power, revised camshafts using a more aggressive grind are actuated with the same twin independent variable camshaft timing (Ti-VCT) mechanism used on the Mustang GT. More aggressive control calibration yields 440 horsepower and 380 lb.-ft. of torque, while still offering a smooth idle and low-end torque for comfortable around-town driving.
A race-inspired clutch with upgraded friction materials transmits power, while a short-throw, close-ratio six-speed manual transmission handles gear change duties.
Power is delivered to a 3.73 ratio rear axle using carbon fiber plates in the limited-slip differential to improve torque handling and longevity. For those who want even more precise control over power delivery, a torque-sensing (Torsen) limited-slip differential is an available option coupled with Recaro front seats.
Sounds like the Boss
While the powertrain team defined output targets that would yield an ideal balance with the chassis, another team made sure the car made the kind of sounds owners and enthusiasts would expect from a Mustang Boss.
Up front, a Boss-specific intake system is tuned to feed the engine with minimum restrictions. A retuned induction sound tube provides concrete aural evidence of what's occurring under the hood. And, in the Boss exhaust system engineers really had some fun.
"With an exhaust system, we have to consider three constraints: legal noise restrictions; backpressure, which can rob power; and ground clearance," explains Shawn Carney, Mustang NVH engineer. "Since the 2011 Mustang GT exhaust is already so free-flowing – it came in way under our backpressure targets – we already had excellent performance; we were able to tune the exhaust system for a unique sound. Combined with the rush of the intake, the exhaust system really envelops the driver in V8 sound."
Every Boss features a unique quad exhaust system: Two outlets exit in the rear similar to a standard Mustang GT. The other two outlets exit to either side of the exhaust crossover, sending exhaust through a set of metal discs that act as tuning elements before the pipes terminate just ahead of the rear wheel opening. Visually subtle, the side pipes flow very little exhaust but a lot of exhaust sound, providing a sonic experience unlike any other Mustang.
Suspension and steering
In keeping with the Boss mandate to provide the best-handling Mustang ever, the already strong Mustang GT suspension system has been further refined. Higher-rate coil springs on all four corners, stiffer suspension bushings and a larger-diameter rear stabilizer bar all contribute to the road racing mission, and Boss models are lowered by 11 millimeters at the front and 1 millimeter at the rear versus the Mustang GT. The real key to handling, though, is in the adjustable shocks and struts, standard on all Boss Mustang models.
"We've given drivers five settings for their shocks," says Brent Clark, supervisor of the Mustang vehicle dynamics team. "One is the softest, two is the factory setting and five is the firmest, and we've provided a wide range of adjustment. A customer can drive to the track on setting two, crank it up to five for improved response on the track, then dial down to one for a more relaxed ride home. What's unique is that drivers will find – thanks to the way the suspension works as a complete system – the softest setting isn't too loose and the firmest setting isn't too controlled; each step just provides additional levels of control."
Also unique is the method of shock adjustment. Ditching the weight and complexity of electronic wizardry, the Mustang team opted for traditional race-style hands-on adjustability – similar to the Gabriel shocks available on the original Boss 302.
"The shock adjustment is right at the top of the shock tower, built into the rod and easily accessible from under the hood or inside the trunk," says Clark. "You just take a small flat-head screwdriver, turn the adjustment screw between one and five, and head back out onto the track."
To complement the suspension, the speed-sensitive electronic steering system has been retuned to maximize feedback and road feel to the driver. The driver is also given the option of fine-tuning the steering feel to his liking by selecting one of three settings through the instrument cluster menu: Comfort, normal and sport modes help offer track-tuned steering when desired without sacrificing low-speed maneuverability in parking situations and everyday commuting.
Similarly, Boss receives unique traction control system (TCS) and electronic stability control (ESC) settings to help drivers achieve maximum performance whether on the street or at the track. Both systems can be completely disabled in controlled track situations where maximum driver skill is utilized, or fully engaged for maximum safety during normal driving or in less-than-ideal traction conditions. Intermediate sport mode allows drivers to push their cars hard at the track without completely disabling the safety systems, permitting more aggressive driving before the TCS and ESC systems intervene.
Brakes, wheels and tires
Working in concert with the suspension upgrades, Boss 302 receives unique, lightweight 19-inch black alloy racing wheels in staggered widths: 9 inches in front, 9.5 inches in the rear. The Pirelli PZero summer tires are sized specifically for each end of the vehicle, with the front wheels receiving 255/40ZR-19 tires while the rear stays planted thanks to 285/35ZR-19 rubber.
The combined suspension and tire package allows Boss to achieve a top speed of 155 mph and become the first non-SVT Mustang ever to achieve more than 1.0 g of lateral acceleration.
Boss braking is also up to the challenge, using Brembo four-piston front calipers acting on 14-inch vented rotors up front. In the back, standard Mustang GT brakes are upgraded with a Boss-specific high-performance pad compound. Combined with vented brake shields and unique Anti-Lock Brake System (ABS) tuning, Boss drivers get maximum control and rapid, repeatable fade-free stops in road and race situations alike.
The Mustang team spent considerable time ensuring the brake pedal feel met the expectations of performance drivers. Boss receives unique low-compressibility brake lines that expand up to 30 percent less than traditional flexible brake lines, allowing maximum fluid pressure to reach the calipers in the least amount of time, giving the driver a sensation of being connected directly to the brake pads.
"This car is wicked fast, so we put a lot of emphasis on giving it comparable stopping power," says Clark. "We started with a race-proven brake system and tuned it specifically for the characteristics of the Boss 302 and its mission. They're the best brakes ever installed on a Mustang, and they give consistent, repeatable braking performance on the street and the track."
As a result 60-0 stopping distances for the Boss are improved by approximately three feet versus the Mustang GT with available brake package; combined with suspension and engine improvements, Boss is expected to show approximately a two-second lap time improvement over the GT on a typical road race course. But the numbers tell only part of the story.
"We achieved measurable improvements over GT, which was already one of the best-braking cars we've ever designed," explains Clark, "but what's harder to quantify is how good these brakes feel to a driver in a race situation. Like everything on this car, the brakes are more than the sum of their parts: They're tuned from pad to pedal to work perfectly as a system, and the difference is dramatic."
Exterior and interior design
Changes to the Mustang Boss exterior are subtle but unmistakable. True to its race-bred heritage, every component that could potentially aid aerodynamics or engine/brake performance was examined to make the vehicle more competitive, while chief designer Darrell Behmer refined the styling to evoke the 1969 Boss in a contemporary way.
"We approached this as curators of a legend," explains Behmer. "We've taken design cues from the '69 Boss street car and the menacing Bud Moore/Parnelli Jones race cars and carefully updated them to give the 2012 the proper bad-boy attitude that is unmistakably a Boss Mustang."
To set Boss apart, each car will have either a black or white roof panel, coordinated to the color of the side C-stripe. Available exterior colors are Competition Orange, Performance White, Kona Blue Metallic, Yellow Blaze Tri-Coat Metallic and Race Red.
Up front, a unique fascia and grille are highlighted by the blocked-off fog lamp openings and aggressive lower splitter, a version of the design used – and proven – on the Boss 302R race car. The front splitter is designed to function at high speeds by efficiently managing the air under and around the car. It helps to reduce underbody drag and front end lift while more effectively forcing air through the Boss-specific cooling system. At the rear of the car, the spoiler was chosen to complement the front aero treatment and minimize overall drag.
"What we were after on Boss was reduced overall lift with improved balance," says Pericak. "We needed to keep the car glued to the street or the track at high speeds without increasing drag or affecting top speed and fuel usage. The end result is an aero package that uses front, rear and underbody treatments not for show, but for effect – the balance and stability of this car all the way to its 155-mph top speed is just outstanding."
Inside, a unique Boss steering wheel covered completely in Alcantara suede complements the standard seats, which are trimmed in cloth with a suede-like center insert to firmly hold occupants in place. Boss customers who want the ultimate seating experience can select a package that includes Recaro buckets, designed by Ford SVT in cooperation with Recaro for high performance Mustang models, and shared between the Boss and GT500.
A dark metallic instrument panel finish, gauge cluster and door panel trim also differentiate Boss from the standard Mustang, while a black pool-cue shifter ball and "Powered by Ford" door sill plates further remind customers they're in a special car.
The Boss interior gets an aural kick thanks to what's been removed. Eleven pounds of sound-deadening material have been eliminated to let occupants further enjoy the intake, engine and exhaust note.
"Boss is a hallowed word around here, and we couldn't put that name on a new Mustang until we were sure everything was in place to make this car a worthy successor," explains Pericak. "We were either going to do it right or not do it at all – no one on the team was going to let Boss become a sticker and wheel package."
Pictures
Specs & Performance
| | |
| --- | --- |
| type | Series Production Car |
| built at | Flat Rock, Michigan, USA |
| engine | 90º V8 |
| position | Front, Longitudinal |
| aspiration | Natural |
| block material | Aluminum |
| valvetrain | DOHC, 4 Valves per Cyl |
| fuel feed | Injection |
| displacement | 4951 cc / 302.13 in³ |
| bore | 92.2 mm / 3.63 in |
| stroke | 92.7 mm / 3.65 in |
| compression | 11.0:1 |
| power | 328.1 kw / 440 bhp |
| specific output | 88.87 bhp per litre |
| bhp/weight | 270.77 bhp per tonne |
| torque | 515.2 nm / 380 ft lbs |
| redline | 7500 |
| body / frame | Unitary Steel Monocoque w/Aluminum Hood |
| driven wheels | RWD |
| wheel type | Wide-Spoke Aluminum |
| front tires | 255/40ZR-19 Pirelli PZero |
| rear tires | 285/35ZR-19 Pirelli PZero |
| front brakes | Ventilated Discs w/4-Piston Flating Calipers |
| f brake size | 36 x 355 mm / 1.4 x 14.0 in |
| rear brakes | Ventilated Discs w/Single-Piston Flating Calipers |
| r brake size | 19 x 300 mm / 0.7 x 11.8 in |
| front wheels | F 48.3 x 22.9 cm / 19 x 9 in |
| rear wheels | R 48.3 x 24.1 cm / 19 x 9.5 in |
| f suspension | MacPherson Struts w/Coil Springs, Anti-Roll Bar |
| r suspension | Live Axle w/Coil Springs, Anti-Roll Bar |
| curb weight | 1625 kg / 3580 lbs |
| weight distro | 54.7 % / 45 % |
| wheelbase | 2720.3 mm / 107.1 in |
| length | 4777.7 mm / 188.1 in |
| width | 1877.1 mm / 73.9 in |
| height | 1399.5 mm / 55.1 in |
| transmission | 6-Speed Manual |
| gear ratios | 3.66:1, 2.43:1, 1.69:1, 1.32:1, 1.00:1, 0.65:1 |
| final drive | 3.73:1 |
| top speed | ~234.91 kph / 146 mph |
| 0 – 60 mph | ~4.6 seconds |
| 0 – 100 mph | ~11.0 seconds |
| 0 – 1/4 mile | ~13.2 seconds |
| fuel econ epa | 15.68 L/100 km or 15 mpg-us |
| city fuel econ epa | 13.84 L/100 km or 17 mpg-us |
| hwy fuel econ epa | 9.05 L/100 km or 26 mpg-us |
| fuel capacity | 60 litres or 15.84 gal. |
Download Technical Specifications
Download Technical Specifications sheet