By the late 1960s, Ford had seemingly abandoned ambition toward road track dominance, or so many thought. Consumers often voiced discontent toward the manufacturer's growing efforts toward appeasing those who desired outright straight-line performance. However, the vast majority of such critics were oblivious to the fact that Ford was already in the midst of creating their next street-dominating Mustang.
At the time, Ford was quickly falling behind Chevrolet in the power wars, as the Camaro's star was rapidly rising. In fact, the then-newly released Z/28 Camaro was making waves across the automotive landscape. Ford knew that they had to counter immediately. To facilitate such efforts, engineer "Bunkie" Knudson and designer Larry Shinoda were brought on board. Both had previously been employed by General Motors.
With the right team assembled, the development of the newest road-track-derived Mustang got underway. The goal was simple; build a Mustang which was capable of dominating the Trans-Am racing circuit in its respective class, and toppling the Z/28 Camaro in the process. From these efforts, the 1969 Mustang Boss 302 was born.
A Defined Visual Presence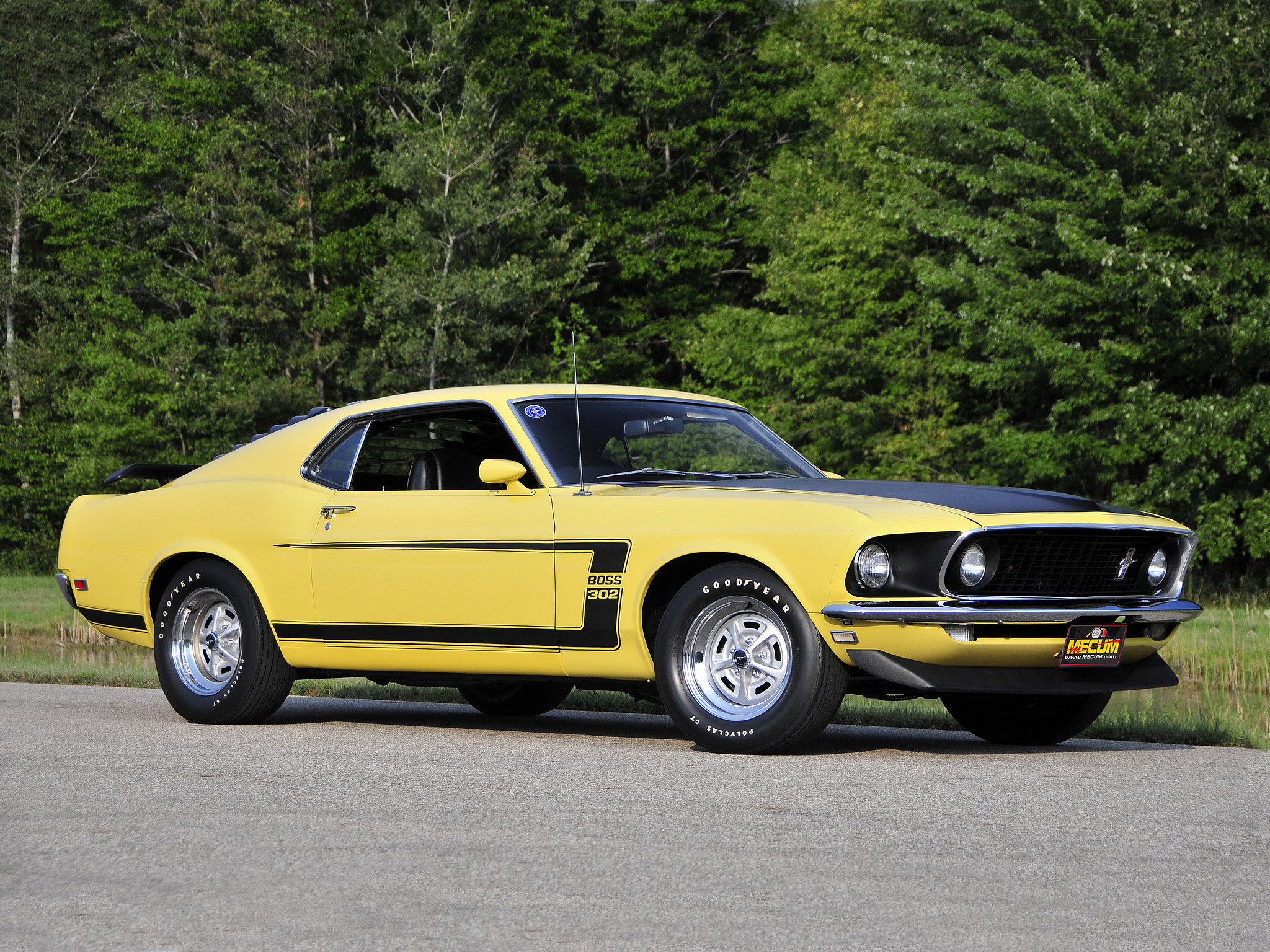 Heading up design efforts related to the Boss 302 was Larry Shinoda. By this time, Shinoda had already built a name for himself as a world-class designer, having worked on such iconic projects as the Mako Shark concepts for GM. Shinoda looked to build upon this legacy by providing the Boss 302 with a stylish, yet aggressive appearance. By all accounts, he did so to a tremendous degree of success.
The 1969 Boss 302 was available only in a Sportsroof Fastback body style and featured numerous distinguishing exterior characteristics. The Boss 302's hood featured a matte black center plane, which was said to reduce glare. The car's front headlight buckets also took on a similar matte black appearance.
Underneath the Boss 302's front end resided an integrated chin spoiler, which was designed to reduce aerodynamic drag. The Mustang's front fender wells were also enlarged to accommodate the Boss' larger front tires.
Perhaps most readily identifiable was the Boss 302's black rocker panel striping, which canted forward in the margin directly behind the front fenders, before turning back toward the vehicle's rear renders. This striping also featured the "Boss 302" logo just to the rear of each front fender.
Much like its hood, the Boss 302's deck lid was also blacked out, as was its rear facade, which featured sequential turn signals. A set of matte black rear window slats and a rear spoiler of the same color rounded out the car's striking appearance. The 1969 Boss 302 Mustang could be ordered in Bright Yellow, Calypso Coral, Wimbledon White, or Acapulco Blue.
A Wide Scope Of Interior Options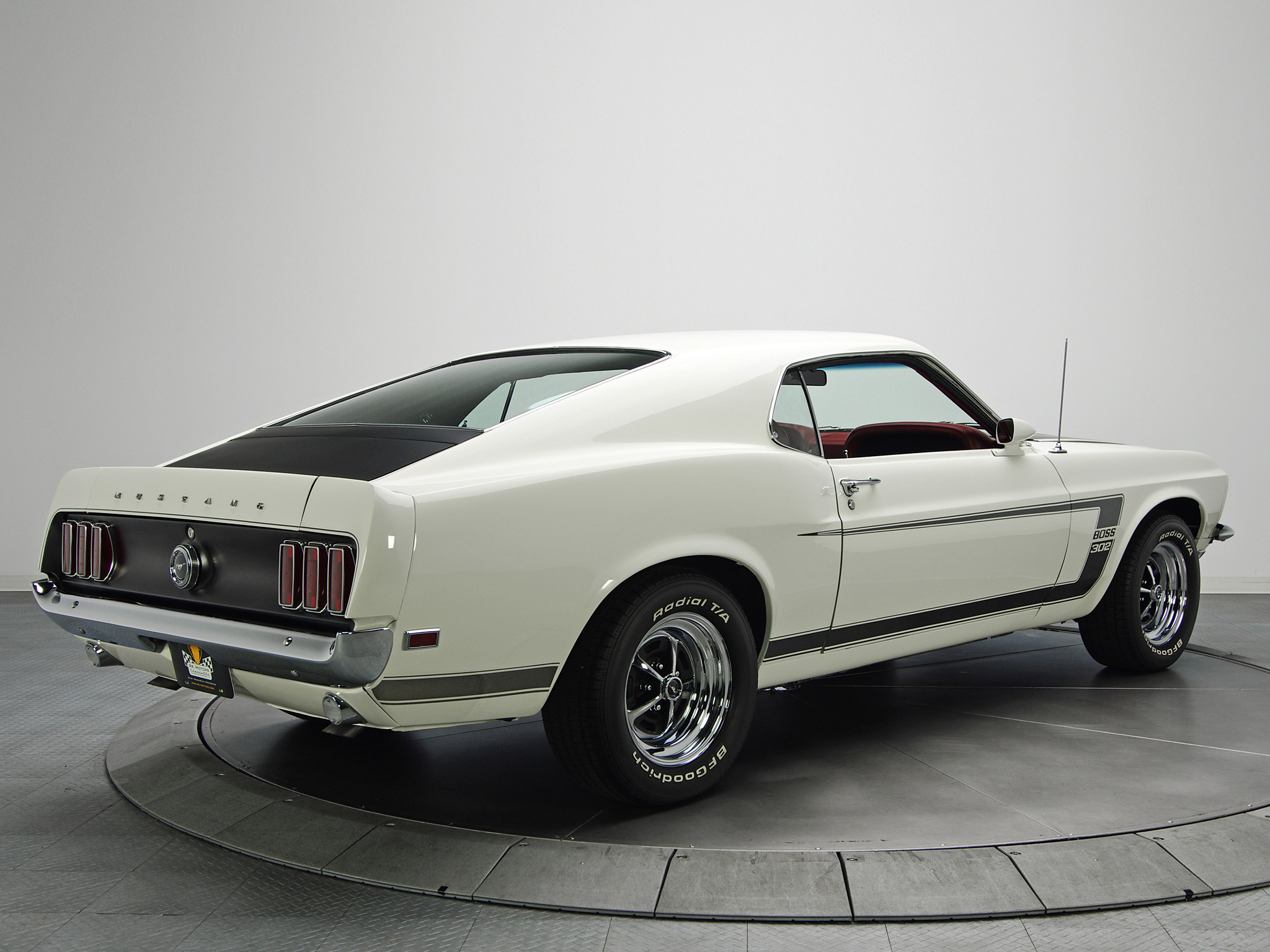 The Boss 302's interior often varied significantly from one car to the next. The 302 came standard with Ford's base model Mustang interior, including bucket seats. However, multiple options were available to consumers, and many motorists chose to upgrade to the use of high-back bucket seats or differing dash gauge configurations.
The Boss 302's interior could be optioned to include wood grain dash, door trim, and shifter knob accents. Additional options included the choice of a center console, tilt steering wheel, and varying radio selections.
Base interiors featured the Mustang's standard gauge arrangement, which included alternator, fuel, temperature, and oil pressure gauges. Alternatively, when the option of a tachometer was selected, the Boss 302's alternator and oil pressure gauges were replaced with warning lights.
A Wealth Of Technical Refinement
Since the Boss 302 was intended for homologation into SCCA production-class racing, Ford knew that they needed an engine capable of pumping out Camaro killing performance. In order to achieve this, Ford utilized a 302 cubic-inch Windsor engine block, fitted with specialty Cleveland cylinder heads that featured a canted valve design. These heads proved to be less restrictive than stock Windsor heads and therefore allowed the Boss 302 to make significantly greater power.
The Boss 302's powerplant was fitted with a solid lifter-style camshaft, stamped-steel 1.73:1-ratio rocker arms, and high-rate valve springs. This engine operated on a 10.5:1 compression ratio and was topped with a dual-plane aluminum intake manifold, as well as a 780-CFM Holley four-barrel carburetor. Also included was a fender well-mounted rev limiter, which limited engine speed to 6,150 RPM
The new High-Output 302 was rated at 290 HP and 290 lb-ft of torque. However, most believe these numbers to be quite conservative in nature, with numerous accounts of dyno testing revealing actual outputs in the range of 320 HP.
This engine's output was directed through a Ford Toploader four-speed manual transmission. In actuality, 2 different toploader four-speed transmissions were available to consumers. Motorists could choose between close ratio (2.23:1 first gear) and wide ratio (2.78:1 first gear) units. Ford outfitted all Boss 302 Mustangs with 9-inch differentials and 31 spline axles.
All Boss 302 Mustangs were also fitted with Ford's front Competition Suspension package, which included heavy-duty Gabriel Shocks, shock tower bracing, and a front anti-roll bar. A quick-ratio (16:1) manual steering box was also installed, as were 11.3-inch brake rotors and floating front calipers. The Boss 302 rode on 15×7-inch wheels and a set of Goodyear F60x15 Polyglas GT tires.
The "Boss"
For those who found themselves demanding agility and street pounding performance in the late 1960s, the Boss 302 delivered in earnest. The infamous 302 was well adept at powering through curves and hammering down straightaways, providing a white-knuckle driving experience for all that sat behind the wheel. Today, the 1969 Boss 302 remains a hot commodity with collectors and often commands sales prices in excess of $100,000 at auction.
1969 Ford Mustang Boss 302 Specifications
| | |
| --- | --- |
| Engine | 302 Ci V8 |
| Horsepower | 290 horsepower |
| Torque | 290 lb-ft |
| 0-60 MPH | 6.9 sec |
| Quarter Mile Time | 14.6 sec. |
| Weight | 3,300 lb |
| Base Price  | $3,450 |
| Production Numbers | 1,628 |
Available Exterior Colors
The 1969 Ford Mustang Boss 302 was available in Bright Yellow, Calypso Coral, Acapulco Blue, and Wimbledon White
Available Interior Colors
The 1969 Ford Mustang Boss 302 interior was available in either black or white.
 1969 Ford Mustang Boss 302 Video
We found a great video of the '69 Ford Mustang Boss 302.