1969 Ford Mustang Boss 302
1969 MUSTANG BOSS 302
The Boss 302 was not in the standard sales brochure, and only 1,628 were built. The Boss 302 model was intended to convert a revised 302 engine into an eligible Trans-Am racing series vehicle.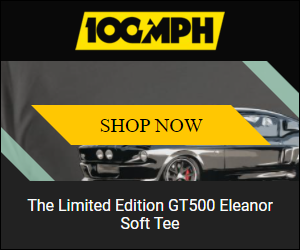 They came in a fastback body style without side scoops, and featured a blacked-out hood, trunk lid and taillight panel. Special C-stripes were standard as well as a chin-spoiler. A rear spoiler and rear window louvers could also be added on.
Boss 302
In March of 1969, the Boss 302 was a mid-year addition to the corral of FORD Mustangs. This was to counter the Cheverolet Z/28 Camaro, and production was timed so it could be qualified for the SCCA Trans-Am series. Available in the SportsRoof version only and only with a special 302ci 290 hp high output engine. It had a close ratio 4 speed transmission, a 3.50:1 rear axle, a staggered shock competition suspension and a 16 : 1 steering box. What it did not have was an automatic transmission or air conditioning. You could buy a Boss in any color you wanted as long as it was Wimbledon white, Bright yellow, Acapulco blue or Calypso Coral. There were a total of 1,934 Bosses produced in 1969, this increased to 6,318 Boss 302 cars manufactured in 1970. Although the engine was smaller than the 429, it was much more maneuverable on twisting roads, either one was a blast to drive and both are sought after classics.
On the interior, the Boss could be equipped with any optional interior package. The only interior difference was a manual choke knob located below the dash to the right of the steering wheel.
On the exterior, it received a blacked out headlight bucket, front spoiler, reflective "C" stripes on the side of the body, low gloss paint on the hood, low gloss paint on the deck lid and rear panel, flared front fenders, 15 inch argent colored Magnum 500 wheels, chrome lug nuts, and the rear quarter panel side scoop was removed.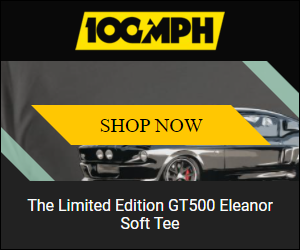 Functionally, there was a 6150 rpm rev limiter installed on the left hand engine compartment side wall. This protected the engine against accidental over-revving by randomly shorting out cylinders when the RPMs exceeded 6150. Most of these governors are still in excellent condition today since they were bypassed when they were new! The Boss was equipped with front power disc brakes, a 16:1 steering ratio, a heavy duty front stabilizer bar, staggered shocks, and a heavy duty suspension.
Boss 302 features:
Boss tape stripe kit resembled a backwards "C" starting behind the front wheel well and migrating back the fenders and across the side to the rear of the car.
Standard wheel size was 15 x 7 . Tires were F60x15's.
Chrome Magnum 500 deep dish wheels with a longer center cap were standard on the Bosses.
Shaker hood scoop was a 302 option, it was not available on the 429.
The Boss 429 had a color coordinated hood scoop.
8000 RPM Tachometer and interior decor group.
Console.
Front disc brakes
Traction lock rear axle
High-back bucket seats with deluxe seat belts
There were no rear air scoops as found on other 1969 SportsRoof models.
Interior colors were either "Black" or "White".
Exterior colors were
Aluminum valve covers.
Optional Rear Spoiler
Optional Rear Window Slats.
Standard transmission was the close ratio 4 speed transmission.
Late in 1969, Ford replaced their ford shifter with a Hurst shifter.
Dual color coded racing mirrors
AM radio
---
1969 Boss Mustang
Beginning in 1969, Ford introduced both the Boss 302 and Boss 429. Styling for the Boss 302 was done by Larry Shinoda, the suspension by Kar Kraft, and the engine was done by Ford who used the 5.0L block with the new 351 Cleveland heads. Originally, the Boss was to be named the "Trans Am" until Ford discovered that GM had already licensed the name.
The Boss was based off of the SportsRoof body, but the simulated side scoops were deleted from the model. Flat black paint was used on the hood, rear deck and taillight panels, and the headlight buckets. The Boss Mustang was only available in four colors: Wimbledon White, Bright Yellow, Calypso Coral and Acapulco Blue. On the side of the car, a large C stripe with Boss 302 lettering is found. Although a variety of colors were offered for the interior of the Boss 302, standard black was often used. A front chin spoiler was standard, but the rear window slats and plastic rear spoiler were options.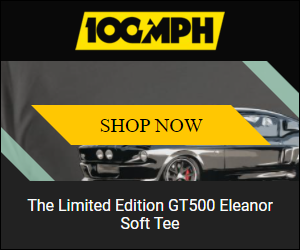 The Boss 302 was rated at 290 horsepower, but actual horsepower was more like 350. Insurance companies began penalizing cars that were rated over 300 hp. The race versions made over 450 horsepower at over 8,000 RPMs. All 302s came with a four-speed manual transmission (2.78:1).
The standard wheels on the Boss 302 were argent painted 15×7 Magnum 500s planted inside Goodyear F60x15 Polyglas tires. Chrome Magnum 500s were an option.
In response to Chrysler's major success with the 426 Hemi in Nascar, Ford produced the Boss 429. All of the Boss 429's were built in Brighton, Michigan, where the Kar Kraft facility was located. In order for the Mustang to be able to receive the 429 engine, partially completed SportsRoof Mustangs which were built to accept the 428SCJ were modified. Features included with the Boss 429 were Boss 429 fender decals, a manually controlled hood scoop, a shallower front spoiler than the Boss 302, color-keyed dual racing mirrors, engine oil cooler, a trunk-mounted battery, power steering and power front disc brakes, a close-ratio four-speed manual transmission, a 4.91:1 rear axle with Traction-Lok, 3/4-inch rear sway bar, chrome 15×7 Magnum 500s with F60x15 Goodyear RWL Polyglas tired, a 8000 rpm tachometer, AM radio, and Deluxe Decor interior.
A KK sticker was inside the driver's door above the Ford warranty plate on each Boss 429, this signifying Kar Kraft's production number. The serial number to each 429 could be found on the back side of the engine block assembly, on the inner front fender panels, on the transmission housing and also the chassis.
The 1969 Boss 429 was available in five colors: Wimbledon White, Royal Maroon, Raven Black, Black Jade, and Candy Apple Red.
Production Numbers:
Boss 302: 1,628
Boss 429: 859
• includes two Boss Cougars
Retail Prices:
Boss 302: $3,588
Boss 429: N/A
Mustang Performance 1969 Boss 429 Mustang
Engine: 375hp Boss 429 V-8
Transmission: Four-speed manual
Axle Ratio: 3.91:1
Weight: 3,870
Acceleration Sec. 0-30 mph 3.2
Acceleration Sec. 0-60 mph 7.1
Acceleration Sec. 0-100 mph 13.6
Standing 1/4 mi 14.09 @ 102.85 mph
Top speed 118 mph
Source: Car Life 7/69
Mustang Performance 1969 Boss 302 Mustang
0-60 mph: 6.9 sec
0-100 mph: –.- sec
Quarter Mile: 14.6 sec @ 98 mph
---
All of the optional Mustang interiors were available on the Boss 302, however, most of them were equipped with the black, standard Mustang interior. The biggest and baddest of the Boss's, the Boss 429, was also introduced in 1969. Primarily built to satisfy NASCAR requirements, the Boss 429 Mustang featured a Semi-Hemi 429 powerplant. To compensate for the massive engine, the front shock towers were moved out one inch, and the front A-Arms were lowered one inch. The Boss 429 featured a huge hood scoop (the largest ever offered on the Mustang), front spoiler, flared fenders, dual racing mirrors, and F60x15 tires, mounted on chrome, Magnum 500 wheels. The interior featured the Mustang interior decor group, comfortweave bucket seats, and console. The Boss 429 also featured a competition suspension, rear stabalizer bar, power front disc brakes, power steering, engine oil cooler, trunk mounted battery, and a 3.91:1, traction lock rear end.