If you're anything like us, the better part of your day revolves around thinking about Mustangs, looking up Mustang videos and information, and eating, sleeping, and breathing everything Mustang. We are not exactly what you would call "subtle"—for the most part, the louder the noise is coming out of the exhaust pipes, the happier we are! So when we get a chance to show off our love for these cars, we usually take it.
Now, we can't really put our finger on it, but something about going for a drive in our favorite pony car doesn't seem quite complete unless you're also rocking a kickass t-shirt. It adds to the awesome factor and lets you proudly display your love for the 'Stang. This list is a great place to start—these shirts are pretty damn cool!
"I'm Not Old, I'm Classic"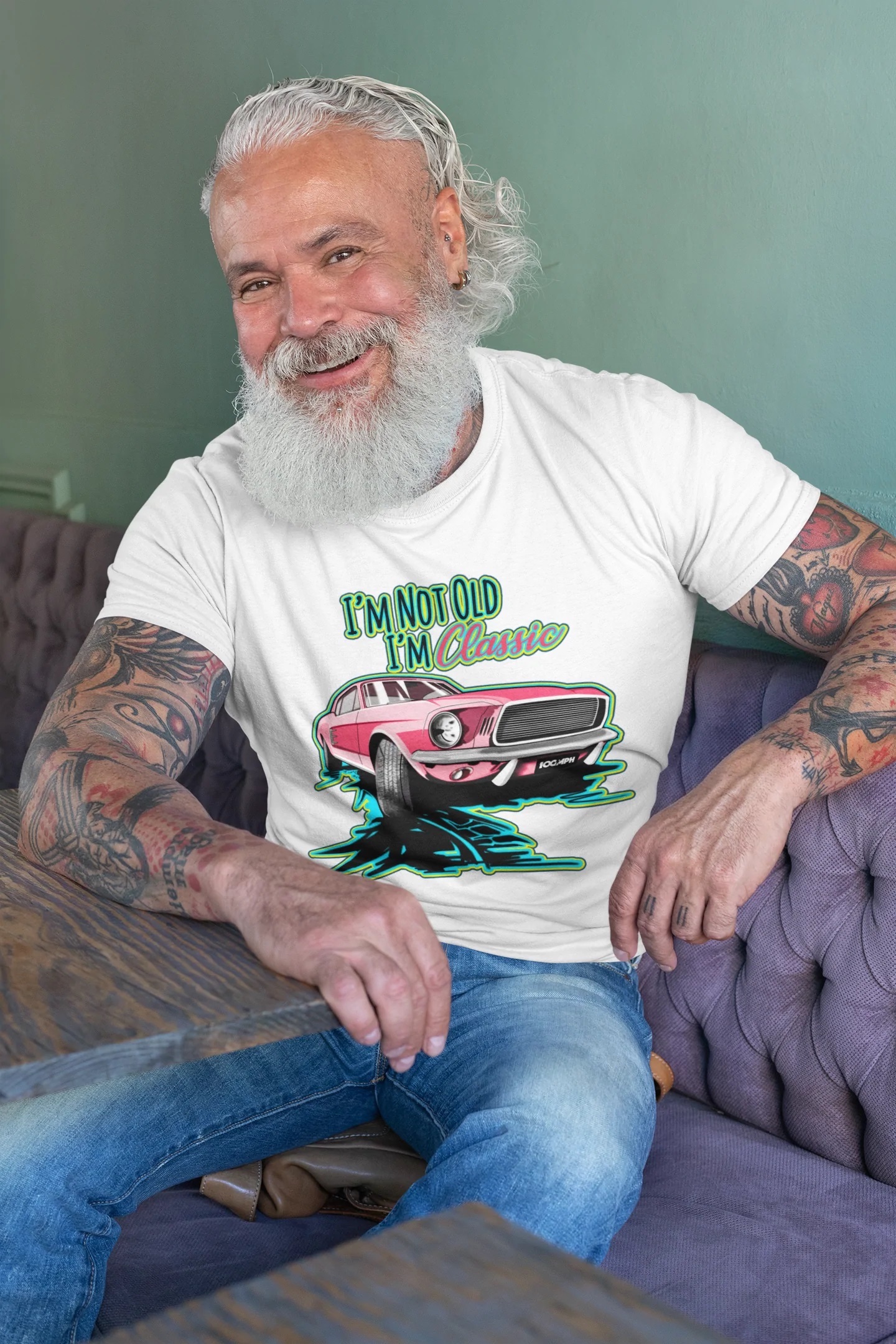 The Mustang has been around long enough that some who bought into the first or second generation are getting to the point where their hair is white or gray, if it's still there at all. Nothing against them, because you know they've had a great time through the decades driving, wrenching, and getting oily with their car under the hood. So why not have a shirt that matches?
Coming in either white or black, you can enjoy your classic car even when you're not driving it. The only thing we should mention is that a sense of humor should be kept handy, because this shirt is definitely a conversation starter!
Eleanor – '67 Shelby GT500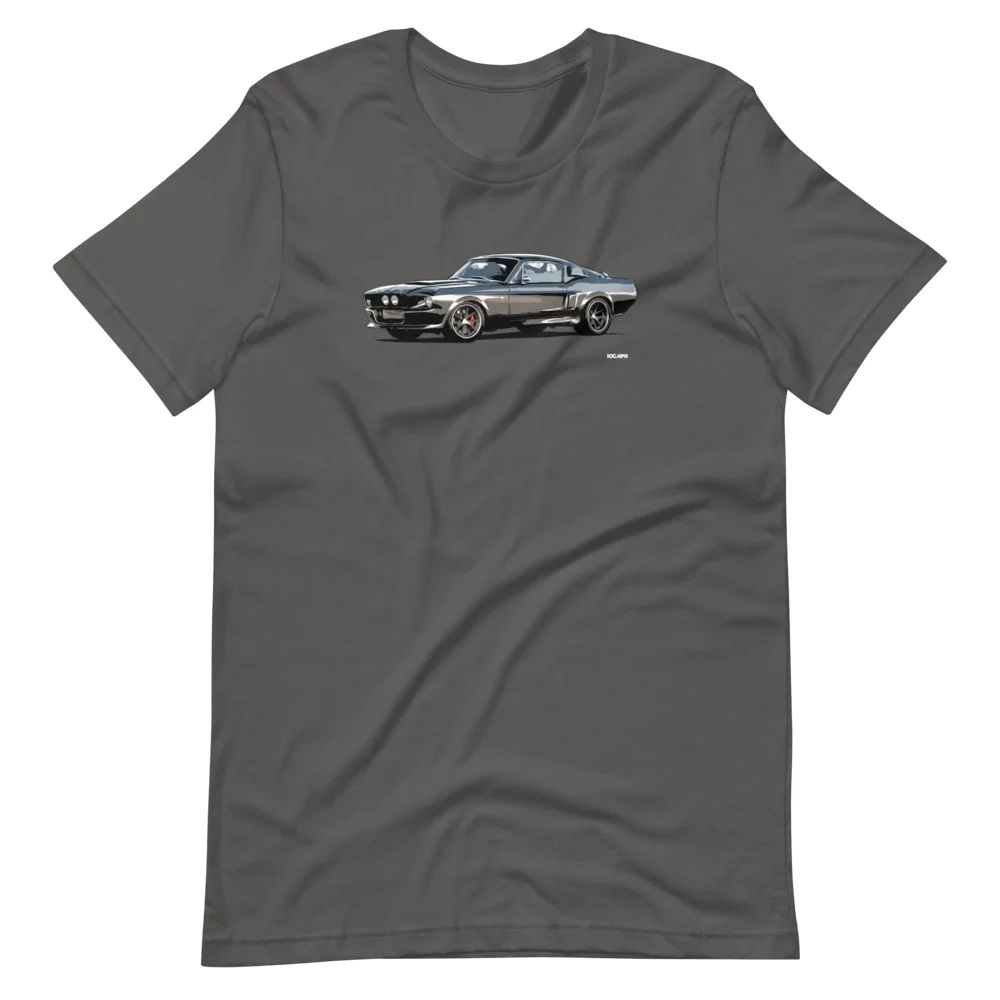 Quite possibly the most famous of all Mustangs, "Eleanor" from the remake of Gone In 60 Seconds is the ultimate trophy car. It was the one car where, no matter how many times it was sought after or someone attempted to steal it, something would always go wrong with the car, the plan, or the world. Now, we're not saying you should go out and steal a '67 Shelby GT500, mostly because it's highly illegal. But also partially because if someone has their Mustang looking as good as Eleanor, you should just give 'em "the nod" and admire it as it drives by.
"Love the Taillights"
Quite possibly the biggest point of contention between the modern and the classic Mustangs, you either love or hate the classic-style triple bar tail lights. While the modern version of the car still carries over the triple style, it's not separated and defined like on those first and second gen 'Stangs.
At any car meet, you can expect at least one discussion (or argument!) to be about the taillights. Let everyone know what side of the fence you sit on with this shirt, which is not only cool, but comfortable and light as well!
Coyote 5.0 – Leave Them in the Dust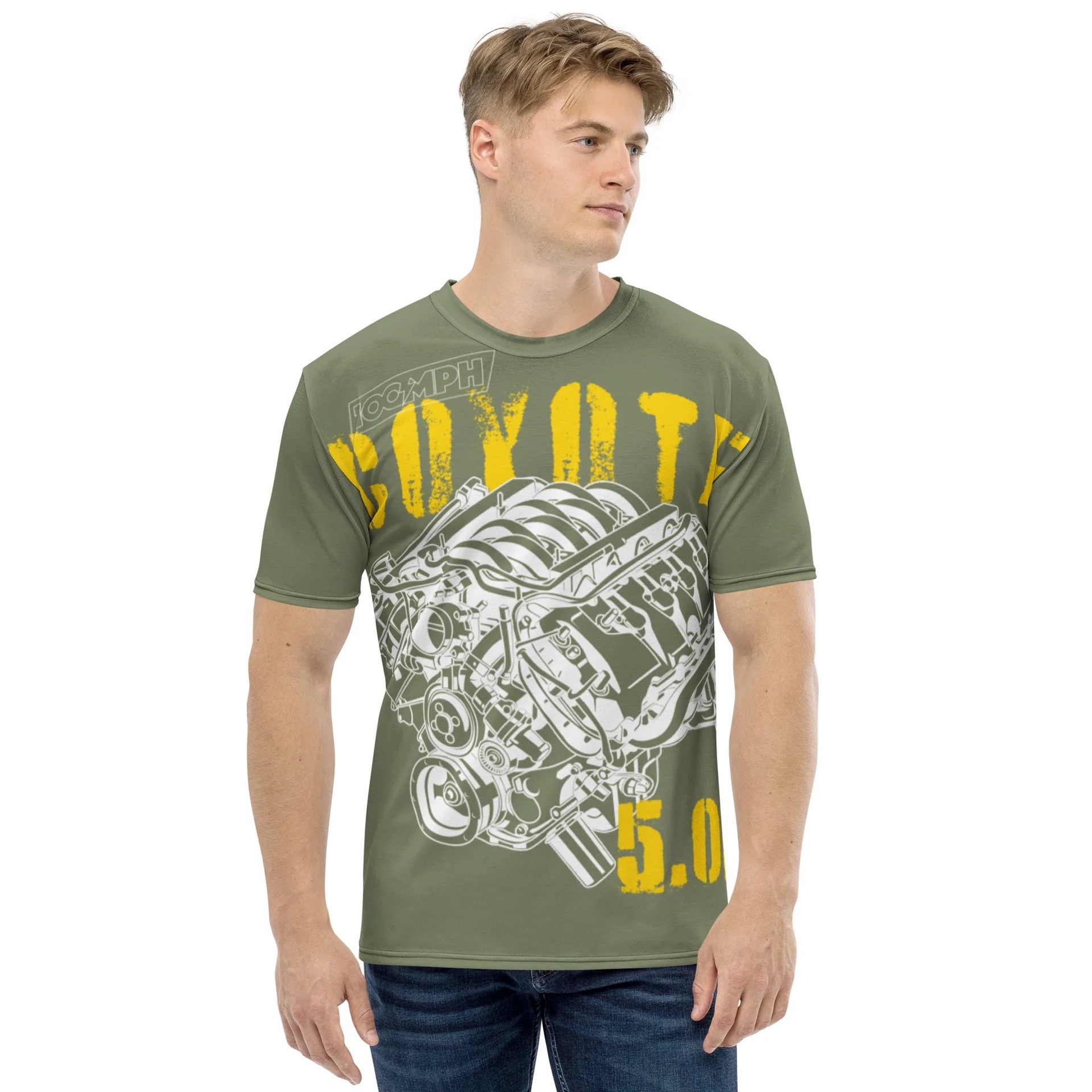 Where To Get It: 100MPH
Price: $43.00
For a decade and a bit now, the venerable, reliable, and extremely powerful Coyote 5.0L V8 has been the beating heart of every Mustang from the GT on up. It's versatile as well—with just a few modifications, it can be turned into an endurance racing engine, as seen in GT4 and International GT Championship racing (as well as in the MARC Cars out of Australia).
A must for any owner or fan of the big roaring V8 in the front of our favorite car, this is also the engine that was so good that the truck side of Ford decided to put it in the F-150! It's the winner of multiple "Best Engine of the Year" awards in 2011, 2012, and 2018 for the Gen 3 refresh. Wear your heart on your sleeve with this shirt (well, more accurately, wear the Mustang's heart on your chest).
"You Can't Buy Happiness, But You Can Buy a Mustang"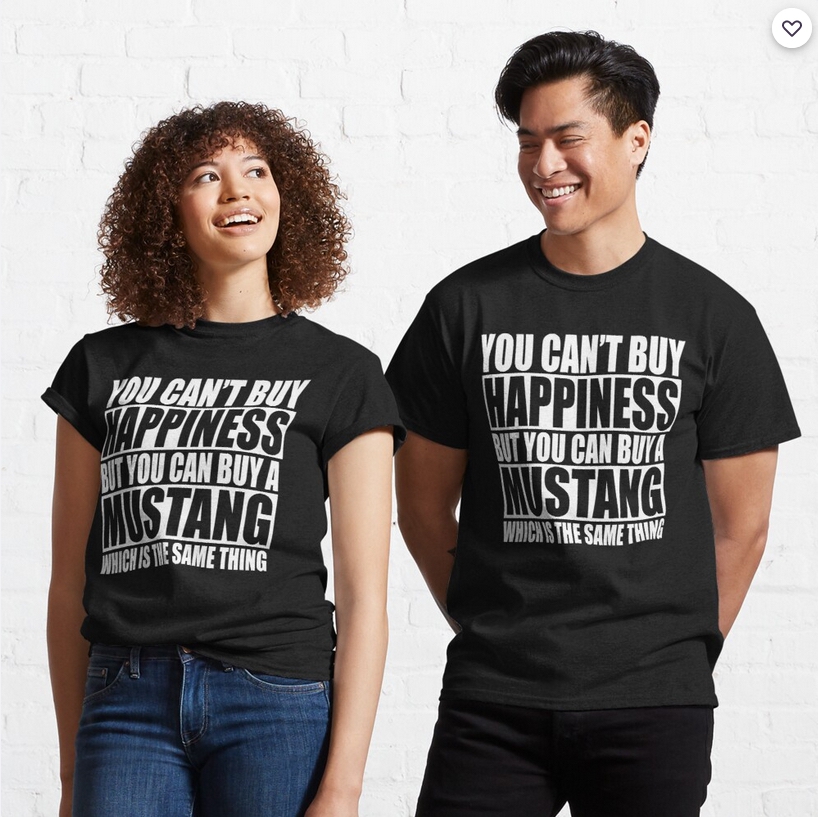 If you have your tongue so firmly planted into your cheek that people give you odd looks, this is the perfect shirt for you. We could wax philosophical here about how happiness is determined by your mindset and environment, but we'd rather just buy a Mustang. Happiness is a roaring V8, isn't it?
Shelby Super Snake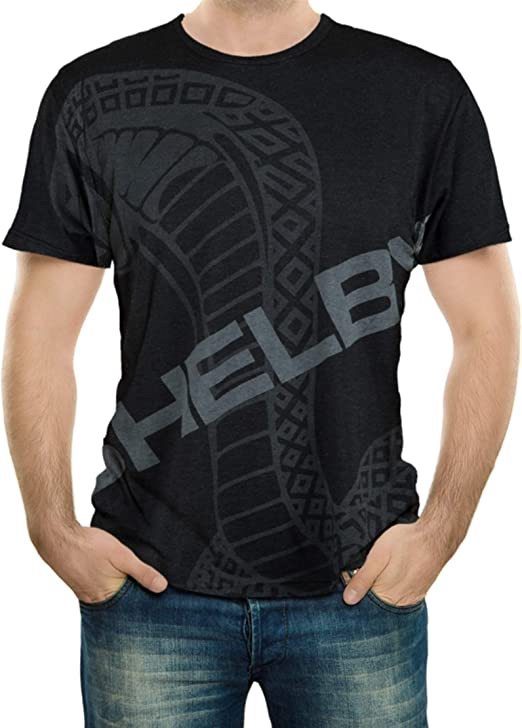 A very rare car whenever a production run gets released, the Shelby Super Snake is akin to one of those mythical beasts that everyone claims they've seen, in the vein of Sasquatch and the Loch Ness Monster. You're far more likely to come across a Shelby GT500 or a Boss 302 than a Super Snake, but when you see that logo, the legendary name across the back, and hear the screaming of the supercharger mixing with the bellowing of the exhaust, you'll have a tale to tell.
If you happen to be walking when one drives by, make sure to get a picture too, so you have proof the next time you gather with your fellow 'Stang-ers and make the claim "I saw a Super Snake!"
Oh, and the shirt is really cool too.
Modern GT Logo & Racing Stripe
Let's face it, sometimes you want to be annoyingly loud, but in a subtle way. That may sound like an oxymoron, but with his shirt, you can shout about your love for the GT while balancing it with the quiet, unassuming racing stripe up one side.
This is the shirt for those that have to wear a suit and tie during the week but put on some blue jeans and a shirt when they go out for a weekend drive. Modern, unassuming, blaringly loud, but in a subtle way. As in all things, balance is maintained.
Shelby American – I Love Horsepower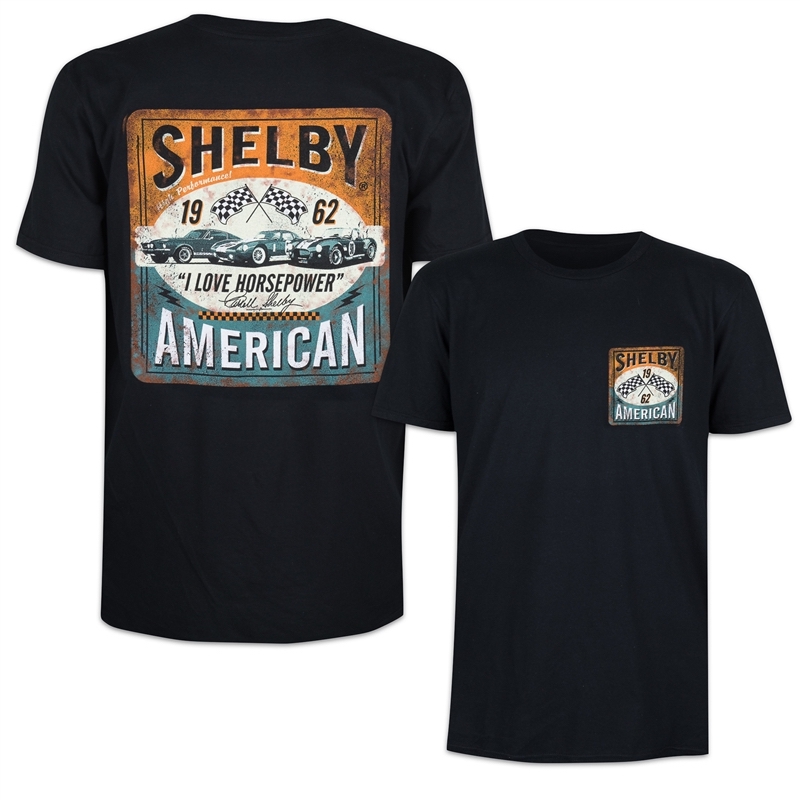 Where To Get It: Amazon
Price: $29.99
Not only do you get a shirt that has one of the best quotes from Carroll Shelby himself, you also get three of the most classic Shelby cars ever made: The GT 500, the Daytona Coupe, and the 427 Cobra. It's also got that classic, kind of rustic vibe to the whole graphic design of the shirt, showing you have taste and a love of horsepower at the same time.
If you happen to be lucky enough to own an original GT350 or GT500 from the first generation of Shelby American, then this shirt is a must-buy for you. If you don't own a GT350 or GT500 from the first generation… you can still pick up the shirt to show your love for the wonders that Mr Shelby performed to make our pony cars world famous.
'68 Ford Mustang Fastback Bullitt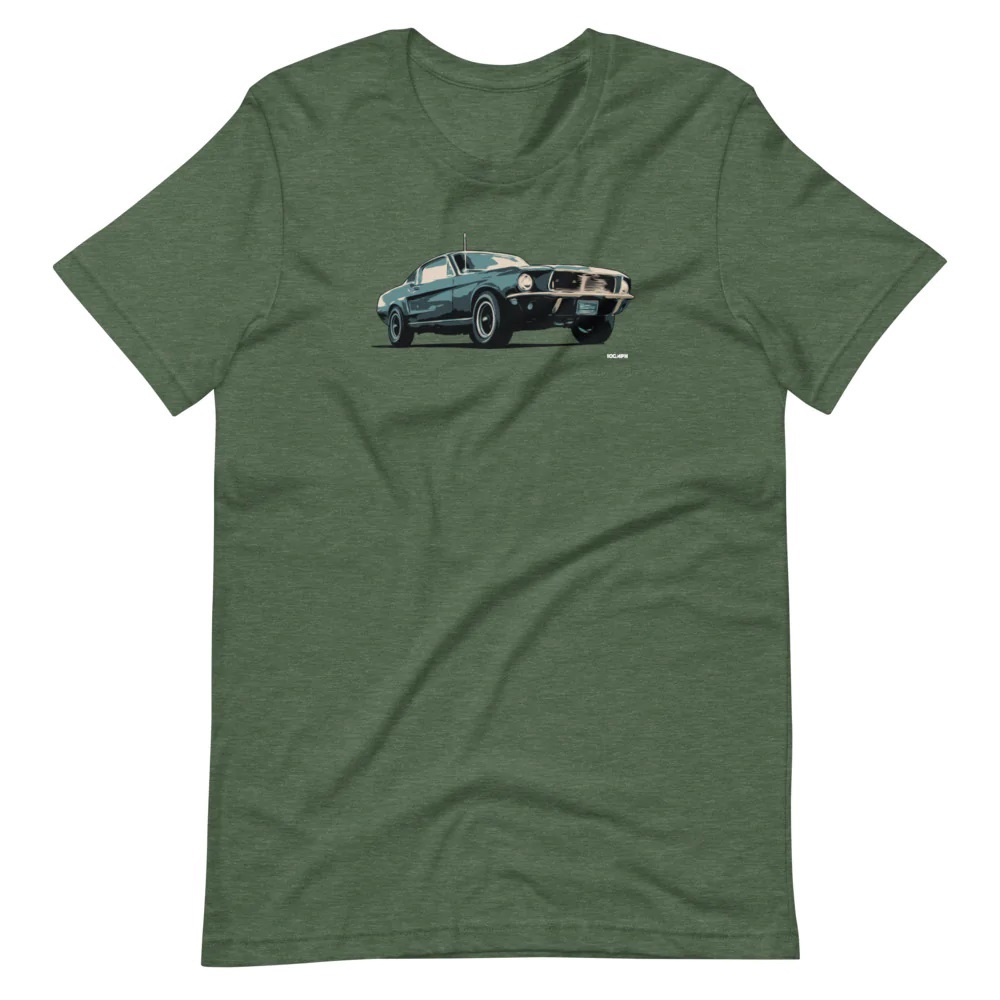 Where To Get It: 100MPH
Price: $27.95
As the Eleanor GT500 was to 1967, the Bullitt Fastback from the movie Bullitt was to 1968. Famous for its ten minute long car chase scene in the movie, it was a specially built-up Mustang intended to have more power, and to be able to handle the stunts that Steve McQueen put it through, then come out the other end ready to go again.
Ford honored that car in 2001 with the Bullitt Edition Mustang, and a Bullitt model is now released every year, more powerful and beefed up over the standard GT to be able to handle a little bit of rough handling and more than a few burnouts!
The Big Boss – 1983 Mustang GT 5.0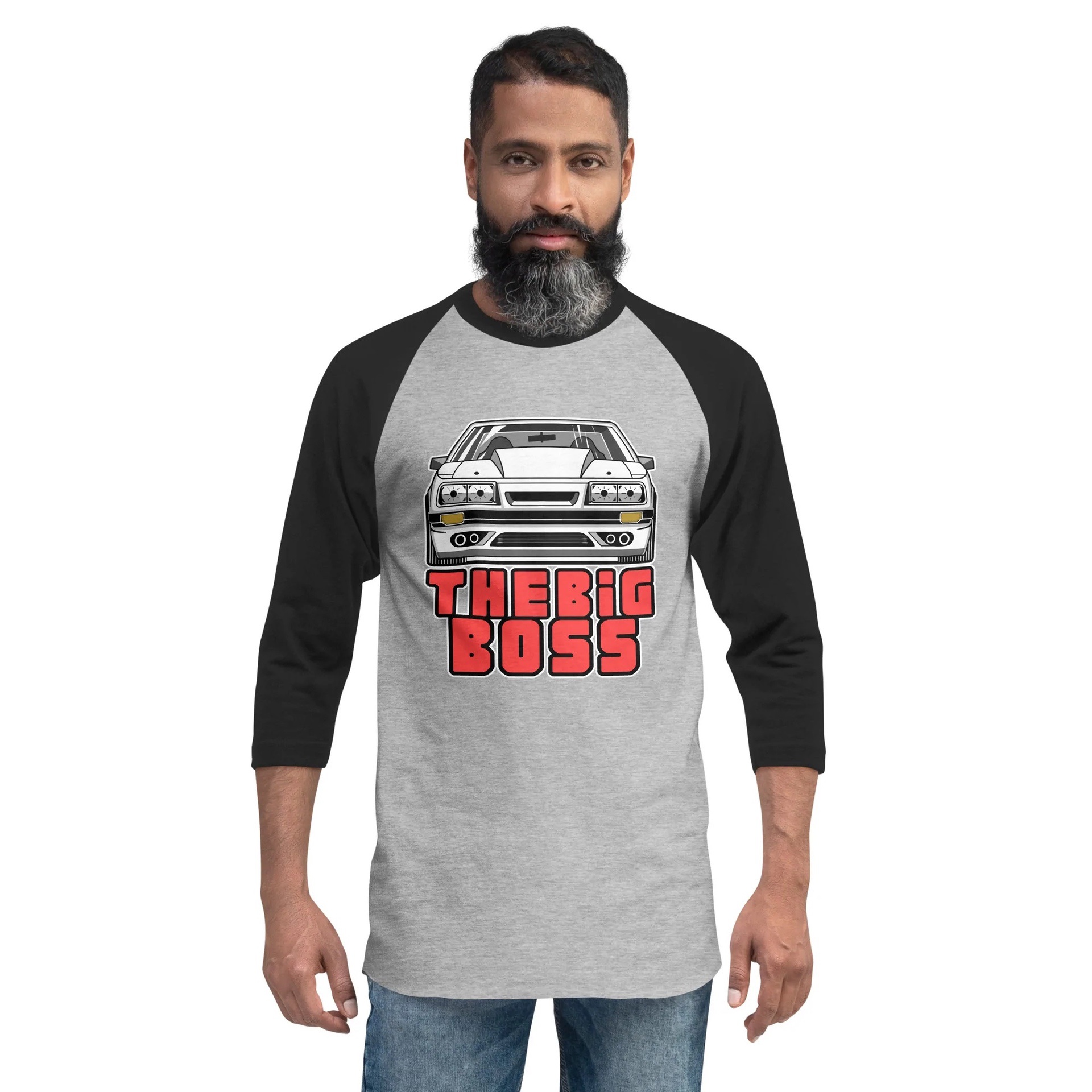 Where To Get It: 100MPH
Price: $33.25
Let's face it, the third generation Mustang was a very divisive car. There are those that abhor it, calling it the one generation that missed the "Pony Car" target by so much that it became a "fox car." However, those who love it love the big engine, the big power, and the big modifications you can make to it with an afternoon under the hood, a couple of curse words, and a scraped knuckle.
For those people, nothing epitomizes that love more than the gigantic hood of the 1983 Mustang 5.0 GT, making way for the 4-barrel Holley carbs ("The Big Boss" of the Foxbody model line). If you love it, you love it—and honestly, in the world of Mustangs, the Foxbody deserves just as much love as the rest of the models!