By 1968, the Shelby GT500 was in its second year of production. Sales had flourished the year prior, even eclipsing those of the GT500's running mate, the GT350. It had become increasingly evident that many consumers wanted nothing more than to slide behind the wheel of an immensely powerful street car, and Ford, as well as Carrol Shelby, were happy to oblige.
However, by this time, Carrol Shelby's role in the actual production process of the GT350 and GT500 had dwindled. Ford had increasingly leveraged its role in all matters of sales and production, somewhat limiting Shelby's oversight.
Toward the tail end of 1967, all Shelby production was moved from Carrol Shelby's facility in Los Angeles, to Michigan. The A.O. Smith Company was then contracted to carry out further Shelby conversions of otherwise stock Mustangs. In the process, these cars now carried the Shelby "Cobra" name.
Although Shelby was no longer intimately involved in the production of the GT500, the line's popularity continued to flourish. For Mustang fans with a penchant for pure power, 1968 would prove to be a banner year.
A Striking Look Of Power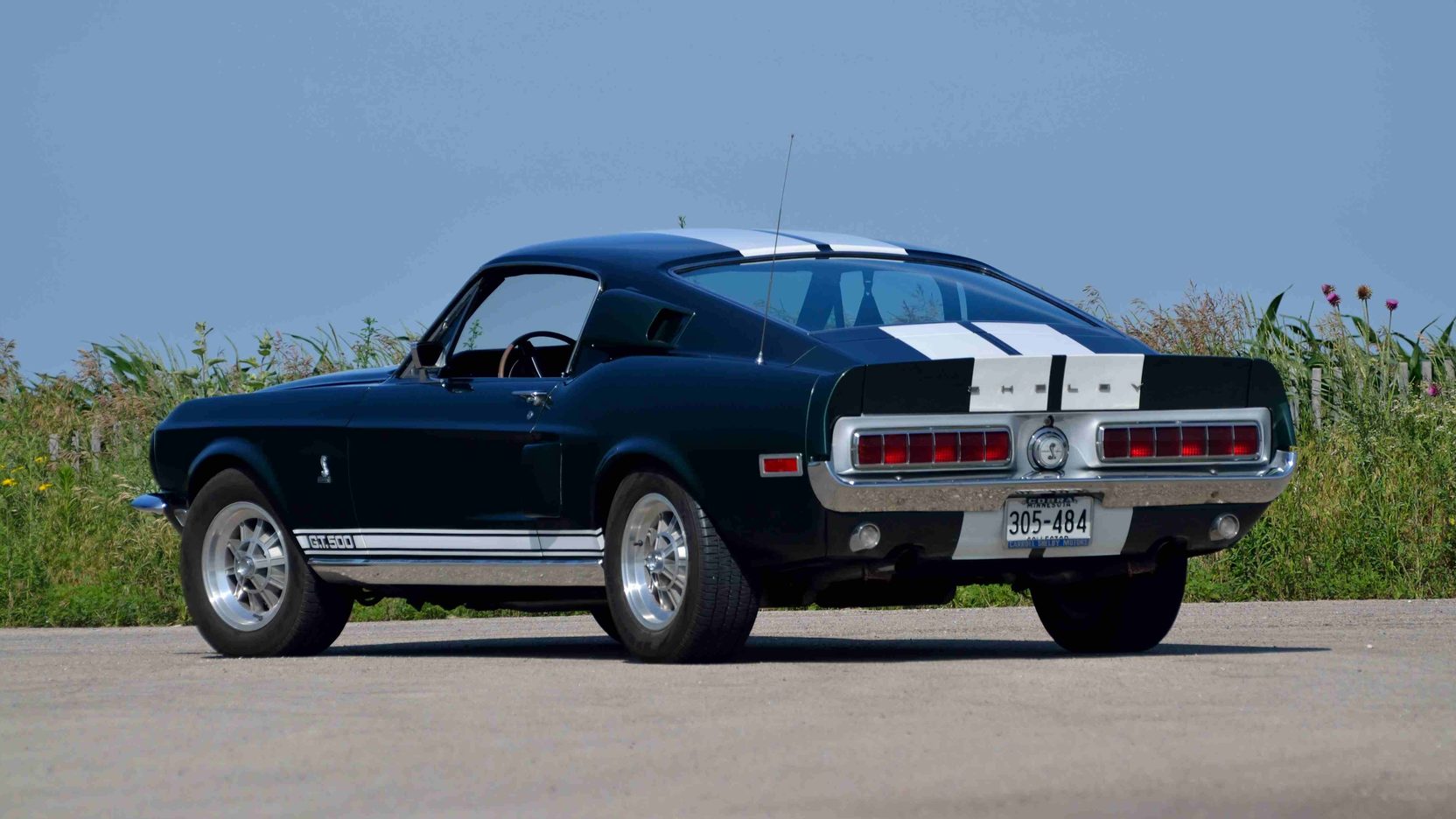 Photo Credit: Mecum Auctions
For the 1968 production year, the Shelby GT500 featured a more aggressively styled front end. A new front hood brought the GT500's twin air scoops further forward, toward its leading edge. Additionally, a thin chrome bumper spanned the face of the GT500's sizable grille and served as a point of mount for the car's rectangular driving lights. Louvered cooling vents were also added to the hood.
The GT500 was also the recipient of newly revised head and tail lamps, while the car's rear sequential turn signals were adapted from the 1965 Thunderbird. Also in the rear, a new spoiler was integrated into the GT500's deck lid.
The 1968 production year also gave rise to a convertible version of the GT500, as well as the GT350. Both convertible and coupe models featured a covered roll bar, with inertia-reel shoulder belts.
Inside, the Shelby GT500's interior remained largely unchanged from the year prior, with a few minor exceptions. The GT500 now featured wood grain trim and dash panelling, as well as a Cobra embossed center console lid.
A Mid-Year Divide
The 1968 production year proved to be somewhat irregular, in terms of the Shelby GT500's available power plant offerings. Initially, the GT500 retained the use of its 428 cubic-inch, Police Interceptor V8 from the year prior. However, this would change midway through the production year, spawning a new variant of the GT500 altogether.
As mentioned above, the 1968 Shelby GT500 was originally fitted with its signature 428 cubic-inch Police Interceptor V8 upon its release. The powerplant was equipped with a single 715 cfm Holley R-4129 carburetor, as well as a specialty aluminum intake manifold. This engine was rated at 335 horsepower with 440 lb-ft of torque, though these figures are thought to be extremely conservative in nature. Police Interceptor equipped Shelby GT500s were capable of posting ¼ mile times of 14.97 seconds at 99.6 MPH.
Also available, was an optional 427 cubic-inch, low-riser V8. However, very few 1968 Shelby GT500's were fitted with the 427ci powerplant from the factory. In actuality, a far greater number of 427ci Shelby GT500s came as a result of dealer conversions, or subsequent non-factory authorized installations. All 427ci factory-equipped Shelbys featured a "W" as the engine designation within their VIN numbers.
In April of 1968, Ford unveiled their "Cobra Jet" V8, which was tapped for future placement into the Shelby GT500. Ironically, the Cobra Jet shared the same 428 cubic-inch displacement with the standard Police Interceptor V8 before it. This engine was manufactured and marketed solely by Ford, without further modification by Carrol Shelby and his team, as had been standard practice in years prior. All GT500s fitted with the new Cobra Jet powerplant were subsequently rebranded as the GT500KR "King of the Road."
Changing Times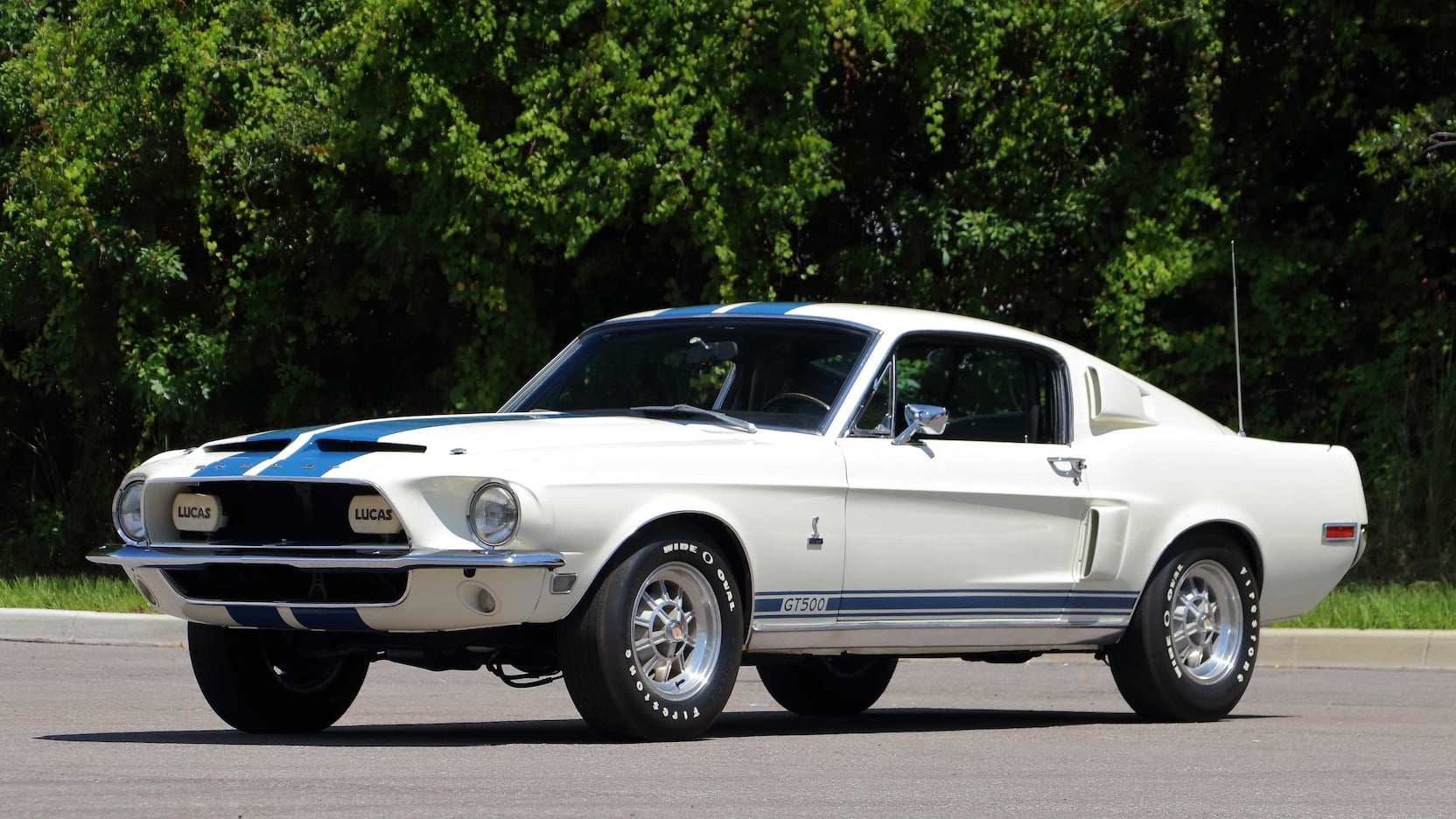 Photo Credit: Mecum Auctions
The 1968 model year proved to be changing times for the GT500, and the Shelby line as a whole. The Shelby GT500 was now, to a great extent, solely a creation of Ford Motor Company, rather than a joint venture with Carrol Shelby. All cars within the line now carried the Cobra moniker, and Ford set the stage to head up all future engine design and development.
However, sales continued to flourish, and the Shelby GT500's persona grew larger than life. Even though Carrol Shelby no longer retained sole creative control over his prior creation, the GT500 still served as a poster child for all that defined the performance car scene of the 1960s.
1968 Mustang GT500 Specifications
Engine
428 V8 engine
Horsepower
355 horsepower
Torque
420 lb-ft torque
0-60 MPH
6.5 sec
Quarter Mile Time
14.97 sec
Weight
3,241 lbs
Base Price
$4,317 Fastback

$4,438 Convertible

Production Numbers
Fastback 1,140

Convertible 402
Available Exterior Colors
The 1968 Shelby GT500 was available in Raven Black, Acapulco Blue, Lime Gold, Wimbledon White, Highland Green, Candyapple Red, Fleet Yellow, Dark Blue Metallic, Gold Metallic.
Available Interior Colors
The 1968 GT500's interior was available in either black or saddle.
1968 GT500 Shelby Mustang Video
We found a great video about the '68 GT500 Shelby.