Live now on Bring A Trailer is a gorgeous 1971 Ford Mustang Mach 1 equipped with a 429ci Cobra Jet V8 engine. Although the 429s were available on any Mustang body style, the big engine was most often seen in the Mach 1, which was still the main Mustang performance model at that time.
The 1971 Mustang Mach 1 came only on the "SportsRoof" fastback body style. All first generation Mach 1's are distinguished by the body style code 63C on the door data plate. The Mach 1 also got other visual and performance enhancing items such as matte black hood treatment with hood pins, hood scoop (including optional Shaker scoop), competition suspension, chrome pop-open gas cap, revised wheels with Goodyear Polyglas tires, chrome exhaust tips (except 351W 2V), deluxe interior, livery and dealer optional chin spoiler, rear deck spoiler, and rear window louvers (SportSlats).
The 428CJ was replaced by the 429CJ as the top Mustang and Mach 1 engine. The 429 belonged to the Ford 385 Engine Series and as such, no parts were interchangeable with the older 428. Wider, larger, and heavier, the 429 would not readily fit into the 1970 Mustang engine compartment, which is one of the reasons why the 1971 Mustang got bigger.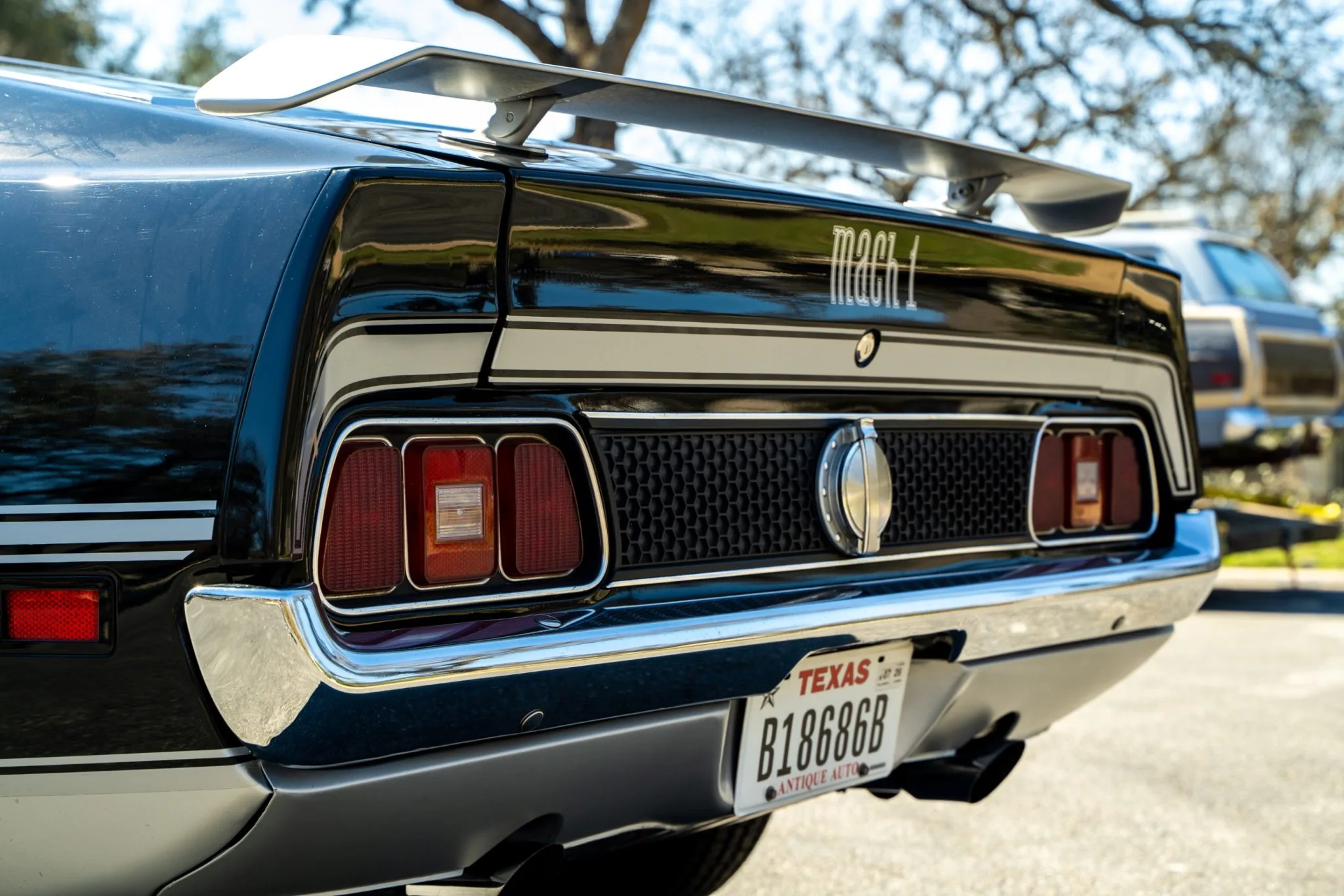 According to reports, this 1971 Mach 1 was originally painted in black when it left the factory, but it was repainted by the previous owner. The car comes equipped with silver Mach 1 graphics and side stripes, dual hood scoops, body-colored rearview mirrors, and dual exhaust outlets that exit below the rear fascia.
The car rides on chrome 15″ Magnum 500-style wheels with black recesses, which are fitted with BFGoodrich Radial T/A white-letter tires. In addition, there is a factory-style steel spare wheel in the trunk. The car has power-assisted front discs and rear drums for braking.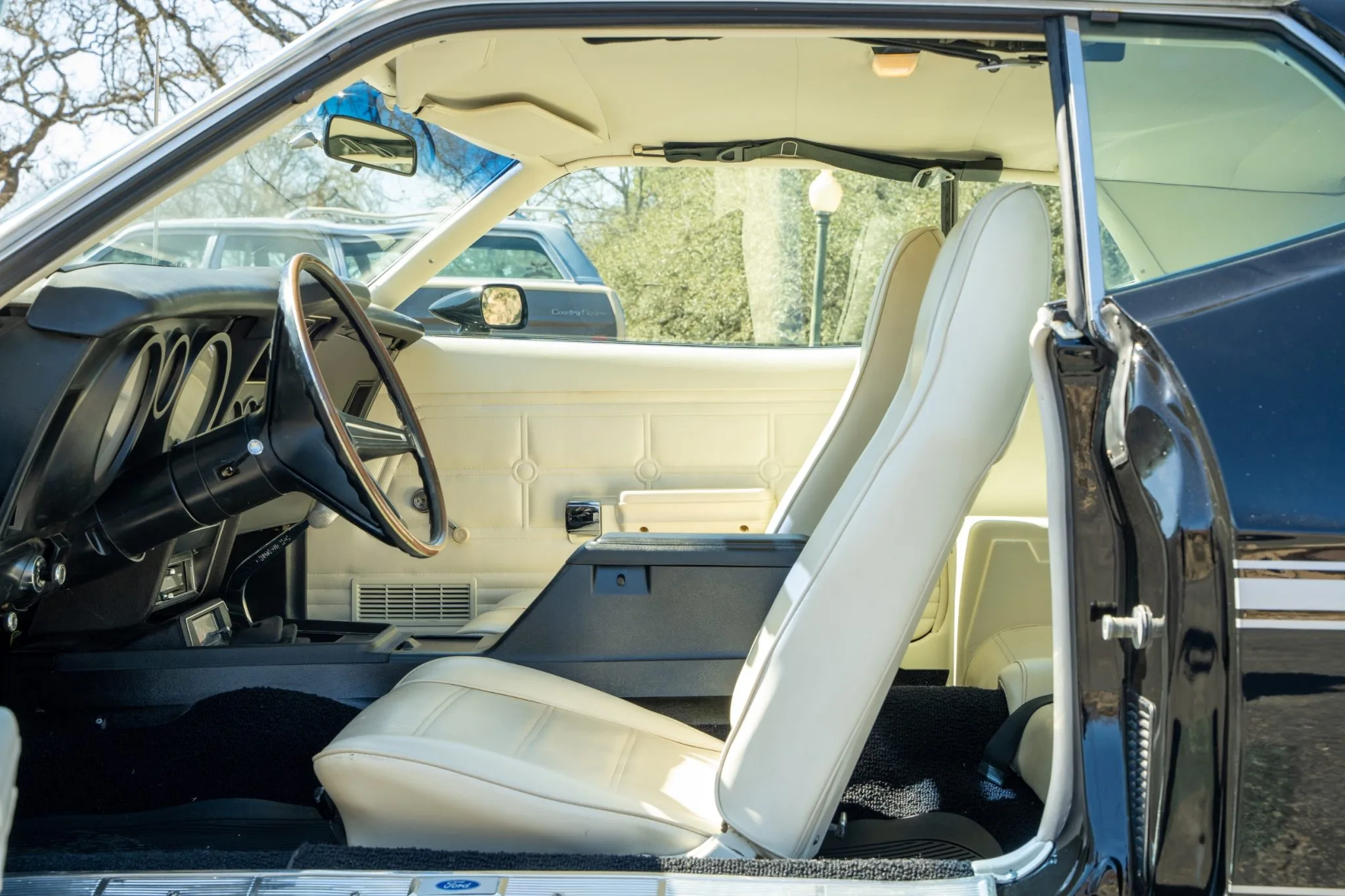 Inside, the front bucket seats and rear bench are upholstered in white vinyl, and the headliner, sun visors, and door panels are color-coordinated. The car also has a center console, a heater and defroster, a Hurst T-handle shifter, polished door sills, black Mustang-branded rubber floor mats, and a push-button radio.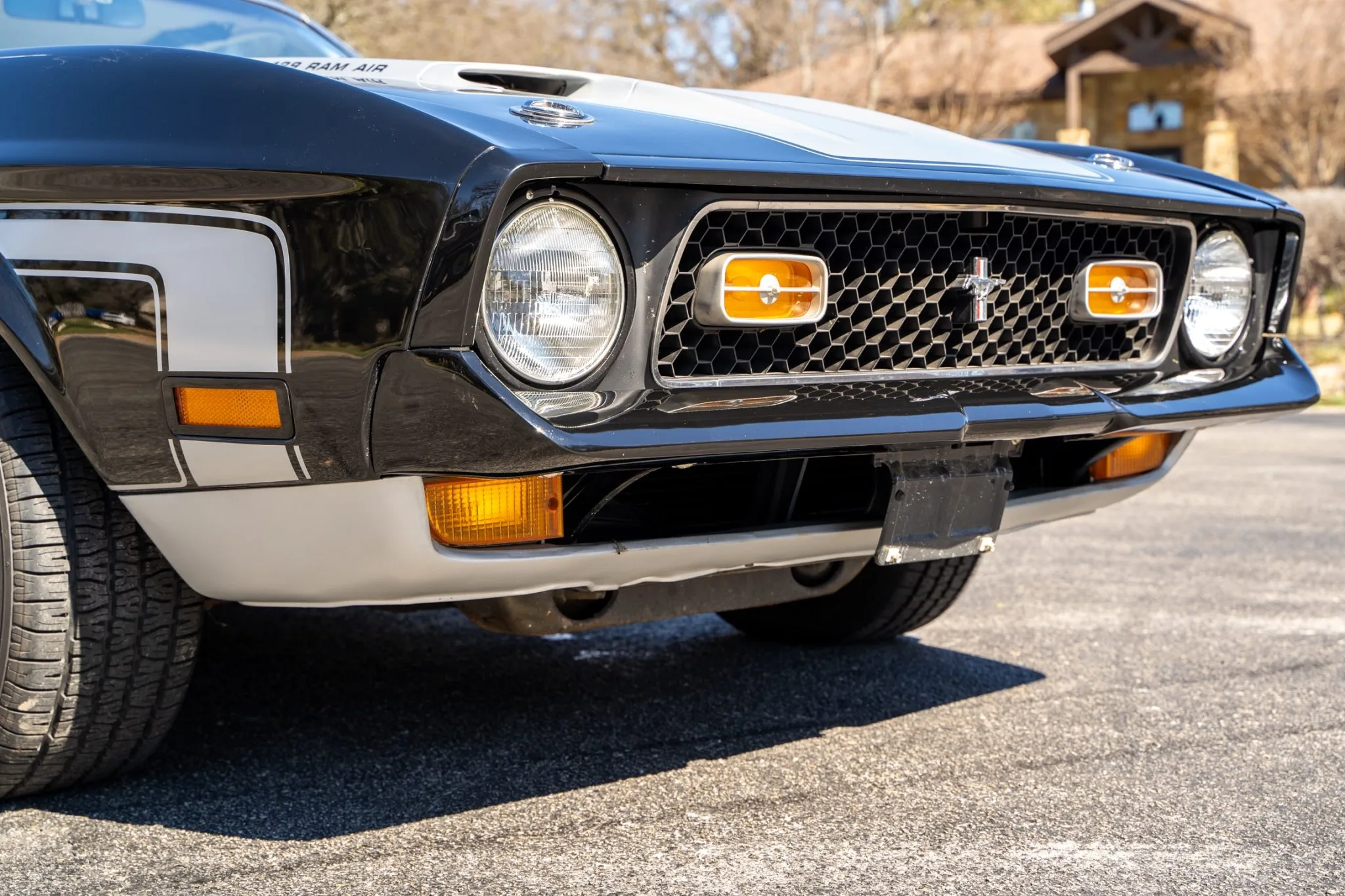 The rim-blow deluxe steering wheel frames a 120-mph speedometer, a tachometer, and a gauge for fuel level. In addition, there are centrally-mounted gauges for oil pressure, amperage, and coolant temperature. The mechanical odometer has five digits and shows 70k miles, with approximately 3k miles added during current ownership.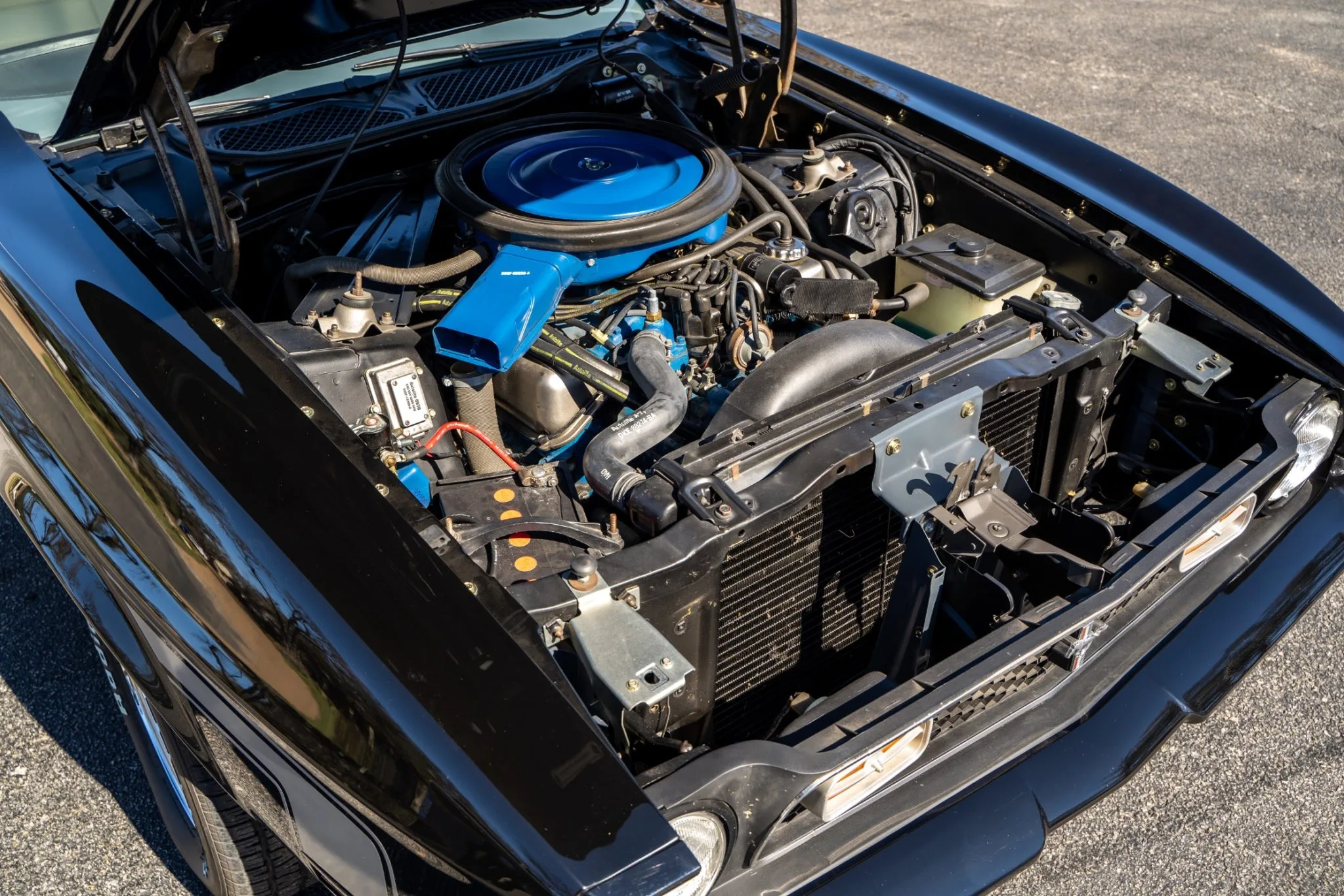 Under the hood, the car features a 429ci Cobra Jet V8 engine with a four-barrel carburetor and is paired to a four-speed close-ratio manual transmission. The engine was originally factory rated at 375 horsepower and 450 lb-ft of torque. The car has a four-speed close-ratio manual transmission and a 3.50:1 rear axle to deliver power to the rear wheels.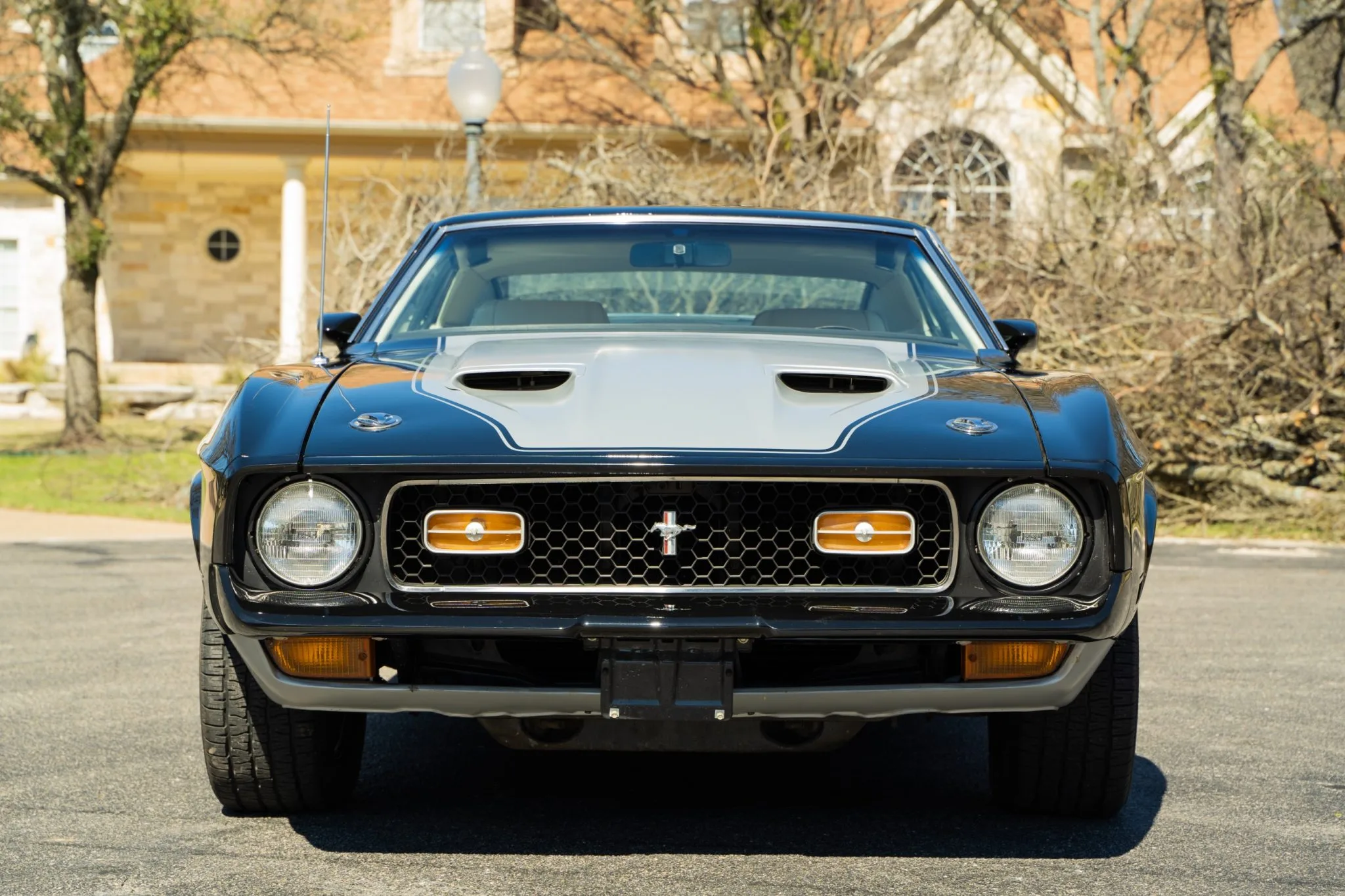 The Ford Mustang Mach 1 is a stunning example of the quintessential American car. It is presented in excellent condition and would make a striking addition to any classic car collection, perfect for leisurely weekend drives or showcasing at car events.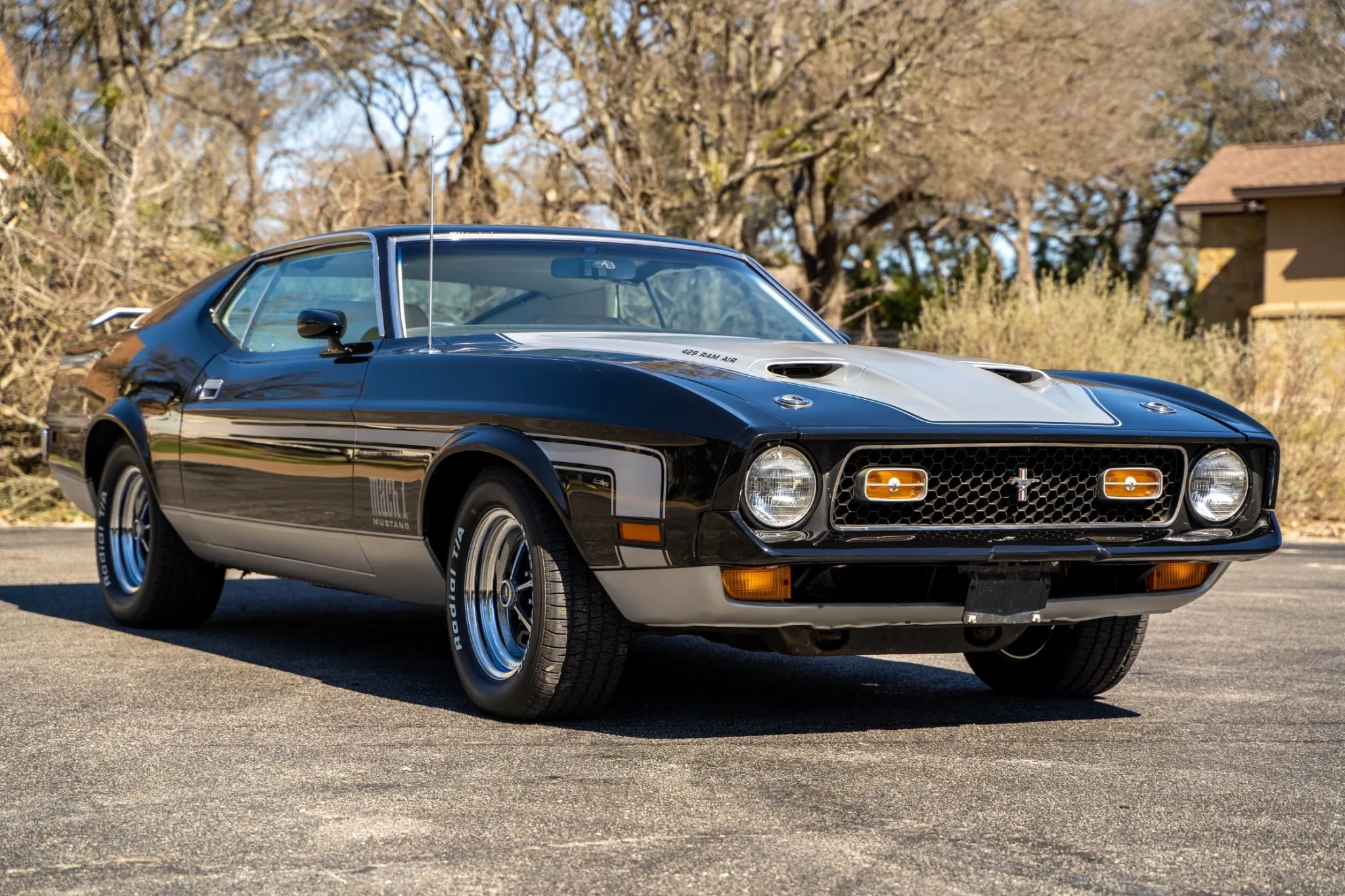 Note: All photos are courtesy of Bring A Trailer