Unbeknownst to many at the time, all 1970 Shelby GT500s were simply re-VIN numbered units from the prior 1969 production year. By this time, much had changed in the world of the Shelby series Mustang. Carrol Shelby had terminated his contract with Ford the summer prior, and all production of the Mustang cars that bore his name had ground to a halt.
Ford had already switched much of its attention toward marketing their "Boss" lineup of Mustangs, which had been released in 1969, and it appeared that the Shelby GT350 and GT500 had become little more than an afterthought.
In actuality, Ford had little intention of marketing either Shelby model for the 1970 model year. However, less than impressive sales during the year prior had left Ford with numerous unsold units that needed to be liquidated.
Converting 1969 Model Shelbys For Later Sale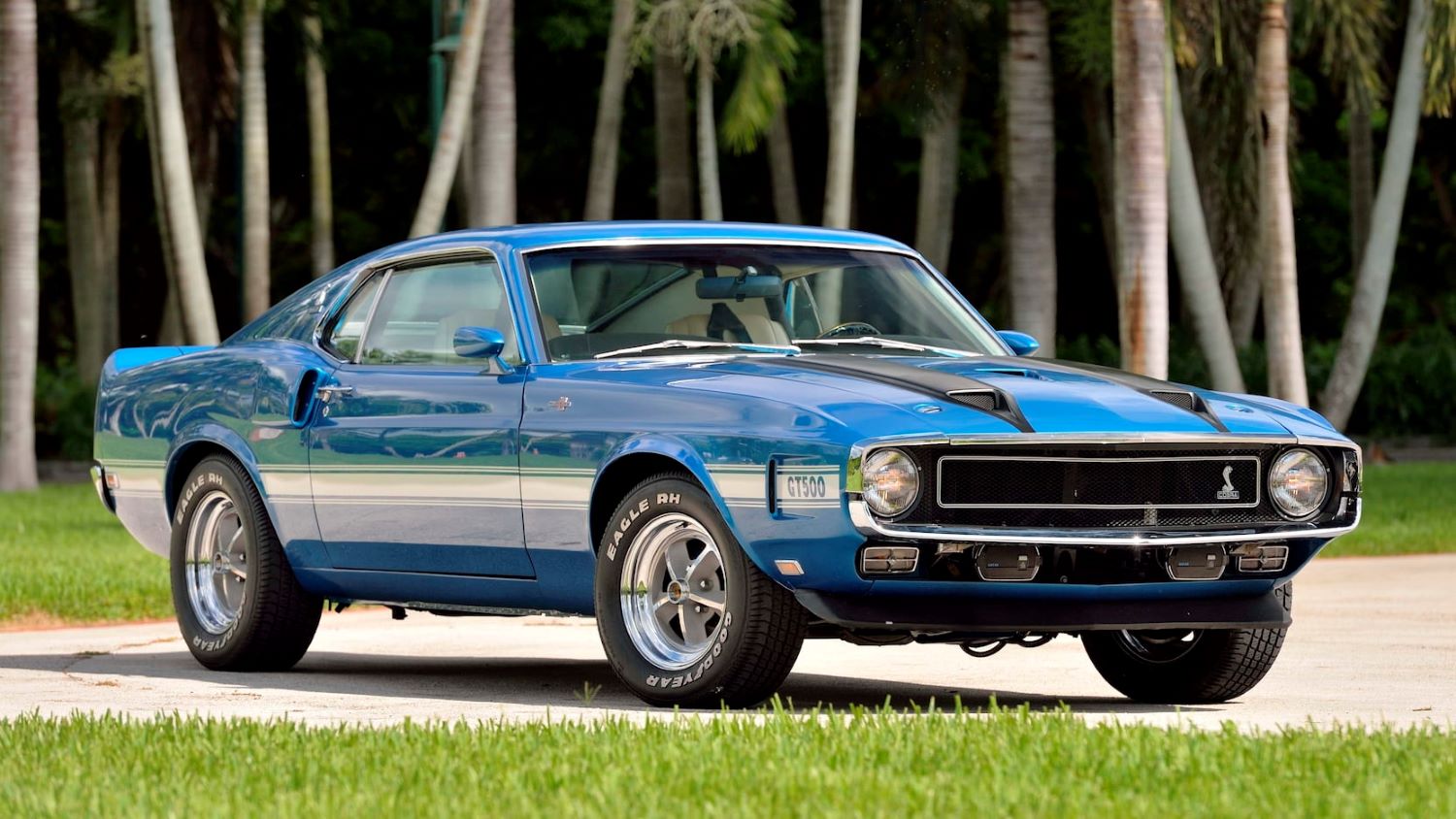 Photo Credit: Mecum Auctions
Ford was determined to find some way of differentiating the 1970 GT500 from Shelbys sold in 1969, even though both were essentially identical. Their answer came in the form of a newly added chin spoiler, cleverly placed hood-striping, and revised VIN numbers.
In order to "officially" differentiate one model year of Shelby GT500 from the next, Ford deleted all VIN numbers associated with the remaining 1969 Shelby GT500s that were prepared for the market in 1970.
These VINs were subsequently replaced with distinctive numbers that denoted 1970 year model lineage. This, of course, was done with proper governmental oversight to avoid legality related issues.
For the 1970 model year, the GT500 would also be fitted with a front-mounted under chin spoiler. This spoiler was virtually identical to those found on Boss Mustangs of the era. Such front spoilers were originally designed by designer Larry Shinoda, in a bid to improve the Boss 302's and Boss 429's aerodynamic characteristics.
Twin hood stripes were also implemented when prepping Shelby GT500s that were tapped for sale during 1970. These stripes ran to the length of the Shelby's hood, just to each side of its center margin, encompassing two of the GT500s three hood scoops.
Much of the Same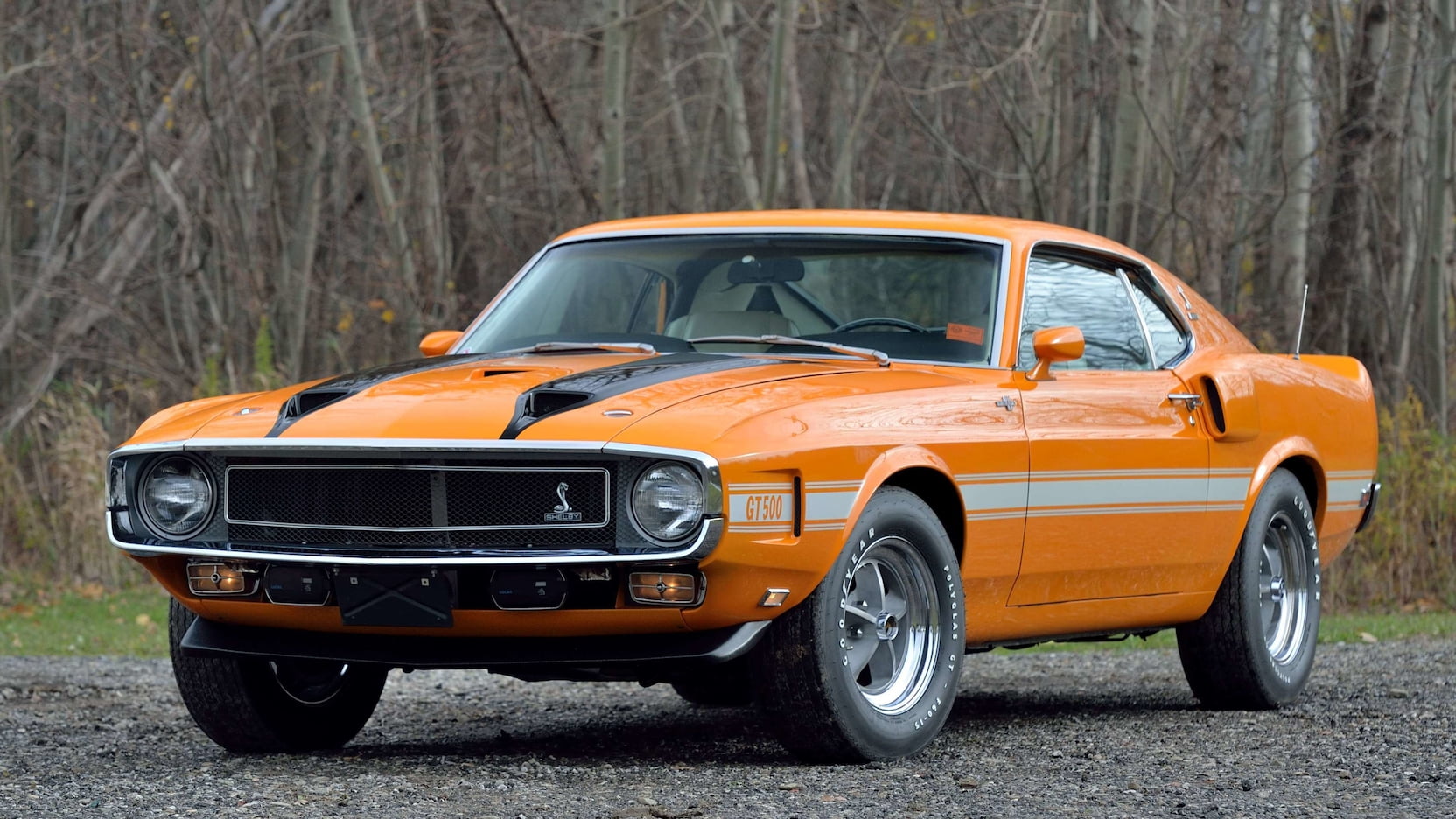 Photo Credit: Mecum Auctions
Outside of the above-mentioned modifications, the 1970 Shelby GT500 was identical to cars sold the year prior, both inside and out. The 1970 GT500 once again used Ford's Deluxe interior package and was fitted with a padded two-point roll bar, as well as a wood-rimmed steering wheel. Additional interior amenities, such as a tilt steering wheel, and air conditioning were offered on an optional basis.
Aside from its newly acquired hood stripes, the GT500's exterior also remained unchanged for the 1970 model year. The GT500's hood once again featured three forward-facing air scoops, as well as front and rear fender mounted scoops, of an identical nature to those used the year prior. The GT500 also retained its signature side-striping, which ran the vehicle's length.
Under the hood, the GT500 was once again powered by Ford's Super Cobra Jet 428 V8 engine, which delivered power through a C6 automatic transmission and Traction-Lok limited-slip rear axles. The 1970 GT500 could also be optioned to include a 4-speed manual transmission.
The End of an Era
As 1970 came to a close, so did the Shelby GT500's legendary run. Though gone from Ford's sales brochures the following year, Carrol Shelby's GT series offerings served their intended purpose, by lending substantial performance credibility to the Mustang line as a whole.
Without the Shelby GT350 and GT500, the Mustang would likely have unceremoniously been relegated to duty as a mid-size grocery getter. Instead, the Mustang name is now indelibly branded with an air of unrelenting performance bravado.
1970 Mustang GT500 Specifications
Engine
428 Cobra Jet V8
Horsepower
335 horsepower
Torque
440 lb-ft torque
0-60 MPH
6.0 sec
Quarter Mile Time
16.0 sec
Weight
3,849 lbs
Base Price 
$4,709 Fastback

$5,027 Convertible
Available Exterior Colors
The 1970 Shelby GT500 was available in Candy Apple Red, Black Jade, Gulfstream Aqua, Acapulco Blue Metallic, Royal Maroon, Silver Jade, Pastel Gray, Wimbledon White, and Competition Red.
There were also four specialty colors that weren't given actual names. They were known as Grabber Orange, Grabber Yellow, Grabber Green, and Grabber Blue.
Available Interior Colors
The 1970 GT500's interior was available in black, white, or red.
1970 GT500 Shelby Mustang Video
We found a great video about the '70 GT500 Shelby.