The 1970 model year was indeed a unique time in Shelby GT production, most notably because no true production took place at all. While this statement might seem contradictory in nature, all 1970 model GT350 and GT500 Mustangs were simply unsold units from the year prior, which were re-VIN numbered for sale as "new" Shelbys. However, this was a lesser-known fact at the time in which such events occurred.
By 1970, Carrol Shelby was no longer involved in the design and development of the cars that bore his name. In fact, Shelby had terminated his contract with Ford the year prior. Ford, therefore, intended to nix Shelby sales at the conclusion of the 1969 model year, as attention continually grew ever more focused around Ford's newly released "Boss" series Mustangs.
However, dealerships had proven unable to move all Shelbys initially produced for sale in 1969. As a result, Ford slightly tweaked the appearance of these remaining Shelby's, in an attempt to liquidate all remaining stock during one final year of sales.
Final Shelby Updates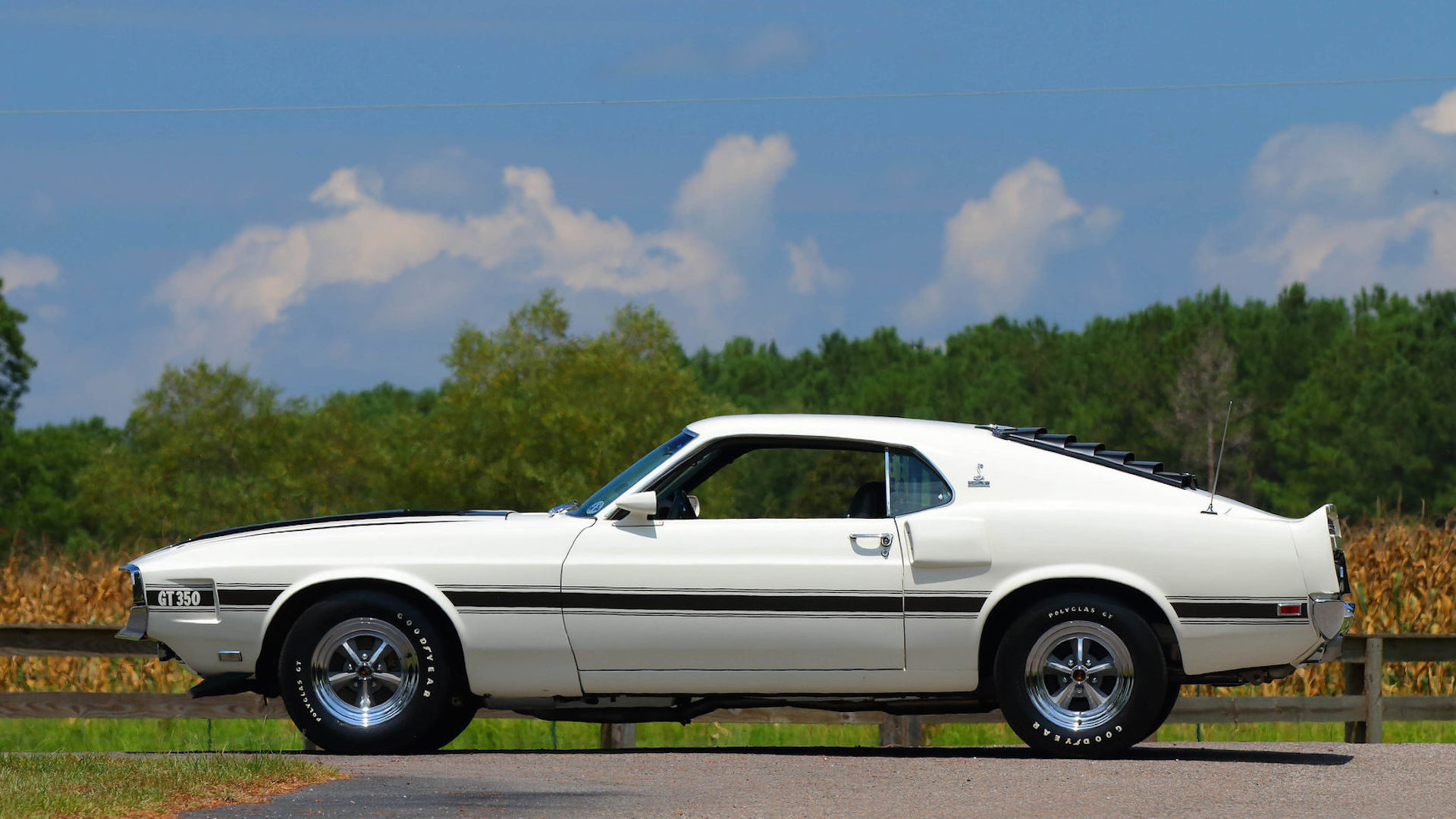 Photo Credit: Mecum Auctions
Little separated the 1970 Shelby GT350 from its 1969 counterpart. In fact, that which separated the two was little more than a loosely veiled attempt at differentiating two vehicles that were fundamentally the same.
Upon tapping all remaining GT350s for 1970 reissue, Ford quickly realized that revised VIN coding would be necessary. In order to do so, Ford terminated the prior VIN numbers which corresponded with all unsold GT350 Shelbys. These numbers were subsequently re-VIN coded, under strict governmental oversight.
The GT350 was also equipped with a new front-end under chin spoiler, intended to positively impact vehicle aerodynamics. This spoiler design was borrowed from the Boss series Mustangs, which had been developed by famed designer Larry Shinoda, and released the previous year.
For the 1970 model year, the GT350 featured unique hood-striping which was not used during any prior model year. These dual-stripes lay to each side of the hood's center margin, and ran lengthwise, from the GT350's hood, rearward to its cowl.
That Which Remained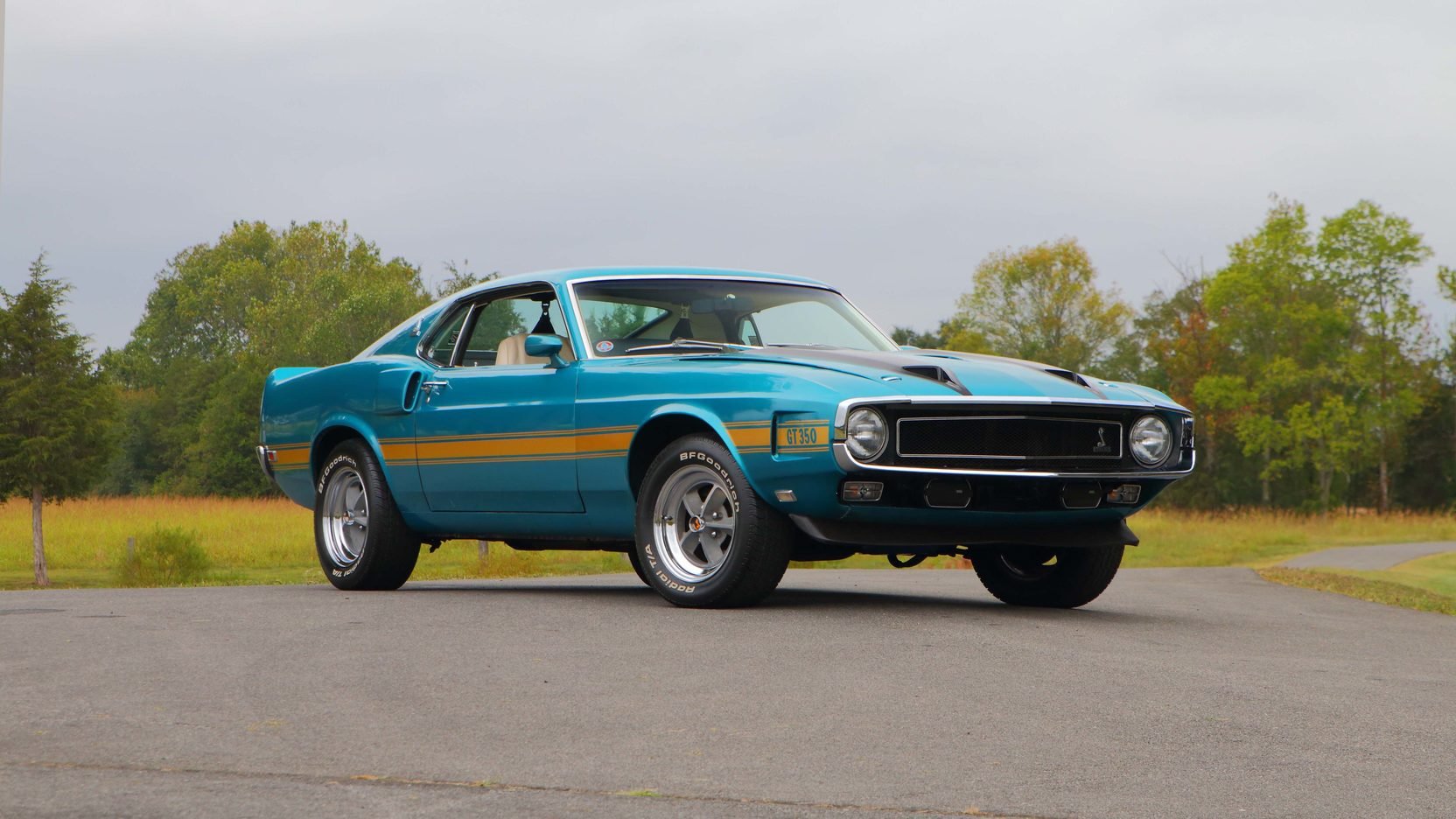 Photo Credit: Mecum Auctions
Aside from the above-mentioned cosmetic modifications, and subsequent renumbering, the 1970 Shelby GT350 remained identical to the 1969 model which came before. The 1970 GT350 again utilized Ford's Deluxe interior package, which included a padded two-point roll bar, two-piece shoulder harnesses, wood-rimmed steering wheel, and imitation teak interior accents.
The GT350 also featured Mach-1 style high-back bucket seats, an 800 RPM tachometer, and a 140 MPH speedometer. Additionally, consumers could select their choice of optional interior amenities, such as a tilt steering wheel, forced ventilation, and AM/FM radio.
Externally, the GT350 maintained its aggressive appearance, showcasing a pronounced front fascia, triple air scoop hood, and integrated low-profile rear spoiler. Also present was Shelby signature side-striping, which ran the vehicle's length, as well as front and rear side-mounted air scoops.
Under the hood, the GT350 was once again powered by a high-output 351 Windsor derived powerplant. The 290 HP, 351 cubic-inch V8 came fitted with a specialty aluminum intake manifold, that was topped with a 470 CFM four-barrel Autolite carburetor.
This engine directed its output through wide-ratio 4-speed manual transmission, though consumers were also presented with the option of selecting a Ford FMX Cruise-O-Matic automatic transmission as well.
All Must Come to an End
For the first time in over a half a decade, there was no mention of the Shelby GT350 in Ford's 1971 sales brochure. As quickly as Carrol Shelby's race-inspired Mustang had burst onto the scene in 1965, it was retired from production, taking on legendary status in the process.
Though the GT350's moment in the sun was short-lived, it left an indelible mark on American sports car culture as a whole. Even today, the GT350 is known as the car that forever branded the Mustang as a performance-oriented sports car for the masses.
1970 Mustang GT350 Specifications
Engine
351 Windsor V8
Horsepower
290 horsepower
Torque
385 lb-ft torque
0-60 MPH
6.5 sec
Quarter Mile Time
14.9 sec
Weight
3,689 lbs
Base Price
$4,434 Fastback

$4,753 Convertible
Available Exterior Colors
The 1970 Shelby GT350 was available in Candy Apple Red, Black Jade, Gulfstream Aqua, Acapulco Blue Metallic, Royal Maroon, Silver Jade, Pastel Gray, Wimbledon White, and Competition Red.
There were also four specialty colors that weren't given actual names. They were known as Grabber Orange, Grabber Yellow, Grabber Green, and Grabber Blue.
Available Interior Colors
The 1970 GT350's interior was available in either black, white, or red.
1970 GT350 Shelby Mustang Video
We found a great video about the '70 GT350 Shelby.