The 1969 model year signaled the end of an era in Mustang production. For all intents and purposes, this would be the last year that any new original Shelby Mustangs were produced. Though both the GT350 and GT500 would be offered for the 1970 model year, each was simply re-VIN numbered 1969 model production cars.
This would also prove to be the official end of Carrol Shelby's initial partnership with Ford. In the summer of 1969, Shelby would terminate his contract with Ford and part ways to pursue alternative projects. However, in reality, much of Shelby's involvement with the design and development of the GT350 and GT500 had already dwindled significantly.
When Carrol Shelby first envisioned the GT350, his intent was to build a Mustang-inspired racer for the ages. However, as Shelby and Ford's partnership slowly dissolved, the GT350 began to increasingly favour a luxurious cruiser.
Uniquely Shelby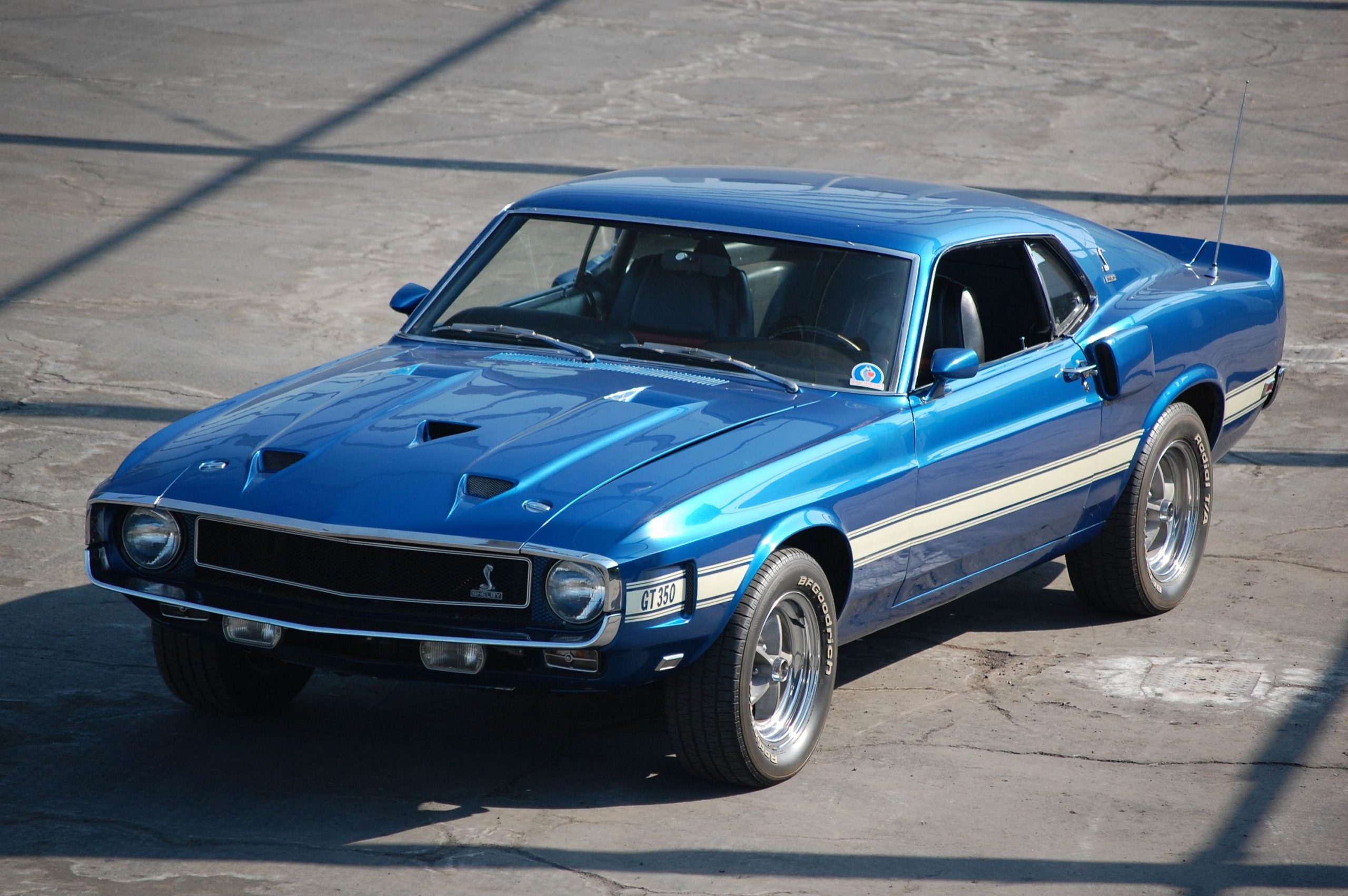 By 1969, Ford increasingly sought to differentiate its Shelby GT offerings from the standard Fastback Mustang. This was a process that most notably included the addition of numerous cosmetic upgrades and fiberglass accents.
The 1969 Shelby GT350 featured a number of cosmetic changes from the year prior. The GT350's front end was again extended, and a longer fiberglass hood with three functional air scoops was utilized. The GT350's grille was also restyled, and its rectangular driving lights were relocated beneath the front bumper.
The GT350 was fitted with a wrap-around-style front bumper, and fiberglass front fenders, which were intended to reduce unnecessary curb weight. Each front fender also featured integrated air scoops, located just in front of their respective wheel wells. Additional air scoops were located to the rear of each door as well.
While the GT350's front end had been extended, the car's rear had been shortened and featured a noticeably "chopped-off" look. A shortened rear deck lid was fitted with an integrated rear spoiler, which was somewhat more pronounced than that from the year prior. Sequential rear turn signals were selected for use, as was a specialty aluminum exhaust collector that exited underneath the center portion of the GT350's rear bumper.
The Lap Of Luxury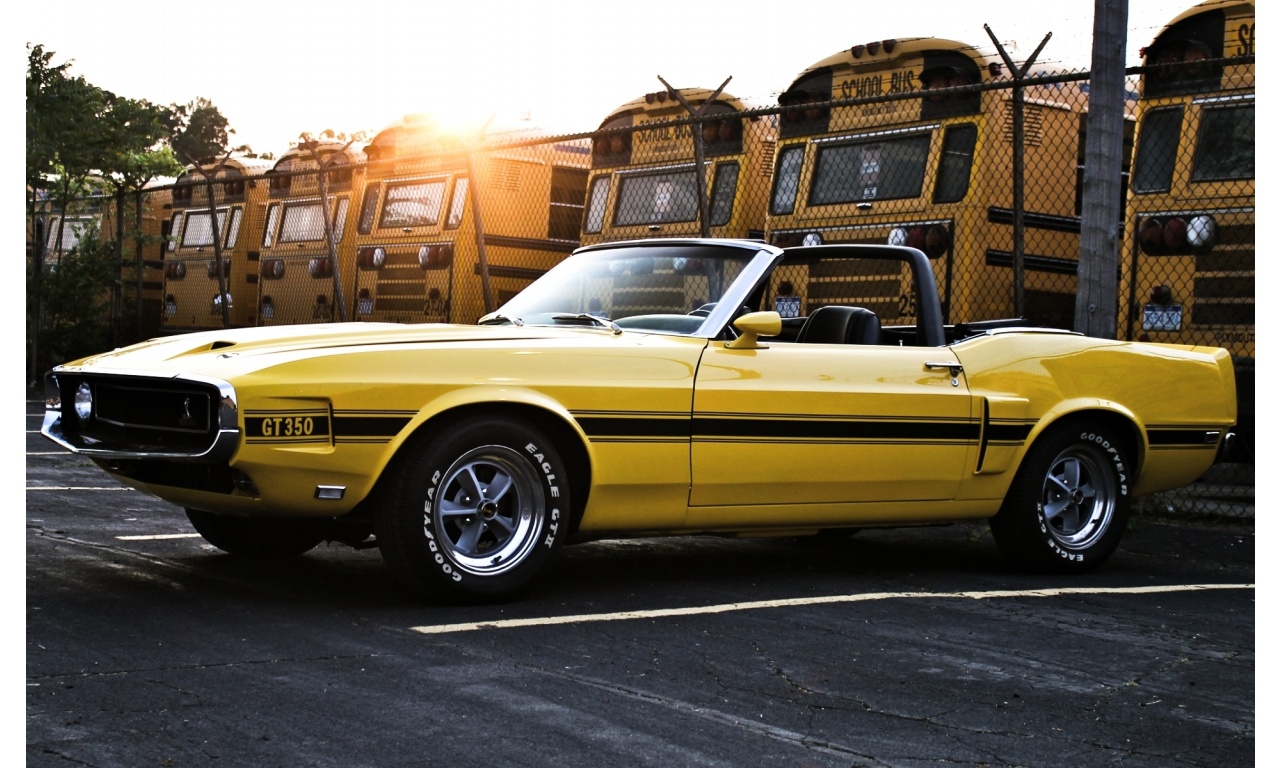 While Carrol Shelby's original 1965 GT350 was extremely minimalistic in its available interior amenities, the 1969 GT350 was anything but. The latter GT350 featured Ford's deluxe interior package, which included imitation teak wood dash paneling, door accents, and center console trim. Also included was a wood-rimmed, three-spoke steering wheel, and a 2-point padded roll bar.
Other noteworthy interior features included high-back bucket seats, inertia-reel harnesses, and seat belt/parking brake reminder lights. The GT350's dash was also updated to feature an 8000 rpm tachometer and a 140 mph speedometer, as well as oil pressure and ampere gauges.
Consumers now had numerous optional accessories at their disposal as well. Some of the most notable of these included a fold-down rear seat with SportsRoof, AM/FM stereo, 8 track tape player, forced ventilation, intermittent windshield wipers, and a tilt steering wheel.
Technically Adept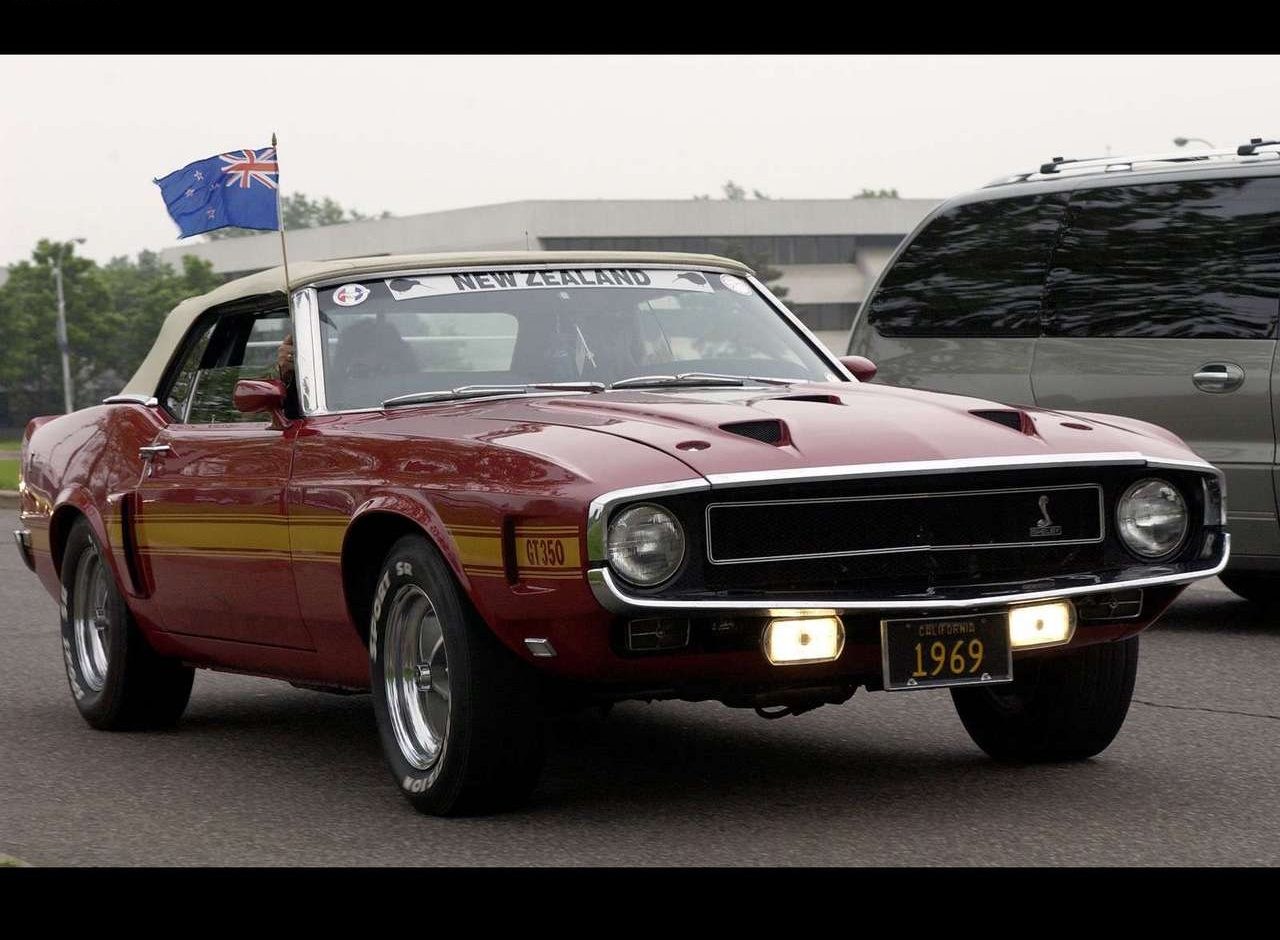 The 1969 GT350 now came fitted with Ford's new 351 cubic-inch Windsor V8, which was equipped with a 470 CFM four-barrel Autolite carburetor. This engine also featured a specialty aluminum intake manifold, as well as Cobra-finned aluminum valve covers. The 351 Windsor was capable of mustering 290 horsepower (@ 4800 rpm) with 385 ft-lb torque (@ 3400 rpm).
This powerplant was mounted to a wide-ratio 4-speed manual transmission, with the option of alternatively selecting a Ford FMX Cruise-O-Matic automatic transmission. Consumers were also presented with the option of selecting a Traction-Lok rear axle.
Underneath, the GT350 utilized an independent coil spring suspension in the front, while employing the use of a Hotchkiss-drive, variable-rate, semi-elliptical leaf spring suspension in the rear. The GT350 also featured Gabriel Adjust-O-Matics shocks at all four corners and rode on a set of Goodyear F60-15 Polyglas GT tires, mounted on 15 x 7″ wheels.
Driving Off Into The Sunset
While all good things must certainly come to an end, few were ready for the GT350's departure. Though a limited number of 1969 Shelby GT350 holdovers were marketed for the 1970 model year, 1969 served as the true end to actual production. However, the Shelby GT350's legacy as the car responsible for garnering the Mustang its muscle car image still remains to this day.
1969 Mustang GT350 Specifications
Engine
351 Windsor V8
Horsepower
290 horsepower
Torque
385 lb-ft torque
0-60 MPH
6.5 sec
Quarter Mile Time
14.9 sec
Weight
3,689 lbs
Base Price
$4,434 Fastback

$4,753 Convertible

Production Numbers
Fastback 1085

Convertible 194
Available Exterior Colors
The 1969 Shelby GT350 was available in Candy Apple Red, Black Jade, Gulfstream Aqua, Acapulco Blue Metallic, Royal Maroon, Silver Jade, Pastel Gray, Wimbledon White, and Competition Red. There were also four specialty colors that weren't given actual names. They were known as Grabber Orange, Grabber Yellow, Grabber Green, and Grabber Blue.
Available Interior Colors
The 1969 GT350's interior was available in either black, white, or red.
 1969 GT350 Shelby Mustang Video
We found a great video about the '69 GT350 Shelby.