By 1969, a wave of change had begun to sweep across all facets of Shelby GT series Mustang production. Nearly a half-decade earlier, Carrol Shelby had partnered with Ford to create a series of cars that would lend enhanced performance credibility to the Mustang line. However, as the 1960s drew to a close, the Shelby GT500 had become more of a luxurious cruiser, than a track-ready racer.
At this point, Carrol Shelby's role in GT design and development had grown increasingly limited. Ford now exercised a greater degree of creative control over the Shelby GT line and had outsourced much of its modification and fitment duties to the A.O. Smith Corporation in Michigan, rather than Carrol Shelby's studio in California. Shelby would ultimately terminate his contract with Ford by the summer of 1969.
Nonetheless, the 1969 Shelby GT500 was released without a hitch, serving as the final original installment of Shelby series production. Though a limited number of GT500s would be marketed in 1970, these cars were simply unsold 1969 carry-overs that had received new VIN tags and additional striping.
Over The Top Styling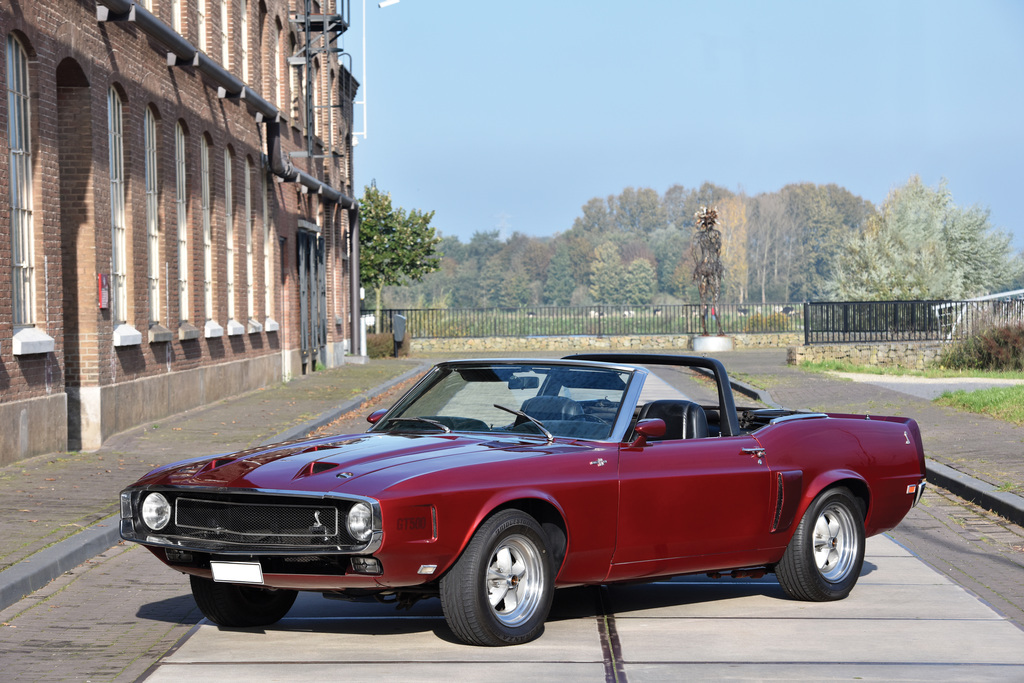 For the 1969 year model, the GT500 again received a restyled front fascia, which was further extended over that of previous year models. The GT500's grille and headlight buckets were shrouded with chrome trim, and its rectangular driving lights were relocated to their new position below the car's front bumper.
The GT500's hood was a particular point of interest, as it now featured three individual air scoops that were arranged in a triangular layout. Air scoops also adorned each of the GT500's front fenders, just in front of their respective wheel wells.
Also present was the GT500's signature striping, which spanned the vehicle's length on each side. The "GT 500" logo was displayed within this striping, in the margin between the car's bumper and front air scoops. Rear air scoops were also found along the leading edge of each rear fender.
The GT500's rear end featured a low-rise integrated rear spoiler, attached to its deck lid. Underneath this spoiler, was the "Shelby" logo, backed by a matte black finish. Sequential turn signals were also utilized to round out the GT500's appearance.
Interior Elegance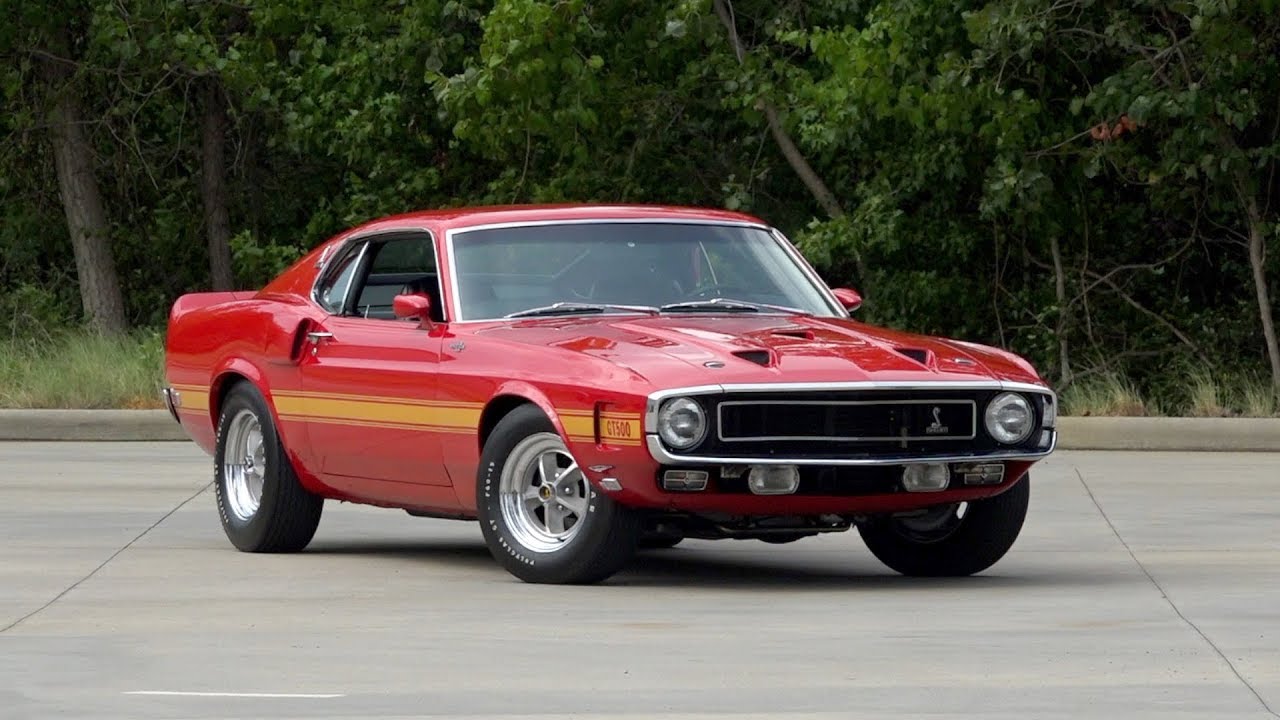 The Shelby GT500 once again utilized Ford's Deluxe interior package for the 1969 model year. This package included high-back seats, as well as simulated wood grain accents, which spanned the car's dash, door panels, and center console. A three-spoke wood-rimmed steering wheel also came standard.
The GT500's dash featured a large tachometer and speedometer. However, this resulted in the removal of the car's ammeter and oil pressure gauges. In a bid to retain the use of these gauges, both were relocated to a new position directly below the GT500's radio. Fog light and interior light switches were located to the rear of the vehicle's shifter, mounted atop the center console.
Also present was the GT500's signature two-point padded roll bar, which included inertia-reel harnesses in all hardtop models. Alternatively, convertible GT500s featured standard cross-shoulder restraints.
The 428 Cobra Jet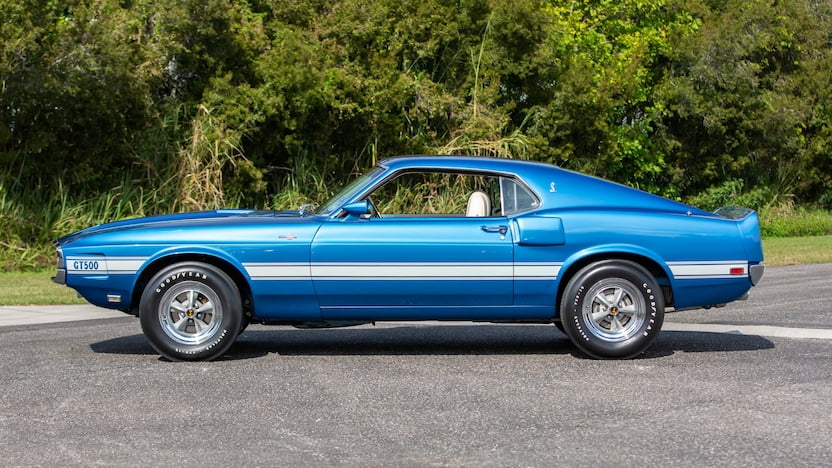 Photo Credit: Mecum Auctions
For the 1969 production year, the GT500 retained its prior 428 Cobra Jet powerplant. This engine featured heavy-duty police interceptor connecting rods, 427 "low-riser" cylinder heads, and hydraulic camshafts. The Cobra Jet's iron intake manifold was topped with a Holley 735-cfm four-barrel carburetor.
The Cobra Jet equipped GT500 was rated at 335 HP, and 440 lb-ft of torque, which were quite robust figures during the era in which this iconic Mustang was built. The 1969 Shelby GT500 was capable of posting 0-60 MPH times of approximately 6-seconds and could complete a ¼ mile pull in approximately 16 seconds.
This power was directed through a four-speed Ford Toploader transmission or an optional C6 automatic. The GT500 also came equipped with Traction-Lok limited-slip rear axles.
Driving Off Into The Sunset
For all intents and purposes, the 1969 model year served as the Shelby GT500's final stand. Though unsold units would continue to be marketed for the 1970 model year, no new Shelby production took place after 1969. Just as Carrol Shelby himself had moved on to new projects of his own, the time was right for the next chapter in Mustang production to begin. While the curtain had fallen on the Shelby GT500, its legendary status lives on today.
1969 Mustang GT500 Specifications
Engine
428 Cobra Jet V8
Horsepower
335 horsepower
Torque
440 lb-ft torque
0-60 MPH
6.0 sec
Quarter Mile Time
16.0 sec
Weight
3,849 lbs
Base Price 
$4,709 Fastback

$5,027 Convertible

Production Numbers
Fastback 1536

Convertible 335
Available Exterior Colors
The 1969 Shelby GT500 was available in Candy Apple Red, Black Jade, Gulfstream Aqua, Acapulco Blue Metallic, Royal Maroon, Silver Jade, Pastel Gray, Wimbledon White, and Competition Red. There were also four specialty colors that weren't given actual names. They were known as Grabber Orange, Grabber Yellow, Grabber Green, and Grabber Blue.
Available Interior Colors
The 1969 GT500's interior was available in black, white, or red.
1969 GT500 Shelby Mustang Video
We found a great video about the '69 GT500 Shelby.