Where Today's Innovation Meets Yesterday's Iconic Muscle
In the ever-evolving world of automotive innovation, Ford's Mustang has remained an enduring symbol of American muscle and performance. As we usher in the year 2024, Ford enthusiasts and automotive aficionados alike are buzzing with excitement about the latest addition to the 7th generation Mustang family – the 2024 Ford Mustang EcoBoost.
This model represents a significant leap forward in the continuing development of this iconic brand, coupling the legendary Mustang spirit with cutting-edge environmental conscious technology.
Let's dive straight into the captivating world of the 2024 Mustang EcoBoost, exploring its groundbreaking features, thrilling performance capabilities, and the ways in which it seamlessly adapts to the shifting landscape of the automotive industry.
Unveiling the 2024 Ford Mustang EcoBoost
In the realm of automotive excellence, the 2024 Ford Mustang EcoBoost lineup stands as a testament to the enduring legacy of American muscle cars. With its latest unveiling, Ford rekindles the excitement of enthusiasts and introduces the world to a new chapter in Mustang's storied history.
The Mustang EcoBoost lineup encompasses the dynamic EcoBoost Fastback, the luxurious EcoBoost Premium Fastback, the exhilarating EcoBoost Convertible, and the top-tier EcoBoost Premium Convertible, providing a wide range of options for drivers seeking performance, style, and innovation.
What's different with this lineup is the powerplant. It's the EcoBoost engine, a 2.3L turbocharged engine that brings power and efficiency together. These Mustangs line the rest of the lineup are equipped with safety in mind features like the Drivers assist system called the Co-Pilot 360 suite. This system provides important technologies such as automatic high beam headlamps, blind spot notification, lane keeping and rear view camera. If you have the Co-Pilot 360 Plus it adds additional safety and convenience with adaptive cruise control, evasive steering, lane centering and voice commence navigation. Inside, the cabins exude a perfect blend of modernity and Mustang tradition, featuring premium materials and intuitive infotainment systems.
Ford proved The 2024 Ford Mustang EcoBoost is not just a car. They fused yesterday's iconic muscle with today's technology and modern innovation. Ford's commitment to pushing boundaries and delivering an unparalleled driving experience is respected across the industry.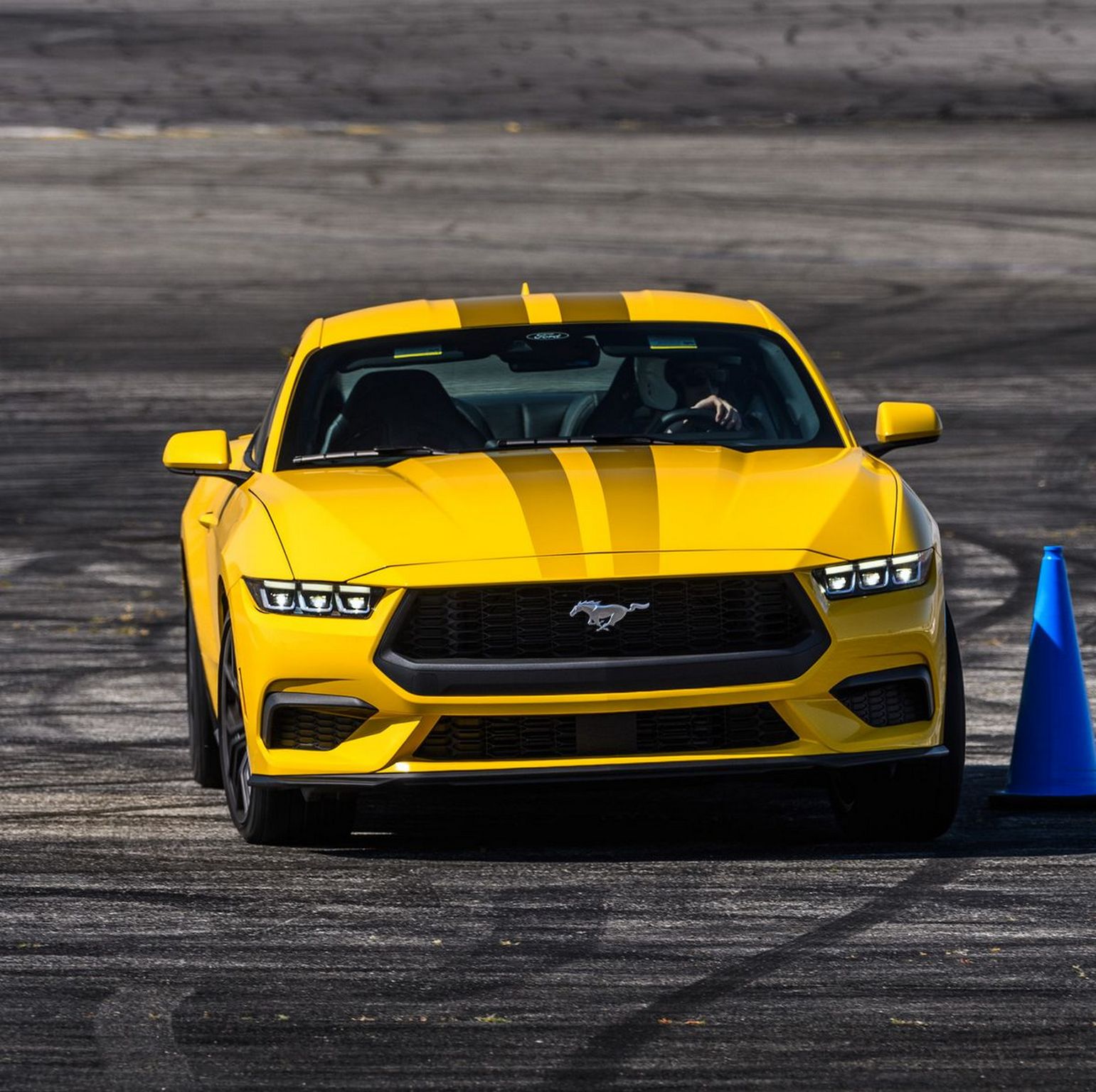 Photo Credit: caranddriver.com
Power & Weight for the Ford Mustang EcoBoost
At the heart of this automotive masterpiece is a 2.3-liter EcoBoost inline-four engine. While it might not have the thunderous roar of the V8 found in its GT counterpart, this turbocharged powerhouse more than makes up for it with its impressive performance figures. Producing a formidable 315 horsepower and 350 lb-ft of torque, the Mustang EcoBoost isn't here to play second fiddle.
When you hit the pedal, it responds with vigour, propelling you from 0 to 60 mph in just 5.3 seconds. The EcoBoost engine's responsiveness and agility make every drive an adrenaline-pumping experience. Whether you're cruising along a scenic highway or taking on the challenge of a twisty mountain road, the EcoBoost delivers power where it counts.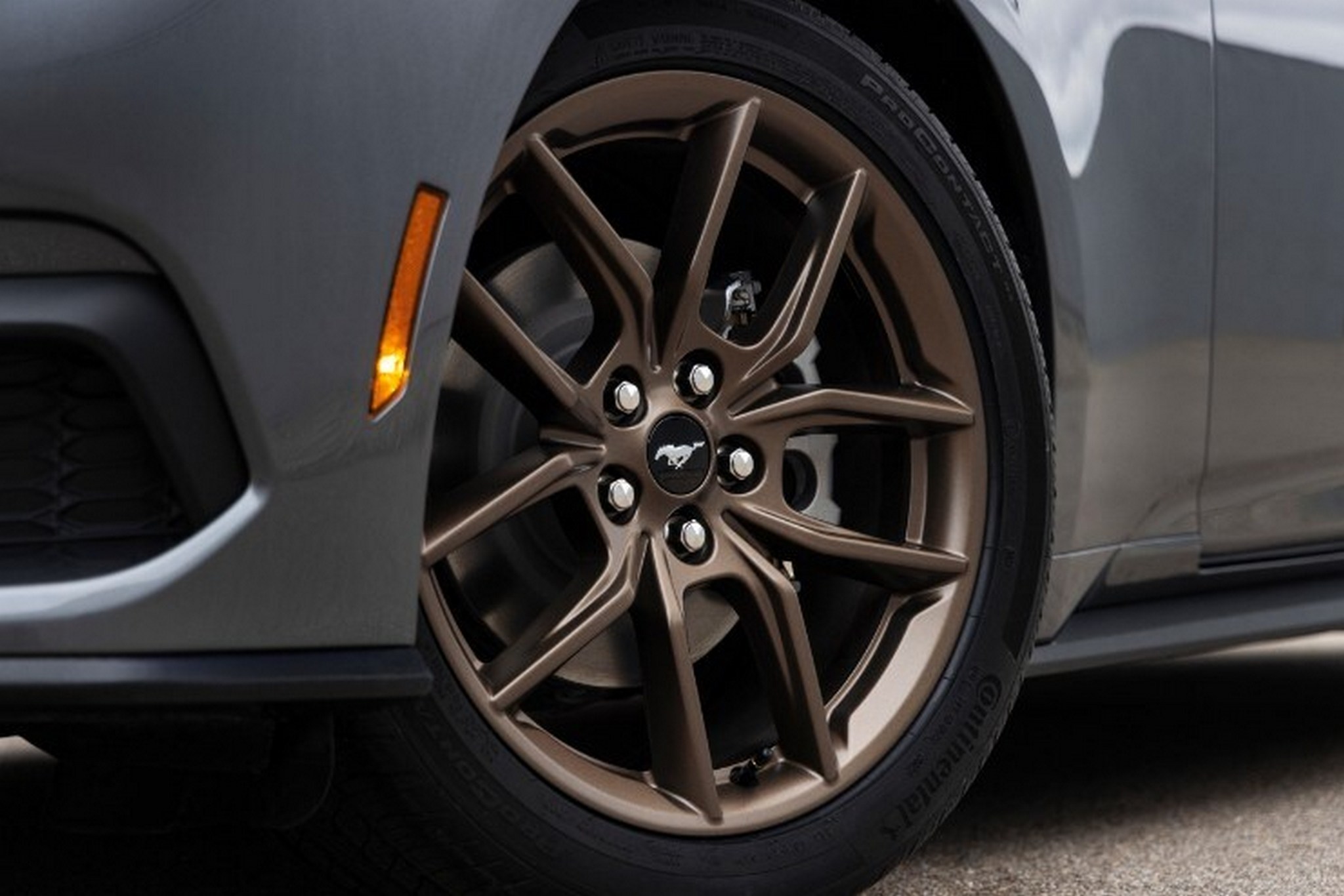 Photo Credit: 2024 Mustang | Ford Media Center
But power is only part of the equation. To truly appreciate the Mustang EcoBoost, you must consider its weight. Weighing in at approximately 3,588 lbs, it strikes an ideal balance between muscle and finesse. This weight distribution, combined with a performance tuned suspension, gives the EcoBoost a dynamic edge that's hard to beat.
The lightweight chassis, nimble handling, and tight steering response make this Mustang a blast to drive. Ford has truly created a driving experience that's engaging, thrilling, and, most importantly, fun.
The Mustang EcoBoost is mated with an ultra responsive 10-speed automatic. This flexibility allows drivers to tailor their driving experience to their preferences, whether they're seeking the nostalgic feel of manual control or the convenience of modern automatic technology.
In terms of design, the Mustang EcoBoost retains the classic Mustang genetics, with its bold sleek body lines, wide aggressive stance and the iconic Ford Mustang styled grille The newest revision of the Ford Mustang EcoBoost brings modern technology to the forefront, including aerodynamic enhancements, handling  and braking power, that not only boost performance but instil confidence and respect.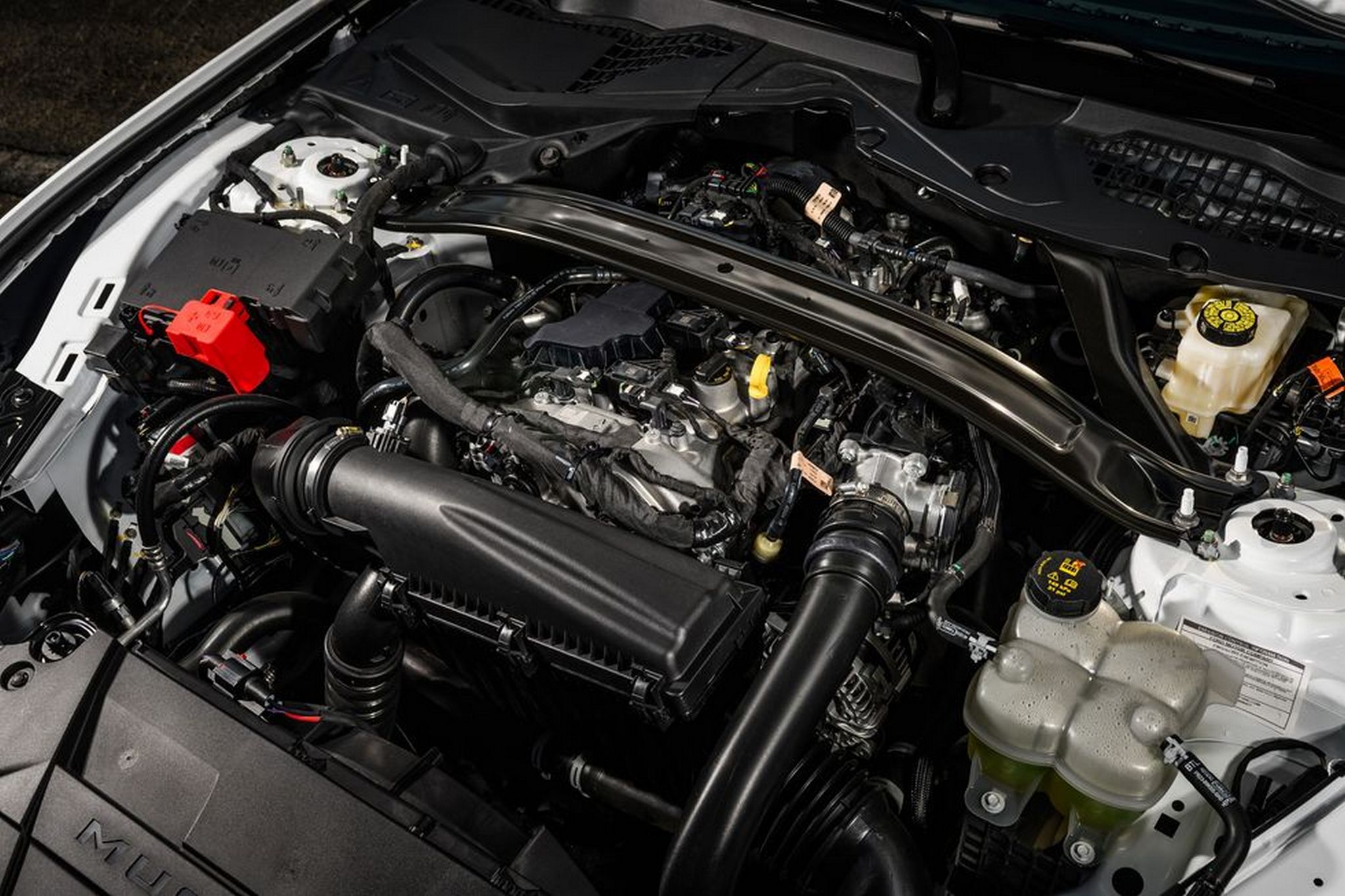 Photo Credit: caranddriver.com
Extra Options for the 2024 Ford Mustang EcoBoost
As Ford continues to innovate, the 2024 Mustang EcoBoost lineup offers an even more thrilling driving experience, and it comes with an array of extra options to suit your preferences and needs.
For those who crave the excitement of controlled slides and precision handling, the optional Drift Brake package is a game-changer. Designed to help you master the art of controlled drifting, this package includes upgraded rear brakes, a dedicated electronic control module, and a specialised drift mode. It's a must-have for enthusiasts looking to push the limits of their Mustang and experience the thrill of drifting like a pro.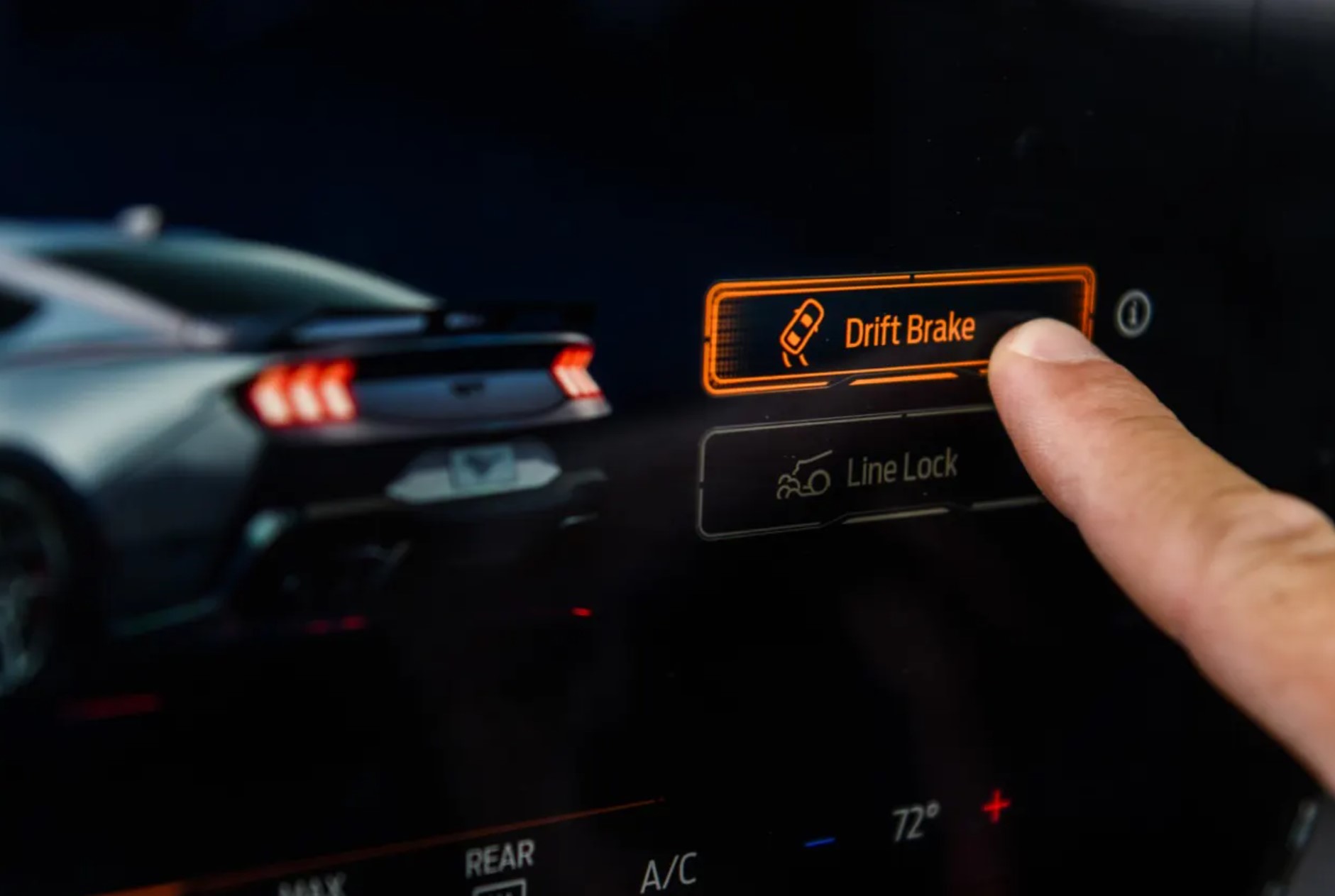 Photo Credit: Hagerty Media
To further enhance the 2024 Mustang EcoBoost's already impressive handling capabilities, Ford offers a range of suspension upgrades. You can opt for adjustable dampers that allow you to fine-tune your ride for different driving conditions, or choose a performance-oriented suspension package that includes stiffer springs, upgraded sway bars, and enhanced bushings. These upgrades transform your EcoBoost into a corner-carving machine, delivering solid control and unmatched agility.
When it comes to high-performance driving, stopping power is just as important as acceleration. Ford offers a selection of brake upgrade packages that include larger rotors, high-performance brake pads, and upgraded calipers. No matter if you are hitting the race track or navigating challenging mountain or coastal roads, these brake upgrades provide the confidence and safety you need to bring your 2024 Mustang EcoBoost to a controlled stop, time and time again.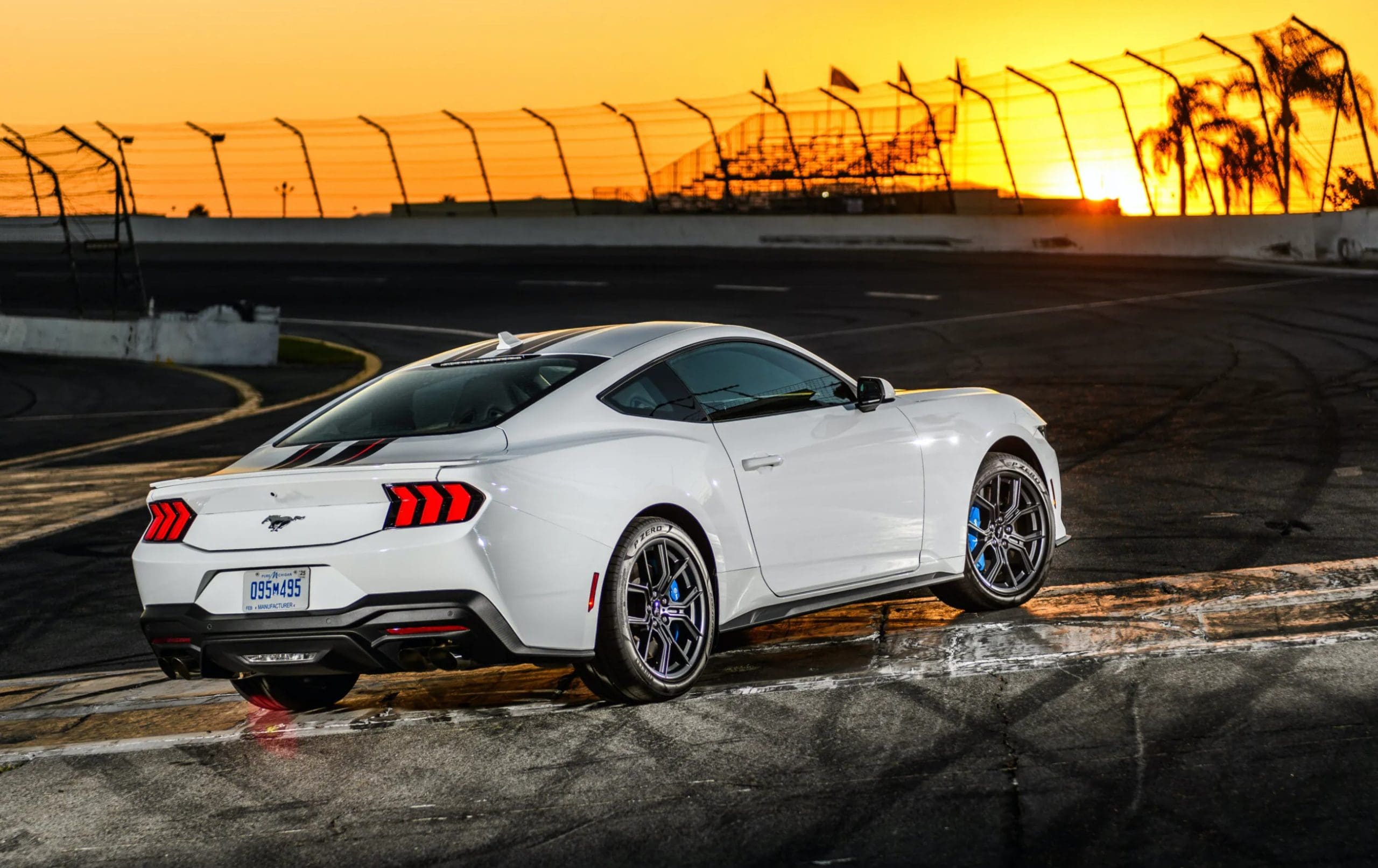 Photo Credit: Hagerty Media
The 2024 Mustang EcoBoost interior provides you with bountiful options to pick from to make your car unique in every way. You'll find that Ford offers a variety of interior options; Front seat styles to materials as well as colour options with contrasting stitching, Ford also offers the optional carbon fibre trim, illuminated door sills and ambient lighting.With all these options and more offered at dealers it creates a unique experience for all.
Ford understands that technology is a vital part of the driving experience. That's why they offer advanced technology packages for the 2024 Mustang EcoBoost. Upgrade to the latest Ford SYNC infotainment system, complete with a responsive touchscreen, voice commands, and smartphone integration. Wireless charging, a premium sound system, and a heads-up display are also available, elevating your connectivity and entertainment options. Plus, you can enhance your safety and convenience with features like adaptive cruise control, lane-keeping assist, and a 360-degree camera system.
The 2024 Mustang EcoBoost is not just a one-size-fits-all proposition. With these extra options and upgrades, you can transform your EcoBoost into a personalised performance masterpiece. Whether you're a thrill-seeking drift enthusiast, a precision handler, or a tech-savvy driver, there's a package for you. Ford's commitment to customization ensures that your 2024 Mustang EcoBoost is not just a car but a reflection of your unique driving desires and preferences.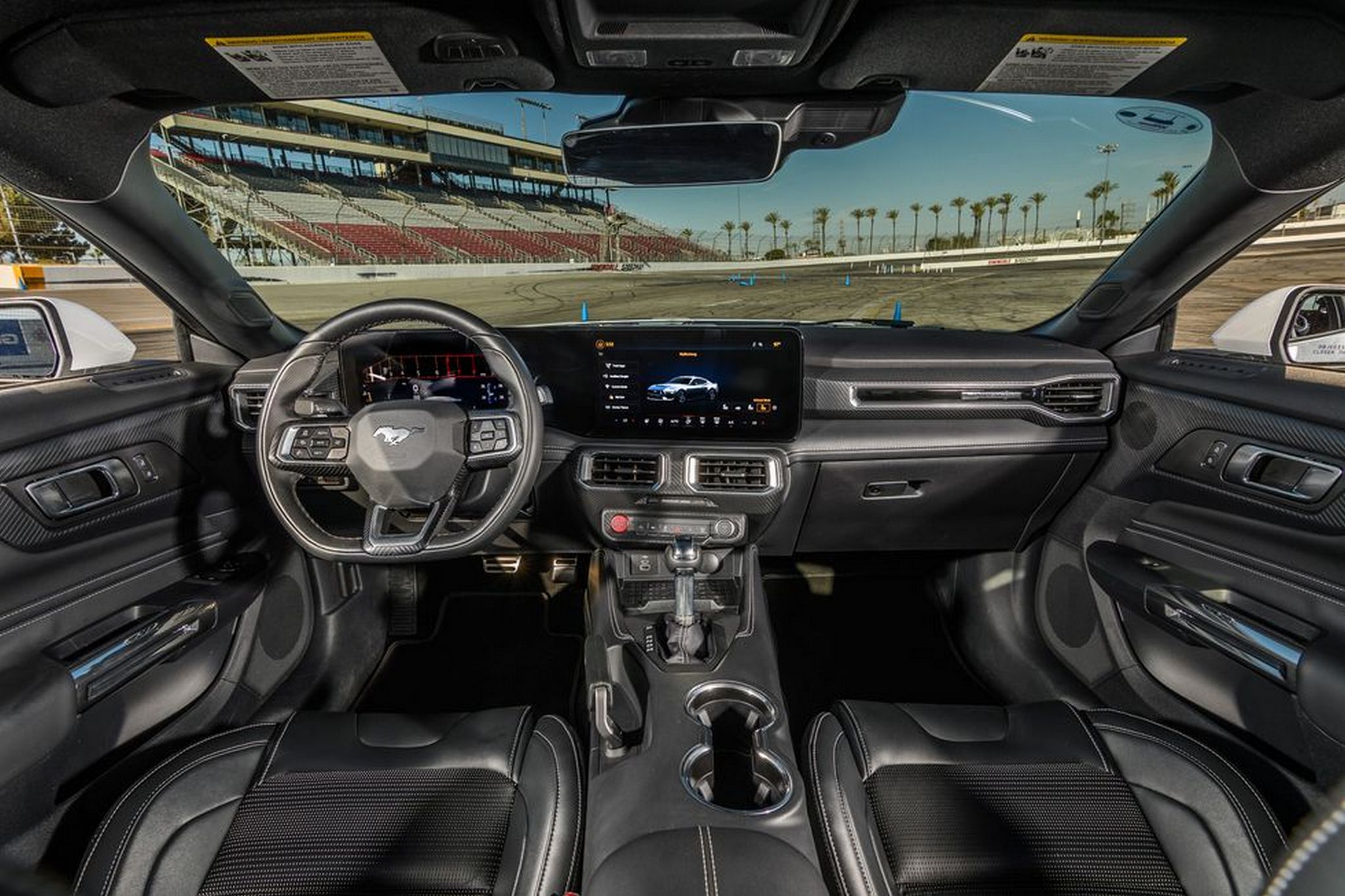 Photo Credit: caranddriver.com
Engine

Engine Type

Displacement

2.3L GTDI I-4 Engine

Turbocharged 4 Cylinder

2.253L

Horsepower
315 horsepower
Torque
350 lb-ft of torque
0-60 MPH
0-100 MPH
0-130 MPH
5.3 – 5.8 (MT est)
N/A
N/A
Standing Quarter Mile Time
13.6–14.5 sec
Top Speed
121 – 155 mph
Curb Weight
Wheel Base
Length
Width
Height
Passenger Volume
Trunk Volume
3588 lbs (Fastback) 3741 lbs (Convertible)
107.1 inches
189.4 inches
75.4 inches
55 inches
82.8 cu ft
13.5 cu ft
Suspension (F/R) 

Front Brakes

Rear Brakes

Wheels & Tires

Strut/Multilink / MagnaRide Suspension (Optional)

Standard: 320x30mm with Twin Piston Caliper
(Optional) 390x36mm with 6 Piston Brembo Caliper

Standard: 320x12mm with Single Piston Caliper
Optional: 355x28mm 4 Piston Caliper

Standard: 17 in x 7.5 in 235/55R
Optional: 18 in. x 8.0 in. 235/50R W A/S
19 in. x 8.5 in. 255/40R W A/S
20 in. x 9.0 in. 265/35R W A/S
Performance Package: 19 in. x 9.0 in. 255/40R Y (summer-only tires)

Base Price
$30,920 (USD)
Available Exterior Colours
The 2022 Mustang GT/CS California Special variant offers a selection of exterior colour choices, including:
Vapor Blue Metallic
Atlas Blue Metallic
Grabber Blue Metallic
Iconic Silver
Carbonized Grey
Dark Matter Grey
Yellow Splash Metallic Tri-Coat
Race Red
Rapid Red Metallic Tinted Clear
Shadow Black
Oxford White
Available Vinyl Stripes
Gloss Gray/Semi-Gloss Black (Racing Stripe)
Matte Black/Red Accent Stripe (Racing Stripe)
Opacity Fade Stripe 2 (Racing Stripe)
Black Step Opacity Fade (Hood Stripe)
Grey Scale Opacity Fade (Hood Stripe)
Black Step Opacity Fade (Side Stripe)
Grey Scale Opacity Fade (Side Stripe)
Available Interior Colors
The 2024 Mustang EcoBoost interior is available in the following colours:
Black Onyx (Fastback & Premium)
Space Grey (Fastback & Premium)
Emberglo (Premium)
Carmine Red (Premium)
RECARO Leather Trimmed Sport Seats (Fastback Only)
2024 Mustang EcoBoost Videos
We found some great videos about the '22 Mustang GT/CS California Special Mustang:
2024 Ford Mustang Ecoboost Photo Gallery