For decades, the rallying cry for many Mustang enthusiasts was, "eight-cylinders, or bust!" However, the validity of such thinking is now on shakier ground than ever before, thanks in large part to the advent of Ford's turbocharged I4 EcoBoost powerplant. This potent powerhouse demonstrates a level of performance acuity, unlike anything that most could have imagined out of a four-cylinder mill.
When the 2.3L EcoBoost Mustang debuted in 2015, many still had their reservations. Up to this point, a certain degree of stigma was attached to any Mustang that was not packing a full eight-cylinder worth of displacement beneath its hood. This, however, is a stigma that has since been erased, courtesy of a turbocharged 2.3L beast, complete with 300-plus horsepower worth of adrenaline-dumping appeal.
The level of enthusiasm surrounding the 2.3L GTDI I-4 EcoBoost is no less apparent today, than it was upon its initial debut. This, naturally, lends a level of credence to the 2023 EcoBoost Mustang, and the potency that it provides, both on the street and the drag strip.
2.3L GTDI I-4 Engine History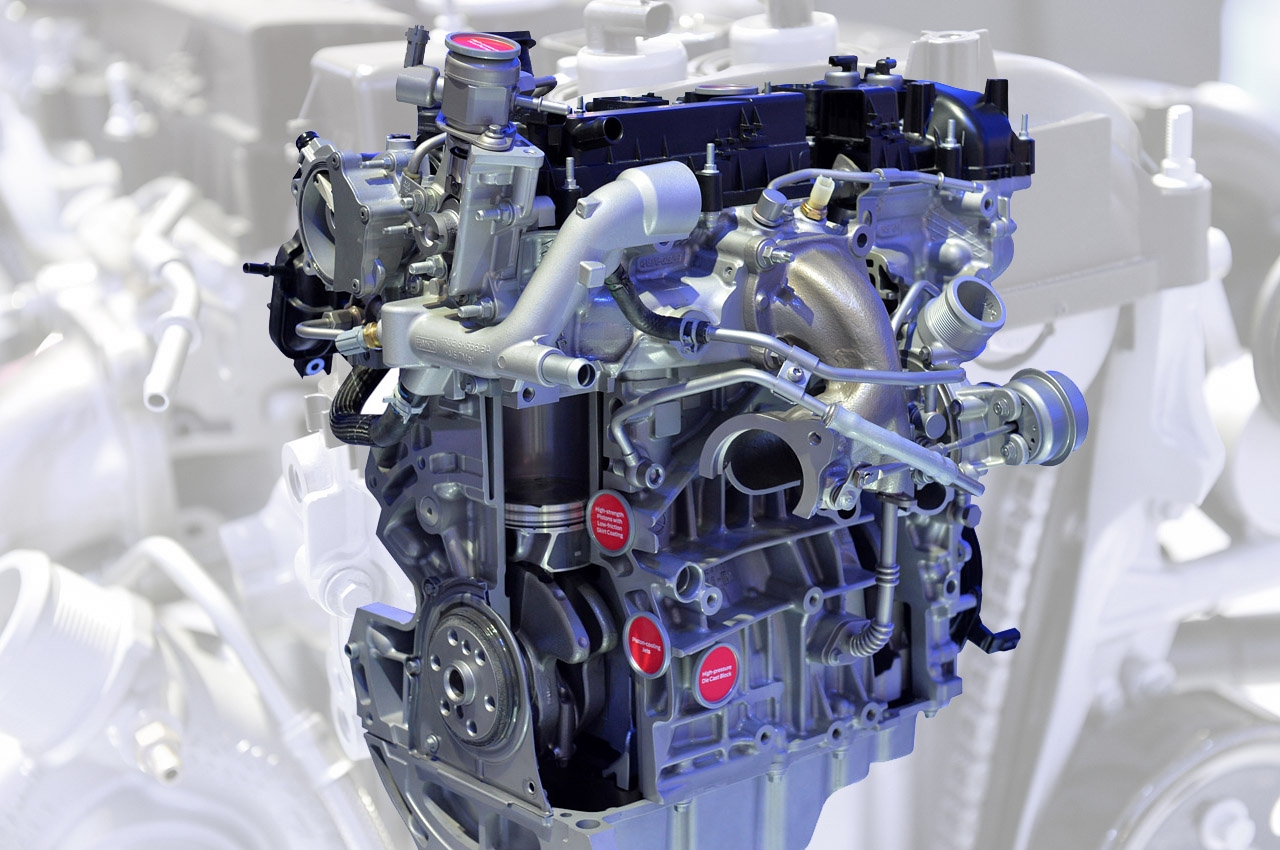 Via Full Race
The 2.3L GTDI I-4 serves as one of the most robust additions to Ford's storied EcoBoost engine platform to date. Development of the EcoBoost platform itself dates back to 2009, at which time Ford found itself in the midst of an interesting set of circumstances. Still reeling from the era's financial crisis, Ford was looking to reinvent their aging product portfolio, while simultaneously maintaining compliance with increasingly stringent emissions standards.
Ultimately, overall displacement was forsaken in favor of heightened combustion efficiency, yielding substantial output, especially on a pound-for-pound basis. This was achieved through the addition of a couple of key design attributes. The EcoBoost's design as a whole leaned heavily upon the principles of direct fuel injection and forced air induction, both of which prove pivotal in maximizing the overall output of small displacement engines.
Ford began widely utilizing engines within their EcoBoost stable in 2010, with further expansion in usage taking place in 2012-2013. Multiple variants of the EcoBoost entered mainstream production, including 1.5L, 1.6L, 2.0L, 2.7L, and 3.5L variants. Despite, this wide array of offerings, some EcoBoost powerplants proved far more popular than others
Finally, in 2015, Ford made the decision to offer their first EcoBoost-powered Mustang, much to the bewilderment of many V8 purists. However, the 2.3L Mustang's merits soon became abundantly clear. With 300+ horsepower waiting in the wings, many consumers could simply no longer justify the additional expenditure required to purchase a V8-clad Mustang. Within just a couple of years of production, the EcoBoost-equipped Mustang was paying its dues, even achieving a "fan-favorite" status of sorts in certain circles..
2.3L GTDI I-4 Specifications and Technical Configurations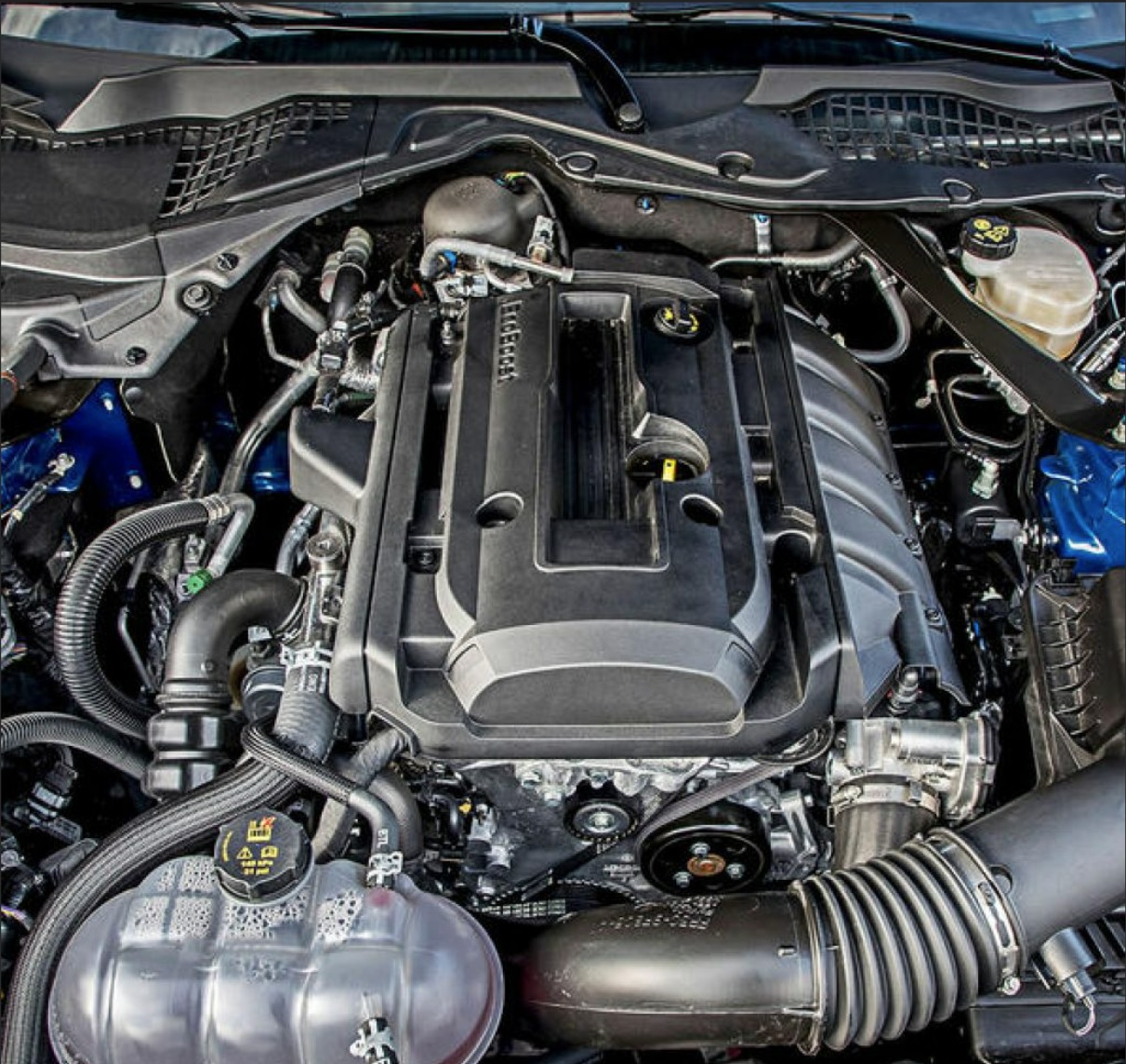 Via Ford Muscle
The 2.3L GTDI is an all-aluminum performance-oriented four-cylinder, equipped with a twin-scroll turbocharger. This powerplant features cylinder bores that measure 87.63 mm in diameter and a defined stroke of 93.98mm. The 2.3L GTDI achieves an effective compression ratio of 9.5:1.
The 2.3L EcoBoost's "GTDI" designation refers to the engine's gasoline turbocharged direct injection configuration. This general design allowed Ford engineers to maximize the EcoBoost's rated output, while simultaneously reducing fuel consumption. The DOHC four-cylinder's use of variable camshaft timing further aids in these efforts.
Ford spared no expense when making sure the 2.3L EcoBoost's engine block and rotating assembly were up to the task at hand. The engine's block is of a stepped-ladder frame configuration, complete with integrated main bearing caps. Supported within this block is a forged 4340 steel crankshaft, fitted with four forged steel connecting rods.
High-performance pistons, complete with low friction skirts, are attached to the above-mentioned connecting rods with fully-floating wrist pins. Oil is supplied to these key comments by a chain-driven oil pump that draws from a cast deep-sump aluminum oil pan, complete with integrated baffling.
The 2.3L GTDI's cylinder heads feature exhaust manifolds that are unitized as part of the greater sub-assembly, allowing for the more efficient transfer of exhaust gasses to the engine's turbocharger. The 2.3L EcoBoost utilizes 30 mm exhaust valves, and 32.5 mm intake valves, all of which correspond to high-performance valve seats.
In its current 2023 format, the 2.3L EcoBoost GTDI I4 produces 310 horsepower, and 350 lb-ft of torque, propelling the Mustang to estimated top speeds of approximately 150 MPH. Perhaps even more impressive, is the fact that, despite harboring this level of performance, the 2023 EcoBoost Mustang still achieves an estimated fuel economy of 21 mpg city/29 mpg highway.
2.3L GTDI I-4 Specs Index
Horsepower: 310 hp @ 5,500 rpm
Torque: 350 lb.-ft @ 3,000 rpm
Compression Ratio: 9.5:1
Displacement: 140CI (2.3L)
Cylinder Bore: 3.45″ (87.63mm)
Stroke: 3.70″ (93.98mm)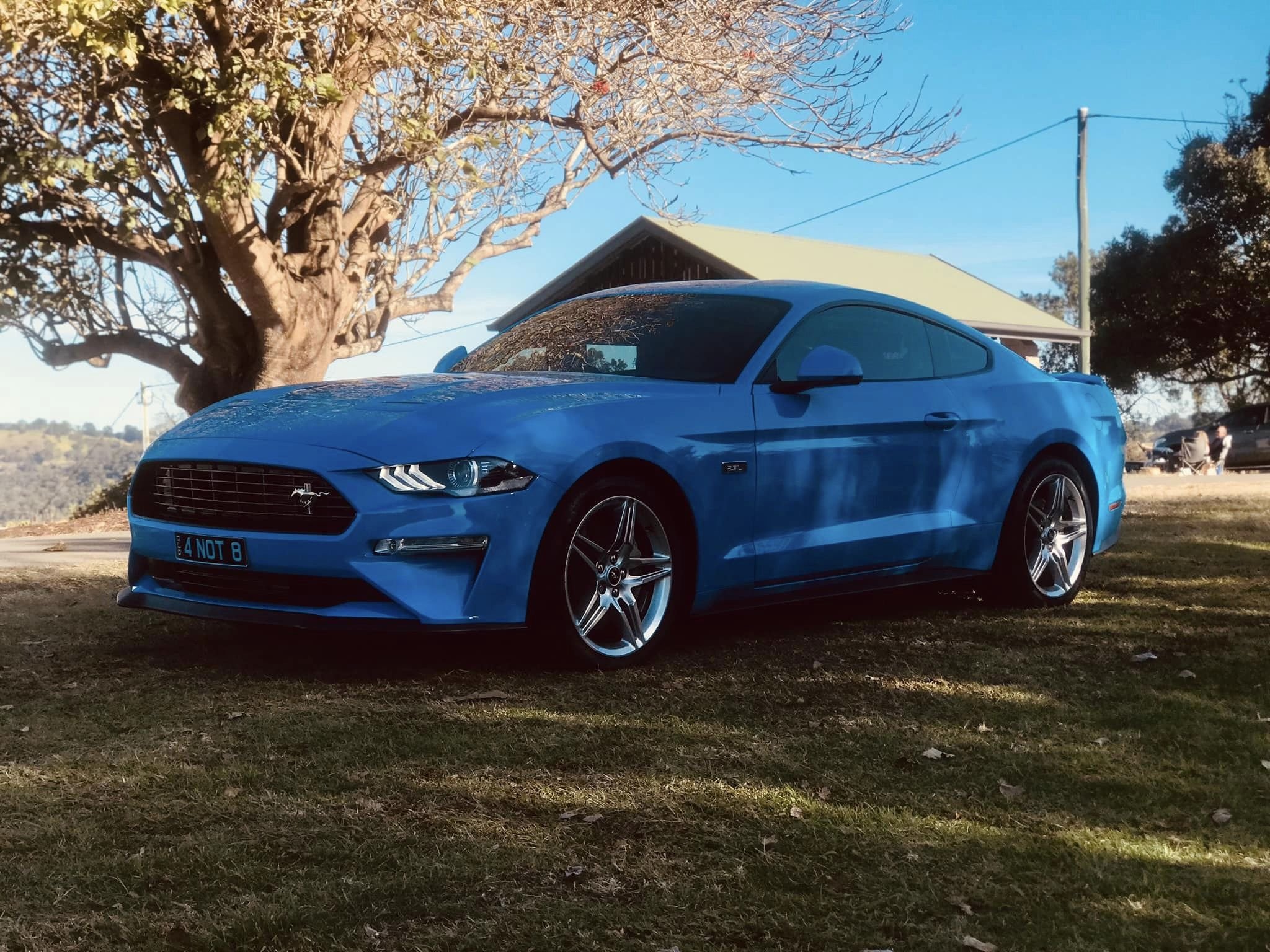 Via Mustang Ecoboost
2.3L GTDI I-4 Additional Uses
Aside from its use in the Mustang, the 2.3L GTDI I-4 has served as the powerplant of choice for several other Ford-derived vehicles. Of course, the most noteworthy of these vehicles was the Lincoln MKZ, which was first offered with the 2.3L EcoBoost in 2015. Since then, the Ford 2.3L GTDI I4 has been used in a host of additional applications.
The following vehicles have all utilized the 2.3L EcoBoost, in recent production.
Ford Explorer
Ford Ranger
Ford Focus RS/ST
Lincoln Corsair
Breaking Barriers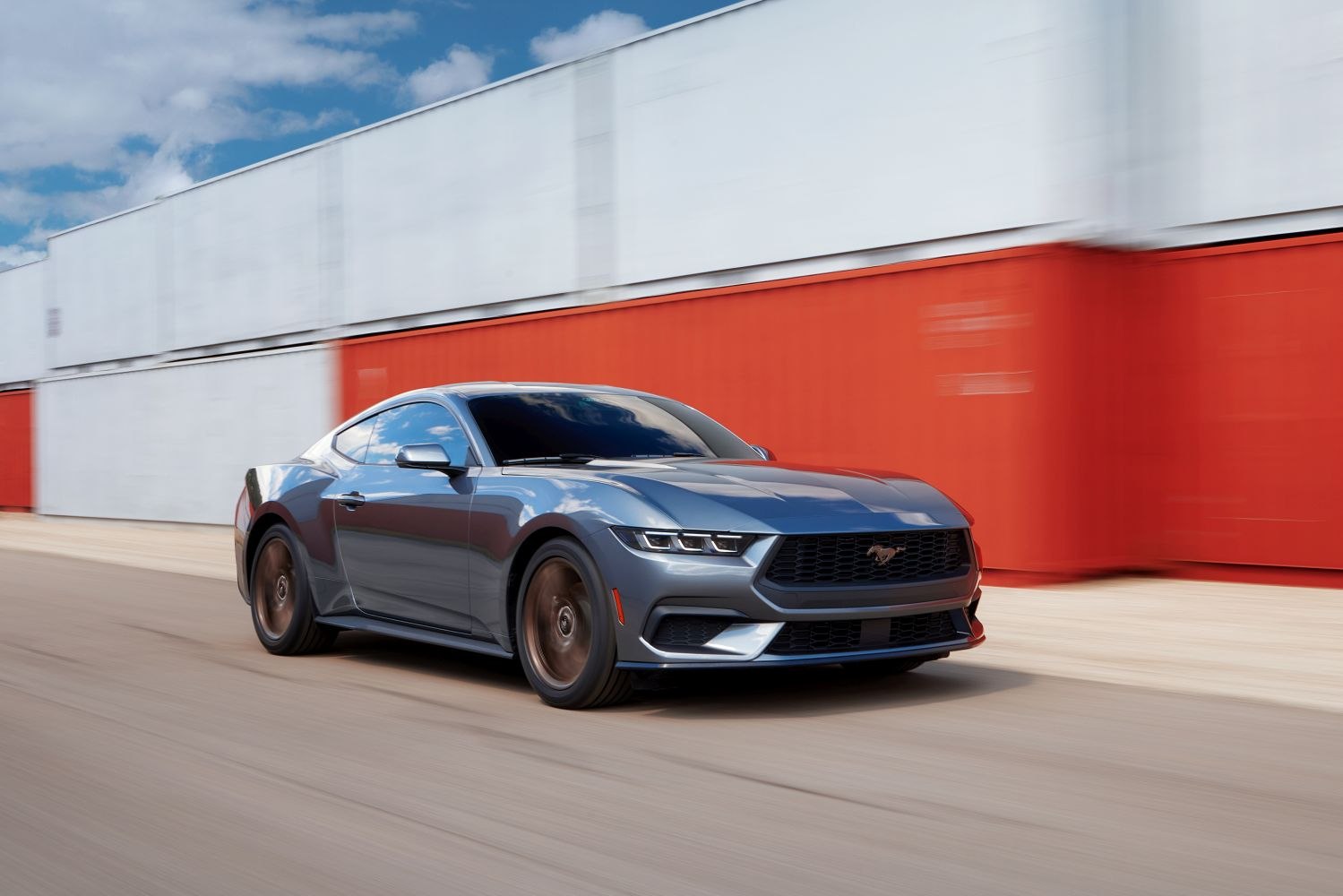 The 2.3L GTDI I4 has set a bar, all its own, challenging convention at every turn. It is quite ironic to think that the 2.3L EcoBoost fits quite nicely within a market sector once dominated by high-displacement V8s. In truth, the mighty four-cylinder has almost single-handedly erased any and all stigma that previously surrounded Mustangs sporting less than an eight-cylinder powerplant.