As most self-proclaimed automotive historians are well aware, the "Super Snake" title carries quite a bit of weight in the world of the Ford Mustang. Debuting in 1967, the Super Snake moniker was used by Carroll Shelby and his team to differentiate between standard Shelby offerings and those of even higher performance stature.
Though the Super Snake title went on hiatus after the dissolution of Shelby and Ford's initial partnership in the late 1960s, it would again return during the new millennium. It was during this time period that the Shelby Super Snake reached a new plateau of performance, showcasing a level of output far beyond that to which most were accustomed.
The 2016 Shelby Super Snake was no exception to this rule and served as one of Shelby American's most potent offerings at the time of its release. With up to 750 horsepower beneath the hood, the 2016 Super Snake was certainly a potent performer, both on the street and track.
Power In Abundance
The 2016 Shelby Super Snake relied upon a supercharged 5.0-liter V8, as its motivating force. In its base form, this powerplant produced 670 horsepower. However, consumers could also spring for one of two optional superchargers (Kenne Bell/Whipple), bolstering the Coyote V8's total output to 750 horsepower.
Additionally, the Shelby Super Snake's V8 engine was fitted with a custom Borla exhaust, which provided the car with an aggressive audible presence. Also standard was an upgraded cooling system, intended to reduce intake air temperatures in the name of combustion efficiency.
The 2016 Shelby Super Snake came standard with a 6-speed manual transmission. However, one could also select an optional 6-speed automatic transmission, should they so choose. Beyond this point, power was directed rearward through a single piece driveshaft, to a set of 3.73:1 rear gears.
Technically Adept
The 2016 Super Snake was also quite noteworthy, for additional reasons outside of what lied beneath its hood. Shelby American outfitted the Super Snake with a number of additional technical upgrades, many of which centered around the vehicle's steering, suspension, and brake systems.
The iconic Shelby creation came equipped with a custom Ford Racing handling package, as well as a set of Wilwood performance brakes. The car's brake system included 6-piston front calipers, as well as 4-piston rear calipers. These calipers were paired to a set of large, drilled and slotted Wilwood rotors.
Shelby Styling
As expected, the Super Snake also received a certain level of signature Shelby restyling. The custom Mustang was fitted with a revised hood, grille, and rocker panels. Additionally, the Super Snake featured integrated Shelby-series LED fog lights, running lights, and turn signals.
The Super Snake's interior also received the "Shelby" treatment and came decked out with custom floor mats, door-sill plates, and trim-work. Also of note, was the Super Snake's use of Shelby signature-series wireless gauges within its dash.
One Sinister Serpent
Today, the 2016 Super Snake is most often remembered as a direct reflection of Carroll Shelby's ultimate vision. This vision centered around producing a highly refined Mustang, which was more than capable of dominating the track on any given Saturday afternoon. This is a purpose that the Super Snake seemed to serve quite applicably, as few could argue against the car's technical capabilities and outright performance superiority.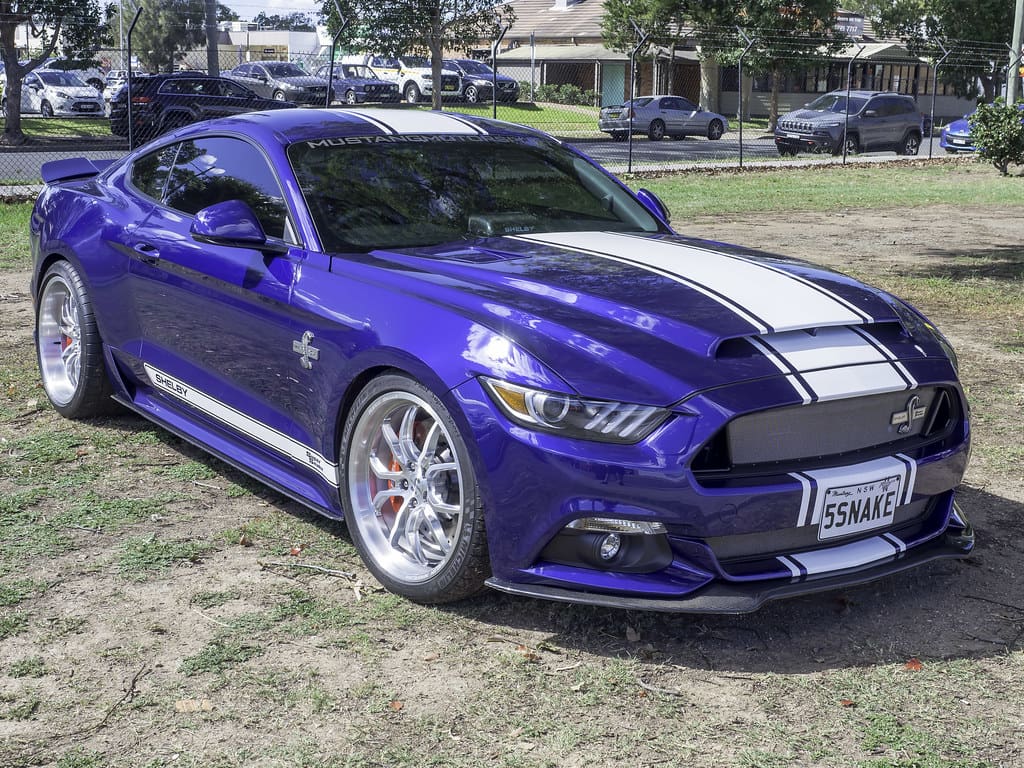 2016 Shelby Super Snake Specifications
| | |
| --- | --- |
| Engine | 5.0L Supercharged V8 |
| Horsepower | 670/750+ horsepower |
| Torque | 545/585 lb-ft torque |
| 0-60 MPH | 3.9 sec |
| Quarter Mile Time | 12.3 sec |
| Weight | 3,360 lbs |
| Base Price  | $82,790+ plus base Mustang |
Available Exterior Colors
The 2016 Shelby Super Snake was available in Oxford White, Avalanche Gray, Triple Yellow,
Competition Orange, Race Red, Deep Impact Blue, Magnetic, and Shadow Black.
Available Interior Colors
The 2016 Shelby Super Snake interior was available in ebony carbon cloth weave or ebony leather.
2016 Shelby Super Snake Mustang Video
We found a great video of the 2016 Shelby Super Snake.