If there is one fact that anyone can count on, it is that Carrol Shelby would always deliver when asked to produce a specialty performance car of unparalleled ability. Therefore, it should have come as no surprise that something groundbreaking would come as the result of Goodyear's 1967 request for Shelby to demonstrate their Thunderbolt line of tires, in a way that only he could.
Shelby, along with building some of the world's most formidable race cars, was also the west coast distributor for Goodyear Tires. In February of 1967, Goodyear approached Shelby in regards to participating in a promotional event centered around the launch of their new Thunderbolt line of tires. Shelby agreed, and planning for the event commenced.
For Shelby, there was no better test vehicle to take part in the aforementioned promotional stunt than his newly released GT500. After all, the GT500 had already begun captivating the minds of American performance enthusiasts from coast to coast. With 355 HP on tap, it stood to reason that Shelby's belle of the ball would be the ideal candidate for what lay ahead.
However, Shelby was spurred into further action, after a conversation with the company's former sales manager, Don McCain. McCain posed the idea of building the most powerful Shelby to date, for use in the upcoming demonstration. More specifically, McCain suggested fitting the GT500 with Ford's 427 cubic-inch racing engine. This was virtually the same engine used by the GT40 racers that had recently dominated Le Mans.
Shelby was instantly intrigued, and delegated the task of choosing a specific GT500 for the job, to Shelby American Chief Engineer, Fred Goodell. In turn, Goodell made his selection, choosing a white-colored production GT500, carrying serial number 67402F4A00544.
Building The Super Snake
With a GT500 selected for modification, work got underway to transform the production vehicle into the highest performing Mustang of the era. The heart of the Super Snake was to be a lightweight, heavily modified version of the aforementioned GT40-class 427 cubic-inch V8, including the prior engine's signature "Bundle of Snakes" exhaust.
Don McCain later referred to this engine as, "the mother of all 427s at the time … aluminum heads, aluminum water pump, forged crank, Le Mans rods, just basically everything inside the engine was built to run sustained 6,000 rpm to race at Le Mans."
All considered, the GT500 derived, Super Snake was reported to have produced 650 HP, though many speculate this number to be highly exaggerated. In reality, it is estimated that the Super Snake was actually capable of producing approximately 520 HP. Nonetheless, this is a figure that is still quite impressive, even by today's standards.
Along with pulling the GT500's standard 428 cubic-inch "Police Interceptor" V8, and trading it for this specialty 427 cubic-inch V8, a number of additional modifications were made. All such upgrades were intended to promote the Super Snake's on-track ability and performance prowess.
The most valued of these subsequent modifications included the addition of an external oil cooler, braided lines, and a remote oil filter, which served to enhance the Super Snake's reliability. Goodell also implemented the use of heavy-duty front disc brakes, traction bars, an enhanced cooling system, and a Detroit Locker rear end. Additionally, 2.73 rear gears were also installed to maximize the Super Snake's top speed.
For added distinction, the GT500 Super Snake featured a unique variant of the Shelby line's production Le Mans striping. A centrally located white stripe ran the vehicle's length and was flanked to each side by similar blue stripes, of a narrower dimension.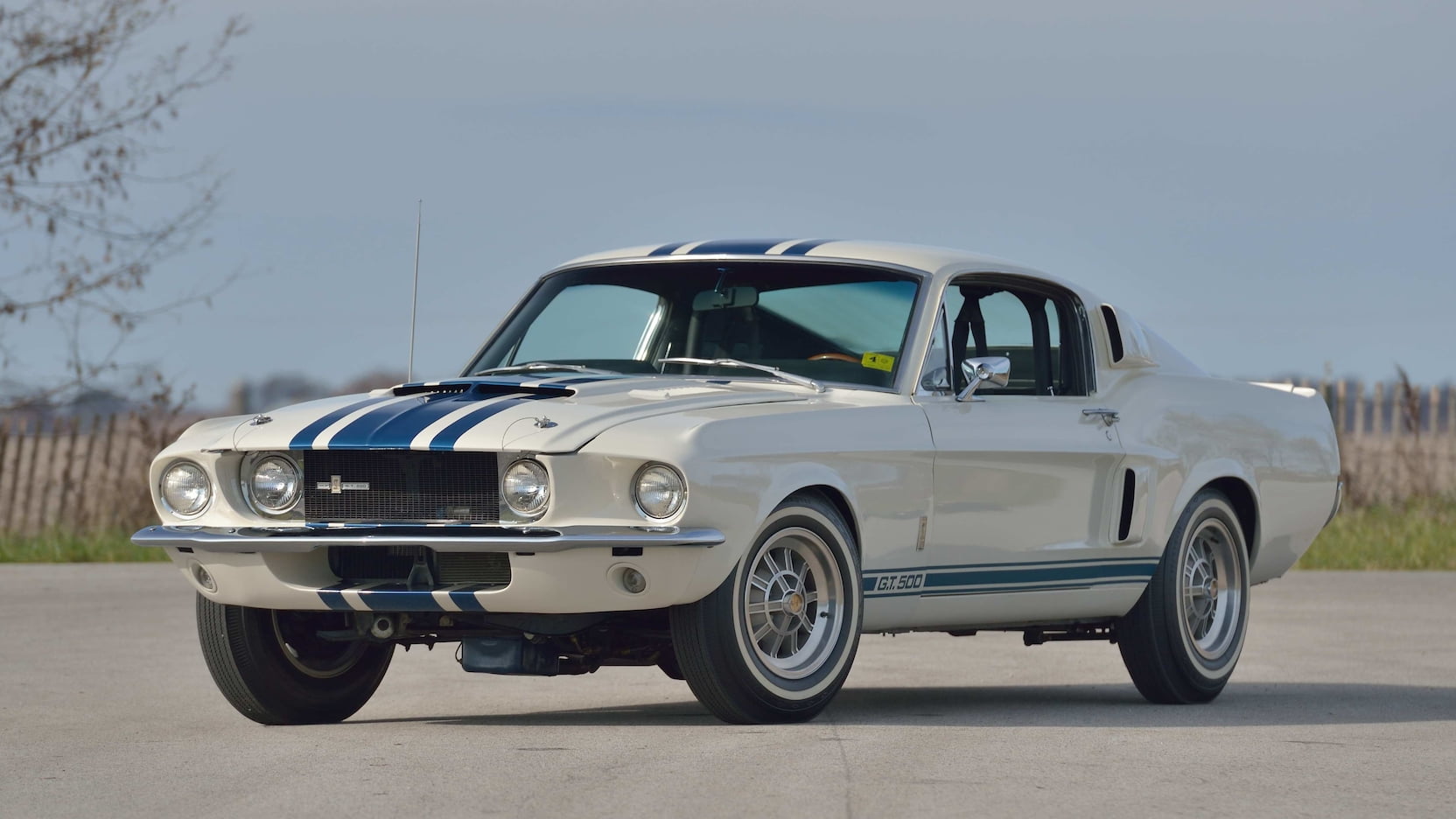 Photo Credit: Mecum Auctions
Demonstration Day
Upon being delivered to Texas a week before the scheduled promotional demonstration, the Super Snake was outfitted with a set of ten-spoke Shelby aluminum wheels, mounted with 7.75-15 Thunderbolt whitewall tires. These tires were overinflated with nitrogen, in an attempt to prevent overheating at high speeds.
Prior to actual testing, Shelby put the Super Snake through its paces, even "hot lapping" it at a reported speed of 170 MPH. Shelby also took the editors of both Time and Life magazines out for separate demonstrative laps, the likes of which we are reasonably sure that neither ever forgot.
When the time came, Shelby passed his helmet to Fred Goodell, inviting him to complete the 500-mile test that was to follow.
Commenting on the matter, Goodell said, "[Shelby] came back and he handed me his helmet and he says, 'I've got to go to Washington, so you go ahead and drive the test.' And so I got back in the car and I drove the car in the 500-mile test. We drove at 142 MPH average for 500 miles."
The test was deemed to have been immensely successful, as both the Super Snake and its Goodyear Thunderbolt tires had performed flawlessly. Upon examination, it was determined that Goodyear's new economy tire had survived its torture test, retaining 97% of its total tread.
What Could Have Been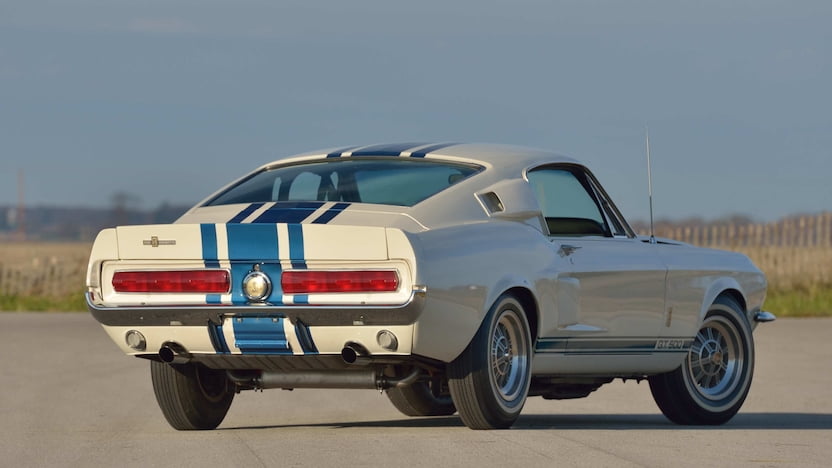 Photo Credit: Mecum Auctions
Upon the Goodyear test's completion, Don McCain, who was then employed at Mel Burns Ford in California, convinced Carrol Shelby to tap the Super Snake for a special 50 unit production run. As a result, the Super Snake was shipped to Mel Burns Ford, where McCain spent the following months attempting to drum up any available interest.
However, this was simply not meant to be. Priced at more than double that of the baseline GT500, the Super Snake fell flat. Even McCain himself was forced to concede, stating that the Super Snake was, "just too expensive."
Ultimately, Shelby's 1967 Super Snake was shipped to Dallas, where it was purchased by Braniff International Airways pilots, James Hadden and James Gorman. The pair intended to drag race the high-performance Shelby, and thus replaced its original 2.73 gearset with a 4.10 unit.
Over the next several decades, the Super Snake changed hands on numerous occasions, with at least two owners still having yet to be identified to this day. We do, however, know that the Super Snake has since been returned to its original form, being highly reflective of its state during the day of its infamous Goodyear test.
Richard Ellis, a collector of rare Mustangs, purchased the Super Snake early in the new millennium. Upon purchase, Ellis conducted what he refers to as a "light restoration." The specialty Shelby was outfitted with period-correct wires and hoses, NOS Shelby 10-spoke wheels, and even a set of Goodyear Thunderbolt tires.
In 2019, the one and only original 1967 Super Snake sold at Mecum's Kissimmee auction for 2.2-million dollars, making it one of the most expensive Mustangs ever sold. Ironically enough, the Super Snake has twice held this distinction, having sold in 2013 for 1.3-million dollars.
1967 Shelby Mustang GT500 Super Snake Specifications
| | |
| --- | --- |
| Engine | GT40 V8 engine |
| Horsepower | 520 horsepower |
| Torque | 500 lb-ft torque |
| 0-60 MPH | 4.3 sec |
| Quarter Mile Time | 14.7 sec |
| Weight | 3,287 lbs |
| Base Price | $5,000 |
| Production Numbers | 1 |
Available Exterior Colors
The 1967 GT500 Super Snake was painted Wimbledon White with blue stripes.
1967 GT500 Super Snake Shelby Mustang Video
We found a great video about the '67 GT500 Shelby Super Snake.
1967 Shelby GT500 Super Snake // Lot F124 // Mecum Kissimmee 2019