For some, the 2014 Mustang GT500 dished out more than enough horsepower to satisfy one's need for speed. However, for those longing for mind-numbing performance, Shelby American had something purely wicked on-tap. This tenacity came in the form of the 2014 Shelby 1000, a car so formidable, that few were brazen enough to push the boundaries of its capabilities.
The Shelby 1000 was more than just the meanest pony offered for sale during the 2014 model year. This Shelby American creation qualified as a "supercar", in every sense of the word, and pushed the bounds of street legality. Armed with up to 1,200 horsepower, few could question the 2014 Shelby 1000's performance superiority and outright pavement-pounding potential.
Brute Force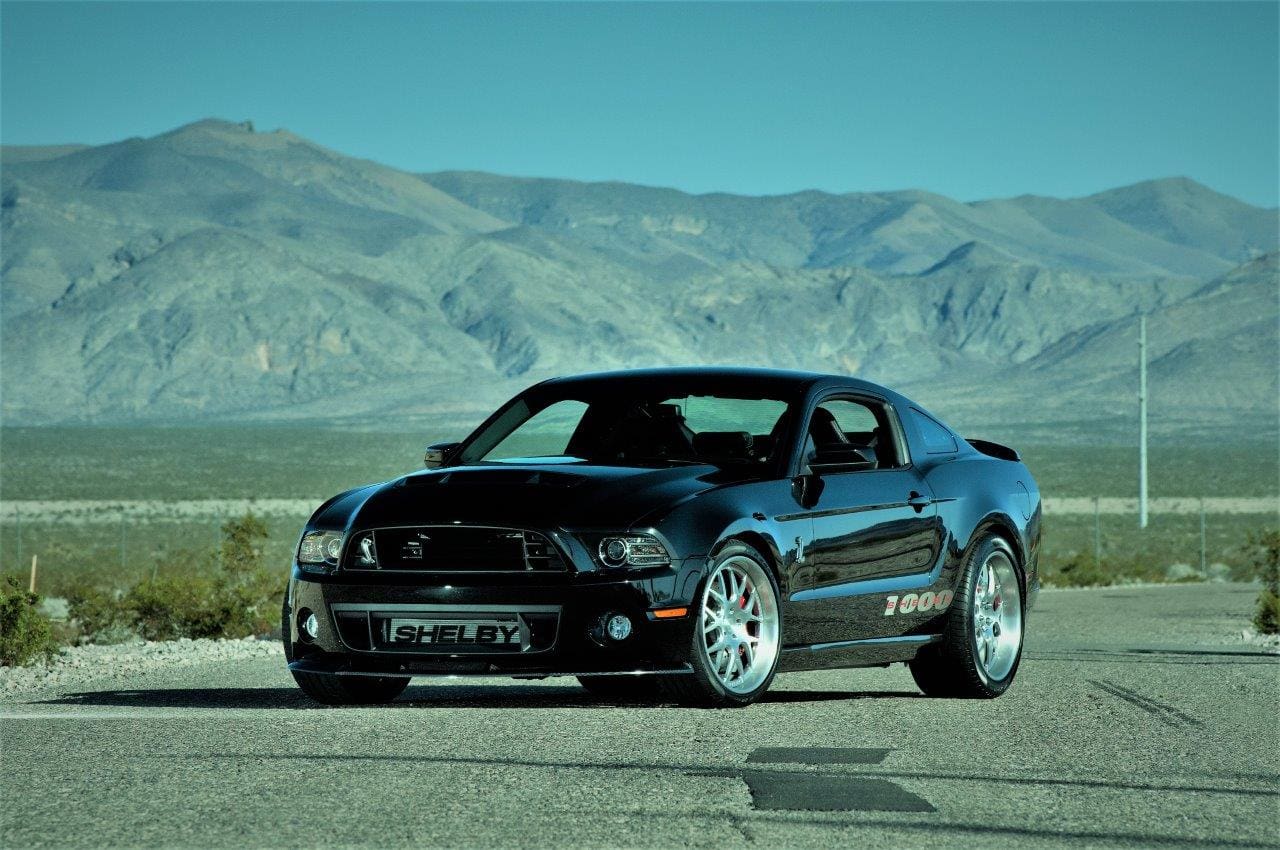 All 2014 Shelby 1000 Mustangs owe their lineage to the standard GT500, from which they were derived. After accepting a GT500 for modification, the team at Shelby American would disassemble the stock Mustang, completely gutting the car's 5.4-liter V8.
When the smoke cleared, little of the aforementioned powerplant was reused, with the exception of the engine's block, cylinder heads, and intake manifold. To sustain prolonged output in excess of 1000 horsepower, Shelby American fitted the 5.4-liter V8 with a Ford Racing Crankshaft, Carillo H-beam connecting rods, and ceramic coated Diamond pistons.
The stock 5.4-liter V8's cylinder heads were ported an additional 30%-35%, and fitted with performance valves, as well as Comp Cam valve springs. This head was forced fed air, by way of a 3.6-liter Kenne Bell, twin-screw supercharger. This air was cooled by a C&R-designed intercooler, before being introduced to the Shelby's intake manifold, through a sizable 1,850 cfm throttle body.
In a bid to provide sufficient fuel flow, the 2014 Shelby 1000 was fitted with high-output 72 lbs/hr injectors. Meanwhile, a custom Shelby/Borla 3-inch exhaust system directed the vehicle's exhaust gasses downstream, lately in absence of any unnecessary restrictions.
The power produced by the Shelby 1000's high-output powerplant was directed rearward through a lightweight aluminum flywheel, coupled to a smooth-action twin-disc clutch. In a bid, to prevent inadvertent breakage, the Shelby 1000 was also fitted with a 9" rearend, with 35-spline axles.
An Agile Beast
While the 2014 Shelby 1000 was perhaps best known for its outright performance merit, the specialty Shelby American creation also handled with superb agility. In fact, the Shelby 1000 underwent extensive modification to its steering and suspension systems, as well as its chassis, when being converted from its prior GT500 format.
Such modifications included the introduction of triangular bracing at the 1000's inner rockers, as well as the fitment of a new, much lighter tubular K-member. Those at Shelby American also reinforced the car's driveshaft tunnel, by installing a series of braces and billet-aluminum supports.
Additionally, the 2014 Shelby 1000's suspension system was upgraded to include an Eibach R2 Coilover arrangement, complete with dual-adjustable shocks. Shelby also pitched in additional suspension and steering upgrades, such as billet control arms, revised sway bars, and a specialty anti-hop kit.
Power On Demand
Today, the 2014 Shelby 1000 is often remembered as one of the most powerful Mustangs to have ever made its way to the street. With 1,200 horsepower beneath the hood, and a list of steering and suspension revisions a mile long, there was little not to love about the Shelby 1000. Much as Carrol Shelby had always envisioned, the world was finally provided with a Mustang that could wage war against any car on the street, no matter its country of origin.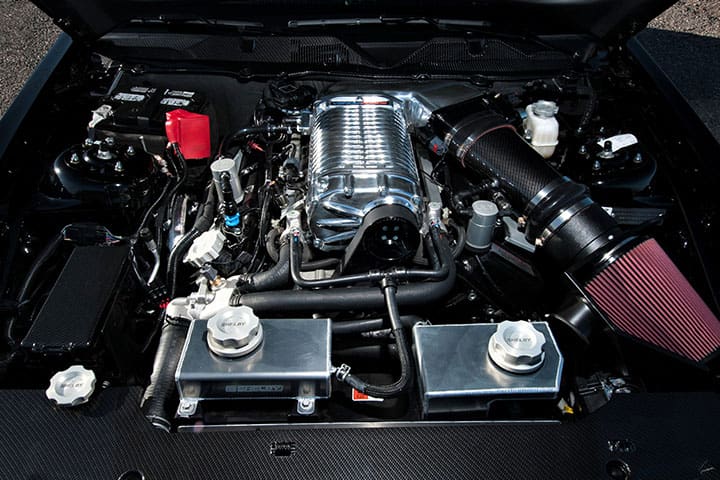 2014 Shelby 1000 Specifications
| | |
| --- | --- |
| Engine | 5.8L V8 |
| Horsepower | 1100 horsepower |
| Torque | 750 lb-ft torque |
| 0-60 MPH | 3.4 sec |
| Quarter Mile Time | 10.9 sec |
| Weight | 3,858 lbs |
| Base Price  | $149,995 plus base GT500 price |
| Production Numbers | 50 |
Available Exterior Colors
The 2014 Shelby 1000 was available in Black, Grabber Blue, Ruby Red Metallic, Ingot Silver, Deep Impact Blue Metallic, Oxford White, Race Red, and Sterling Gray Metallic.
Available Interior Colors
The 2014 Shelby 1000 interior was available in black with a choice of black, blue, red, and white accents.
2014 Shelby 1000 Mustang Video
We found a great video of the 2014 Shelby 1000.