When the 2012 GT500 Super Snake was unveiled at the New York International Auto Show, few could have imagined that any further room for technical advancement existed. However, this notion was dispelled just a year later, when Shelby American introduced the motorsports world to the 2013 GT500 Super Snake.
The 2013 Super Snake, in all its performance glory, churned out a maximum output of 850 horsepower, in its most potent form. That same year, Shelby American also began offering the Super Snake with an optional "Wide-Body" package, which provided the high-performance Mustang with an even more pronounced look of aggression.
Not For The Faint Of Heart
The 2013 Shelby GT500 Super Snake packs enough ponies beneath its hood, to give even the most unwavering of performance-minded individuals a thrill. In its base form, the Super Snake carries a rated output of 662 horsepower.
While some might note that this number is in line with the standard GT500's performance specifications, those at Shelby felt that this level of output would be sufficient to satisfy the needs of many consumers.
On the other hand, Shelby also delivered in earnest, for those with an outright need for speed. The 2013 Shelby GT500's 5.8 liter V8, offered in a supercharged variant, produced 850 horsepower and propelled the Super Snake to top speeds in excess of 200 MPH.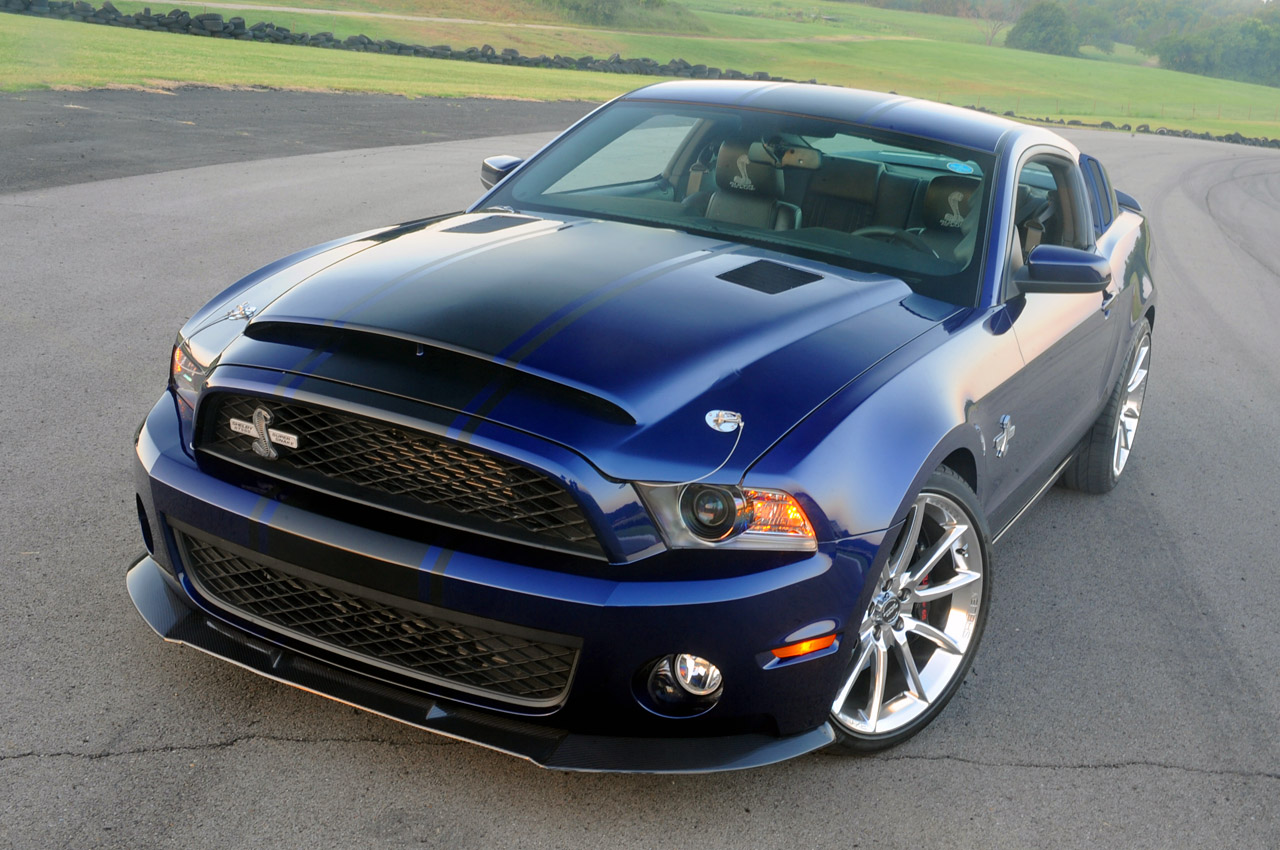 This performance came as the complement of a 3.6 liter Kenne Bell supercharger, which was accompanied by a high-performance radiator, air-to-water intercooler, and a sizable snorkel-style air intake.
The GT500 Super Snake sent power rearward through a close-ratio six-speed manual transmission. Power was then provided to the rear wheels, via a set of 3.31 ratio differential gears, though 3.72 rear gears were also available.
Additional mechanical upgrades included the addition of a Shelby/Wilwood brake package. This package outfitted the Super Snake with six-piston front calipers, and four-piston rear calipers, as well as a set of cross-drilled/vented rotors.
The GT500 Super Snake also featured an upgraded suspension package, which included front camber plates, as well as rear-mounted remote-reservoir gas dampers. These subtle additions allowed the Super Snake to maintain its composure when cornering, even at high rates of speed.
Aesthetic Refinement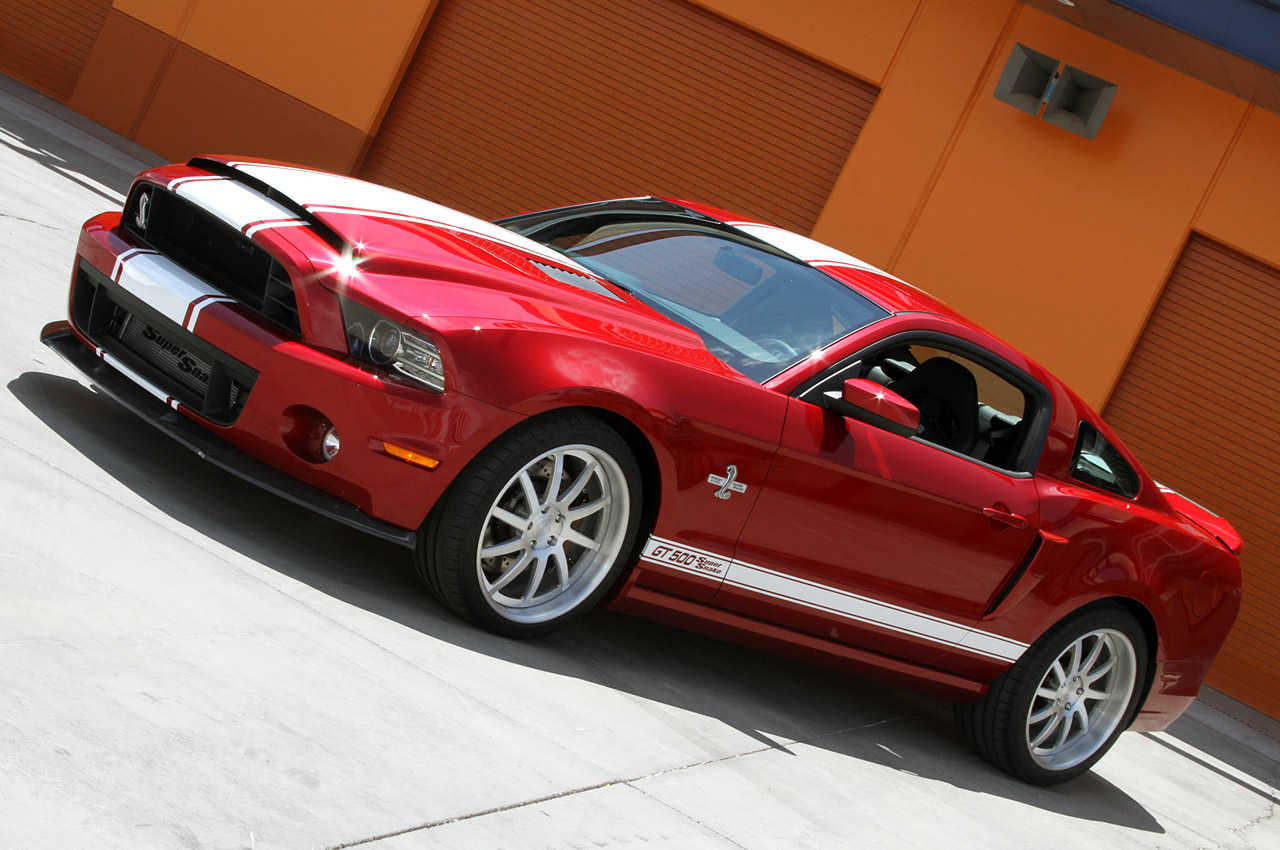 New for 2013, Shelby American began offering the GT500 Super Snake in an optional "Wide-Body" format. In this form, the Super Snake featured a 13" rear tire/wheel kit, which provided the car with an outwardly aggressive stance.
The 2013 Shelby GT500 Super Snake was also host to numerous additional cosmetic features, including a new hood and front/rear fascias. Also featured were signature "Super Snake" placards, found in various locations on the vehicle's body, including the area directly to the rear of each front wheel well.
Consumers could select from a number of available base colors when purchasing the Super Snake package, including Race Red and Deep Impact Blue. One could also choose between the addition of gloss black or gloss white racing stripes, though silver and blue striping were also available on a limited basis when combined with select base colors.
Inside, the 2013 GT500 Super Snake featured all of the standard Shelby interior features, including Katzkin-upholstered seats, custom embroidery work, A-pillar gauges, specialty trim, and "Shelby" logo accents. Each Super Snake also featured sequentially numbered placards from Shelby American, testifying to the vehicle's authenticity.
Beyond Expectations
Though only 500 total GT500 Super Snakes were produced for the 2013 model year, this storied Mustang left its impression nonetheless. Today, the GT500 Super Snake is remembered as a true testament to Shelby American's dedication toward unceasing innovation. With 850 horsepower on-tap, it is hard to imagine sitting behind the wheel of the Super Snake, without an epic smile radiating across your face.
2013 GT500 Super Snake Specifications
Engine
5.8L Supercharged V8
Horsepower
662/850 horsepower
Torque
631 lb-ft torque
0-60 MPH
3.7 sec
Quarter Mile Time
11.9 sec
Weight
3,871 lbs
Base Price 
$28,995   662 hp

$39,995  850 hp

Plus base car price

Production Numbers
500 total units, coupe and convertible
Available Exterior Colors
The 2013 GT500 Super Snake was available in Ebony Clearcoat, Deep Impact Blue, Performance White, Ingot Silver, Sterling Gray, Race Red, Red Candy and Grabber Blue with a variety of stripe colors including black, white, silver and blue.
Available Interior Colors
The 2013 GT500 Super Snake interior was available in black with a choice of black, blue, red, and white accents.
2013 GT500 Super Snake Mustang Video
We found a great video of the 2013 GT500 Super Snake.