In the world of Mustang performance, the Super Snake reigns supreme. This is a fact that became apparent in 1967, upon the Super Snake's initial release. However, even the original Super Snake's performance merit could not stack up to that of later, 21st century Super Snakes, which have captivated the minds of auto enthusiasts over the past decade.
Of these newer Super Snakes, few have garnered as much attention as that which was unleashed upon the automotive world in 2012. The 2012 GT500 Super Snake pushed the boundaries of what many previously thought to be possible. With a standard rated output of 750 horsepower and a maximum output of 800 horsepower when fully optioned, the 2012 GT500 Super Snake was a Mustang model of outright performance superiority.
A Warm Reception
The 2012 GT500 Super Snake was initially unveiled at the New York International Auto Show, where it received a warm reception from those in attendance. However, the location of this unveiling was special for more than one reason.
"The very first Shelby car was introduced there in 1962, as well as the 1968 and 2008 Shelby GT500KR and the 2006 Shelby Hertz GT-H," he said John Luft, president of Shelby American. "This year, we're returning with one of the most powerful and important Shelbys ever built."
Abundant Performance Potential
The 2012 GT350 Super Snake packed a potent punch in the performance department. Beneath the Super Snake's hood, resided a 5.4 liter, supercharged V8. This power plant was paired to a custom Borla exhaust system, which was largely void of power-robbing restrictions.
For an additional fee, consumers could purchase the 2012 GT500 Super Snake in its 800 horsepower variant. The purchase of this package would once again see the Super Snake fitted with a 5.4 liter V8. However, this engine would be equipped with a Kenne Bell supercharger. However, it is worth noting that the selection of this option voids the GT500's factory powertrain warranty.
The Super Snake's power was directed downstream through a six-speed manual transmission, which featured a short-throw shifter. Power was directed to each of the car's rear wheels through a set of 3.73:1 rear axles.
Additional mechanical upgrades to the 2012 Super Snake included the addition of Baer six-piston calipers and cross-drilled/vented rotors. Also standard was the inclusion of a Ford Racing handling package, which featured lower springs, dynamic adjustable dampers, and tuned stabilizer bars.
When purchasing the GT500 Super Snake package, consumers were also presented with two different selections of 20" Alcoa wheels to choose from. These wheels could be purchased either with a durabright or anthracite finish.
Stylized Aggression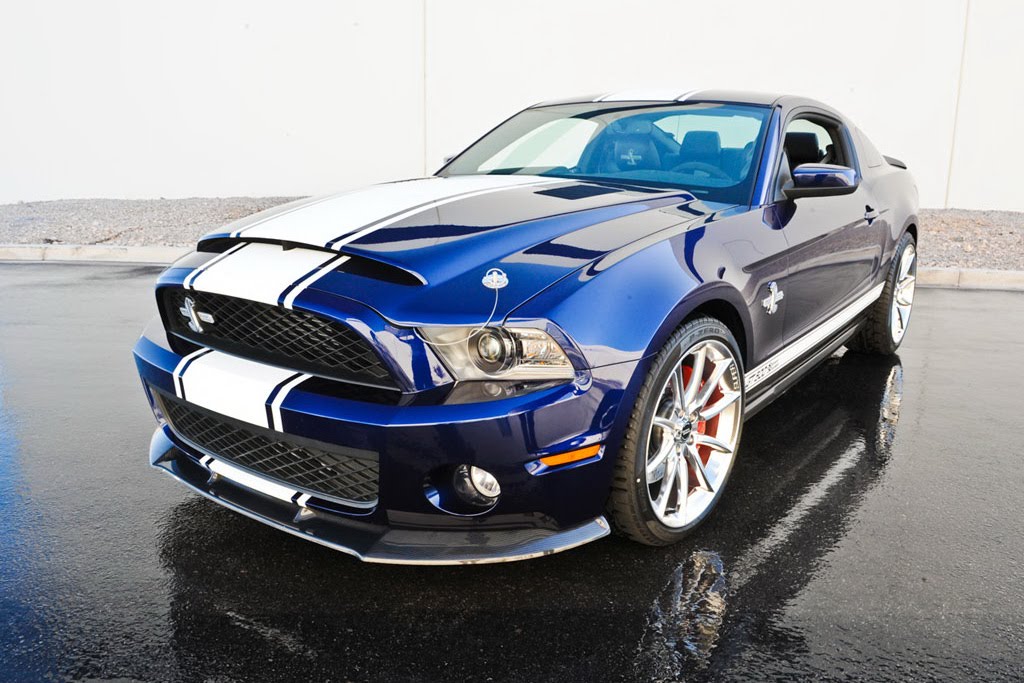 The 2012 GT500 Super Snake was also striking in appearance, and featured several external modifications, on behalf of Shelby American. One such upgrade included the addition of a custom fiberglass hood, complete with traditional Shelby hood pins.
Also keeping with tradition was Shelby's decision to cloak the Super Snake with the brand's iconic racing stripes. These stripes came in both matte black and matte white, and were available for selection at a customer's discretion. The car was also flanked with an assortment of "Super Snake" badging, most notably located at the rear of each front fender well.
Inside, the GT500 Super Snake featured a number of Shelby-style modifications, which included the addition of embroidered floor mats and headrests. Specialty "Shelby" stitching and signature-series trim was also found throughout the vehicle's interior. Each GT500 Super Snake featured a numbered dash placard, which detailed the vehicle's authenticity.
The King Of Snakes
Today, the 2012 Shelby GT500 Super Snake is often remembered as one of the most formidable Mustangs to have been produced in the recent era. This Shelby American creation set the bar, in terms of performance, while also carrying a distinct visual presence. As a result, those behind the wheel were provided with endless power at each stab of the accelerator, and an equally enduring supply of aesthetic appeal to match.
2012 GT500 Super Snake Specifications
| | |
| --- | --- |
| Engine | 5.4L Supercharged V8 |
| Horsepower | 750/800 horsepower |
| Torque | 590/715 lb-ft torque |
| 0-60 MPH | 3.5 sec |
| Quarter Mile Time | 12.3 sec |
| Weight | 3,825 lbs |
| Base Price  | $97.079 including base car |
Available Exterior Colors
The 2012 GT500 Super Snake was available in Black, Grabber Blue, Ingot Silver, Kona Blue Metallic, Performance White, Race Red, and Sterling Gray Metallic.
Available Interior Colors
The 2012 GT500 Super Snake interior was available in black with a choice of black, silver, blue, red, and white accents.
2012 GT500 Super Snake Mustang Video
We found a great video of the 2012 GT500 Super Snake.