By 1968, the GT500 had already made a name for itself, reaching iconic status after only a single year of production. However, Ford had greater plans in store for its flagship performance car. A new, more robust variant of the GT500 was set to make waves across the American automotive landscape, much to the joy of Mustang enthusiasts the world over.
At the time, the production of the Shelby GT500 had been moved from Carrol Shelby's Los Angeles production facility to Michigan. Shelby himself was not as intimately involved in styling and production efforts as in years prior, and Ford had exercised further control over all facets of the Shelby line. The "Cobra" moniker had also been added to all Shelby Mustangs, as part of Ford's increased marketing efforts.
In a bid to up the ante, and further bolster the GT500's performance credibility, plans were hatched to develop a new powerplant that would provide an unequivocal degree of output. Through these efforts, the now legendary 428 cubic-inch, Cobra Jet V8 was born, as was a new GT500 model, known as the Shelby Cobra GT500 KR.
A Mid-Year Marvel
Looking back, the stage had initially been set for the Cobra Jet a year prior, in 1967. It was then that the Mustang's engine bay was redesigned to enable fitment of more sizable powerplants. This was immediately followed by the introduction of the GT500, and its accompanying 428 cubic-inch, Police Interceptor V8.
Plans were immediately put in action to further push the performance envelope, though the GT500 would initially be fitted with the same Police Interceptor V8, as well as an optional 427 cubic-inch V8, at the beginning of the 1968 model year. However, in April of 1968, the 428 cubic-inch Cobra Jet equipped, Shelby Cobra GT500 KR was introduced.
The new GT500 KR would serve as Ford's flagship performance car, standing head and shoulders above prior Shelby models. The car's KR designation stood for King of the Road, and was used by Ford to portray the model's superior status.
Aggression Personified
Photo Credit: motor1.com
The GT500 KR was not only a performance marvel, but looked the part as well. The car featured an extended front fascia, which included a large open grille, clad with a thin chrome bumper. A set of sizable rectangular driving lights were affixed to this bumper, set just in front of the grille itself.
A specialty fiberglass hood was also fitted to the GT500 KR, which featured a set of twin air scoops at its leading edge, differing from prior GT models, where these scoops were positioned in a more rearward manner. The GT500 KR's hood also included a set of louvered cooling vents, which allowed additional airflow through the car's engine bay.
The GT500 KR featured decorative side air intakes and a new integrated spoiler on its rear deck lid. Also of note was the GT500 KR's use of sequential turn signals, as well as revised head and tail lights, that differed from those used by the standard Fastback model.
Inside, the GT500 KR utilized the Ford's Deluxe trim package, which included a wood-rimmed steering wheel, wood trim, and wood dash inlay. Also included was a center console lid which was embossed with the Cobra logo. Additionally, the GT500 KR featured a 2-point roll bar, with attached inertia-reel harnesses.
The GT500 KR was offered in both Fastback and Convertible forms. However, only 318 convertibles were known to have ever been produced.
Cobra Jet Performance
Photo Credit: Mecum Auctions
For those desiring a white-knuckle driving experience, the GT500 KR's 428 cubic-inch Cobra Jet V8 was certainly the star of the show. Though the Cobra Jet shared its displacement with the Police Interceptor V8 before it, a number of features differentiated each of the two engines.
The Cobra Jet featured redesigned cylinder heads, with substantially improved inductive qualities. The new powerplant was also fitted with larger, less restrictive exhaust manifolds. This provided drastically improved inflow and outflow to each cylinder, which gave way to increased performance as a result.
Officially, the 428 cubic-inch Cobra Jet V8 was rated at 335 horsepower. However, this value is known to be grossly underestimated, with most being in universal agreement that the engine's true output was well in excess of 400 horsepower, and 440 lb-ft of torque.
A Legend Remembered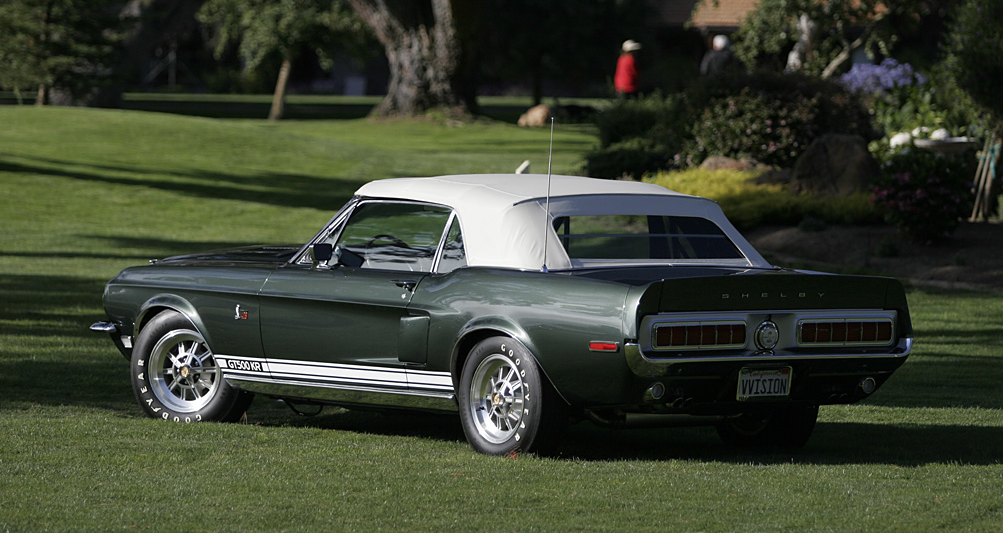 Today, the Shelby Cobra GT500 is remembered as one of the most fearsome, no-holds-barred Mustangs to ever come out of the 1960s. Ironically, it is also one of the most short-lived of all Mustang models to date. The King of the Road moniker was dropped prior to the 1969 model year, though the Cobra Jet V8 would live on, and see continual production use for several years to come.
1968 Mustang GT500 KR Specifications
Engine
428 Cobra Jet V8 engine
Horsepower
335 horsepower
Torque
440 lb-ft torque
0-60 MPH
6.5 sec
Quarter Mile Time
14.8 sec
Weight
3,570 lbs
Base Price
$4,472 Fastback

$4,594 Convertible

Production Numbers
Fastback 933

Convertible 318
Available Exterior Colors
The 1968 Shelby GT500 KR was available in Raven Black, Acapulco Blue, Lime Gold, Wimbledon White, Highland Green, Candyapple Red, Fleet Yellow, Dark Blue Metallic, Gold Metallic.
Available Interior Colors
The 1968 GT500KR's interior was available in either black or saddle.
1968 GT500 KR Shelby Mustang Video
We found a great video about the '68 GT500 KR Shelby.