1968 Shelby GT500KR
At the 1967 New York Auto Show, Ford introduced the most powerful Shelby Mustang ever. The 1968 Shelby Cobra GT500KR was a mid-year introduction, based on the 1968 Shelby GT500. Ford added 'Cobra' to the Shelby's moniker to help usher in the beginning of a new performance era at the company. The Cobra name referred to the new 428 Cobra Jet V-8 that was planted under the KR's custom fiberglass hood. It was the engine that would once again vault the Mustang to the head of the pack.
GT500 KR represented Mustang's evolution of Mustang from both Shelby's and Ford's standpoint. In 1967 Ford redesigned the Mustang to allow both big and small engines and by 1968 the 428 Police Interceptor FE big-block was on the option list. These Production R-code Mustangs featured front Super Cobra Jet Engines, disc brakes and a functional ram-air scoop which served as a good basis for the Shelby Mustang 500 KR.
Shelby's Mustang offered many improvements for a customer demanding a 'King of the Road' Cobra. A redesigned front end, hood and rear end, with 1967 Cougar tail lights, were manufactured out of fiber glass. While the fiberglass helped reduce the weight of these components, the 1967 body style was much larger and heavier than preceding models. As an example of how good Shelby-Ford relationship was, the car send to Shelby did not have hoods or front ends.
Interior appointments were very similar to the deluxe interiors delivered by Ford. Shelby only installed a functional roll bar and a wood-rimmed steering wheel.
Ford conservatively rated the 428 CJ at 335-horsepower, but in reality it made more than 400-horsepower and 440 pounds-feet of torque. The KR model was also equipped with a modified suspension and was offered both in fastback and convertible models. Ford dealers sold 1,570 GT500KR models in 1968, 1053 fastbacks and 517 convertibles.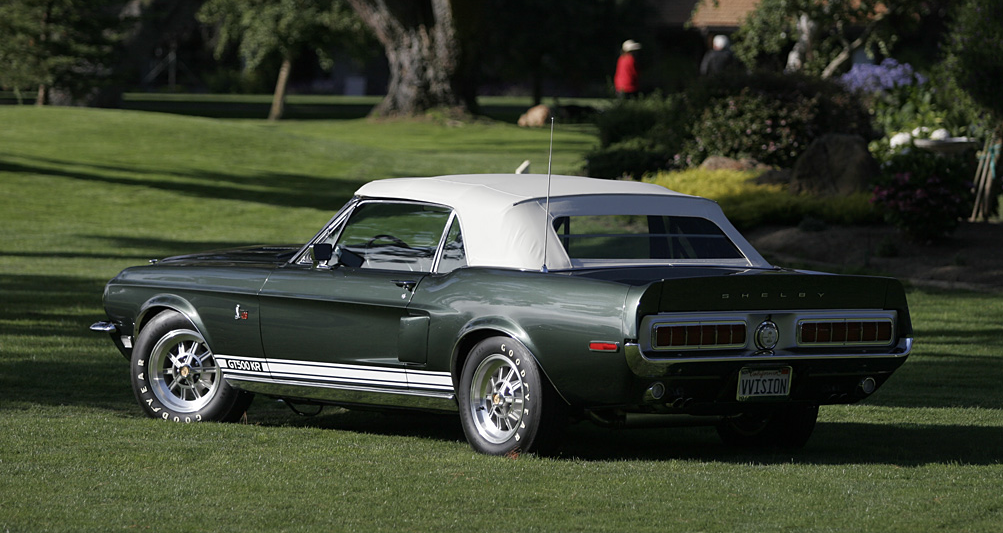 1968 Shelby GT500KR Convertible
In 1968 for the first time, handsome convertible variants of both the GT500 and GT500KR appeared. 318 Shelby GT500KR convertibles built in the 1968 model year. For passenger protection a padded roll-hoop was added just behind the seats which also acted as an attachment points for the seatbelt.
Production
GT500KR Fastback: 933
GT500KR Convertible: 318
Retail Prices
GT500KR Fastback: $4,472.57
GT500KR Convertible: $4,594.09
Specs & Performance
| | |
| --- | --- |
| type | Professionally Tuned Car |
| built at | Livonia, Michigan, USA |
| price $ | $ 4,594 |
| engine | Cobra Jet V8 |
| position | Front Longitudinal |
| aspiration | Natural |
| block material | Cast Iron |
| valvetrain | OHV |
| fuel feed | Single Holley 735CFM 4-Barrel Carburetor |
| displacement | 7014 cc / 428.0 in³ |
| bore | 104.9 mm / 4.13 in |
| stroke | 101.2 mm / 3.984 in |
| compression | 10.7:1 |
| power | 298.3 kw / 400 bhp |
| specific output | 57.03 bhp per litre |
| bhp/weight | 247.07 bhp per tonne |
| torque | 596.56 nm / 440.0 ft lbs @ 3400 rpm |
| body / frame | Unitary Steel Monocoque w/Fibreglass Hood, Nose and Tail |
| driven wheels | RWD w/Traction-Lok |
| wheel type | Cast Aluminum Alloy |
| front tires | F60-15 Goodyear |
| rear tires | F60-15 Goodyear |
| front brakes | Discs w/Power Assist |
| rear brakes | Drums w/Power Assist |
| front wheels | F 38.1 x 17.8 cm / 15 x 7 in |
| rear wheels | R 38.1 x 17.8 cm / 15 x 7 in |
| steering | Recirculating Ball w/Power Assist |
| f suspension | Wishbones w/Coil Springs, Tube Shocks, Anti-Roll Bar |
| r suspension | Live Axle w/Semi-Elliptic Springs, Tube Shocks |
| curb weight | 1619 kg / 3569 lbs |
| wheelbase | 2743 mm / 108.0 in |
| front track | 1476 mm / 58.1 in |
| rear track | 1476 mm / 58.1 in |
| length | 4663 mm / 183.6 in |
| width | 1801 mm / 70.9 in |
| height | 1316 mm / 51.8 in |
| transmission | Top Loader 4-Speed Manual |
| gear ratios | 2.32:1, 1.69:1, 1.21:1, 1.00:1 |
| final drive | 3.25:1 |
| top speed | ~212.39 kph / 132 mph |
| 0 – 60 mph | ~6.8 seconds |
| 0 – 100 mph | ~14.6 seconds |
| 0 – 1/4 mile | ~14.0 seconds |
| fuel capacity | 60.56 litres or 16 gal. |