As a child, many dreamed of one day sitting behind the wheel of their favorite performance vehicle, conquering curves, and dominating every straightaway. Nevertheless, for the vast majority of individuals, this dream falls by the wayside. Life happens, bills come due, and the purchase of a track-ready production car is simply not in the cards.
However, if you happened to have been at least 25 years of age in 1966, such a dream was not without merit, even if financial constraints proved to be a limiting factor. In a chance partnership, Shelby American and the Hertz Corporation devised a plan to provide motorists with the ability to hop into the driver seat of a special edition 1966 Shebly GT350, known formally as the Shelby Mustang GT350-H.
Rent-A-Racer
As specified by terms of this newly fortified partnership, the Hertz Corporation agreed to purchase 1,000 Shelby Mustang GT350 Fastbacks, which would carry the "H-series" designation. These Mustangs were to be available for rent to members of the Hertz Sports Car Club, who were 25 years of age or older. This promotion came to be known as the Hertz Rent-A-Racer Program.
To rent a 1966 Shelby Mustang GT350-H, Hertz clients were to pay $17 per day, plus an additional fee of 17-cents per mile. This was a phenomenal deal, even in the 1960s, and many performance-minded individuals were quick to take Hertz up on their offer.
During this era, Hertz sought to grow in its appeal and widen its client base. As such, the rental agency saw their partnership with Shelby as the perfect way to drive business, and gain a significant edge over its competitors.
Hertz set the stage for potential clients in their 1966 brochure, stating, "These cars are available to business travelers who want a change of pace in motoring, by sports car owners away from home and by vacationers who consider driving an enjoyable sport."
Of course, Shelby also benefited from their legendary partnership with Hertz. The immense popularity of the Rent-A-Racer program bolstered demand for the 1966 Shelby Mustang GT350, as interested consumers were effectively offered the chance at an "unsupervised" test drive of sorts. One could put the GT350-H through its paces and were able to experience its capabilities firsthand.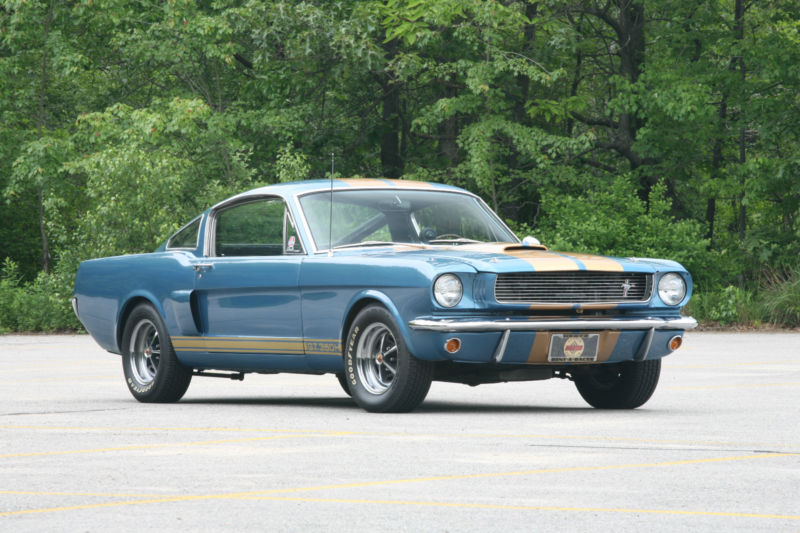 The Shelby GT350-H (Hertz)
Mechanically, Hertz issue GT350-H Mustangs were identical to those that could be purchased at one's local Ford dealership. The Shelby Mustang GT350-H featured a K-code, Cobra 289 High-Performance V8, which produced 306 HP, and 329 lb-ft of torque. The GT350-H posted 0-60 MPH times of 6.6 seconds and was capable of completing a ¼ mile pull in only 15.2 seconds.
The vast majority of Rent-A-Racer Shelby GT350-H Mustangs came equipped with automatic transmissions. However, a limited number of 4-speed models were placed into circulation as well. With the inclusion of a high-performance suspension package, the GT350-H provided much in the way of enjoyment for members of the Hertz Sports Car Club.
Cosmetically, most GT350-H Mustangs sported a black-and-gold paint scheme, though a limited number of Sapphire Blue, Candy Apple Red, Ivy Green, and even Wimbledon White were produced. These cars all featured rocker panel striping, that perfectly accented a G.T. 350 nameplate, which resided behind each front wheel-well.
Hertz purchased each of the GT350s used within their Rent-A-Racer program for a dealer cost of $3,447. At the conclusion of this program, the vast majority of remaining GT350-H Mustangs were released for sale at local dealerships, where they were purchased by consumers at a discounted rate. Today, the 1966 Shelby GT350-H is highly sought after by collectors, and regularly commands sale prices in excess of $100,000.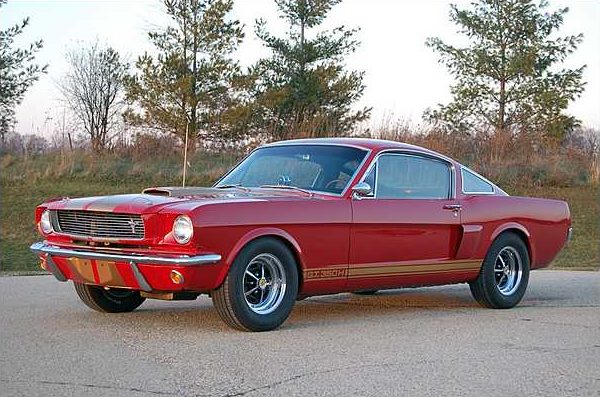 Rent-A-Racer Folklore
Part of the mystique surrounding Hertz's Rent-A-Racer program centers around numerous tales of the ruckus racing shenanigans that were pulled by renters. Several clients were thought to have taken their freshly rented GT350-H Mustangs to the track, where they competed in formal competition, before returning their rental to Hertz the following Monday.
These tales are largely fueled by the common knowledge that the Rent-A-Racer program was officially nixed on behalf of mounting vehicle repair costs. Numerous GT350-H rentals are rumored to have been totaled, or at least damaged to a significant degree, during the Rent-A-Racer program's tenure.
There were also at least a few reports of GT350-H rentals being returned with roll bars welded into them, which likely led to more than one curious glance by Hertz associates during their post-rental inspections. Reports of clutches having been burnt out were also apparently recorded throughout the Rent-A-Racer program's duration.
We will likely never know whether these stories were fact, half-truths, or complete works of fiction. However, one can not help but be intrigued by the recollection of these infamous tales, and the indelible legacy to which they add.
Rent-A-Racer Legacy
For those lucky enough to have taken advantage of Hertz's Rent-A-Racer program, a wealth of performance laced opportunity was presented. The 1966 Shelby Mustang GT350-H is now remembered as the car that enabled many a driver to live out a dream, which had previously lied just out of reach. Today, both the GT350-H, and Hertz's Rent-A-Racer program remain legendary in status, and highly symbolic of the era during which each came to fruition.
1966 Shelby Mustang GT350-H Specifications
| | |
| --- | --- |
| Engine | 289 CID Cobra V8 engine |
| Horsepower | 306 horsepower |
| Torque | 329 lb-ft of torque |
| 0-60 MPH | 6.6 seconds |
| Quarter Mile Time | 15.2 seconds |
| Top Speed | 117 mph |
| Cost Per Day | $17/ $134.72 with Inflation |
| Cost Per Mile | 17 cents/ $1.35 with Inflation |
| Production Numbers | 1002 |
Available Exterior Colors
The 1966 GT350 H was primarily manufactured with a black and gold color scheme. However, a limited number of Saphire Blue, Candyapple Red, Ivy Green, and even Wimbledon White were produced. No records are known to exist, in regards to exact production numbers by color.
1966 Shelby Mustang Video
We found a great video about the '66 GT350H  Shelby which we have embedded below.
1966 Ford Shelby Mustang GT350-H Review