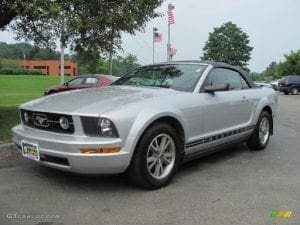 The upcoming redesign of the 2015 Ford Mustang has me asking the question, will Ford phase out the Compact Disc player or will they stick with old technology?  I only ask this question because with all the features offered by Ford's SYNC technology why would Ford want to waste space, weight and money on a CD unit most of us don't use anyway.
The SYNC system offers an array of features in the entertainment department including Voice-activated radio tuning, Bluetooh audio streaming, Satellite Radio, SD and USB  connectivity and hard drive storage.  With so many ways to connect portable music devices to your Mustang why would anyone have a need for CD's.
Compact Disc players first appeared in the Mustang  in the 1993 model as a Premium Sound option.  Most Mustang enthusiasts think the redesigned 1994 Mustang was the first to receive a compact disc player but thats not the truth.  For some reason Ford decided to add a CD player option for the 1993 Mustang and although rare I have seen a few in good working order.  For the 1994 Mustang you could get both a cassette player and CD player with the upgraded Mach 460 audio system.  It was odd sight to see both a cassette player and CD player in the center console but it was a sign of the times as the CD was becoming mainstream and the cassette was dying off.
How would you feel if Ford phased out the CD player in the 2015 Mustang, let me know in the comments.