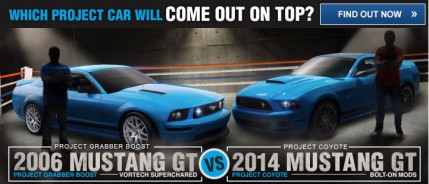 American Muscle's Project Coyote and Project Grabber Boost square off in the final round of head to head racing to see who comes out on top. Will bolt-on performance mods on Project Coyote have enough to overpower the Vortech supercharger from Project Grabber Boost? Keep reading to find out which vehicle has what it takes to lead their team to victory.
The 2014 Project Coyote Mustang GT with its bolt-on performance mods put down 414 horsepower on American Muscle's dyno. Sticking to the plan the 2006 Project Grabber Boost received a Vortech centrifugal supercharger pushing between 8-10 psi of boost which was good for 463 horsepower.
For the final showdown at the track both vehicles will go head-to-head in three races.
Run #1: The first track run saw the '06 GT spin tires a bit more than the team would have liked—they posted a mediocre 12.32 @ 115.45 MPH. Project Coyote was able to hook quite well coming out of the hole and bested the 06 GT with a time of 11.97 @ 114.93 MPH. The first run went to Project Coyote.
Run #2: Run number two went terrible for Project Coyote. After losing the jump to Grabber Boost, a spun axle tube blew out the driver's side tire and sent the 2014 GT headed towards the wall, only to be saved by some split second heroics behind the wheel. With Project Coyote unable to finish and essentially out of commission, the second run went to Grabber Boost.
With a 1-1 tie, the best way to settle the score was to have Grabber Boost take its 3rd run and see if it could top Project Coyote's original time of 11.97.
Run #3: Grabber Boost hooked brilliantly and blasted down Cecil County Dragway with a solid run of 11.69 @ 119.30 MPH, topping project Coyote's original time and also setting the day's highest MPH. Both cars will be back for a rematch, but for this competition, Grabber Boost certainly won the day.
In the end the power of Project Grabber Boost was to much for Project Coyote to handle as the power adder prevailed. Check below for the drag times.
Final Track Times
– 2006 GT – Grabber Boost
¼ Mile Run 1: 12.32 seconds @ 115.45 MPH
¼ Mile Run 2: N/a

¼ Mile Run 3: 11.69 seconds @ 119.30 MPH
– 2014 GT – Project Coyote
¼ Mile Run 1: 11.97 @ 114.93 MPH
¼ Mile Run 2: N/a – blown tire due to spun axle tube
¼ Mile Run 3: N/a
For more check out AmericanMuscle.com