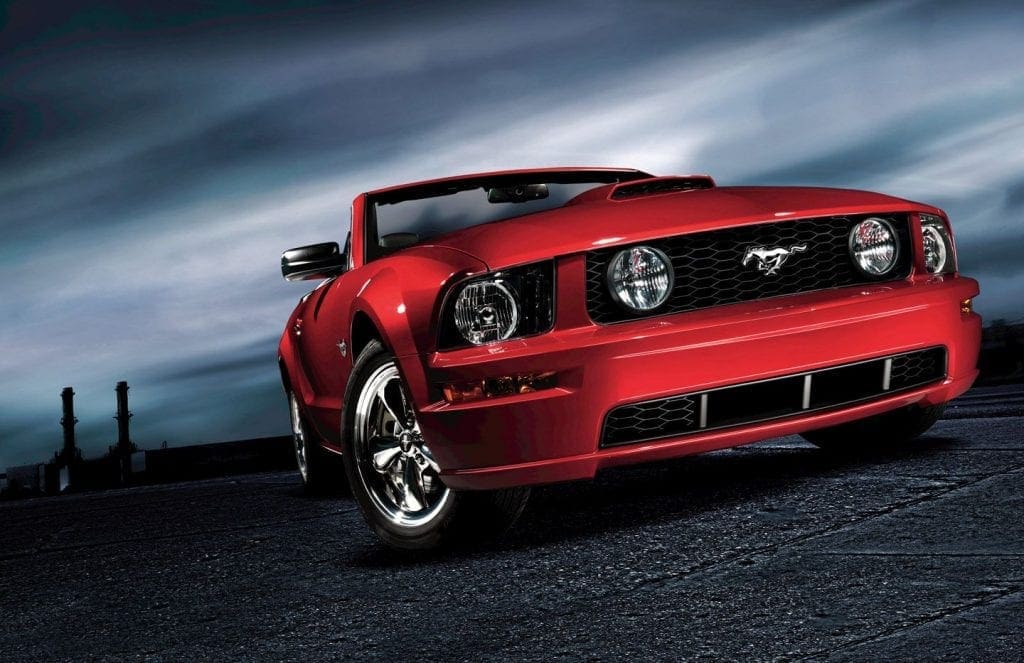 Ford has a unique history of building and auctioning off custom one-of-a-kind aviation themed Ford Mustangs for the EAA AirVenture.  This year will be the sixth time Ford has built a one-off Mustang to auction for charity which benefits the EAA Young Eagles program.  Over the past five years Ford has raised over $1.8 million through the Gathering of Eagles charity auction event.
This time around Ford is paying tribute to the 60th anniversary of the U.S. Air Force Thunderbirds by building a special edition 2014 Mustang GT complete with wide body panels, custom paint, 22-inch wheels, Brembo brakes and a host of Ford Racing goodies.
Previous aviation themed Mustangs included the Red Tails 2013 Mustang GT,  F-18 inspired 'Blue Angels' Mustang, SR-71 'Blackbird' Mustang, AV-x10 'Dearborn Doll' Mustang and the Ford AV8R Mustang.
For more details and photos of the USAF Thunderbirds Mustang check below.
Press Release:
The engineering and design teams at Ford Motor Company have produced a unique U.S. Air Force Thunderbirds Edition 2014 Ford Mustang GT. This car will be donated by Ford to be sold at the Gathering of Eagles charity event on Thursday, Aug. 1 during the Experimental Aircraft Association (EAA) AirVenture Oshkosh 2013 – the World's Greatest Aviation Celebration.
All proceeds from the car donation and sale will benefit the EAA Young Eagles program, which has provided free introductory flights to more than 1.6 million young people since 1992, helping inspire and motivate the next generation of leaders, aviators and innovators.
Ford is the exclusive automotive sponsor of EAA AirVenture Oshkosh, held July 29 through Aug. 4 at Wittman Regional Airport in Oshkosh, Wis.
"The dedication and excellence displayed by the United States Air Force Thunderbirds are qualities we also celebrate at Ford," said Edsel B. Ford II, a member of the Ford board of directors. "With this year's beautiful U.S. Air Force Thunderbirds Edition Mustang, we've captured the recognizable symbols of their stature and paired it with the innovation our Ford design and engineering teams build into all of our products.
"Through this project," Ford added, "we take great pride in continuing our support for EAA and the Young Eagles organization."
This unique U.S. Air Force Thunderbirds Ford Mustang GT celebrates and commemorates the 60th anniversary of the U.S. Air Force Thunderbirds, the fastest, multi-jet flight demonstration team in the world. Thunderbirds fly the F-16 Falcon, known for its glossy red, white and blue paint scheme.
This one-of-a-kind car is VIN 0001. The design of the modified 2014 Mustang GT 5.0-liter glass-roof coupe exudes a creative connection to the Thunderbirds, with a contemporary flair for the serious collector.
The exterior will showcase a custom brilliant white paint with red and blue accents, as well as markings and logos, tying it to the Thunderbirds' F-16 Falcon aircraft. The unique treatment includes wide body modifications and a handcrafted and painted "belly pan" that emulates the F-16 Thunderbird appearance. TS Designs handcrafted the front and rear wide body elements, Creations n' Chrome crafted the unique belly pan – plus applied the paint and markings – and Forgiato created custom 22-inch wheels to further differentiate this Mustang from anything else on the road.
Unique interior details of the U.S. Air Force Thunderbirds Edition Ford Mustang GT include a modified navigation screen, instrument cluster and rear seat-delete. The car's Recaro® seats include embroidered Thunderbirds elements. Additional features include unique sill plates and puddle lamps that project the aircraft silhouette when the doors open.
Ford Racing components will boost the performance to an extraordinary level. With the addition of a Ford Racing supercharger, suspension handling pack and Brembo® brakes, the U.S. Air Force Thunderbirds Edition Mustang will exude class, power and performance.
Ford Design Manager Melvin Betancourt and Mustang Chief Nameplate Engineer Dave Pericak led the design and engineering teams that developed the U.S. Air Force Thunderbirds Edition Mustang GT.
The Young Eagles auction is part of the EAA Gathering of Eagles gala. The Gathering of Eagles annually draws more than 1,000 aviation enthusiasts in support of Young Eagles and other EAA programs that inspire young people to become engineers, aviators, astronauts, scientists and innovators – the aviation pioneers of tomorrow.
"Ford is a longtime, committed sponsor of EAA and AirVenture, bringing value to those who make Oshkosh the pinnacle of their aviation year," said Jack Pelton, EAA Chairman. "These specialty vehicles reflect the depth of Ford's commitment and allow EAA to provide support to its valuable programs and dedicated members in helping us grow the next generation of aviators."
The U.S. Air Force Thunderbirds Edition joins five other one-of-a-kind Mustangs created by the Ford design and engineering teams for the EAA Young Eagles auction in recent years, each generating excitement among aviation and automotive enthusiasts alike. Ford vehicles sold at auction during past EAA AirVenture events have collectively raised nearly $1.9 million to support Young Eagles.
The unique vehicles produced by Ford in support of EAA Young Eagles include the Mustang AV8R, with cues from the F-22 "Raptor," which in 2008 helped introduce the glass-roof canopy and delivered a record auction contribution of $500,000. In 2009 Ford's AV-X10 "Dearborn Doll" Mustang was crafted in honor of World War II aircraft. In 2010 two automotive icons – the late Carroll Shelby, a former U.S. Air Force flight instructor, and Jack Roush, longtime P-51 pilot – collaborated for the first time to create the SR-71 "Blackbird" Mustang inspired by the legendary reconnaissance jet. The "Blue Angels" Mustang in 2011 celebrated 100 years of United States naval aviation, and last year's "Red Tails" Mustang paid homage to the Tuskegee Airmen, the courageous squadron of P-51 Mustang pilots who were the United States' first African American military airmen.
During EAA AirVenture, Ford will offer attendees access to the latest advances in automobile technology and feature exciting attractions and fan favorites at the Ford Hangar on the grounds of Wittman Regional Airport. Ford activities include top-tier entertainment and interactive components that will add excitement for the hundreds of thousands of aviation fans in attendance.
To participate in the auction, candidates must prequalify by contacting the EAA development office at 800.236.1025 or [email protected].
Sponsors supporting the build of the U.S. Air Force Thunderbirds Edition Mustang include Creations n' Chrome, TS Designs, Ford Racing Performance Parts, Forgiato and Brembo Brakes.