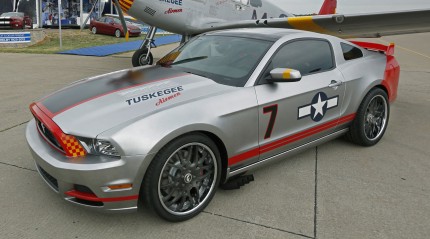 Ford Motor Company and the EAA AirVenture have partnered again for another aviation themed Mustang and this time they are honoring the legacy of the Tuskegee Airmen with a one-of-a-kind 2013 'Red Tails' Mustang.  Previous aviation themed Mustangs included the F-18 inspired 'Blue Angels' Mustang, SR-71 'Blackbird' Mustang, AV-x10 'Dearborn Doll' Mustang and the Ford AV8R Mustang which have raised more than $1.5 million over the past four years.
This One-of-a-kind 'Red Tails' 2013 Ford Mustang design was inspired by the World War II squadron of African American P-51 Mustang fighter pilots who proudly served our country.
The Red Tails Mustang will be sold at auction on July 26 at the EAA AirVenture in Oshkosh, Wisconsin to benefit the EAA Young Eagles organization, which has provided free introductory flights to more than 1.6 million young people since 1992, helping inspire and motivate the next generation of leaders, aviators and innovators.
Ford is the exclusive automotive partner of EAA AirVenture Oshkosh, held July 23-29 at Wittman Regional Airport in Oshkosh, Wis.
"The perseverance and excellence displayed by the Tuskegee Airmen are qualities we also celebrate at Ford," said Edsel B. Ford II, a member of Ford's board of directors. "With this year's beautiful 'Red Tails' edition Mustang, we've captured the recognizable symbols in honor of their important role in our history, and paired it with the innovation our Ford design and engineering teams build into all of our products.
"Through this project," Ford added, "we take great pride in continuing our support for EAA and the Young Eagles organization."
The Ford "Red Tails" Mustang GT celebrates and commemorates the contributions of the Tuskegee Airmen, comprised of the 332nd Fighter Group and the 477th Bombardment Group, during World War II. This courageous squadron of P-51 Mustang pilots was the United States' first African American military airmen. Known for the red tails of their planes, the Tuskegee Airmen saw combat in more than 1,500 missions in World War II.
This one-of-a-kind car is secured under VIN 00051 in honor of the P-51 Mustang planes flown by the Tuskegee Airmen. The design of the modified 2013 Mustang GT 5.0-liter glass-roof coupe will unify the creative connection of the World War II fighters with a contemporary flair for the serious collector.
The exterior will showcase a unique polished aluminum nonproduction finish paint, accented with Race Red and School Bus Yellow, consistent with the P-51 fighter plane's red tail cues and the logos and markings of the United States Army Air Corps, 332nd Fighter Group and Squadrons.
Unique interior details of this "Red Tails" Mustang include a modified navigation screen, instrument cluster and rear seat-delete. The car's Recaro seats will include the embroidered "Red Tails" logo and floor mats embroidered with the 332nd Fighter Group logo. Additional features include a "Red Tails" script in the illuminated sill plates and puddle lamps that project "Red Tails" imagery when the doors open.
With a Ford Racing 2.3-liter twin-screw Whipple supercharger, handling pack, unique side exhaust, performance quad exhaust from SVT, Forgiato 20-inch aftermarket wheels, GT500 Brembo brakes and rear diffuser, the "Red Tails" Mustang will exude power and performance.
Mustang Chief Designer Darrell Behmer, Design Manager Melvin Betancourt and Chief Nameplate Engineer Dave Pericak led the design and engineering teams that developed the "Red Tails" Mustang.
The Young Eagles Auction is part of the EAA Gathering of Eagles at the EAA AirVenture Museum. The Gathering of Eagles annually draws more than 1,000 aviation enthusiasts in support of Young Eagles and other EAA programs that inspire young people to become engineers, aviators, astronauts, scientists and innovators – the aviation pioneers of tomorrow.
"Ford is a longtime, committed partner of EAA and AirVenture, bringing value to those who make Oshkosh the pinnacle of their aviation year," said Rod Hightower, EAA president and CEO. "These specialty vehicles allow EAA to provide support to its valuable programs and dedicated members in helping us grow the next generation of aviators."
The "Red Tails" edition joins four other one-of-a-kind Mustangs created by the Ford design and engineering teams for the EAA Young Eagles Auction in recent years, each generating excitement among aviation and automotive enthusiasts alike. Ford vehicles sold at auction during past EAA AirVenture events have collectively raised more than $1.5 million to support Young Eagles.
Other unique vehicles produced by Ford in support of EAA Young Eagles include the Mustang AV8R, with cues from the F-22 "Raptor," which in 2008 helped introduce the glass-roof canopy and delivered a record auction contribution of $500,000. In 2009, Ford's AV-X10 "Dearborn Doll" Mustang was crafted in honor of World War II aircraft. In 2010, two automotive icons – the late Carroll Shelby, a former U.S. Air Force flight instructor, and Jack Roush, longtime P-51 pilot – collaborated for the first time to create the SR-71 "Blackbird" Mustang inspired by the legendary reconnaissance jet. Last year's "Blue Angels" Mustang celebrated 100 years of United States naval aviation.
During EAA AirVenture, Ford will offer attendees access to the latest advances in automobile technology at the Ford Hangar, as well as many of the industry's most revered classics at the popular Cruisin' Legends area on the grounds of Wittman Regional Airport. Ford activities include top-tier entertainment and interactive components that will add excitement for the hundreds of thousands of aviation fans in attendance.
Sponsors supporting the build of the "Red Tails" edition Mustang include 3dCarbon, Creations n' Chrome, Ford Racing, Forgiato, Kay Graphics, Roush Performance Products and Takata.
To stay connected to all Ford EAA AirVenture news, connect with the Ford EAA AirVenture team on Twitter at http://www.twitter.com/FordAirventure or visit http://www.FordAirventure.com.