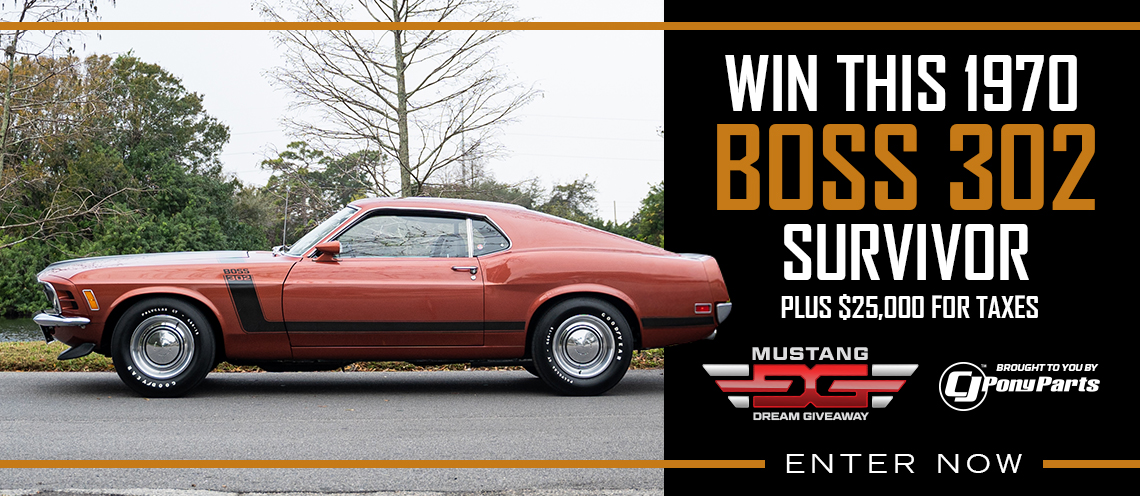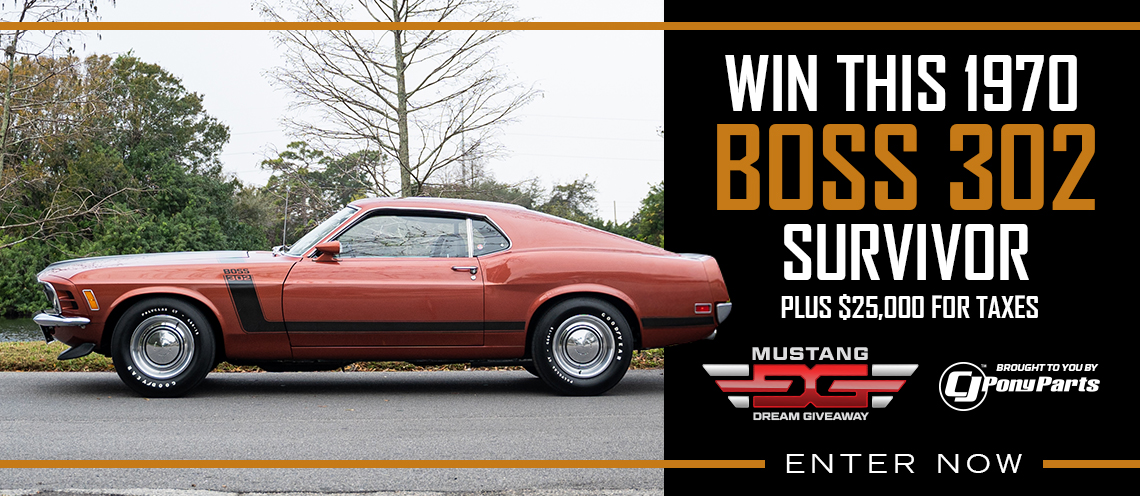 There's just something about a classic 1970 Mustang that stirs the soul, no? The long hood, the low cabin, the fastback sloping down—it's an icon of American muscle for a reason, not the least of which is its looks. Yet, as classic as the pony car was, there were a few special editions that stirred more than just the soul and were built for the battlefields between traffic lights on Detroit's back streets. They had names such as Mach 1, GT350, GT500, Sidewinder… and Boss.
So how would you like the chance to win a fully restored, one-of-a-kind 1970 Ford Mustang Boss 302? We saw almost every head in the room perk up at that, so read on to find out just what we're talking about.
Dream Giveaway, a 501(c) non-profit that works with multiple kids and veterans charities, is raffling off a 1970 Boss 302 as part of their annual charity drive. However, for 2022, they have managed to acquire quite possibly the rarest Boss 302 in existence—and instead of keeping it as a show car or putting it in a museum, for as little as a $3 for 1 ticket purchase, it will be going to someone's garage to be properly loved by a Mustang enthusiast!
Oh, and just for kicks, they'll also toss in $25,000 to cover the taxes for declaring your winnings to the IRS. Nice!
A Truly One-of-a-Kind Boss 302
In 1970, Ford Motor Company produced a grand total of 190,727 Mustangs. Of those, 7,014 were Boss 302s. We're already down to just 3.6% of all Mustangs from 1970, but this Boss 302 was the only one that came in Burnt Orange Poly paint. The reason? The paint was a 1969 Lincoln car paint option and was not officially on the Mustang's paint options sheet.
In fact, as the purchaser was a Ford dealership employee, he had to submit the request over and over until Ford finally relented. Luckily for us enthusiasts, this Ford dealership employee was as enthusiastic about his car as you and I are about Mustangs in general, and he never sold it.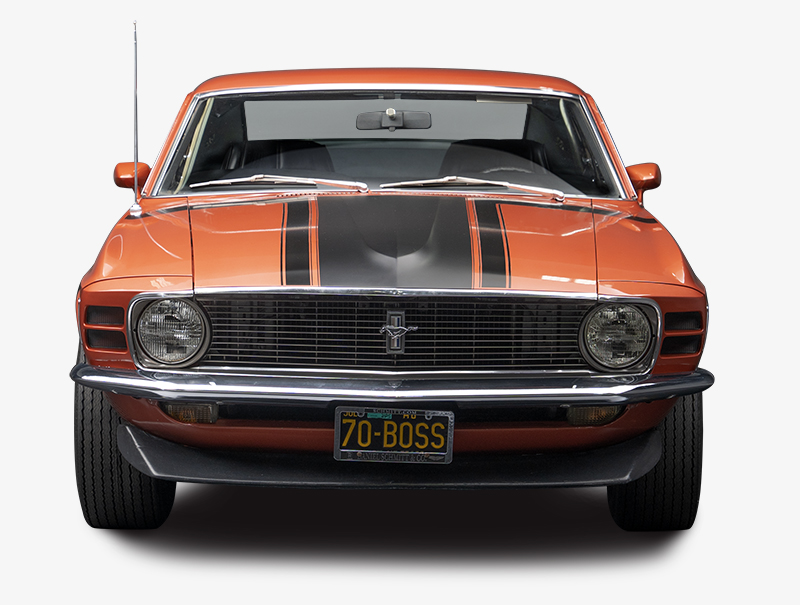 One owner. 59,000 original miles. The 1970 Boss 302, with a one-of-one color scheme. You can see what we're getting at here!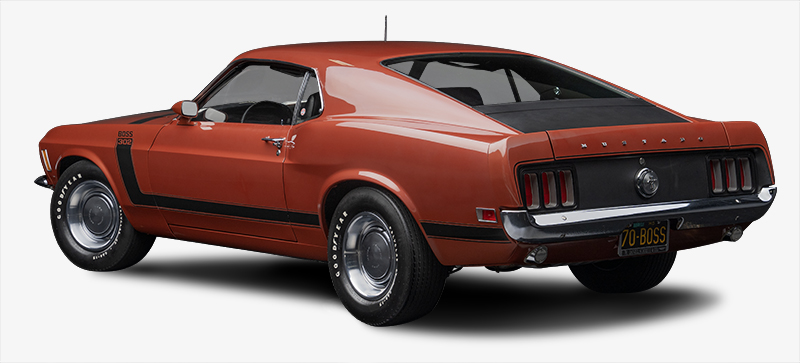 This Boss 302 was officially VIN stamped on November 14, 1969 and was delivered to the employee at Costello Kunze Ford in Jennings, Missouri, shortly afterward. Of course, being a dealership guy, the original owner checked all the right options boxes.
Total retail value? $4,124.05. To compare, a standard Boss 302 at the time retailed for around $3,720, so this car had some premium options.
The Rundown
The biggest thing about this Boss 302 was the paint, which the owner paid a staggering $94.60 for—over $700 today. It was the only car, not just in 1970, but of all Boss 302s, to have Burnt Orange Poly as its paint color. That alone makes this a priceless Mustang, but believe us, we're just getting started on a heavenly options list.
Our heroic employee then put a big check mark beside the Traction-Lok option for the rear differential, which is not all that uncommon among the performance Mustangs. What is uncommon is that he also selected the 3.91 ratios for the gears, giving this little pony some serious legs.
Also ordered were three big luxury options for the interior. Combining a console ($54), an AM radio ($61), and the Decor group leather option ($78), this car not only looked good but was also a comfortable ride for those nights when you just wanted to get out and drive.
Of course, sometimes you'd need to leave a Camaro or a Challenger eating some tail lights, so our man-with-the-plan also splurged for the $10 racing mirrors!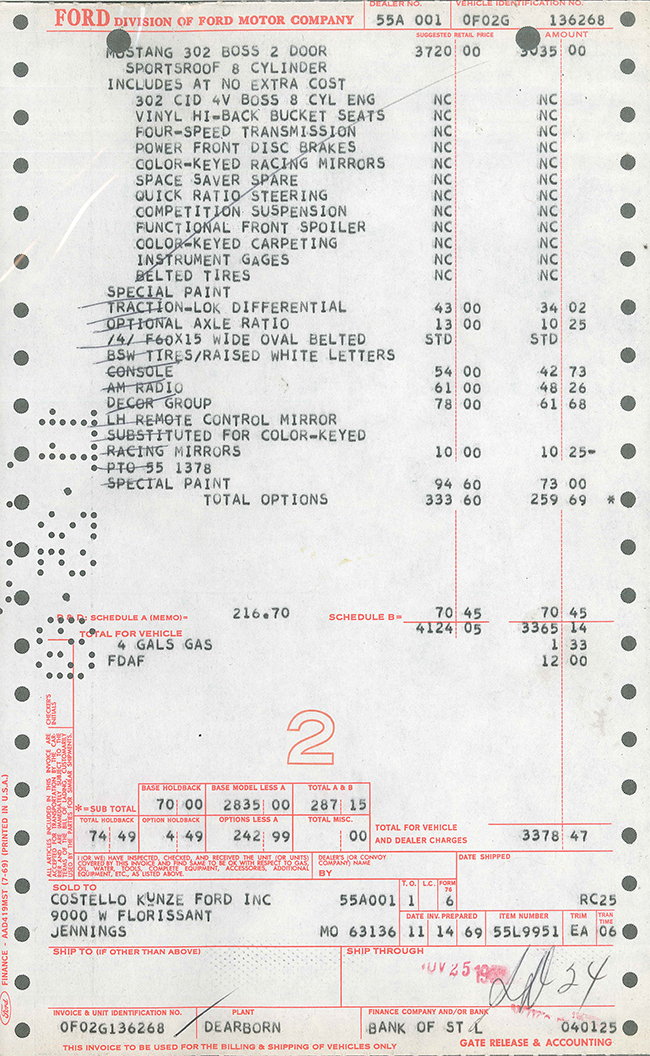 Of course, being a performance car, you can't talk about a Boss 302 without talking about the engine: a 302 ci with solid-lifter overhead valves, 8 cylinders in the proper V formation, 290 horses to the rear wheels, and some loud noises coming out of the exhaust ports.
This particular car also has the four-speed manual transmission with a Hurst shifter, which was the de-facto best transmission for performance-oriented Mustangs at the time. Of course, the engine and transmission are matching number original units as well!
Yet, as any true collector knows, there is something far more valuable than matching numbers, a one-off color, or the premium and lovingly cared-for interior. That, my friends, is documentation.
The Papers
Because our intrepid owner was a Ford dealership employee, he knew the value from the outset of keeping everything on paper that spoke about the car safe. So not only do you have the chance to win a one-of-one Boss 302, you will also get every bit of documentation for it as well.
Service records. Registrations. Original order options sheets. The old-style pink slips. The original manual. Every service it had. Even the original wallet-style key fob! It's all there, it's all included, and it's all been verified by Ford as 100% authentic.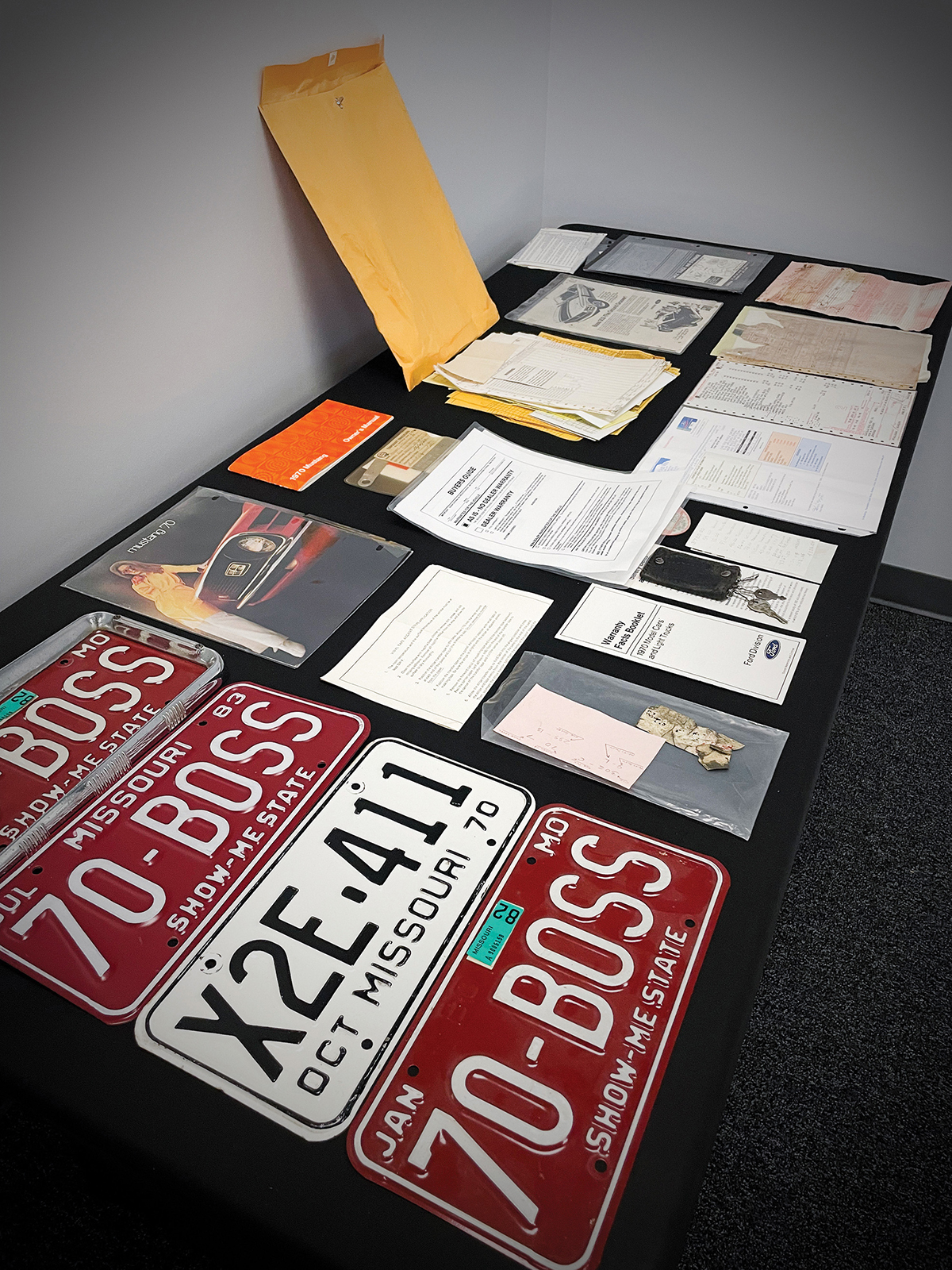 As you can see in the picture above, it really is everything you need for this car. So not only do you get a one-of-one car, you get the original license plate, the vanity plates, the full folio of all the services it's ever had, the original order sheet, and even the pink slips. This is an extremely special Boss 302 that truly speaks to the collector in all of us.
This is the kind of car that would be out of reach for most of us, because it would go through a classic car auction and be bid well into the tens of thousands, if not hundreds of thousands of dollars. Yet, we, the enthusiasts, get a chance to win it by supporting veterans and kids through charity.
Of course, we know the question you've had on the tips of your tongues for a while now, so let's answer it!
What Charities Are Supported & How Do I Enter?
Charities
The Dream Giveaway raffle for 2022 is supporting New Beginning Childen's Homes, a charitable organization that, networks with other accredited and verified charities to make sure no child in the United States is left behind. Through NBCH, ticket purchases give funds and support to charities including Florida's 4Kids program, the National Guard Educational Foundation, Smile International, and Victory Junction.
Your ticket purchase will also support Honor Flight, which allows military veterans with medical and/or honorable discharges to visit Washington DC free of charge to visit the memorials located there honoring their service and sacrifice. Since 2019, this charity, when able, has also taken those veterans on short trips to Virginia to visit the Tomb of the Unknown Soldier, where they can pay their respects to their fallen brothers and sisters.
How to Enter
As you've probably seen on a couple of other pages on MustangSpecs by now, you enter by clicking the banner below—but we've managed to get you a special deal with Dream Giveaway!
By clicking on the banner, you will automatically get a promo code from MustangSpecs applied to your purchase of tickets, starting at the $25 for 20 level, that instantly gives you 50% more tickets for the same price.
Basically, this means a $25 for 20 ticket purchase instantly becomes $25 for 30 tickets!
If that wasn't enough to have you clicking through already, consider the fact that Dream Giveaway, as a 501(c) non-profit, working in the charity sector, means that your purchase is fully tax-deductible. In fact, the confirmation email for your ticket purchases even includes a receipt for you to claim the donation on your taxes!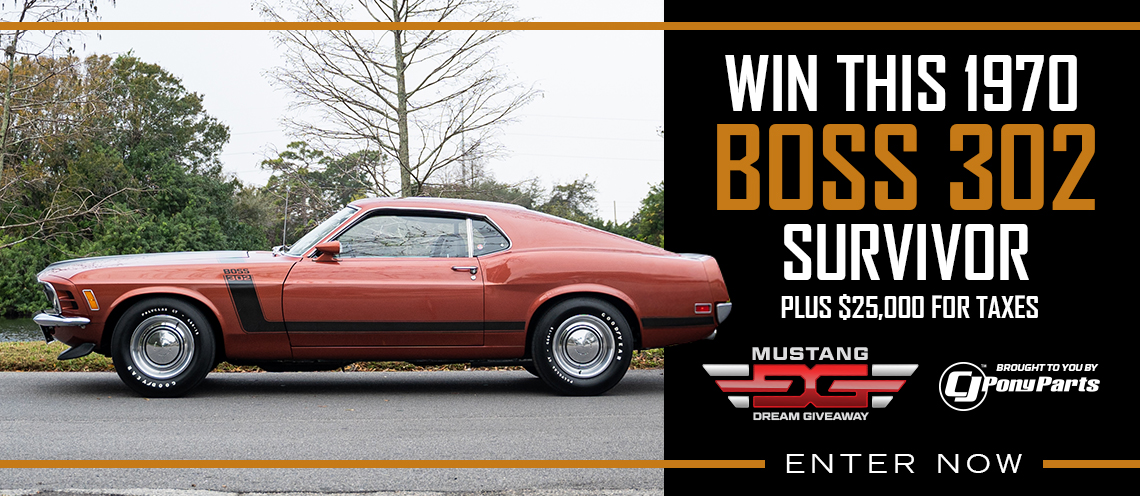 This is a win-win-win scenario. You get a chance to win a one-of-a-kind 1970 Boss 302 with all the right options. You get to write your entry off on your taxes. And of course, you support veterans and kids through your entry via charities like 4Kids, The National Guard Educational Foundation, Smile International, Victory Junction, and Honor Flight.