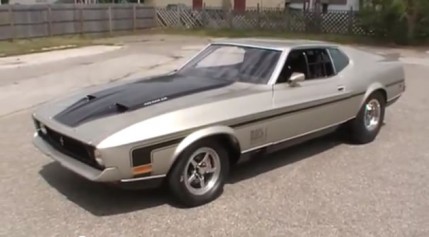 It was not long ago that 500 horsepower was a bench mark for street cars and some drag cars but these days its merely the stock horsepower for production cars including the Shelby GT500 and the ZL1 Camaro.  So when I first read about a 3000 horsepower Mustang Mach 1 I quickly laughed it off as a joke but as my curiosity got the best of me I realized this Mustang was for real.
So who's behind this beast of a Mustang, none other than the amazing engine builders at Steve Morris Engines who built this car for a customer in Kansas.  They started with a 1970's Mustang Mach 1 and added a 572 cubic inch V8 engine and a pair of 88mm billet Bullseye turbochargers. The displacement is an unheard of 9.4-liters.  Before the engine made its way into the car it was hooked up to a dyno where it pumped out 3,040 horsepower and 2,411 pound feet of torque at 7300 rpm's.  Although the engine produces 3,000 horsepower on the dyno it will probably put down low to middle 2K horsepower numbers at the wheels which is still impressive.
Among the other features on this Mustang include a set of twin parachutes, roll cage, intercooler, ice tank and suspension and fab work by Clocks Off Racing.  Check out a few videos of the Mustang Mach 1 below.