Ford's 5.0L Coyote V8 platform has garnered more attention than perhaps any other of the company's powerplants in the modern era. Known for producing muscle car-esque power, the 5.0L Coyote is a beast all its own, currently serving as the backbone of Ford's performance stable.
Initially released in 2011, the 5.0L Coyote V8 has aged like fine wine, improving in almost every facet of design to a noticeable degree over its decade-plus production run. Upon entering 2023 production, the 5.0L Ti-VCT V8 was employed as Ford's asset of choice, when attempting to send the sixth-generation Mustang off in style. With 460 horsepower and 420 lb/ft of torque on tap, few could argue against the merits of this decision.
5.0L Ti-VCT V8 Engine History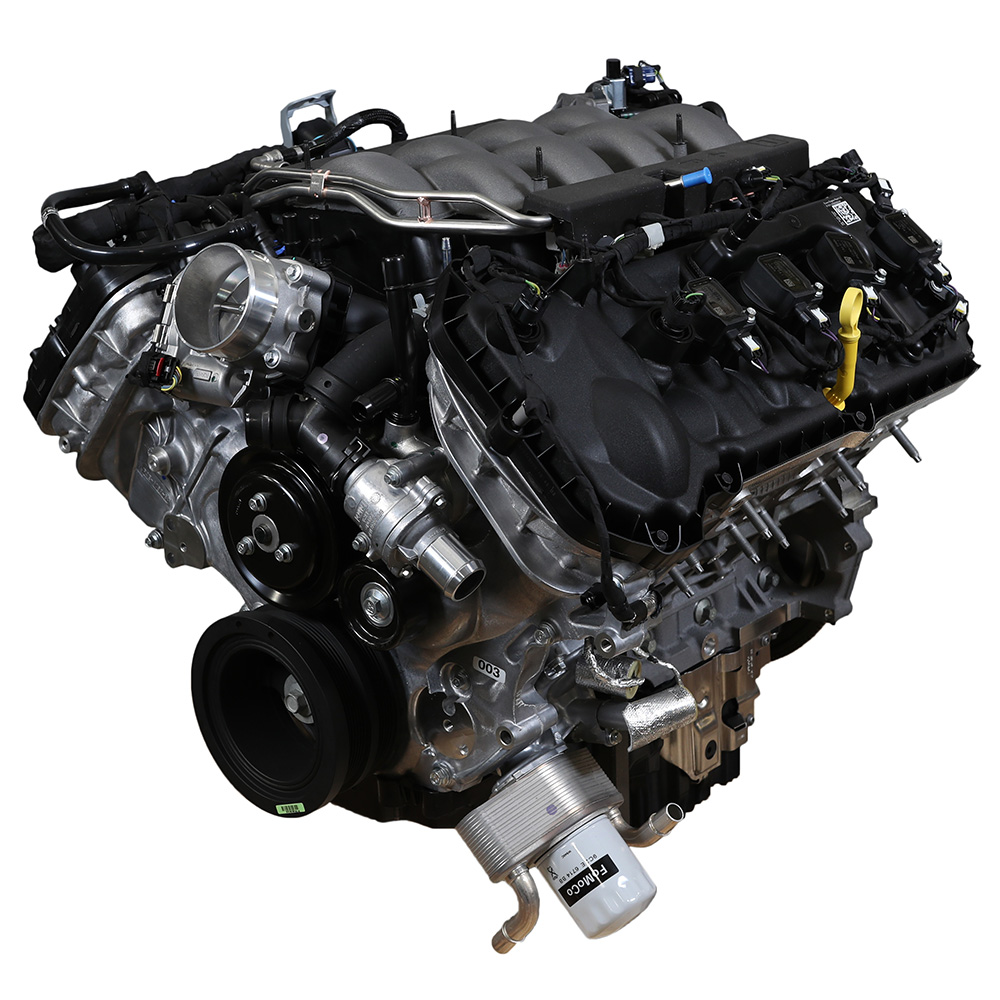 Via Ford Performance
To date, Ford has quite the history of issuing engines of a modular design. In fact, this has now served as standard practice for the manufacturer for more than three decades, beginning with Ford's introduction of the 4.6L V8 prior to the 1991 model year. This "modular" approach to engine design and development allows for much quicker conversion from the production of one engine to the next, while simultaneously reducing production costs.
The 5.0L Coyote V8 was much a design of necessity, aimed specifically at allowing the Mustang to compete with GM's new 6.2L LS3. The 5.0L Coyote V8 proved far more advanced than Ford's prior modular conceptions, debuting an array of new technology, including Twin Independent Variable Cam Timing. The implementation of this technology made PCM-controlled timing actuation possible, aiding combustion efficiency as a whole.
The 5.0L Ti-VCT V8 has since undergone several subsequent generational revisions, each of which being aimed at increasing overall output, while simultaneously ensuring government compliance and sustainability well into the future. Some of the most noteworthy of these revisions included the addition of high-pressure direct-port fuel injection, larger intake/exhaust valves, and revised camshafts.
5.0L Ti-VCT V8 Specifications and Technical Configurations
The 5.0L Ti-VCT "Coyote" V8 features an all-aluminum engine block, utilizing Ford's latest Plasma Transfer Wire Arc technology. Housed within this block is a forged steel crankshaft, complete with 4-bolt mains. Affixed to this crankshaft are sinter-forged, I-beam connecting rods, measuring 5.933″ in length, topped with hypereutectic cast aluminum alloy pistons.
The third-generation, 5.0L Coyote V8 features cylinder bores measuring 3.660″ in diameter, and a defined stroke of 3.650″, achieving a total displacement of approximately 302 cubic inches. The third-generation "Coyote" also utilizes an increased compression ratio of 12.0:1.
Affixed to this block are two cast aluminum cylinder heads, designed to breathe as freely as possible. These heads feature solid stem steel valves measuring 1.484″ (intake), and 1.259″ (exhaust), respectively. These valves are actuated by third-generation specific camshafts, featuring a defined valve duration of 260°(intake)/263°(exhaust), and a valve lift of 0.551, both intake and exhaust.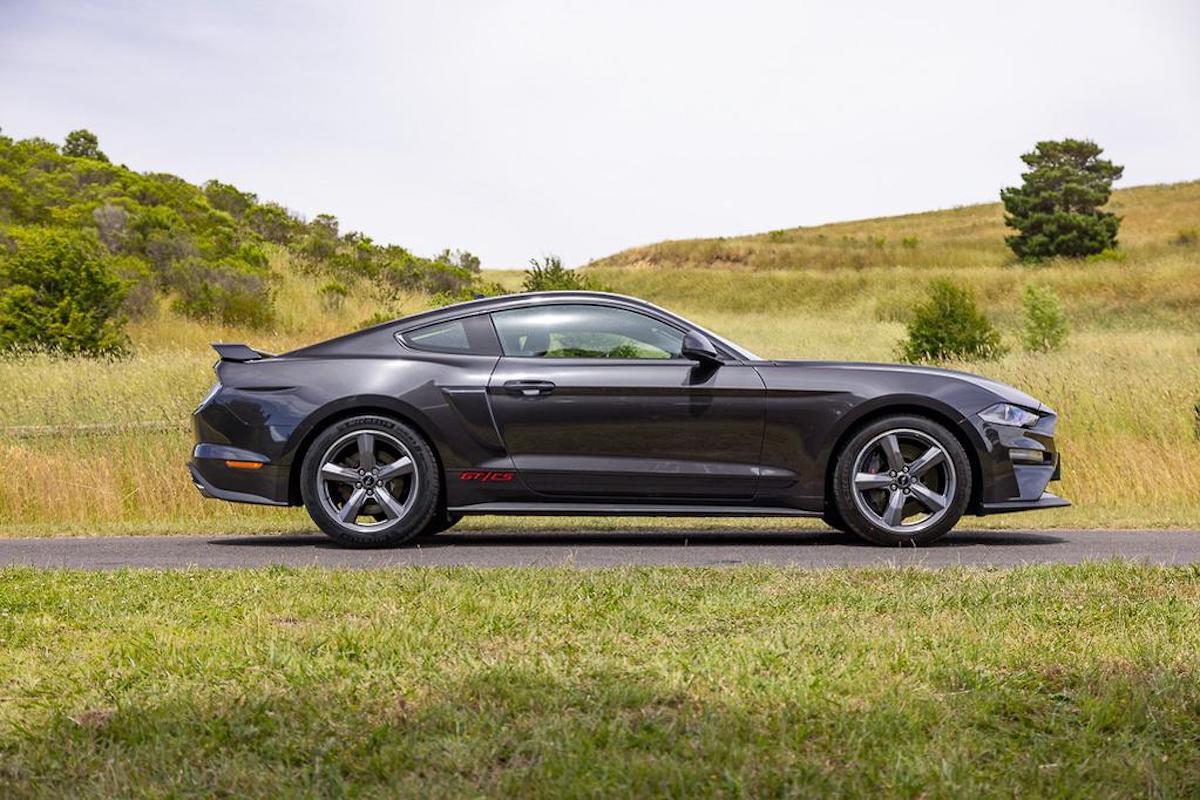 The 5.0L Coyote V8 breathes through a high-flow composite intake manifold, equipped with an unobstructed 80mm throttle body. Fuel delivery is derived in two distinct manners, including both port and direct fuel injection, the sum of which allows combustion efficiency to be sustained across a broad range of operating conditions and demands.
Cumulatively, the implementation of this technology yields more than respectable performance numbers. The 2023 5.0L Ti-VCT V8 achieves a maximum output of 460 horsepower at 7,000 RPM and 420 lb.-ft of torque at 4,600 RPM. At the end of the day, the 5.0L Coyote V8 propels the 2023 Mustang to a top speed of 168 MPH and 0-60 MPH times of just 4.5 seconds.
5.0L Ti-VCT V8 Specs Index
Horsepower: 460 hp @ 7,000 rpm (Gen-3)
Torque: 420 lb.-ft @ 4,600 rpm (Gen-3)
Compression Ratio: 12.0:1 (Gen 3)
Displacement: 302CI (5.0L)
Cylinder Bore: 3.66″ (93mm)
Stroke: 3.65″ (92.7mm)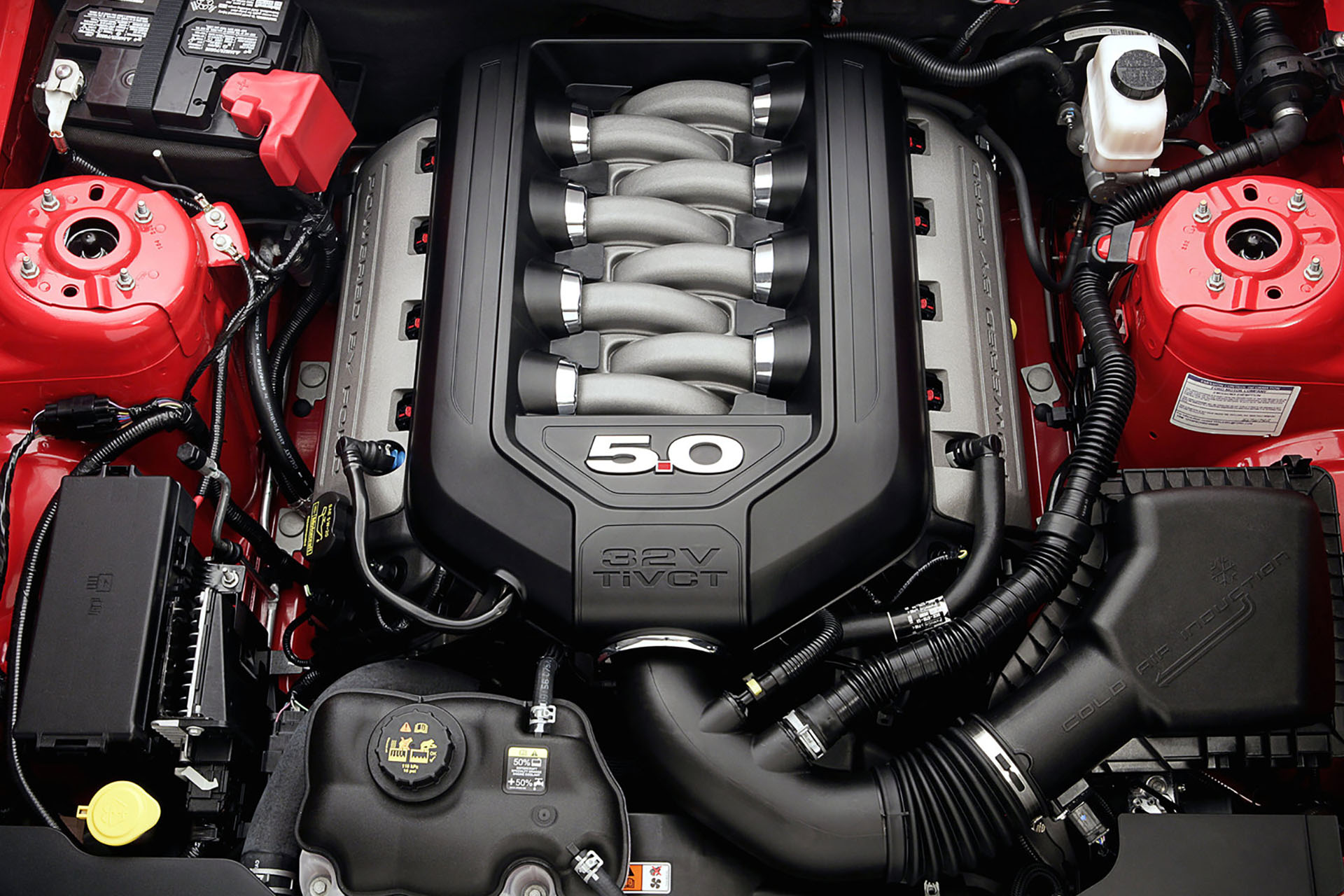 5.0L Ti-VCT V8 Additional Uses
Aside from use as the Mustang's most formidable powerplant for more than a decade, the 5.0L Ti-VCT V8 has also found service beneath the hood of the F-150, in various rated outputs. The F-150's first use of the Coyote V8 took place in 2011, with use continuing with each subsequent generational revision.
Additionally, the 5.0L Ti-VCT V8 has become a favorite of sorts among those looking to transplant a hearty powerplant within the engine bays of their custom builds. This is due in large part to the "Coyote's" ease of tunability, which is especially heralded among racers and performance enthusiasts from every walk of life.
Undeniable Performance Pedigree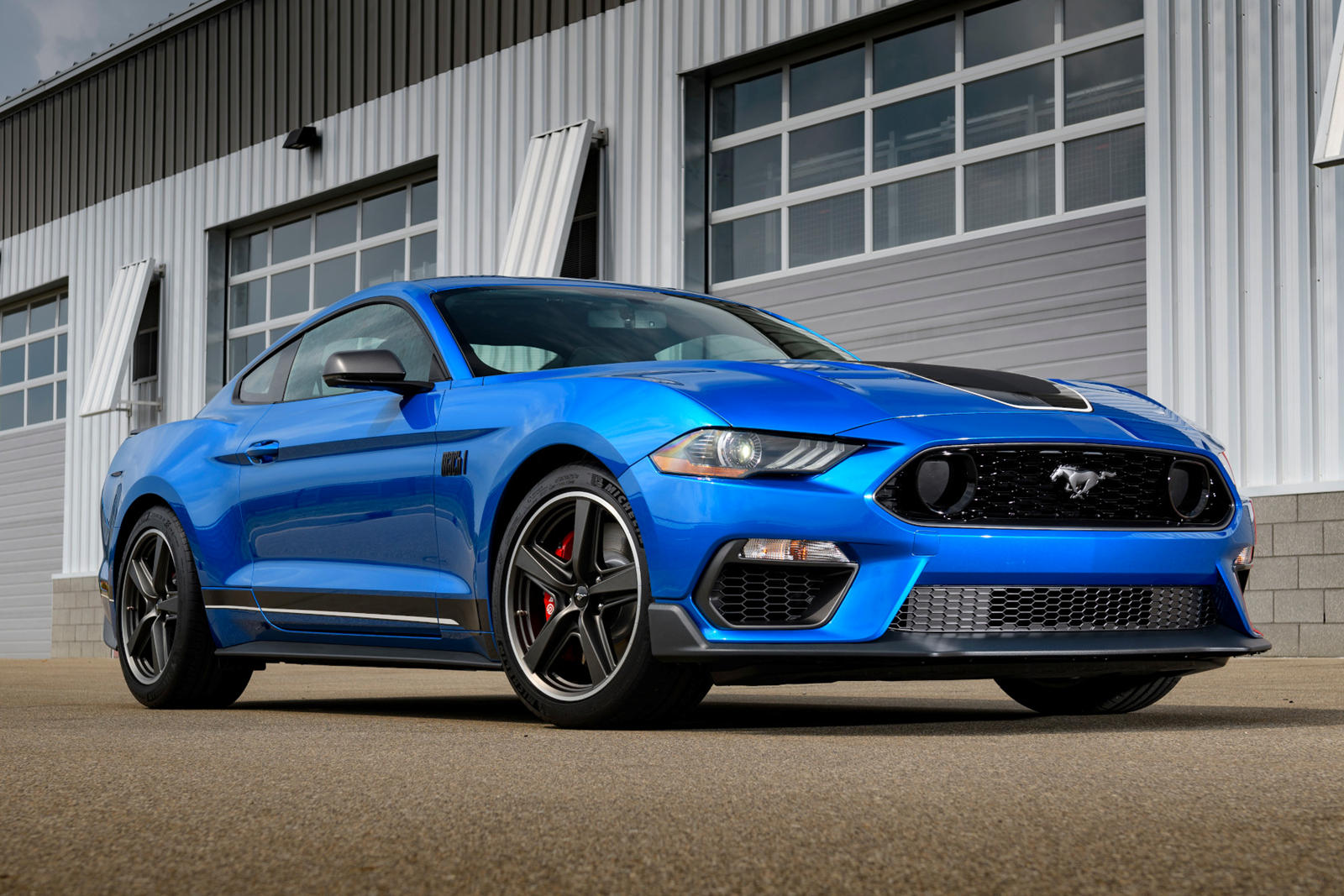 There are few engine platforms that stand the test of time, and even fewer that continue to improve throughout each successive year of production. The 5.0L Ti-VCT Coyote V8 has certainly stood the test of time while garnering increased fanfare along the way.
Perhaps most important of all, is the fact that the 5.0L Coyote V8 has elevated the Mustang's performance persona to entirely new levels. This begs an entirely new question all its own. Just how long will the "Coyote" continue to reign supreme, and what developmental surprises yet lay in store?