The second decade of the millennium was indeed an excellent time for Mustang fans. During this period, Ford Performance put a substantial amount of effort into bolstering the performance attributes of the Mustang, in both its base and GT formats. Meanwhile, those at Shelby American were full steam ahead, turning these same cars into absolute powerhouses, bent on conquering all takers.
From these efforts, came the 2019 Shelby Super Snake, complete with a 5.0-liter V8 powerplant, capable of churning out up to 800-plus horsepower. The Super Snake was also capable of achieving 0-60 MPH times of only 3.5 seconds, making it quite formidable, both on the street and the track.
Power On-Demand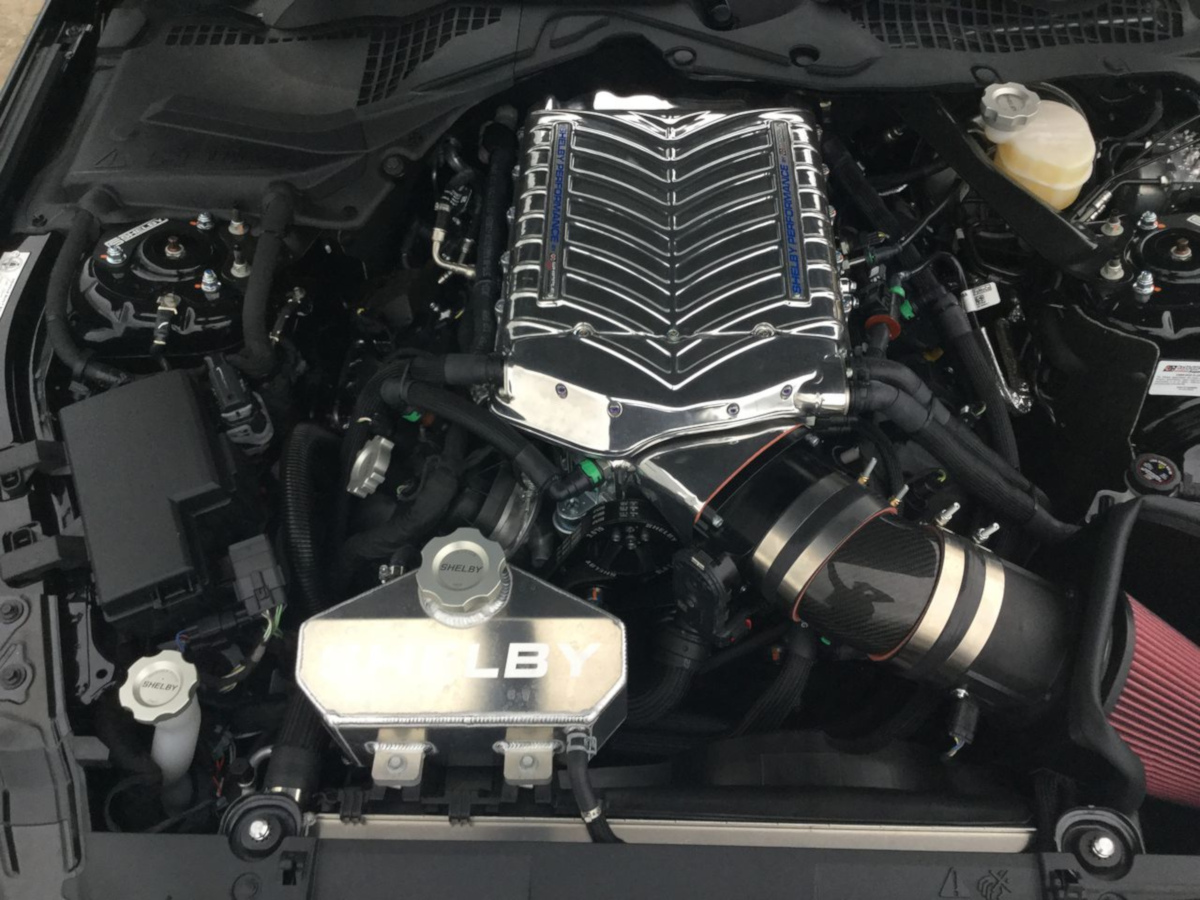 Beneath the Shelby Super Snake's hood resided a supercharged, 5.0-liter Coyote V8, which came in a consumer's choice of two individual output ratings. In its standard form, the Super Snake came equipped with a Ford Performance supercharger and was capable of producing 710 horsepower. Alternatively, those with an insatiable need for speed could opt for a larger Whipple supercharger, which brought the car's total output up to 800-plus horsepower.
In either of its two forms, the Super Snake's V8 powerplant came equipped with an upgraded cooling system, which included a bespoke radiator, and a high-flow heat exchanger. This engine was also fitted with a custom Ford Performance exhaust kit.
The 2019 Super Snake could be purchased with either an automatic or manual transmission, both of which were of a 6-speed make. Super Snakes featuring an automatic transmission, also came standard with a high-performance transmission cooler, while all manual Super Snakes featured single-piece driveshafts.
In a bid to enhance the Super Snake's handling capabilities, Shelby American also made a number of suspension-related tweaks, which included the addition of a Ford Performance suspension kit. Consumers could also opt instead, for the installation of a Penske/Shelby track suspension kit. Stopping duties were handled by a set of Wilwood brakes, which included 6-piston front calipers, 4-piston rear calipers, and drilled/slotted rotors.
Looking The Part
The 2019 Super Snake was the recipient of numerous cosmetic upgrades as well. Some of the most notable of these upgrades included the addition of a custom hood, grille, front/rear fascias, spoiler, and rockers. Also of note, were several new high-contrast paint schemes made available for 2019, known as the "Bold" series. These color patterns included Shadow Black/ Green Stripes, Green Lime/ Black Stripes, and Twister Orange/ Black Stripes.
Rounding out the Super Snake's outward aesthetics, were a set of 20" forged aluminum wheels. These wheels were available in "Black" or "Bright", upon customer request, no matter the car's exterior color.
The Super Snakes interior also underwent a certain level of revision, most notably in regard to the addition of signature-series floor mats, door sill plates, and a Shelby placard of authenticity. Additionally, the Super Snake featured Katzkin seats, with Shelby custom stitchwork. The color of this stitchwork was dependent upon a consumer's choice of exterior color.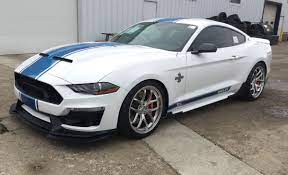 An Instant Classic
The 2019 Shelby Super Snake, though sold in limited quantities, received a substantial amount of fanfare. This should come as no surprise, as Shelby American set the bar quite high when putting together the Super Snake. With 800 horsepower waiting in the wings, the 2019 Super Snake is truly a performance enthusiast's dream come true.
2019 Shelby Super Snake Specifications
| | |
| --- | --- |
| Engine | 5.0L Supercharged V8 |
| Horsepower | 710/800+ horsepower |
| Torque | 610/630 lb-ft torque |
| 0-60 MPH | 3.5 sec |
| Quarter Mile Time | 11.7 sec |
| Weight | 3,705 lbs |
| Base Price  | $113,445 |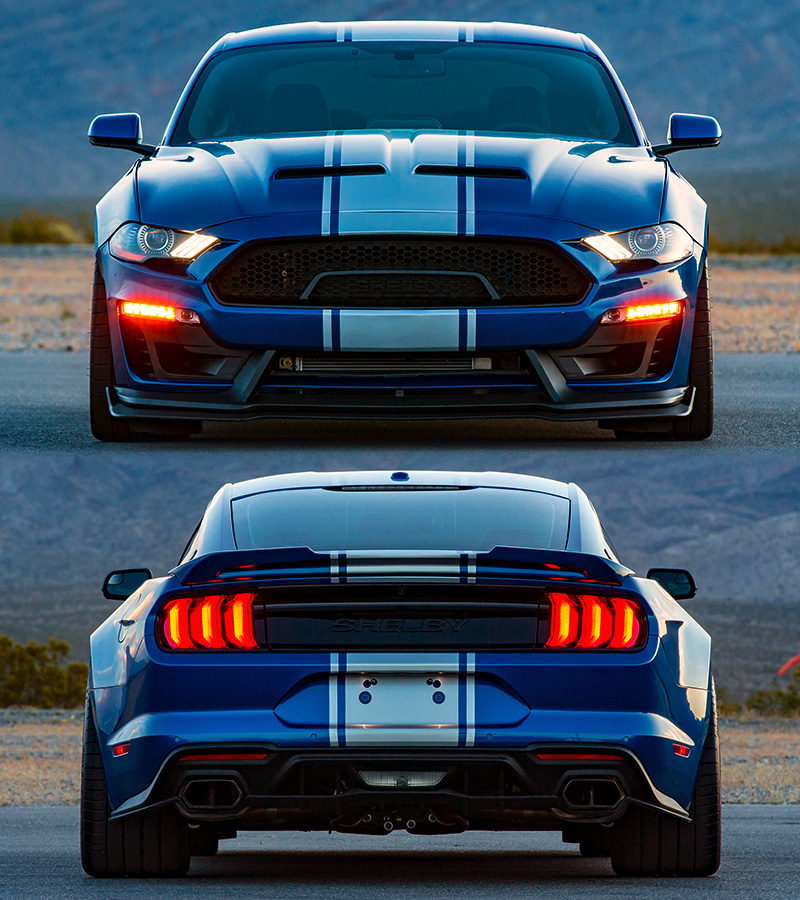 Available Exterior Colors
The 2019 Shelby Super Snake was available in Oxford White, Ingot Silver, Iconic Silver, Magnetic, Shadow Black, Race Red, Ruby Red, Royal Crimson, Rapid Red, Orange Fury, Twister Orange, Triple Yellow, Grabber Lime, Need For Green, Kona Blue, Blue Lightning, and Velocity Blue. It was also available in their Bold Series: Shadow Black/ Green Stripes, Green Lime/ Black Stripes, and Twister Orange/ Black Stripes.
Available Interior Colors
The 2019 Shelby Super Snake interior was available in black with black, dark gray, light gray, red, or blue inserts.
2019 Shelby Super Snake Mustang Video
We found a great video of the 2019 Shelby Super Snake.