In the world of automotive design, inspiration seems, at times, to come from the strangest places. Case in point, the history behind 2016's Ford Mustang Shelby Terlingua. The origins of this story date back to the 1960s, to the days of the Terlingua Race Team, headed up by none other than Carroll Shelby and Bill Neale. The team was so named for the Terlingua Ranch, at which Shelby and Neale, among others, would vacation on an annual basis.
The Terlingua Race Team, sporting their yellow and black livery, made stir during the era in which they competed. In 1965, Ken Miles drove a Shelby GT350-R to victory at Green Valley Raceway in Dallas, giving the team one of its earliest victories. Over the following years, the Terlingua Race Team remained quite dominant in many facets of motorsport competition.
Early in the new millennium, Shelby paid homage to the Terlingua Race Team, by producing a tribute car decked out in the team's traditional livery. However, this Mustang only came equipped with a V6, powerplant, to the dismay of many. In the years since, Mustang fans have repeatedly called for the release of a new Terlingua tribute, this time motivated by V8 power.
In 2016, those calls were answered, as Shelby American unveiled their latest version of the Terlingua Mustang, complete with Ford "Coyote" 5.0-liter V8. Though only 50 units were produced for sale in North America, the tribute received a significant amount of fanfare.
Power In Abundance
A number of critics lambasted Shelby's prior iteration of the Terlingua tribute, primarily due to its use of a V6 powerplant. However, when designing the 2016 Mustang Terlingua, Shelby stomped out such concerns as they arose.
In its latter form, the Terlingua featured a Whipple-supercharged 5.0-liter V8, capable of producing 750 horsepower. This established the Custom Shelby creation as one of the most powerful production Mustangs to be sold, at the time of its release.
This engine was complemented by the use of a larger coolant reservoir and high-flow radiator, which kept engine temperatures in check. This powerplant was also paired with a custom Borla exhaust system, which provided the Terlingua with plenty of "voice", both on and off of the track.
Also of note, was a number of additional technical talking points that further enhanced the Terlingua's performance credentials. This Shelby came equipped with high-performance half-shafts, 3.73 rear gears, and reinforced wheel studs, as well as an adjustable Eibach suspension, which greatly contributed to the car's stability when cornering. Stopping duties were handled by a set of Wilwood brakes, complete with 6-piston front calipers, 4-piston rear calipers, and drilled/slotted rotors.
A Winning Appearance
Shelby American spared no expense when making sure that the 2016 Terlingua looked the part. This Shelby custom was only available in two different color combinations, both of which mirrored that of original racers from the team's heyday. Consumers could purchase the Terlingua in black with a yellow hood, or alternatively, in yellow with a black hood.
Additionally, period-correct graphics were employed, to mirror the appearance of actual sponsor stickers. Also present was the team's signature "Jackrabbit" emblem. The car also sported the number "17", which was the race number of the GT-series Shelby that was driven to victory by Jerry Titus at Sebring in 1967. In fact, each 2016 Terlingua also came signed by Titus, as well as team co-founder Bill Neale.
The Terlingua's interior received several noteworthy modifications, including the addition of bolstered race seats, adorned with the Terlingua Race Team's Jackrabbit logo. Additional interior features include carbon-fiber trim, custom gauges, and a numbered dash placard.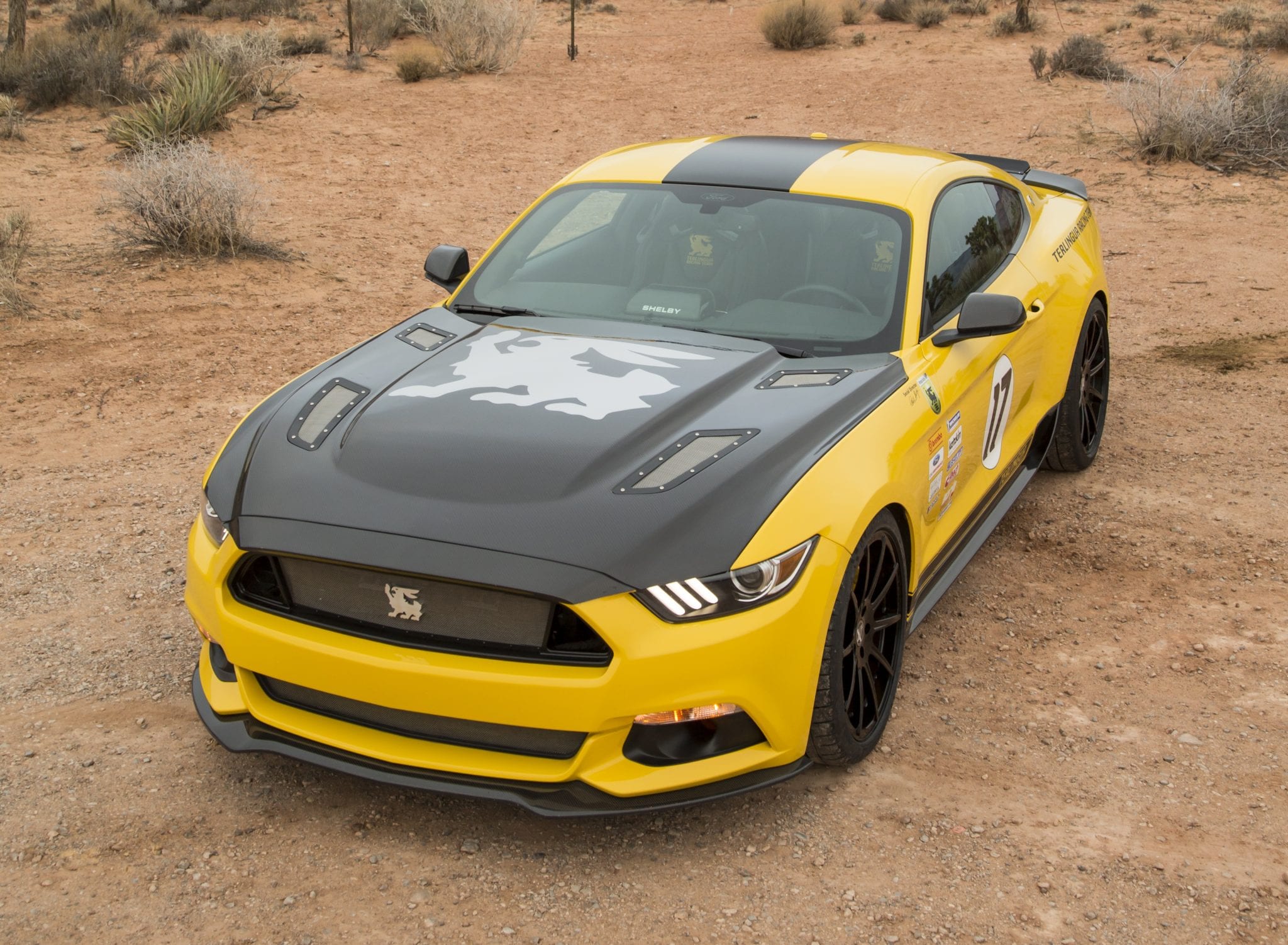 A Legend Revisited
The history of the Terlingua Race Team and the Shelby Mustang is inescapably interwoven, serving as a true testament to the impact that each has had upon the performance landscape. The 2016 Shelby Mustang Terlingua served as a fitting tribute in this regard, paying homage to the race team's storied past, while also becoming an instant classic in its own right.
2016 Shelby Terlingua Specifications
| | |
| --- | --- |
| Engine | 5.0L Supercharged V8 |
| Horsepower | 750 horsepower |
| Torque | 400+ lb-ft torque |
| 0-60 MPH | 3.5 sec |
| Quarter Mile Time | 11.8 sec |
| Weight | 3,760 lbs |
| Base Price  | $65,999 plus the base Mustang GT |
| Production Numbers | 50 |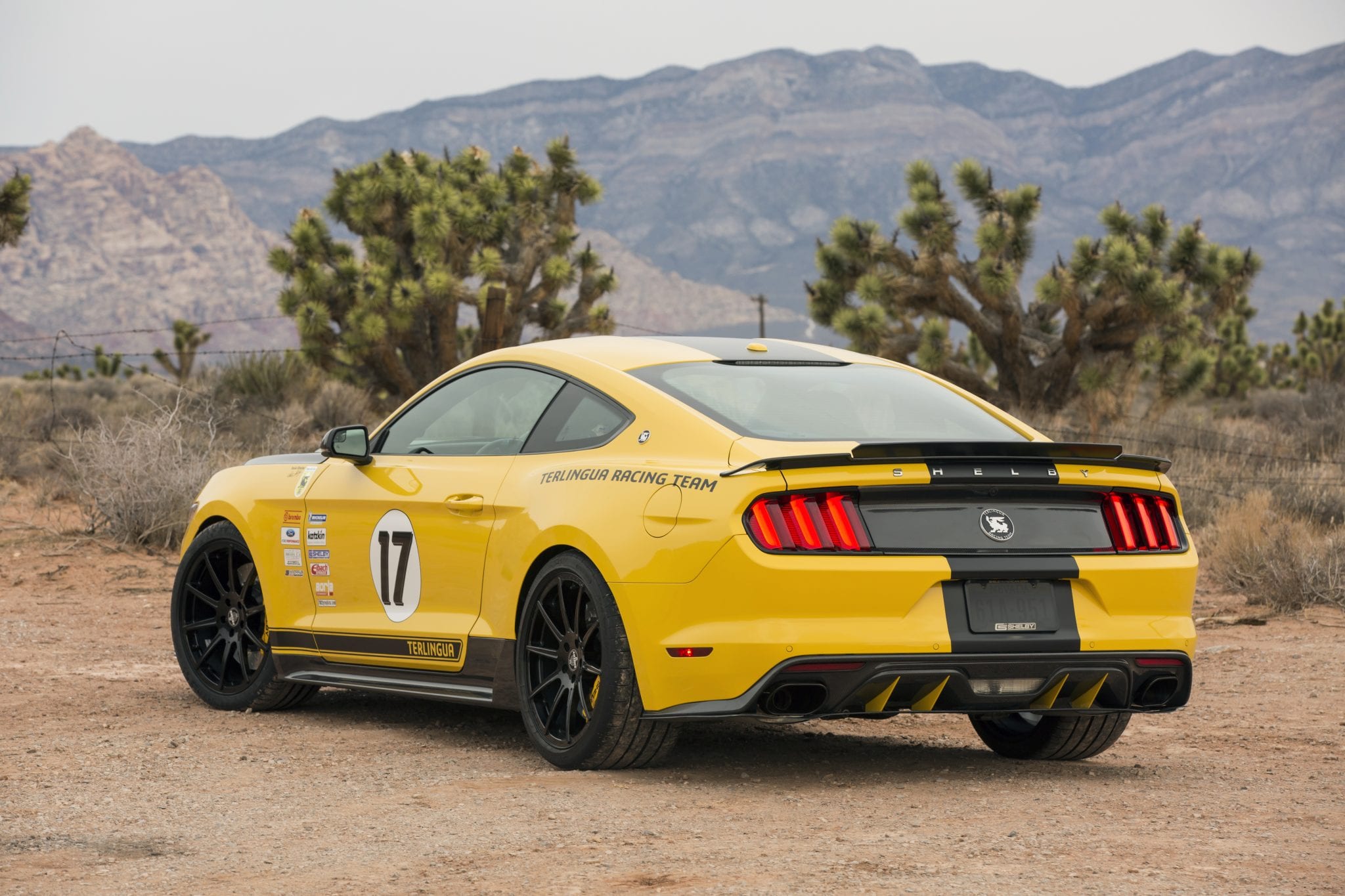 Available Exterior Colors
The 2016 Shelby Terlingua was available in two color combos: yellow with black hood and graphics and black with yellow hood and graphics.
Available Interior Colors
The 2016 Shelby Terlingua interior had black seats with yellow jackrabbits and "Terlingua Racing Team" lettering on the headrests.
2016 Shelby Terlingua
We found a great video of the 2016 Shelby Terlingua.