To the avid Mustang collector or enthusiast, the words "Super Snake" bring to mind the idea of earth-shaking performance and on-track superiority. Though this symbolism originally came to prominence during the Shelby Super Snake's initial reign of the 1960s, such notions are equally as fitting of the specialty Mustangs which bear the Super Snake moniker today.
In 2007, Carrol Shelby once again partnered with Ford, in a bid to re-establish the Mustang as America's most potent performance car. Part of this plan included the continuation of the Super Snake lineup, in accordance with the best engineering practices of the day. By all accounts, this project was an immense success, as Shelby American proceeded to churn out a number of the most memorable Mustangs of the era, many of which carried the Super Snake namesake.
Of these specialty Mustangs, few were quite as remarkable as the 2014 Shelby GT500 Super Snake, a fire breathing performance car with over 850 horsepower on-tap.
A Higher Standard Of Performance
When purchasing the 2014 Shelby Super Snake post-production package, consumers were presented with two powerplant options to choose from. In its base form, the Super Snake was equipped with the same supercharged, 662 horsepower 5.8 liter V8, as was found in stock GT500 offerings of the day.
Although the Super Snake produced no additional horsepower in its base format, it did come equipped with a host of additional upgrades. Some of the most notable of these additions included an upgraded Shelby cooling kit, a Shelby/Borla exhaust system, and Wilwood brakes at all four corners.
Additionally, each Super Snake featured 20-inch wheels, with premium high-performance tires, as well as a revised suspension system. The combination of these upgrades allowed the Super Snake to perform just as flawlessly while cornering, as it did during straight-line acceleration.
For those craving additional power with each stab of the accelerator, the 2014 GT500 Super Snake was also offered in a 3.6 liter Kenne Bell supercharged format, which produced 850 horsepower. This higher output Super Snake variant also featured all of the same additional technical upgrades, as mentioned above. In its most robust form, the 2014 Shelby GT500 Super Snake served as one of the most powerful street legal production vehicles of the era in which it was built.
Interior Elegance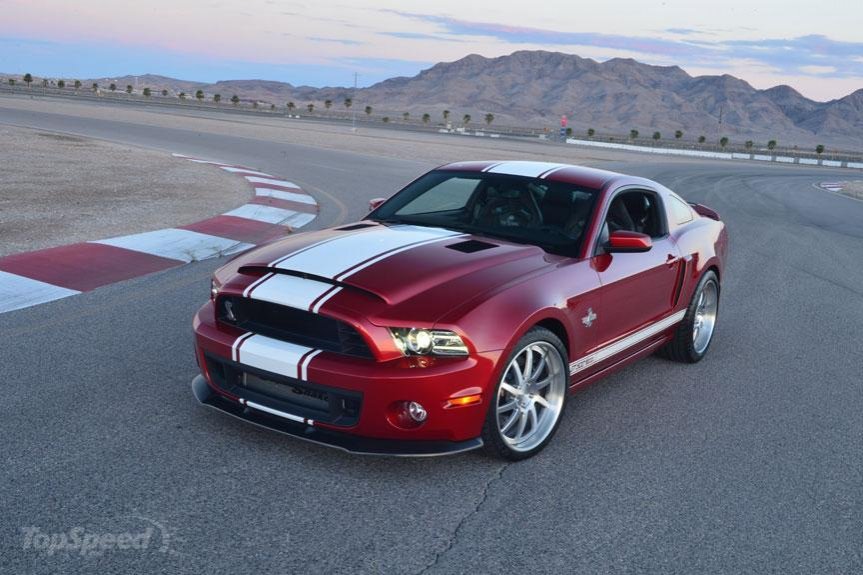 Much like many Shelby derived Mustangs of the modern era, the 2014 Shelby GT500 Super Snake featured numerous premium interior upgrades. Some of the most notable of these additions included the inclusion of specialty trim, custom embroidery work, and a Shaker audio system. Shelby-signature floor mats and headrests were also standard fares.
The 2014 Super Snake's interior also included A-pillar gauges set within carbon-fiber trim, on the left side of the driver's compartment. Additionally, a touch-screen informant system resided to the right-hand side of the Super Snake's driver seat, along the center console.
The authenticity of each Shelby GT500 Super Snake was denoted by standardized, sequential-numbered CSM placards. These placards were located along the Super Snake's dash line, as well as in each individual vehicle's engine bay.
Power Meets Precision
Today, the 2014 GT500 Super Snake is remembered as one of the most powerful Shelby American offerings of the modern era. The Super Snake was only bested in performance by the company's Shelby 1000 series Mustang, which was also offered during the same period. For most who were lucky enough to own a GT500 Super Snake, their purchase personified the fulfillment of a long held dream. Many who had come of age, in a time during which the original Super Snake ruled the street, were now able to own a Shelby-inspired creation, all their own.
2014 GT500 Super Snake Specifications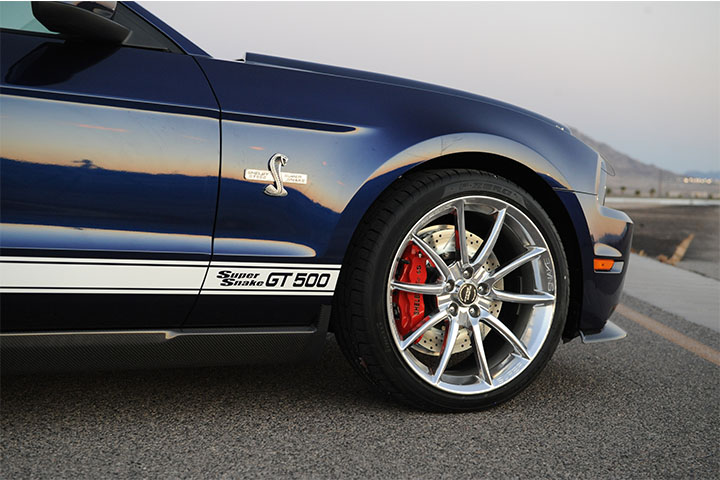 | | |
| --- | --- |
| Engine | 5.8L Supercharged V8 |
| Horsepower | 662/850 horsepower |
| Torque | 631 lb-ft torque |
| 0-60 MPH | 3.2 sec |
| Quarter Mile Time | 11.3 sec |
| Weight | 3,850 lbs |
| Base Price  | $44,995 plus base mustang |
| Production Numbers | 500 |
Available Exterior Colors
The 2014 GT500 Super Snake was available in Black, Grabber Blue, Ruby Red Metallic, Ingot Silver, Deep Impact  Blue Metallic, Oxford White, Race Red, and Sterling Gray Metallic.
Available Interior Colors
The 2014 GT500 Super Snake interior was available in black with a choice of black, blue, red, and white accents.
2014 GT500 Super Snake Mustang Video
We found a great video of the 2014 GT500 Super Snake.