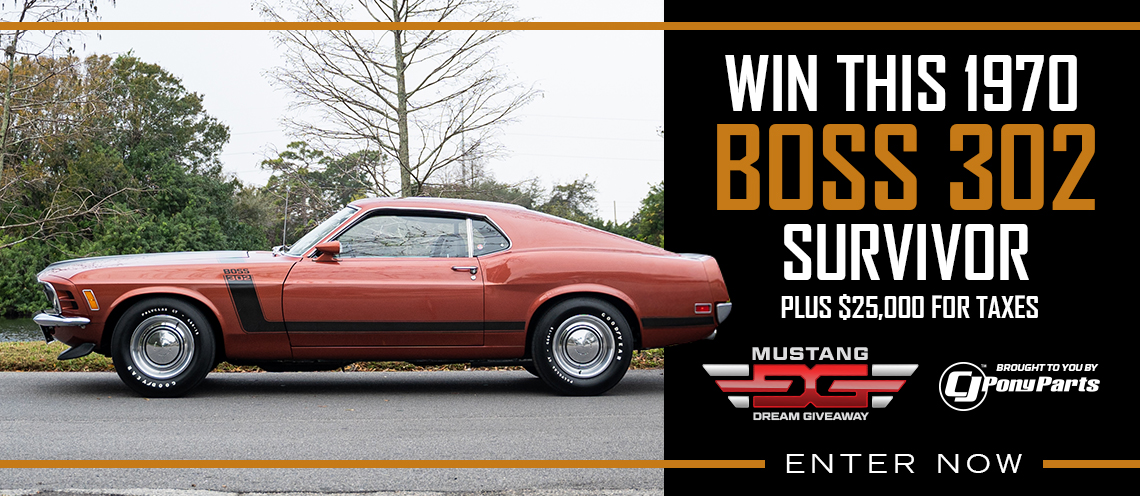 2010 Ford Mustang
2010 Ford Mustang Overview
The 2010 Mustang had a refreshed design. Styling at the front is reminiscent of a reversed treatment of the 1970 nose, with running lights where the 1970 had intake gills. At about $28,000 the 2010 Mustang GT was still the best value sports car on the market. Both the interior and exterior were stylish and classy and worthy upgrades. Sales picked up again as the U.S came out of recession. With all its new technological, comfort and convenience features it was clear that Ford was ready to bring the Mustang up to the next level to compete with its Detroit rivals. Never before had a Mustang been available with such an array of hi-tech, advanced features.
| | |
| --- | --- |
| Model: | 2010 Ford Mustang |
| Generation: | 5th Generation Mustang |
| Type: | 2 Door |
| Body Styles: | Coupe, Convertible |
| Engines: | 4.0L SOHC EFI V6, 4.6L 3V EFI V8, 5.4L 4V Supercharged V8 |
| Original Price: | $21,395 (Base Coupe), $26,395 (Basic Convertible) |
| Units Produced: | 81,024 |
Additional 2010 Mustang Research: 2010 Research Center / Colors Details / Production Numbers / Prices & Options / Sales Brochures / Owner Manuals / Maintenance / Pictures / Videos / VIN Decoder / Special Editions
Background & Details
Exterior
The 2010 Mustang has retained the successful retro look from the 2005 design. Designers left the roofline of the car alone and concentrated on the areas below the beltline. The exterior has evolved to be less boxey and square. However the rear facing slanted taillight panel seems to detract from the overall car appearance. The front lower facia and incorporated bumper look nice but the facia might stick out a little too much also. I long for the days when a bumper was really a bumper and not a piece of plastic.
Once again, GT's had their huge fog lamps mounted in the grille. A power-dome hood gave the front of the Mustang a more muscular appearance. Borrowing a look from the 1969 Mustang was the quarter panels that kicked-up long the beltline giving the 2010 a slightly broader look along its sides.
The rear opera window is a nice feature and useful when packing out of a parking place. It lets one see what is coming before you back into it. Rear visibility suffers because of the rear spoiler and long sloping rear window. The down slanting deck lids from the early to mid '60's would help here. The roof is the same as previous years to allow the glass roof to be carried over to this year.
The easy fill capless gas tank is a great idea who's time has come. No more messing with cold and dirty gas caps. Simply open the fuel door and insert the filler nozzle, fill 'er up and go. No lost gas caps, no fuss and no mess.
There are plenty of very nice wheel options available as you can see by going to the wheel section of this year vehicle. Overall, the mustang is a very nice sporty looking vehicle. One more important feature is the bright LED sequential rear taillights
The backup security camera system option is new this year. The automatic backup camera system displays the image of what is behind the vehicle in either the rear view mirror on on the GPS navigation screen if installed. Advance trac electronic stability control is standard. Advance trac helps the driver maintain control of the vehicle in extreme maneuvering situations.
Interior
On the inside, the old and cheap looking hard plastic dash get a much needed upgrade to what Ford calls, soft-touch TPO. Seats have softer materials as well, giving them a more luxurious and upgrade feel. To me, the fit and finish seem better than previous new Mustangs too. Overall, Ford did a wonderful job fitting and finishing the interior. Integrating comfort and utility and creating a retro design.
The new dash looks like an updated version of a combination of a 1965 Mustang combined with some elements of the old Mustang ll. Whatever it comes from, it works, and looks like it's supposed to be in a Mustang. One thing that really caught my eye was the redline indicator on the tach. When you hit redline, the background of the tachometer glows red. That's very cool.
Leather seats are comfortable and reasonably well-bolstered and feature a design with leather that has been stitched into bars. The large stylish steering wheel is also retro. The gauges remind me of my 1968 Mustang with two round conical shaped gauges for the speedometer and tachometer except these are better lit and you can adjust the colors to just about any background color you want. Overall, the interior is very well designed, very well laid out and crafted with attention paid to materials and details.
What is certainly not retro about the new Mustang is the optional Navigation system or Ford's SYNC system. Ford Sync is a voice activated communications and entertainment system that uses Bluetooth and can communicated with most current cell phones and other portable media digital devices. I find that it is a little difficult to remember all the features and the voice activated commands do not function well in the rain or when there is additional noise when windows are down. Unless you have the expensive sound system incorporating the display unit, song names and the artist's names are truncated if they are too long. However, it does impress friends when traveling down the highway and I say "USB, Play artist Willie Nelson, and the Willie songs start to play.
There is an optional $1,995 glass roof. It is a fixed unit and can't be opened but it has a shade you can pull over in case the sun gets too hot. Standard safety includes four air bags, as well as a tire pressure monitoring system and Advance Track with Electronic Stability Control.
Engines
The smallest (and standard) engine offered is the 4.0L V6 engine rated at 210 hp/240 lb/ft of torque. Unfortunately, this continues unchanged since the new model introduction in 2005.
The next engine offered is the 4.6L V8 rated at 315 hp/325 lb.-ft. of torque. The GT engine uses the cold air induction system and powertrain tuning used on the Bullitt car from the prior year. Both engines are mated to a 5 speed transmission.
Remember (if you were around) in 1968 when you had to get a 390 cubic inch engine to get horsepower in the low 300's. Now, they are squeezing almost the same amount of energy out of a 281 ci engine. Not to mention the 390 got about 12-13 miles per gallon and with the Autolite 4300 carburetor, it was not nearly as dependable or maintenance free. Cold air induction introduces more cooler air into the engine for added horsepower and better performance.
And it does more than just sound powerful; the Mustang's V8 generates 315hp at 6000 rpm and 325 lb/ft of torque at 4250 rpm. In total, that's 15 more horsepower and five more lb/ft of torque than the previous model, which is achieved through a more efficient air intake system, as well as a 250 rpm increase.
The 4.6-liter V8-powered Mustang GT turns in a 5.1-second 0-60 mph time. Ford claims a very-impressive quarter-mile time of 13.6 seconds. The Mustang is also a big car, but not overly heavy (3500 lbs), which reduces the sensation of speed. The clutch is light and easy to push your legs will not fell bad after a long day of driving.
When it comes to fuel-economy, the big V8 is rated at 16/24 mpg (city/highway). Those who choose the automatic will get 17/23 mpg.
To keep up the ante, The new Shelby Mustang Cobra now has the nasty fast 5.4 liter V8 kicking out 540 horsepower, which was previously found only in the 2009 GT500KR.
Background & Details
Exterior Changes
Distinct Grilles and Fascias Unique to V6 & GT
Dome Hood, Fenders, Quarter and Door Panels
Headlamps Styling with integrated Park/Turn Lamps
Sideview mirrors
Swept Beltline Profile, Rear Quarter Window Trim
Rear Fascia, Decklid & Sequential LED Tail Lamps
Rear Quarter Mounted Radio Mast Antenna
LED Illuminated CHMSL
Lip Style Decklid Spoiler (GT)
Cloth Convertible Top with Boot Cover (Standard on GT Premium Convertible)
New 17″, 18″& 19″ Cast Aluminum Wheel Line-up
New Exterior Color Changes
Red Candy Metallic with Tinted Clearcoat
Grabber Blue
Kona Blue Metallic
Sunset Gold Metallic
New Interior Changes
One piece soft instrument panel
Modernized Center Stack I/P
Compass and Outside Tempature in Center Display
Center Floor console with Lockale Storage
Door Trim Panels
Ice Blue Lit Instrumentation
Seat Trim & Sew Pattern & Styling
Increased Seat Bolstering
Map Pocket on Rear of Driver & Passenger Seat
Interior Trunk Release
Covered Cup Holders
New Functional Equipment Changes
4.6L V8 engine with cold air induction along with Bullitt powertrain improvements on GT (315 horsepower with 320 ft-lbs of torque)
Auto Headlamp on all GT and V6 Pony Package
AdvanceTrac Electronic Stability Control (ESC) standard on all series
Easy Fuel Capless Fuel Fill on all models
Event Data Recorder (Black Box)
SOS Post Crash Alert System (Activates when Airbags deploy, Emergency flashers turn on, Engages horn and Doors unlock for quick exiting)
New Option Changes
SYNC Voice-activated Communication and Entertainment System with 911 assist and vehicle health report (Standard on V6 Premium and GT Premium)
19″ Machined Aluminum Wheel (64X) mounted on P245/45WRx19 A/S tires available on GT Premium
19″ Polished Aluminum Wheel (64V) mounted on P245/45WRx19 A/S tires available on GT Premium
Rear View Camera (77C), rear decklid spoiler mounted, available on GT Premium, V6 Pony Package (202A) or V6 Sport Exterior Package (201A)
HID Head lamps (51H) (Late Availability)
New Package Changes
Electronic Package – (58X) – (Availalbe on V6 Premium & GT Premium)

Includes:

Voice Activated Navigation System – In-Dash Screen & Single DVD/CD/MP3 Player, DVD Audio/Video Capability, Interanal Hard Disk Drive for Map, POI Storage, 10GB Jukebox, Support for SYNC & Other Multi-Media Devices (Audio Input Jack)
Includes 6-month SIRIUS Travel Link Pre-Paid Subsricption (service not availalbe in AK & HI)
Dual Zone Automatic Temperature Control

V6 Pony Package (202A)

Includes:

Unique bright pony grille with satin corral
Front lower fascia mounted fog lamps
Pony front fender badges
Lower door tape stripe, available in black and white
18″ polished cast aluminum wheel, Tri-bar Pony center cap
P235/50WRx18 BSW A/S tires
Automatic headlamps
Premium carpeted front floor mats with embroidered Tri-bar Pony logo
Rear Deck Spoiler
Body color Exterior mirror
Unique chrome exhaust tip

3.73 Rear Axle Package (67T). Optional on GT coupe arrays with 5-speed, not available with Glass roof, not available with Shaker 1000

Includes:

Performance 3.73 axle ratio
Dual piston front calipers with performanve brake pads
Recalibrated Electronic Stability Control (ESC)
Special Edition Models & Variants
GT
Muscle goes modern for 2010 as the Ford Mustang – America's favorite muscle car for 45 years straight – hits the streets with a new exterior design; new world-class interior featuring well-crafted materials and updated technology; and a V-8 with even more horsepower and an even throatier signature Mustang exhaust sound. Handing on GT models was improved with some suspension enhancements borrowed from the previous year's Bullitt edition. Stiffer springs were installed along with recalibrated shocks that offered stiffer compression and rebound dampening. Base Mustangs now rode on 17-inch aluminum wheels as standard equipment with 18-inch wheels being optional. Mustang GT's were upgraded 18×8-inch aluminum wheels with 235/50ZR18 Pirelli P Zero Nero all-season rubber. An optional wheel and tire package was available on GT's that came with 19×8.5-inch bright machined-aluminum wheels fitted with wider 245/45ZR19 tires.
Learn more about the 2010 Ford Mustang GT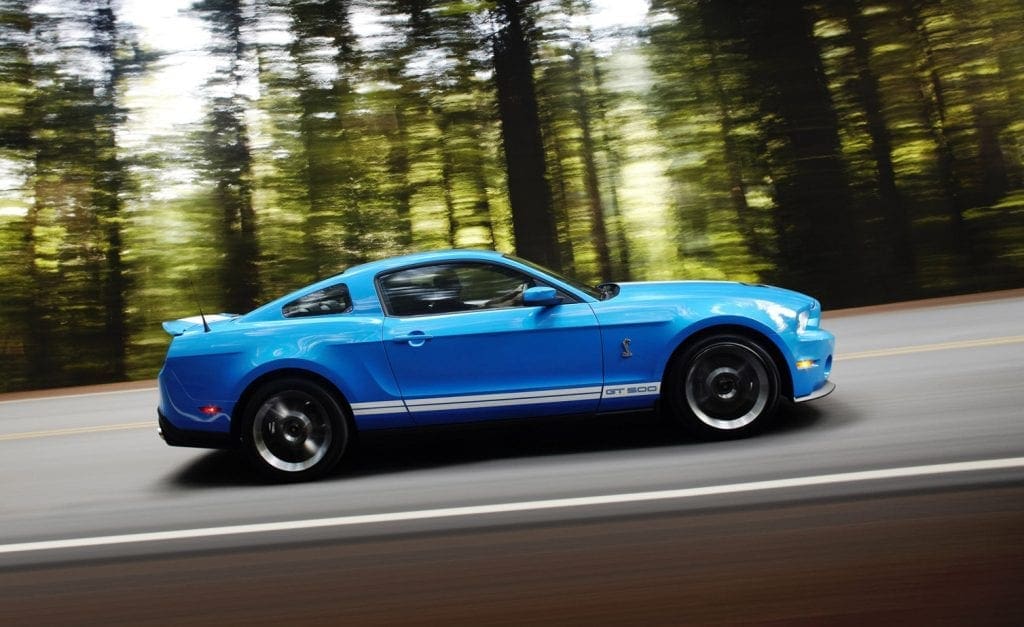 Shelby GT500
This years Shelby GT500 comes with a 5.4 litre supercharged engine putting out 540 horsepower and 510 lb/ft torque. Mated to a six speed transmission, a 3.55 rear gear ratio limited slip rear end and wide Goodyear F1 Supercar 19 inch sticky tires, the ride is next to as big a thrill as you can get! As usual with most Cobras, the engine is hand built and signed by the artisans who performed the task. I have only had the chance to sit in one car at a dealer and listen to the power of the engine. Vertical twin racing stripes run up the length and to the shoulder area, right into a coiled snake.
Learn more about the 2010 Ford Mustang Shelby GT500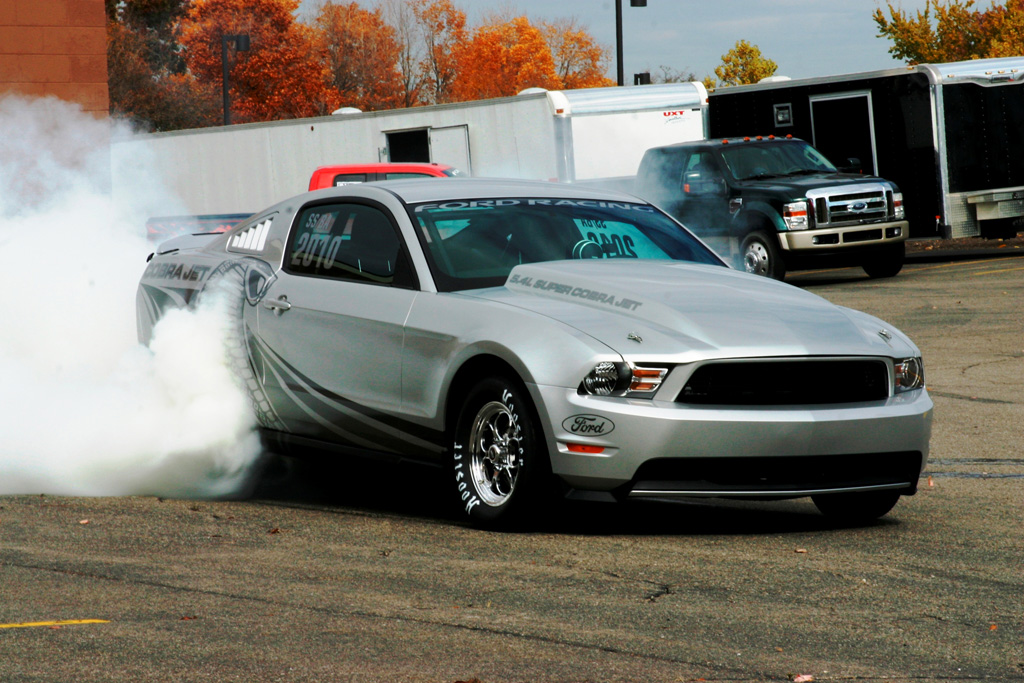 Cobra Jet
The 2010 Mustang Cobra Jet is a limited run of 50, track-only, cars that follow are all white and built on the same production line that produces the 2010 Ford Mustang production car. Building on the track-only 2008 Mustang Cobra Jet, the 2010 version has new graphics, a choice between several 5.4L supercharged or normally aspirated V8 engines.
Learn more about the 2010 Ford Mustang Cobra Jet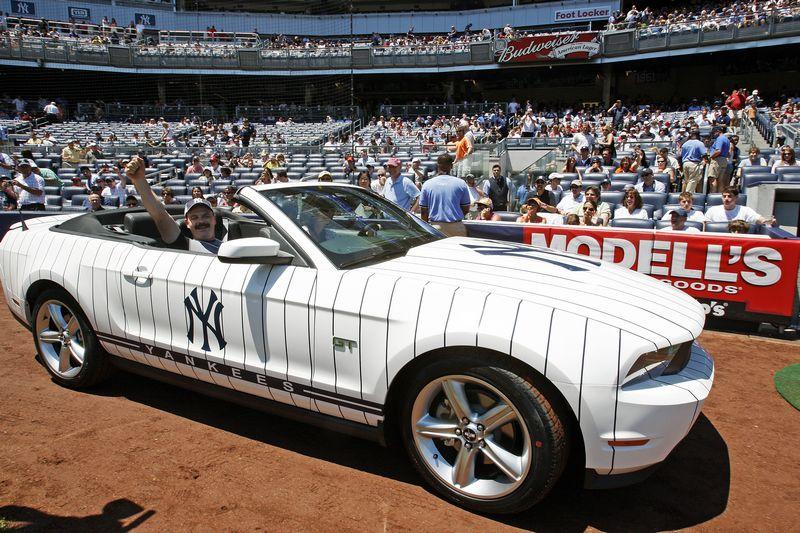 Yankees Custom
If you're a New York Yankees fan and you were still glowing from the euphoric high of the team's 27th World Series championship, you may have wanted to know that there was a single, special-edition 2010 Ford Mustang GT a.k.a. the "New York Yankees Mustang" car built. Sporting the unmistakable Yankee pinstripe with a matching Yankee logo on the hood and side doors, this one-off Mustang GT Convertible was auctioned at the Aarbids website. In addition to the logo and pinstripes, the car also came with a signed autograph from a pretty important member of the team: Yankee captain and shortstop Derek Jeter. Given there was only one car, we didn't create a complete guide post for this model.
Aftermarket Mustang Models
Coming Soon
Specifications, Options & Detailed Stats
Production Numbers
2010 saw a bounceback in sales for Mustang, up from the horrible 2009 of 46k units sold to 2010 which saw 81,024 cars leave dealership lots. Unfortunately this is the year where Ford stopped really reporting the full breakout of sales by variant so our information below is incomplete. We have included the data where we could find it. To dive into the model and body splits as well as see charts and percentages, check out our 2010 Ford Mustang Production & Sales Numbers deep dive.
| Year | VIN | Body Style | Units Produced | % of Total |
| --- | --- | --- | --- | --- |
| 2010 | P8A | 2 Door - Hardtop V6 | | 0.00 |
| 2010 | P8C | 2 Door - Hardtop GT | 20,851 | 82.39 |
| 2010 | P8E | 2 Door - Convertible V6 | | 0.00 |
| 2010 | P8F | 2 Door - Convertible GT | | 0.00 |
| 2010 | P8J | 2 Door - Hardtop Shelby GT500 | 3,545 | 14.01 |
| 2010 | P8K | 2 Door - Convertible Shelby GT500 | 913 | 3.61 |
| 2010 | | Total | 25,309 | 100.00 |
Options and Pricing
Optional interior packages included the Comfort Package for buyers of V-6 Premium and GT Premium models that included heated front seats, 6-ways power front-passenger seat and auto-dimming rear view mirror with compass. Another option for GT Premium customers was the Premier Trim with Color Accent Package that included Charcoal Black interior with colour accented seats, unique door trim with bright pony badge, dark-aluminum instrument panel and aluminum shift knob.
The always popular V-6 Pony Package galloped back into 2010 and now included larger 18-inch polished-aluminum wheels wrapped with P235/50WR18 all-season tires. Other niceties included Pony grille with chrome bezel, fog lamps that were now mounted in the lower fascia, Pony fender badges, lower bodyside tape stripes, rear spoiler, body-colour side view mirrors, chrome exhaust tip, automatic headlamps and carpet floor mats with Pony logo.
Clearly there was no shortage of special edition cars and options for the 2010 year. For more detailed options and pricing, please check out our 2010 pricing and options research.
| Grouping | Description | Retail Price |
| --- | --- | --- |
| Base Car | 2 Door Hardtop | 21,395 |
| Base Car | 2 Door Premium Hardtop | 24,395 |
| Base Car | 2 Door Convertible | 26,395 |
| Base Car | 2 Door Premium Convertible | 29,395 |
| Base Car | 2 Door GT Hardtop | 28,395 |
| Base Car | 2 Door GT Premium Hardtop | 31,395 |
| Base Car | 2 Door GT Convertible | 33,395 |
| Base Car | 2 Door GT Premium Convertible | 36,395 |
| Base Car | 2 Door Shelby GT500 Coupe | 46,725 |
| Base Car | 2 Door Shelby GT500 Convertible | 51,725 |
Exterior & Interior Colors
A total of 9 colors were available for the 2010 Mustang model year. For detailed colors, color palettes, codes and interior colors please check out our in depth 2010 colors information post.
Engine Specs
Back again for another go round is the 4.6-liter V8 engine which gets a slight bump in horsepower from 300 to 315. Upgrades in the form of a Cold Air Intake are responsible for the increased horsepower. Other upgrades include new shifter and exhaust tips are 1/2″ larger for the V6 and V8 models. Lessons learned on the track and from specialty Mustangs mean even more fun for drivers of the new 2010 Ford Mustang – especially those who want to customize their powertrains.
Available 2010 Mustang Engines:
4.0-liter V6 (210 hp, 240 lb-ft of torque)
4.6-liter V8 (315 hp, 325 lb-ft of torque)
Available 2010 Mustang Transmissions:
5-speed manual
5-speed automatic
"We have fantastic engines," said Chief Nameplate Engineer Paul Randle. "Our 4.6-liter, three-valve V-8 engine has won 'Ward's 10 Best' for our years in a row and is the most-accessorized engine in the marketplace. Plus, Mustang customers love to personalize their cars, and our engine platforms allow them to do that."
The Ford team uses advances gained through programs such as the Ford Racing Mustang Challenge and special editions to improve the 2010 Mustang.
Improvements inspired by the Bullitt program, for instance, are seen on the genuine polished-aluminum manual transmission knob and leather-wrapped shift knob, which support a short-throw, performance-based shifter originally launched on the feature car.
Horsepower gains on the V-8 are achieved by the cold-air induction system pioneered through Ford Racing Technology. The intake is tucked behind the driver-side headlamp, mounted in an air box specific to the Mustang. Extensive sealing modifications ensure cold air from the front of the Mustang feed the engine.
A true ram-air system offered on a base GT vehicle is a first for Mustang."That means more horsepower and more torque in all driving conditions," Randle said. The redline for the V8 is increased 250 rpm to 6,500, and revised calibration ensures the customer fully feels these changes. Both the V-6 and V-8 engines have larger exhaust tips, growing to 3 and 3 ½ inches, respectively, up ½ inch from the previous model. The V-8 exhaust features polished tips.
"The 2010 Mustang runs great on regular fuel, and that is where we quote our peak numbers, but we also have a great dual-adaptive knock calibration that allows the 2010 Mustang to run on regular fuel as well as premium fuel, and the system figures it out itself," said powertrain supervisor Chris Roxin. "It also improves the torque of the engine in the low- to mid-rpm range."
The powertrain feel also is enhanced by intake and exhaust sound tuning that delivers Mustang's signature sound. "All the better to hear that famous Mustang roar that's been inspiring customers for more than four decade," Randle said.
For more information on engines for 2010, you can find the information here.
| Engine Name & Year | Fuel | Compression | Power (hp @ RPM) | Torque (lb/ft @ RPM) |
| --- | --- | --- | --- | --- |
| 2010 – 330 Modular V8 (5.4 L) | 4V Supercharged | 8.4:1 | 540 hp @ 6200 RPM | 510 lb/ft @ 4500 RPM |
| 2010 – 281 Modular V8 (4.6 L) | 3V | 9.8:1 | 315 hp @ 6000 RPM | 325 lb/ft @ 4250 RPM |
| 2010 – 244 Ford Cologne V6 Engine (4.0 L) | SOHC | 9.7:1 | 210 hp @ 5300 RPM | 240 lb/ft @ 3500 RPM |
Dimensions & Weight
There were no major changes to the dimension and weight of the main models.
| Description | Measure |
| --- | --- |
| Exterior Wheelbase | 107.1 inches |
| Exterior Length | 188.1 inches |
| ExteriorHeight | 55.6 / 56.1 inches |
| Width excluding mirrors | 73.9 inches |
| Width including mirrors | 80.1 inches |
| Interior front Head room | 38.5 / 38.8 inches |
| Interior front Shoulder room | 55.3 inches |
| Interior front Hip room | 53.4 inches |
| Interior front Leg room | 42.4 inches |
| Interior rear Head room | 34.7/36.5 inches |
| Interior rear Shoulder room | 51.6 / 45.0 inches |
| Interior rear Hip room | 46.8 / 45.2 inches |
| Interior rear Leg room | 29.8 inches |
| Passenger volume cubic feet | 83.3 / 81.0 cubic feet |
| Luggage capacity cubic feet | 13.4 / 9.6 cubic feet |
| Total interior volume cubic feet | 96.7 / 90.6 cubic feet |
| Fuel capacity - gallons | 16 gallons |
Performance
Below we have included 0-60 mph times, 0-100 mph times as well as quarter mile times and top speed where available for the 2010 Mustang model range.
| Variant | 0-60 mph (sec) | 0-100 mph (sec) | Quarter Mile | Top Speed |
| --- | --- | --- | --- | --- |
| 2010 Ford Mustang V6 | 6.8 seconds | 19 seconds | 15.1 seconds | 115 mph |
| 2010 Ford Mustang GT | 5.0 seconds | | 13.5 seconds | 155 mph |
| 2010 Ford Mustang GT Convertible | 5.1 seconds | | 13.7 seconds | 155 mph |
| 2010 Ford Mustang Shelby GT500 | 4.5 seconds | | 12.6 seconds @ 114 mph | 155 mph |
VIN Information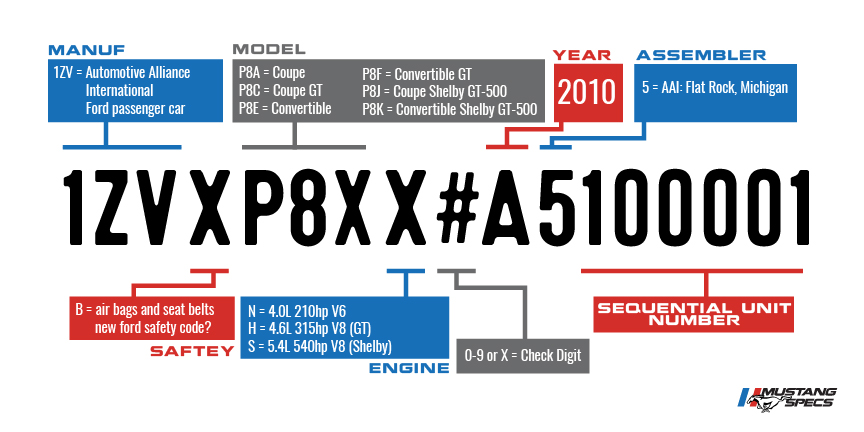 This link will take you to a page which contains the VIN tag information for all years of Mustangs. Previously this information appeared on each Mustang's year page, but consolidating it has significantly reduced page loading times. To decode the build sheet, check out our 2010 VIN & Data Plate Decoder sheet.
Videos & Picture Galleries
We managed to find some great video reviews of the 2010 Mustang so definitely check those out. We also have a picture 2010 Ford Mustang Picture Gallery and photos of real Mustangs in each color that was available.