Throughout the past several decades, a handful of vehicles have been produced that make all but the most performance-minded of individuals ask "Why?" In the case of the 2007 Shelby GT500, it appears that even Ford was tasked with contemplating the same quandary.
The 2007 GT500 Super Snake was a production Mustang so brazen in its design and performance attributes, that Ford refused to back their high output creation with any form of available manufacturer's warranty. If you bought it, the Super Snake was yours, and yours only. Ford, nor most insurance companies, wished to bear any responsibility for the hot-rodding shenanigans that were sure to follow. With a total output of 725 HP, their decision was likely justifiable.
A Hint At What Lies Beneath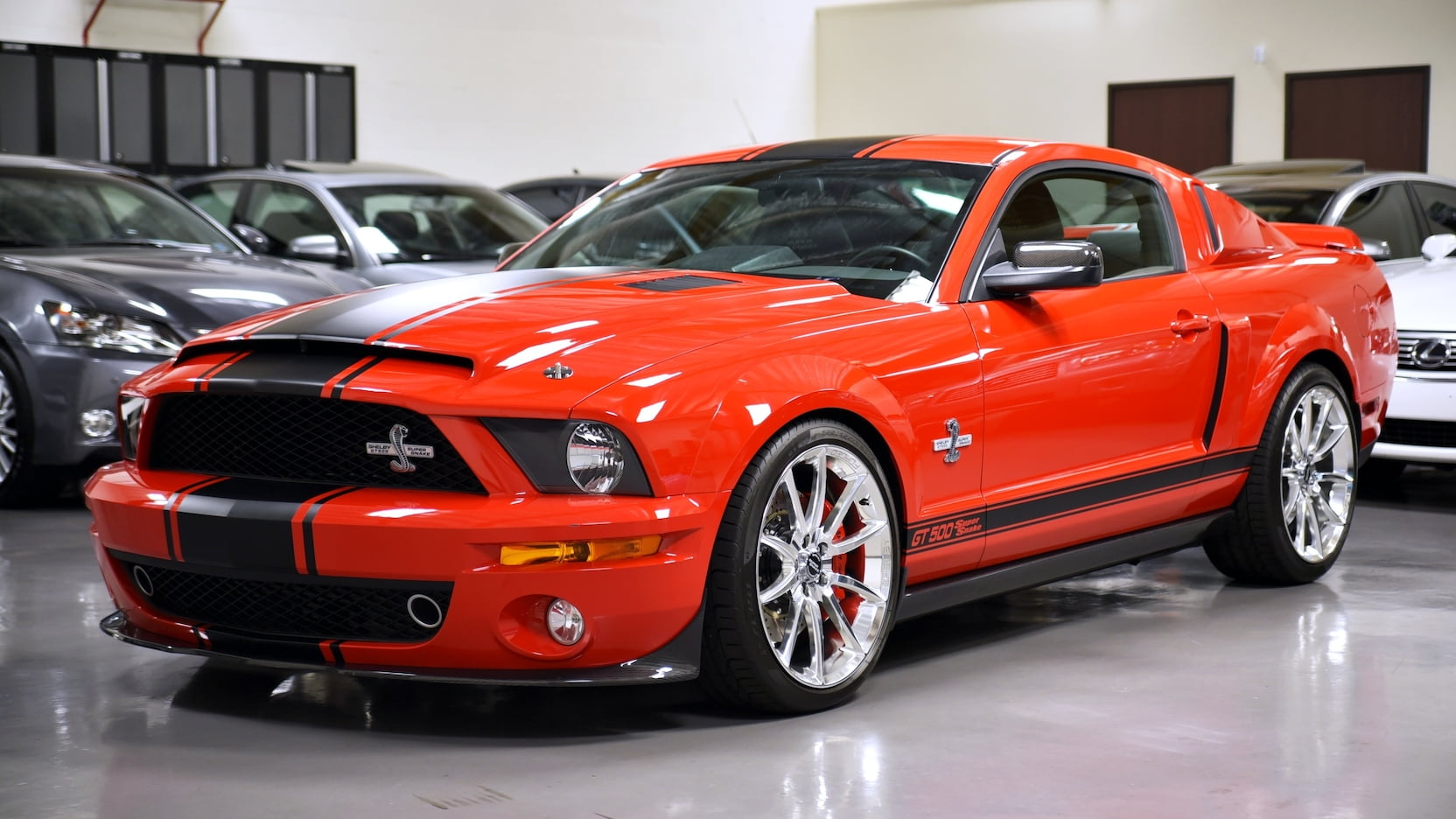 If you were to pull alongside the 2007 GT500 Super Snake at a stoplight, you would likely have some inclination that you were in the presence of something rather wicked. The Super Snake carried an obvious look of aggression, which served as advance notice for all who thought that an impromptu ¼ mile drag race might be a fine notion. At the end of the day, the Super Snake was best left unprovoked.
The high-output Shelby was outfitted with a custom hood, carbon fiber front fascia splitter, sequential tail lights, front/rear brake ducting, and a signature striping kit, which paid homage to GT500 models from yesteryear. Carbon fiber mirror covers and rocker panels also came standard.
The Super Snake also came heavily badged, from front to rear. The car's rear deck lid featured distinctive "SHELBY" badging, while a Super Snake emblem could be found on its grille. Super Snake badging also appeared along both front fenders, as well within the Shelby's side striping.
Equally impressive was the Super Snake's highly refined interior. Perhaps most notable, was the Mustang''s use of consecutively numbered plaques, which validated each unit's authenticity. Such plaques could be found on the Super Snake's dash, along its door sills, and in the vehicle's engine bay. Satin door lock knobs, Shelby floor mats, and Shelby Signature Series gauges rounded out the Super Snake's interior appearance.
Unrelenting Performance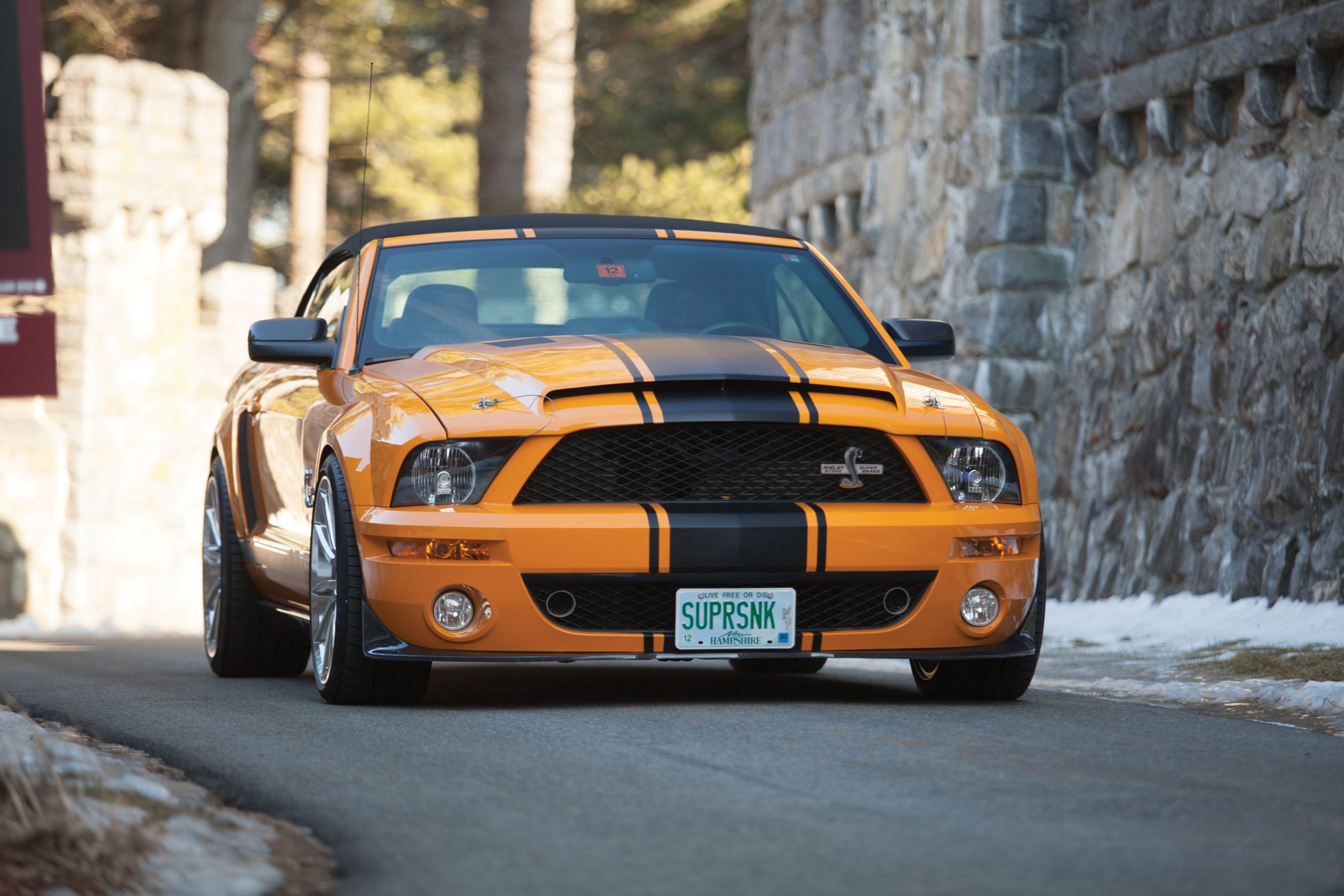 As striking as the Super Snake was, its true value, to most, lied beneath the hood. Crammed between each front fender was a Kenne Bell Supercharger-equipped 5.4L V8. This powerplant was nothing short of fearsome and utilized 12 psi of boost, a special Shelby tune, and a high-flow intake to generate 750+ horsepower.
The Super Snake's staggering output was directed through a six-speed manual transmission, which featured a Ford short-throw shifter, a 3 ½-inch driveshaft, and a set of 3.73 gears. This setup proved to be extremely efficient, as the Super Snake recorded ¼ mile times of only 10.87 seconds, with a top speed of 134 MPH.
However, the Super Snake's was designed to not only provide stellar straight-line performance but to dominate the road track as well. In a bid to make this possible, Ford outfitted the Super Snake with a specialized Shelby/Eibach Coilover suspension system, as well as Eibach sway bars. The car's Coilover system could be adjusted to meet driver demand and was capable of providing excellent responsiveness, no matter the conditions that were faced.
The Super Snake was also outfitted with Baer 6-piston brakes with Shelby cast calipers, and oversized rotors. The high-performance Mustang rode on a set of Shelby-designed Alcoa 20-inch wheels.
A Fan Favorite
The 2007 GT500 Super Snake is still known today as one of the most powerful Mustangs to have ever been produced. While many would be led to believe that the market for such a heavily tuned vehicle would be somewhat limited, sales of the Super Snake were quite impressive. Only 1000 units were produced in 2007, all of which sold without delay.
For those who currently own their own Super Snake, little doubt exists as to the true value of this highly collectible Mustang. While the price tag for such a purchase was indeed steep, little beats the excitement associated with knowing that unlimited potential awaits at each stab of the accelerator pedal.
2007 GT500 SuperSnake Specifications
| | |
| --- | --- |
| Engine | 5.4L V8 |
| Horsepower | 750 horsepower |
| Torque | 590 lb-ft torque |
| 0-60 MPH | 3.9 sec |
| Quarter Mile Time | 10.87 sec |
| Weight | 3,800 lbs |
| Base Price  | $69,930 |
| Production Numbers | 1000 |
Available Exterior Colors
The 2007 GT500 Super Snake was available in Alloy Metallic, Tungsten Gray, Performance White, Vista Blue, Torch Red, Grabber Orange, and Ebony.
Available Interior Colors
The 2007 GT500 Super Snake interior was available in Charcoal Black & Red, or Black & Black.
2007 GT500 Super Snake Mustang Video
We found a great video of the 2007 GT500 Super Snake.