The vast majority of today's most collectible and highly sought after Mustangs possess a trifecta of desirable characteristics (power, elegance, and scarcity). The addition of the "Shelby" moniker further ups the ante and drastically increases such a vehicle's value.
Perhaps few better examples of this principle exist in the modern era than the 2006 Shelby CS8 Mustang. As the big brother to Shelby's CS6 Mustang, the CS8 possesses enough underhood fortitude to make drivers weak at the knees, carries an authoritative look of tenacity, and is rare enough that its production count never exceeded single digits.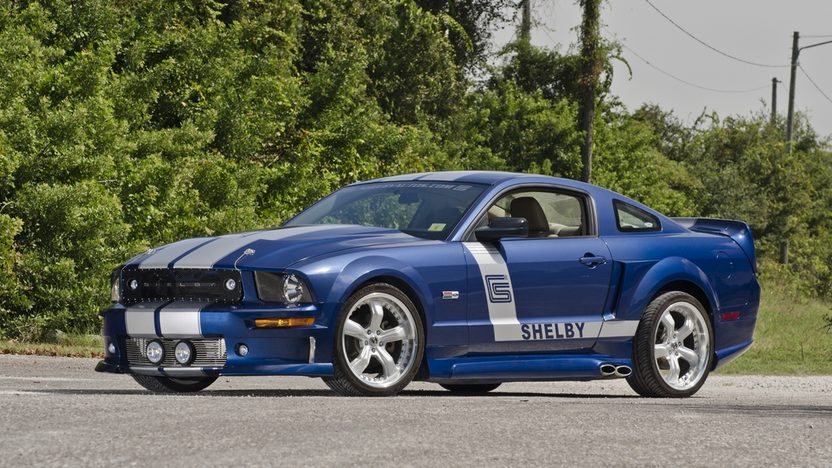 Performance Visually Personified
When first studying all which personifies the CS8, one will almost certainly come to appreciate the rare Mustang's aggressive styling cues. Carrol Shelby, ever the purveyor of designs that embody equal doses of form and function, determined that the CS8 would be nothing without a host of striking cosmetic upgrades.
This high-performance Mustang features a GT500 rear fascia, combined with a CS6 grille, hood, and front fascia. These features are further exemplified with the addition of a billet fuel door, hood pins, and engine caps.
The CS8 is also highly recognizable by its integrated chin-spoiler, side scoops, and Sonic Blue Pearl paint scheme. Also prominently displayed is a unique graphics package, which includes dual hood striping, and pronounced side stripes that angle upward at their forward end.
An Interior That Spares No Expense
Equally impressive is the CS8's lengthy list of premium-grade interior features. The CS8's interior includes bolstered seats, "Shelby" floor mats, and billet interior trim accents. Early demonstrator units also featured Alphasonik sound systems, Vivo Electronics video displays, and an Eclipse navigation/DVD head unit.
The CS8's dash is also quite refined and complements the remainder of the cabin. Front and center are a tachometer and 140 MPH speedometer, of matching proportions, flanked by several auxiliary gauges. A tri-spoke steering wheel with a centrally badged horn button rounds out the cabin's appearance.
A Technical Marvel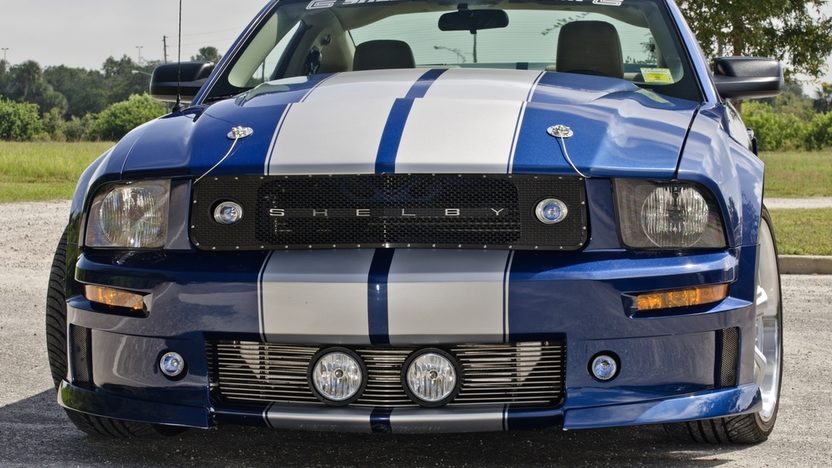 Though the Shelby CS8 is undoubtedly elegant, its true appeal lies under the hood. The high-performance Mustang checks all the boxes for those who wish to pound the pavement, in the most unabashed manner. At the heart of the CS8 is a Paxton supercharged 4.6L V8 powerplant.
The 4.6L V8's 3-valve design serves as the perfect candidate for supercharging, as little additional engine modification is necessary to achieve modest gains in performance. This Paxton Novi 2200R blower produces 12 psi of boost, which is just enough to promote mind-numbing throttle responsiveness, without sacrificing engine durability. Additional powerplant upgrades include '05-'06 Ford GT supercar fuel pumps and CPR fuel rails.
The CS8's power is directed to the rear wheels through a five-speed manual transmission and Torsen T-2 limited-slip differential, which features stock 3.55 gear. Progress suspension components are found in both front and rear, including rear lower control arms, front and rear anti-sway bars, a Coilover system, and a rear Panhard bar.
The CS8 is also outfitted with high-performance Baer brakes at all four corners, mounted inside a set of American Racing Redline wheels. A set of 20-inch Falken tires are responsible for transferring the CS8's power to the pavement.
Truly Shelby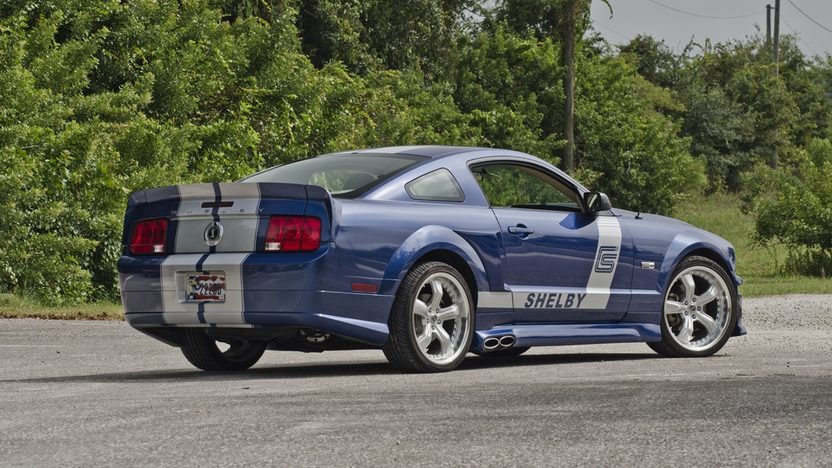 The CS8 Shelby served as perhaps the most well balanced, high-performance Mustang of its day. Carrol Shelby himself, once again proved why he is among the greatest automotive designers to have ever lived. The CS8 looked just as well as it performed, and is highly desirable among collectors today. Those who are lucky enough to locate one of these rare Mustangs will have stumbled upon a true Shelby masterpiece.
2006 Shelby CS8 Specifications
| | |
| --- | --- |
| Engine | 4.6L V8 |
| Weight | 3,400 lbs |
| Base Price  | $14,999 |
| Production Numbers | 9 |
Available Exterior Colors
The 2006 Shelby CS8 was available in Vista Blue Metallic with Silver Stripes.
Available Interior Colors
All interiors in the 2006 Shelby CS8 were tan.
2006 Shelby CS8 Mustang Video
We found a great video of one of the rare 2006 Shelby CS8 Mustangs.