2004 Ford Mustang SVT Cobra
The Color Changing Snake
The Ford SVT has pulled out almost all the stops in creating a 2003 Mustang Cobra so it is no surprise that the 2004 SVT Cobra was all about tweaks. The 2004 Cobra was much the same as the 2003 Cobra with a few minor updates including a slightly updated exhaust system, which helped to eliminate the Gas Guzzler Tax that the 2003 suffered, as well as some minor interior change.
While the supercharged Cobra returned in 2004, production was limited to just under 5,000 units. The big news for the Snake was the addition of Mystichrome to the color palette. Mystichrome color-shifting paint changed from topaz green to cobalt blue to royal purple, and finally to deep onyx black as the viewing angle changed. Even the seats and steering wheel had leather color-shifting inserts. The Mystichrome package also included chromed 17″ SVT wheels, and was a $3,650 option. Only 1010 Mystichrome Cobras were produced–515 coupes and 495 convertibles. The Cobra was also available in Screaming Yellow, Competition Orange, Ebony, Redfire, Silver Metallic, Torch Red, and White. An easy way to tell a 2004 Cobra from a 2003 is that the 2004s' keyhole on the driver's door is all chrome, where the 2003 model had black trim.
Specifications
Built at: Detroit, Michigan, USA
Engine: Water Cooled, 90 Degree, Cast-Iron V8
Position: Front Longitudinal
Aspiration: Eaton Roots-Type Supercharger w/Water-to-air Intercooler
Valvetrain: Chain Driven DOHC, 4 Valves per Cylinder
Displacement: 4601 cc / 280.8 in³
Bore: 90.2 mm / 3.55 in
Stroke: 90.0 mm / 3.54 in
Compression: 8.5:1
Power: 290.8 kw / 390.0 bhp @ 6000 rpm
Specific output: 84.76 bhp per litre
Torque: 528.77 nm / 390.0 ft lbs @ 3500 rpm
Redline: 6500 rpm
Driven wheels: RWD
Front tires: 275/40ZR-17
Rear tires: 275/40ZR-17
Front brakes: Brembo Vented Discs w/2-Pot Calipers, ABS
Front brake size: x 330 mm / x 13.0 in
Rear brakes: Brembo Vented Discs w/Single-Pot Calipers, ABS
Rear brake size: x 296 mm / x 11.7 in
Front wheels: F 43.2 x 22.9 cm / 17.0 x 9.0 in
Rear wheels: R 43.2 x 20.3 cm / 17.0 x 8.0 in
Steering: Rack & Pinion w/Power Assist
Front suspension: MacPherson struts; Bilstein monotube dampers, 29mm tubular stabilizer bar
Rear suspension: Multi-Link; aluminum lower arms, Bilstein shocks, coil springs, 29mm stabilizer bar
Curb weight: 1662 kg / 3664 lbs
Wheelbase: 2573 mm / 101.3 in
Front track: 1530 mm / 60.2 in
Rear track: 1530 mm / 60.2 in
Length: 4661 mm / 183.5 in
Width: 1857 mm / 73.1 in
Height: 1336 mm / 52.6 in
Transmission: TTC T-56 6-Speed Manual w/11in Clutch
Gear ratios: 2.66:1, 1.78:1, 1.30:1, 1.00:1, 0.80:1, 0.63:1, :1
Final drive: 3.55:1
Performance
0 – 60 mph: 4.5 seconds
0 – 100 mph: 10.4 seconds
1/4 mile: 12.9 seconds at 111 mph
Top Speed: 155 mph (electrically limited)
Lateral acceleration: 0.90 g
Fuel Economy [City/Hwy]: 16 / 24 mpg
Gears: 1st 2.66:1, 2nd 1.78:1, 3rd 1.30:1, 4th 1.00:1, 5th 0.80:1, 6th 0.63:1, Final drive 3.55:1
Retail Prices
Cobra Coupe: $34,200
Cobra Convertible: $38,575
Production Numbers
Total Produced:5,664
Total Coupe Produced: 3,768
Total Convertible Produced: 1,896
Production By Color
Coupes
Black: 820
Silver Metallic: 551
Mysichrome: 515
Redfire Metallic: 509
Torch Red: 477
Oxford White: 316
Screaming Yellow: 299
Competition Orange: 281
Convertibles 
Mystichrome: 495
Black: 392
Silver Metallic: 266
Redfire Metallic: 209
Torch Red: 167
Screaming Yellow: 167
Oxford White: 128
Competition Orange: 72
VIN Decoder
The VIN is stamped on the plate which is riveted to the driver's side of the dash, visible through windshield; the certification label is attached to the rear face of the driver's door. For full details see our 2004 Ford Mustang SVT Cobra VIN Decoder page.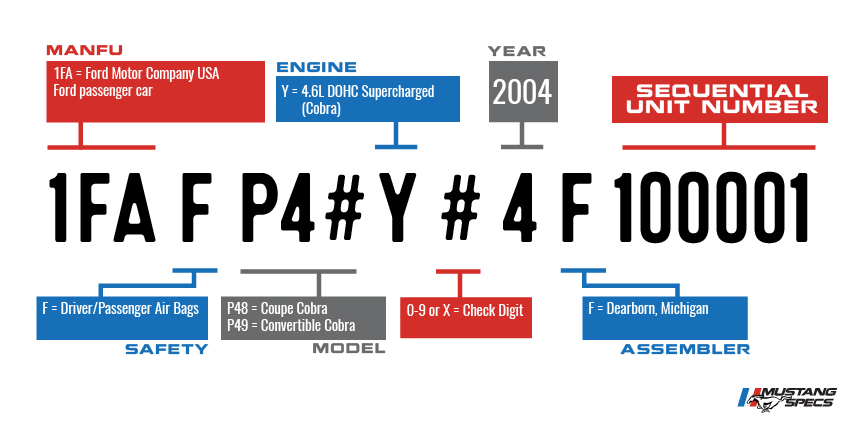 2004 SVT Cobra Mystichrome Press Release
Fords Special Vehicle Team (SVT) today unveiled the 2004 SVT Mustang Cobra Mystichrome package, with color-shifting paint that changes from green to blue to purple to black, at the 2003 New York Auto Show. The package also features the industry's first production application of color-shifting leather interior trim.
The 2004 SVT Mustang Cobra Mystichrome features an advanced formula of color-shifting paint, first offered in 1996 on the SVT Mustang Cobra with Mystic paint. The original formula changed from black to purple to root-beer brown.
Color-Shift Technology
The Special Vehicle Team worked with Alan Eggly, Ford's color and trim director for North America, to develop the Mystichrome paint and leather. Both the exterior and interior treatments utilize ChromaFlair® light interference pigments, from Flex Products, Inc. in Santa Rosa, California. These tiny particles (each an average size of 17 microns) are comprised of five layers of colorless film. Combined, these layers produce shimmering, vibrant colors.
The microscopic layers act like a tiny prism: White light is reflected off the core layer, and then split by outer layers into visible colors. As the viewing angle changes, so does the visible color. The color produced is controlled by precise variances, measured in atoms, in the prismatic layers: The thinnest ChromaFlair pigment shifts from gold through silver and into light blue; The thickest pigment shifts from silver through green, and into purplish blue.
Exterior Paint
ChromaFlair pigments were first used for an automotive application on the 1996 Ford SVT Mustang Cobra with Mystic paint. 'It was truly ground-breaking,' says Eggly. 'No other manufacturer had used color-shifting paint on a production car before. But, just as the handling and acceleration have dramatically improved since 1996 on the SVT Mustang Cobra, so has color-shifting technology. For 2004, we were able to take Mystic paint and put it on steroids.'
Eggly challenged DuPont to create a new color-shifting paint with visual performance to match the visceral performance of the 390-horsepower SVT Mustang Cobra. To that end, DuPont staff chemists started with Green/Purple ChromaFlair pigments that shift from bright green through a range of blues, and then into purple. The DuPont chemists blended that with traditional black and green pigments for visual balance and deep, rich colors. As a finishing touch, they added a pinch of aluminum flakes to enhance bright, metallic sparkle.
The resulting color shift is described by the DuPont chemists as, 'a bright, metallic topaz that transitions to cobalt blue, then to royal purple, and finally into a deep onyx black.'
Because ChromaFlair pigments are stirred into a water or solvent base like any paint additive, the paint does not require special handling. As such, Mystichrome paint will be applied at the Dearborn Assembly Plant, using the same process of other factory colors. In addition, Mystichrome passes the same rigorous durability tests of any factory paint. Also, the dramatic color shifts actually hide paint applied during body repair.
Interior Trim
Satisfied with the exterior hue, Eggly and the Ford Special Vehicle Team turned their attention to the interior. 'The interior needed something special to complement the stunning exterior,' says Eggly. 'We considered spraying hard parts, like the center stack or door handles, with Mystichrome paint. Then I recalled a Ford supplier, Garden State Tanning (GST), had developed leather colored with ChromaFlair pigments.'
Garden State had remarkable success substituting ChromaFlair for traditional leather pigments. To match the Mystichrome exterior paint, GST starts with leather hides tanned with a black dye. The same blue/green ChromaFlair pigment used in the exterior paint, are mixed with leather-softening oils, and then sprayed onto the surface. Finally, a clear protective layer is applied to seal in the color.
The result is another automotive precedent-the first color-shifting leather trim used by an OEM. Mystichrome leather, which mimics the color shift of the exterior paint, is used for the front and rear seat inserts, as well as sections of the steering wheel wrap.
Again, the only change in the production process is the pigment. Mystichrome leather has the same supple feel and grain as the surrounding Midnight Black leather surfaces.
Also, the Mystichrome leather passes the same wear and color-retention tests of traditional leather used by Ford Motor Company.
For Eggly, it's the most compelling special-edition SVT Mustang Cobra yet. 'The paint and interior trim perfectly complement the dramatic style and explosive performance of the SVT Mustang Cobra,' he says. 'The Mystichrome package would not be appropriate for any other car, as the explosive colors are tied to the emotion and passion found in the SVT Mustang Cobra.'
Availability
For the 2004 model year, only 1,000 SVT Mustang Cobra models, in either coupe or convertible body styles, will be offered with the Mystichrome Appearance Package. The package also includes chrome wheels as standard equipment.