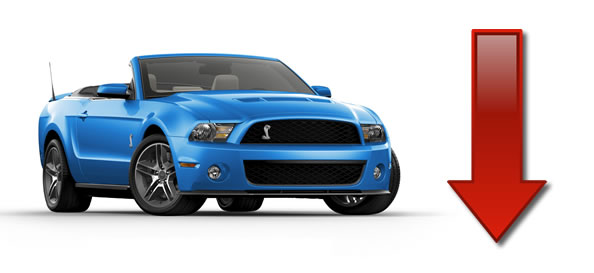 Mustang sales numbers have been released by Ford Motor Company for the month of May and to our surprise they are down sharply from the previous month.  Mustang sales were moving right along in March and April but May has brought us back to reality with close to a 20% decrease from the previous month.  Looks like high fuel prices and the stalling economy are weighing heavy on buyers minds.Check below for the complete rundown.
Sales of the Ford Mustang for May of 2011 were 6,607 compared to 10,225 from May of 2010 showing a 35.4% decrease in sales from the previous year. Year to date Mustang sales are 30,206 compared to 31,061 for 2010, which is a 2.8% decrease over the previous year.
Month to Month sales took a nosedive as April 2011 sales were 8,180 compared to  May 2011 sales of 6,607 which is a 19% decrease.
Taking a look at the competition the Chevrolet Camaro sold 9,451 and the Dodge Challenger sold 3,418 units for May.
Previous Months sales figures are below:
April 2011 – 8,180
March 2011 – 8,557
February 2011 – 3,697
January 2011 – 3,165
December 2010 – 5,452
November 2010 – 4,093
October 2010 – 5,317
September 2010 – 5,760
August 2010 – 5,570
July 2010 – 7,489
June 2010 – 8,974
May 2010 – 10,225
*************************************
Source: Ford