In just a few short weeks, Barrett-Jackson, The World's Greatest Collector Car Auctions, will host the Las Vegas Auctions. From June 30 to July 2, the West Hall of the Las Vegas Convention Center will house a variety of impressive Ford and Shelby vehicles. For this year's Las Vegas Auction, two of the most notable lot are the 1969 Ford Mustang Boss 429 (Lot #741) and an Acapulco Blue 1968 Shelby GT500KR (Lot #728), and both are selling with No Reserve.
Barrett-Jackson chairman and CEO, Craig Jackson shared, "Over the years, Ford and Shelby Mustangs have enjoyed a steady track record of stability and value among collectors worldwide. But the popularity amongst collectors is not just about the value of these vehicles, they are also incredibly fun to drive or proudly show at a concours or during a local cars and coffee show. As we celebrate the July 4th weekend during our Las Vegas Auction, these American-built cars will be amongst the most popular with our bidders."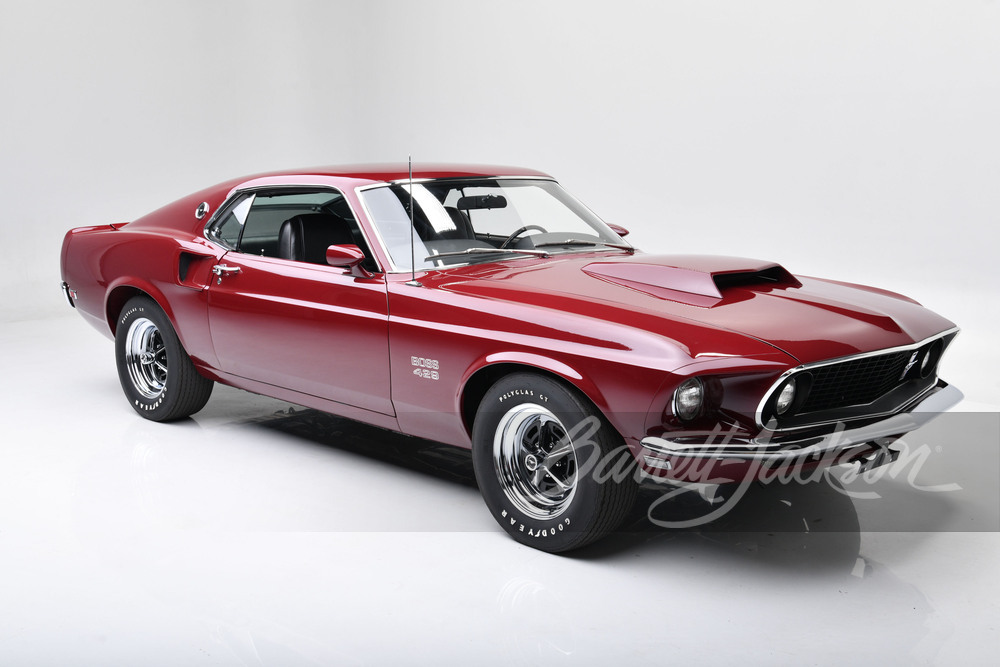 1969 Ford Mustang Boss 429 (Lot #741)
This Boss 429 example was recently given a complete restoration by Muscle Car Restoration in Owasso, OK and given a Royal Maroon finish. Under the hood is a 429ci engine matched with correct RUGAE2 4-speed manual transmission and N case 3.91 rear end. Other features include a correct HP block with eaerly style intake, correct KKX spindles, correct carburetor and distributor, rear sway bar, and trunk-mounted battery. It is offered at No Reserve.
1968 Shelby GT500KR (Lot #728)
This 1968 Shelby GT500 KR fastback example is finished in gorgeous Acapulco Blue and was given a variety of restorations to bring it back to its original condition. Under the hood is its original "King of the Road" 428cu Cobra Jet engine matched by its factory Toploader 4-speed manual transmission as well as correct dated N case rear end. This is also offered at No Reserve.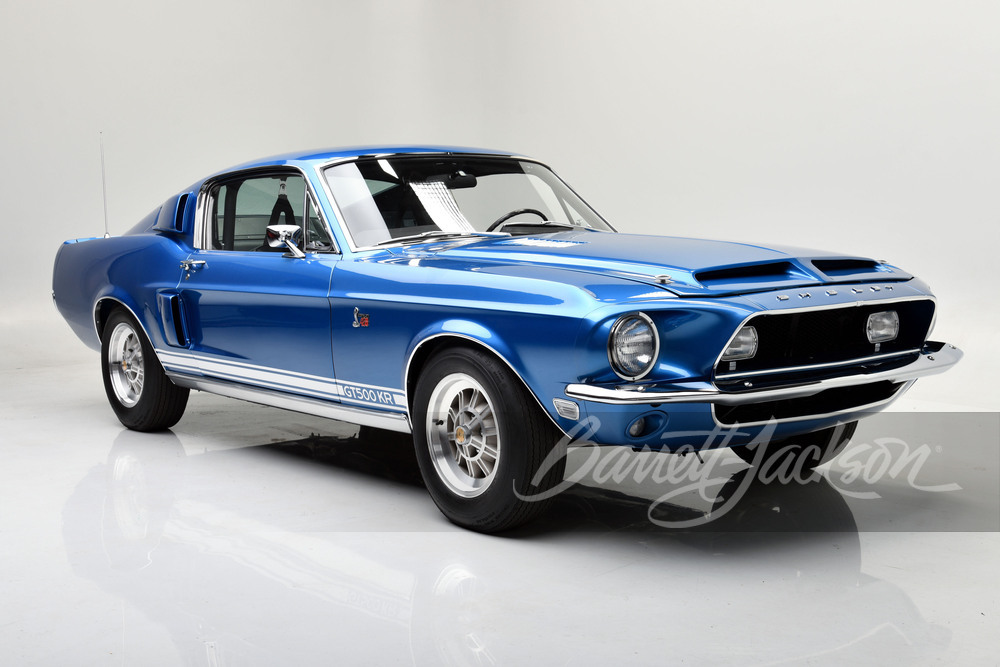 1999 Shelby Series 1 convertibles (Lot #721 and Lot #699)
Also offered at No Reserve, Lot #721 has Serial Number 0009 meaning it was one of the first 10 cars manufactured at the Shelby factory in Las Vegas. Lot #721 has a Centennial Silver finish and equipped with a 4.0-liter V8 engine matched to an automatic transmission. Although Shelby offered a $22,000 supercharger upgrade that would give the car 500 hp, the example is one of the many cars that refused to have their engines upgraded so it was able to keep its genuine engine that can accelerate from 0 to 60 in only three seconds.
Lot #699 is the 54th car out of the 249 examples produced. Built in Las Vegas, this example was given a Centennial Silver with Maroon Stripes finish and is one of only 30 that is powered by a factory Vortech supercharged V8 engine that produces 500 hp at the rear wheels. It has a carbon fiber body that sits on an aluminum chassis. The interior is done in charcoal and gray leather and features a Monsoon radio and a serialized plaque.
Barrett-Jackson president Steve Davis shared, "Carroll Shelby loved using the Ford Mustang as the canvas for his creations. More importantly, he firmly believed that his cars were meant to be driven. We're curating some of the very best examples of Mustangs for our Las Vegas Auction. Each one is a testament to his magic touch when it came to forward-thinking performance and design."
1965 Ford Mustang Fastback (Lot #725)
This custom 1965 Ford Mustang Fastback is equipped with a 460 hp engine matched with a TREMEC T56 6-speed manual transmission. Exterior features include a flush Kindig-it door handles with Ringbrothers hood pins and taillight bezels, as well as Boyd Coddington wheels. Other features include a Scott's Chassic with RideTech coilovers, Boyd Coddington steering wheel, Memphis sound system, and Oxblood red leather interior. The example is also offered at No Reserve.
1965 Ford Mustang (Lot #705)
This custom convertible 1965 Ford Mustang is equipped with a modified 2007 GT500 engine with a Kenne Bell Mammoth supercharger matched to an automatic transmission with overdrive. Customizations on the exterior include narrowed bumpers with shaved bolts, powder coated trim and suspension components, custom hood for the supercharger, and custom machined bezels. For the interior, it was given custom kick panels, custom console, custom stereo with touch screen head unit, Classic Instrument gauges, Vintage Air climate control, power locks, power windows, and power top with glass rear window.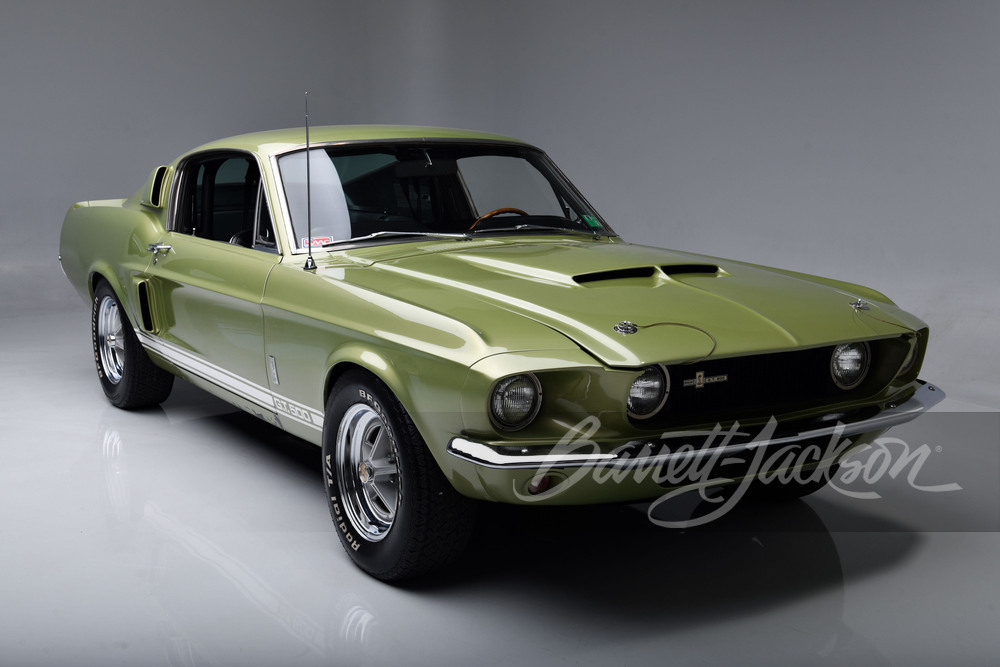 1967 Ford Mustang GT500 (Lot #711)
Setting itself apart from the customized and restored Mustangs is this unrestored 1967 Ford Mustang GT500. It is equipped with a C6ME data code correct 428ci V8 engine matched by its correct RUG-51 big input Toploader 4-speed manual transmission. This unrestored example still has its original Shelby VIN tag as well as the original VIN stamp in the passenger shock tower. Its original interior still has the original wood wheel, Stewart Warner amp and oil pressure gauges, and its 140mph speedometer.
Those interested to register to bid for the lots in Barrett-Jackson's 2022 Las Vegas Auction are still welcome.
For those interested to purchase tickets and VIP packages to the event, they can also do so online.