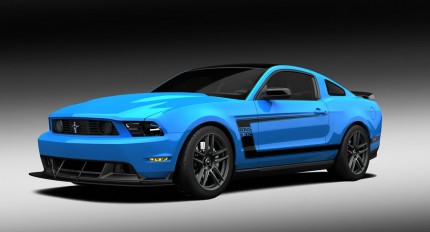 Ford and Barrett-Jackson are teaming up to auction a one-of-a-kind Grabber Blue 2012 Mustang Boss 302 Laguna Seca edition to benefit the Juvenile Diabetes Research Foundation.  This year marks the 40th anniversary of the Barrett-Jackson Collector Car Auction which takes place January 18-23 at Westworld in Scottsdale, Arizona.  This auction will take place Saturday January 22nd with the SPEED Channel providing Live coverage.
In addition to its highly unique Grabber Blue paint this one-off Mustang Boss 302 Laguna Seca edition will feature distinctive black accents on its roof, mirrors and spoiler, Citic Dicastal wheels and C-stripe.  On the inside Recaro seats with Grabber Blue seat embroidery and Rear X-Brace give set it apart from other Laguna Seca edition Boss 302's.  Under the hood a 444 horsepower 5.0-liter V-8 powers this rare Mustang Boss 302.
Racing legend Parnelli Jones, Ford's President of The Americas Mark Fields and Mustang Chief Engineer Dave Pericak will be on hand providing commentary for this one-of-a-kind auction.
For a complete list of Mustangs being auctioned at this years Barrett-Jackson check out my Mustang Auction preview.
Press Release:
A spectacular, one-of-a-kind factory-painted Grabber Blue 2012 Ford Mustang Boss 302 Laguna Seca will be sold to the highest bidder with none other than racing great Parnelli Jones providing commentary from the auction stage with Ford's Mustang team. Jones won the 1970 Trans-Am season opener in a Boss 302 and the Laguna Seca is named after the track where he won that race. The event will be televised live on SPEED channel.
"I am very excited to see that Ford is carrying on the tradition of the Boss Mustang," said Jones. "Ford had the right ingredients to bring back this legendary car and it's a great addition to the Mustang lineup."
Alongside Jones on the auction stage will be Ford's President of The Americas Mark Fields and Mustang Chief Engineer Dave Pericak.
"Like the legendary Parnelli Jones, the Boss Mustang we will be auctioning is truly one-of-a-kind. It is the only 2012 Grabber Blue Boss 302 Laguna Seca we will ever build," said Fields. "The winning bidder on this car will not only become part of Mustang history but also will be a pioneer in the next chapter of the Boss legacy. At the same time, he or she will be contributing to a worthy cause, the Juvenile Diabetes Research Foundation."
All proceeds from the auction of the car above MSRP will benefit JDRF, a leader in research leading to a cure for Type 1 diabetes. During the past four years, Ford – partnering with Barrett-Jackson – has raised nearly $2.5 million for charity through sales of vehicles at auction.
"With its combination of hot styling and serious performance, Ford's Boss Mustang has always been at the top of the list for collectors," said Steve Davis, president of Barrett-Jackson Company. "Since this Boss Mustang will have a very low production number and be specially built for our 40th anniversary event, the new owner will have a special piece of performance history for their collection. It's a rare opportunity to support charity while taking home a very desirable modern collectible car."
This Boss 302 Laguna Seca – a one-of-one production unit – was built specifically for auction at Barrett-Jackson. In addition to the unique Grabber Blue body color, it features:
Distinctive black accents on the roof, mirrors and spoiler, Citic Dicastal wheels and  C-Stripe
Recaro seats with Grabber Blue seat embroidery and Rear X-Brace
Grabber Blue grille surround
The Laguna Seca package pares the race-inspired 2012 Boss 302 down to its essential elements, with aggressive suspension, chassis and aerodynamic tuning, creating a ready-for-racing Boss.
The Boss Mustang is set to become the quickest, best-handling, straight-production Mustang ever offered by Ford. In fact, Ford would not green-light Boss Mustang production until track testing confirmed it would top one of the world's best at the time – the 2010 BMW M3.
The Boss 302 Laguna Seca delivers more than 1.03 g of lateral acceleration, stopping distances shortened by three feet from 60 mph over Boss, 0-60 mph acceleration improvements of one tenth of a second, and an overall expected lap time improvement of one to two seconds versus the standard Boss on a typical road course.
The limited-production Mustang Boss 302 and Laguna Seca will be built at AutoAlliance International Assembly Plant in Flat Rock, Mich.
Source: Ford