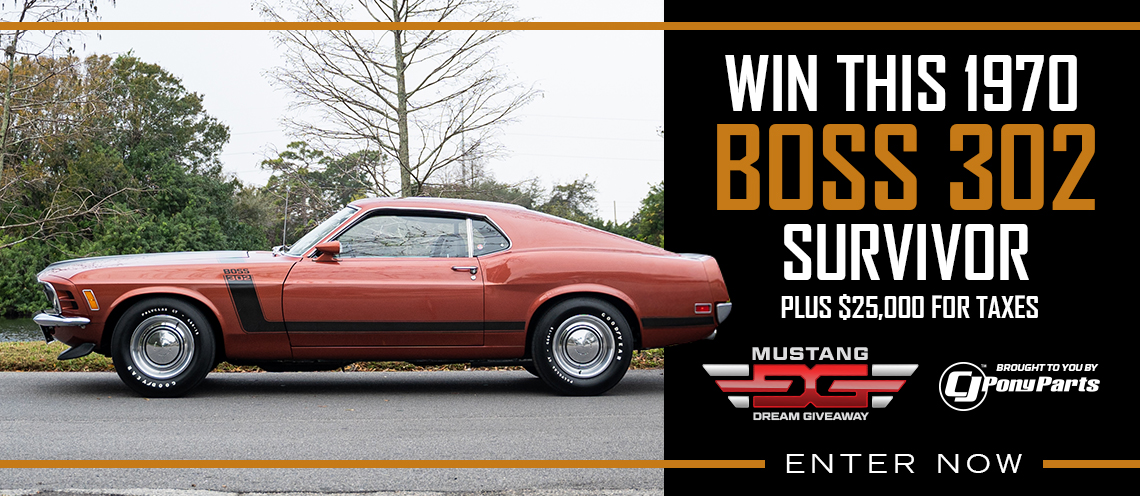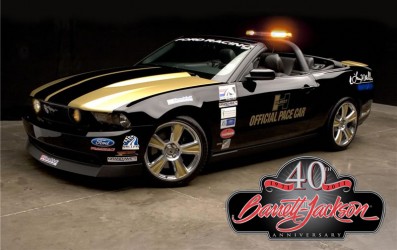 Its time once again for the 'World's Greatest Collector Car Auction' as Barrett-Jackson celebrates its 40th Anniversary this year.  The 2011 Barrett-Jackson Collector Car Auction will take place from January 17-23 at Westworld in Scottsdale, Arizona with the SPEED Channel providing 40 hours of LIVE coverage.
Every year I like to do a Ford Mustang auction preview to showcase every Mustang going across the block.  This year Barrett-Jackson will be auctioning off 72 Mustangs including a heavy list of classic Mustangs of the Mach 1 and Boss variety.  Also this year there is a large contingent of restomods as folks have taken to modifying the classics with newer parts.  As in years past there have always a bunch of late 60's GT500's and GT350's but thats not the case this year as those owners have chosen to forgo the auction and keep their classics until prices rebound.
Some of the standouts for this year include Lot# 1018, a 2008 FR500S race car, Lot#1255.2 – 1967 Mustang custom Fastback cover car, Lot#1265.2 – 2011 WD-40/Sema Cares Mustang GT, Lot# 1551 – 2010 Hurst Ford Racing Mustang GT Challenger Series Pace Car, Lot# 1230 – 2005 West Coast Customs Mustang #001 and Lot# 1015.1 – 2006 Mustang GT custom convertible from the Sylvester Stallone collection.
The SPEED Channel will be providing 40 hours of LIVE coverage for the Barrett-Jackson collector car auction starting Tuesday January 18 through Sunday January 23rd.  Times for the SPEED channel coverage are below.  The full list of 72 Mustangs going across the block can be found below.
SPEED Channel Television Schedule:
Tuesday January 18, 2011 – 5pm – 10pm
Wednesday January 19, 2011 – 5pm – 10pm
Thursday January 20, 2011 – 5pm – 10pm
Friday January 21, 2011 – 12pm – 10pm
Saturday January 22, 2011 – 12pm – 11pm
Sunday January 23, 2011 – 12pm – 4pm
2011 Barrett-Jackson Collector Car Auction List of Mustangs
Lot
#

Year

Model

Auction
Day

Ford Mustang Coupe

Ford Mustang Coupe

Ford Mustang Roush Fastback

Ford Mustang GT Coupe

Ford Mustang Mach 1 Coupe

Ford Mustang Convertible

Ford Mustang Convertible

Ford Mustang Mach 1 Coupe

Ford Shelby GT500 Coupe

Ford Mustang Custom Fastback

Ford Mustang Custom Coupe

Ford Mustang Coupe

Ford Shelby GT Mustang Convertible

Ford Mustang Custom Convertible

Ford Mustang Custom Fastback

Ford Mustang Convertible

Ford Mustang Mach 1 Fastback

Ford Mustang SVT Cobra Convertible

Ford Mustang 428 CJ "R" Fastback

Ford Mustang Boss 302 Fastback

Ford Mustang Custom Coupe

Ford Mustang GT Fastback

Ford Mustang Mach 1 Fastback

Ford Mustang Custom Fastback

Ford Mustang Mach 1 Fastback

Ford Mustang GT Fastback

Ford Mustang Custom Fastback

Shelby GT350 Coupe

Ford Mustang Boss 302 Fastback

Ford Mustang Boss 302 Fastback

Ford Mustang Mach 1 428 CJR

Ford Mustang Mach 1 428 CJ

Ford Mustang Mach 1 428 SCJ

Ford Mustang Custom Convertible

Ford Mustang FR500S Race Car

Ford Mustang Custom Convertible

Ford Mustang Boss 302 Coupe

Ford Mustang Convertible

Ford Mustang Saleen Parnelli Jones

Shelby West Coast Customs Coupe

Ford Mustang Boss 302 Fastback

Ford Mustang Mach 1 428 SCJ

Ford Mustang Boss 302 Fastback

Shelby GT500 Fastback

Ford Mustang Boss 429 Fastback

Ford Mustang Custom Fastback

Ford Mustang Convertible

Ford Mustang Boss 429 Hardtop

Ford Mustang Boss 302 Fastback

Ford Mustang FR500C BJ Edition

Ford Mustang Custom Coupe

Ford Mustang 428 CJ "R"

Ford Mustang Mach 1 Custom Fastback

Shelby GT350 Fastback

Shelby GT500 Convertible

Ford Mustang Boss 429 Fastback

Shelby GT350 Fastback

Ford Mustang Boss 429 Fastback

Ford Mustang Boss 302 Fastback

Shelby GT500 Fastback

Ford Mustang Mach 1 428 SCJ

Ford Mustang 428 CJ "R"

Shelby GT500 KR Fastback

Ford Mustang Custom Coupe

Ford Mustang Custom Fastback

Ford Mustang Boss 429 Fastback

Ford Mustang SVT Cobra Convertible

Ford Shelby GT500 Coupe

Ford Mustang Custom Fastback

Ford Mustang GT Pace Car Convertible

Ford Shelby GT500 Custom Fastback

Ford Mustang Mach 1 Custom Fastback