Shelby American introduced the new GT500 in 1967, based on Ford's updated Mustang, which had been upgraded to accommodate Ford's powerful big-block V-8 engines. This GT500, powered by the 428 Police Interceptor engine, made its debut with a conservative rating of 355 HP, though its actual output was closer to an impressive 400 horsepower. It also delivered a substantial 420 lb-ft of torque, making it a true pavement-scorcher.
The addition of the GT500 to Shelby's lineup brought a distinct grand-touring character to the Mustang-based stable of performance cars. These 1967 models marked the end of an era, as they were the last ones built under Shelby American's management before production shifted to Ionia, Michigan, under direct control of Ford Motor Company for the 1968 and 1969 model years.
Only 2,048 of these potent and highly sophisticated GT500s were built in 1967, and one of them is currently available on Bring A Trailer. This GT500 featured fiberglass construction for various body components, including the extended nose cap, elongated hood, taillight panel, trunk lid, ducktail rear spoiler, fender extensions, and air scoops on the sail panels and quarters.
Originally finished in Wimbledon White with blue rocker-panel and over-the-top stripes, this example received a repaint in the 1990s. It comes equipped with a driver-side mirror, inboard grille-mounted high-beam lamps, hood-retention pins, and dual exhaust outlets exiting below the rear valance. The car rides on silver 15″ ten-spoke alloy wheels fitted with 215/70 Michelin Harmony tires, with a non-matching spare stored in the trunk. Power steering enhances handling, and braking is managed by power-assisted front discs and rear drums.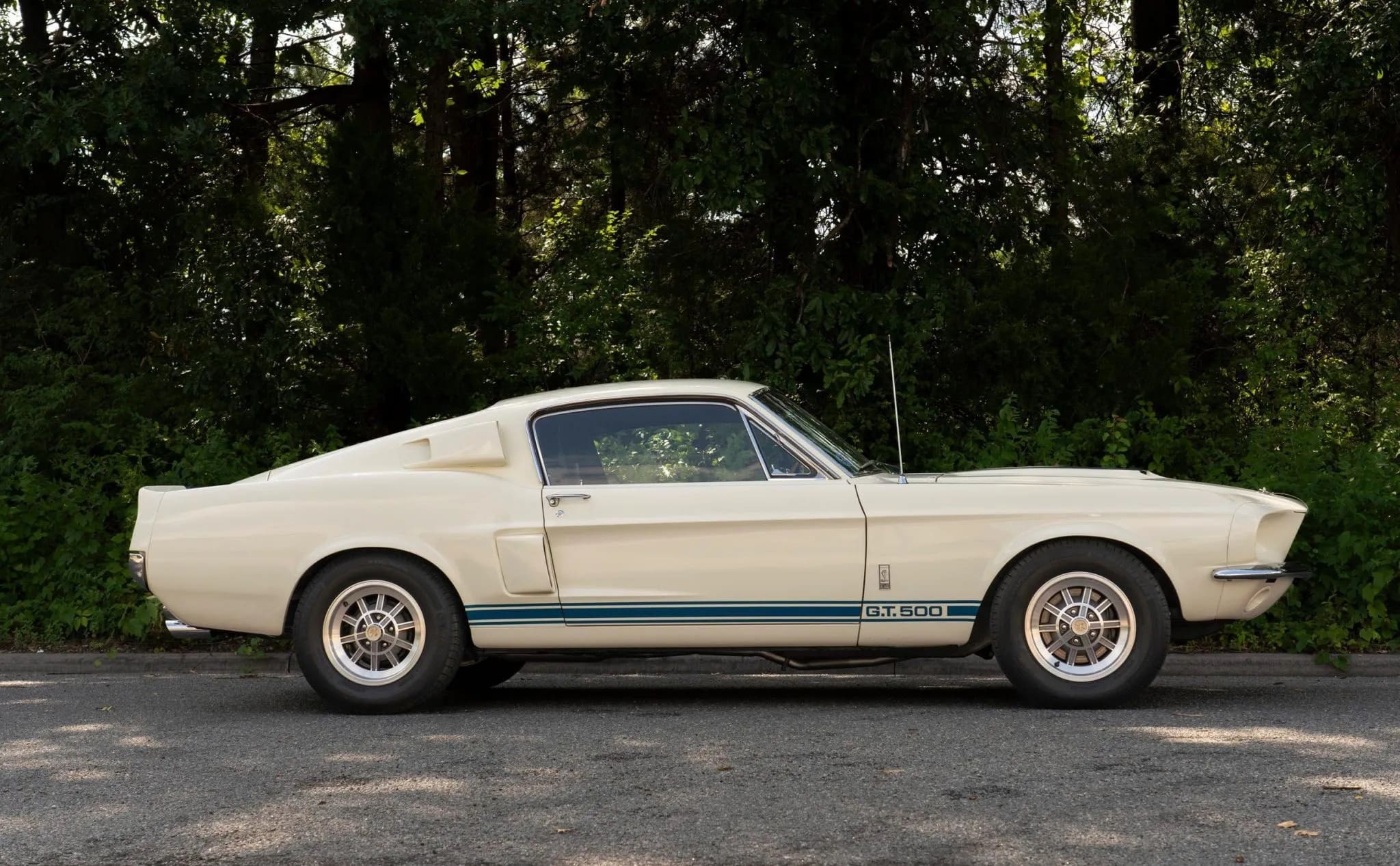 Inside the cabin, you'll find front bucket seats and a folding rear bench upholstered in black vinyl with textured inserts. The dashboard and carpets match the color scheme, and the Interior Décor Group was optioned, adding brushed aluminum trim, an electric clock, and bright-metal trim on the foot pedals. Additional features include the Courtesy Light Group, a Shelby-specific roll bar, a heater, wood-rimmed steering wheel, a push-button AM radio, three-point front seatbelts, and GT500-branded rubber floor mats.
Powering this GT500 is a 428ci Police Interceptor V8 with the optional Extra Cooling Package. It boasts a thermactor, a Cobra-branded air cleaner, finned Le Mans valve covers, and dual Holley four-barrel carburetors. This formidable engine sends its power to the rear wheels through a four-speed manual transmission.
This Shelby GT500 with 21k miles on the odometer still runs exceptionally well, and the powerful roar of its twin-carbureted 428 engine is a music for any passionate collectors.
Source: Bring A Trailer